Design is a true form of artistry, so imagine a Designer given a "paint brush," a blank canvas, and free rein over a design. And you have the definition of a Showhouse. A place limited only by a Designers imagination.  In the world of showhouse design, we are seeing a design canvas showcasing the depth and breath of talent from some of the nation's greatest designers.
And while it's impossible for anyone to travel to every showhouse (a future goal), we love any opportunity to share the talent displayed behind the walls of some of the most beautiful residences in the U.S. Several weeks ago we highlighted one of the rooms designed by Jason Nixon Oliver and John Loecke of Madcap Cottage (you can read more here) from the DJF Builders Designer Show House. But, there are more, 20 designers including landscape designers/landscape architects of whom all played a part in transforming this magnificent home. And while the doors are closed the illustrious designs live on through the stunning photography of Smith Hardy.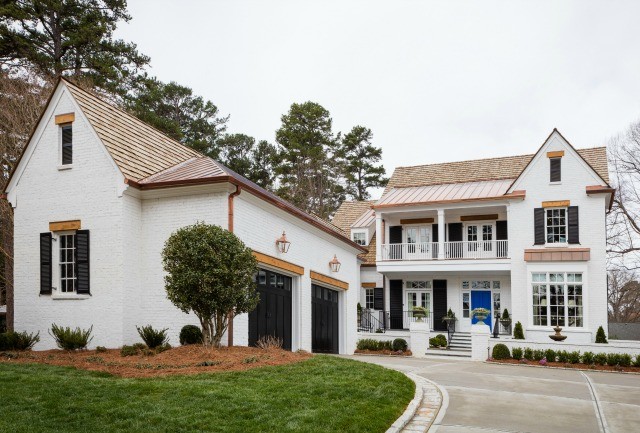 DJF Builders Designer Showhouse/ Photo-Smith Hardy
The inspired collaboration at the DJF Builders Designer Show House was in support of a great cause the Boys and Girls Clubs of Wake County, the beneficiary of the proceeds. Located in the tony Country Club Hills neighborhood of Raleigh, the home was designed by Carter Skinner and constructed by DJF Builders, and featured "perfectly placed English Gardens," a front terrace, and an expansive outdoor living space. Inside the interior of this 6,000 square foot white brick house was an impressive mix of styles showcasing the talent of some of the most well-known Southern designers. A visual symphony of textures, colors, unique design elements, and pure design inspiration.
And if you weren't able to attend, we are sharing some photos of this magnificent Showhouse for your viewing pleasure…
Designer/ DJF Builder-Photo/Smith Hardy
This stunning kitchen reveals a classic yet fresh design with unique details…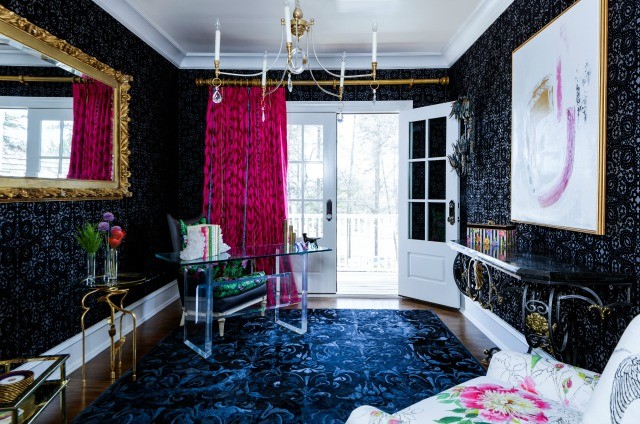 Designer/ Design by Tula-Photo/ Smith Hardy
This "empowering feminine space" blends vintage, modern and antiques for a room that is a vibrant mix of stunning details and styles from the early 1900's Italian Sconces to the black velvet wallpaper…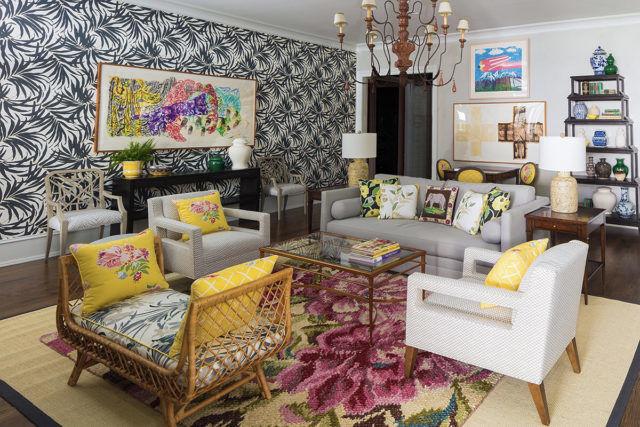 Designers/ Jason Nixon Oliver-John Loecke-Photo/ Smith Hardy
Splashy florals and stunning geometrics come together to create a place of "fantasy and far-flung" glamor…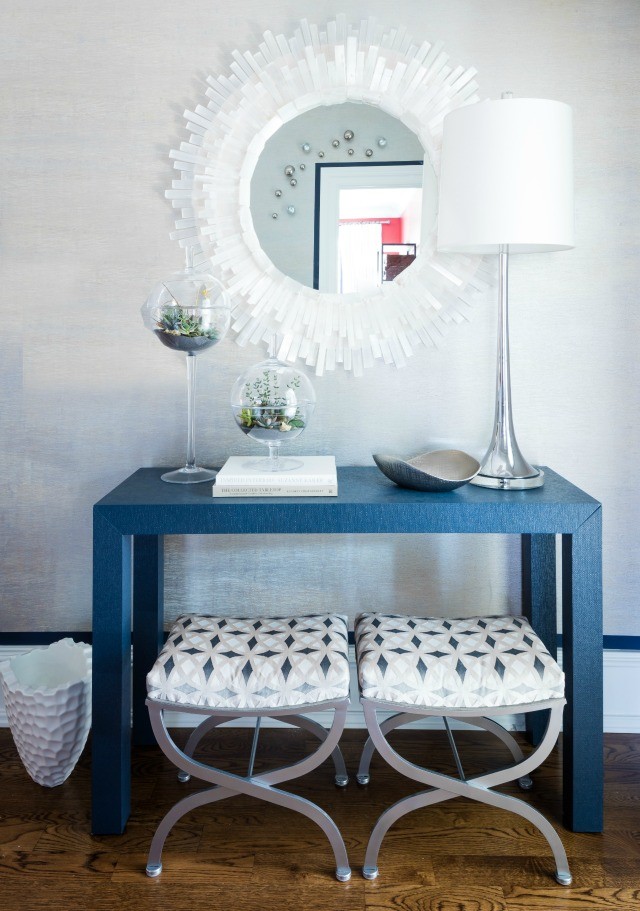 Designer/ Southern Studio-Photo/ Smith Hardy
A starburst selenite mirror provides organic beauty to the stair hallway accented in rich blues…
Designer/ Katherine Connell-Photo/ Smith Hardy
Bold green walls are the perfect backdrop for large scale art and sculptural accents in this lavish dining room…
Designers/ Green Front-Photo/ Smith Hardy
The regal combination of blues, whites, and reds pair seamlessly with the classical lines of the furnishings creating a timeless interior…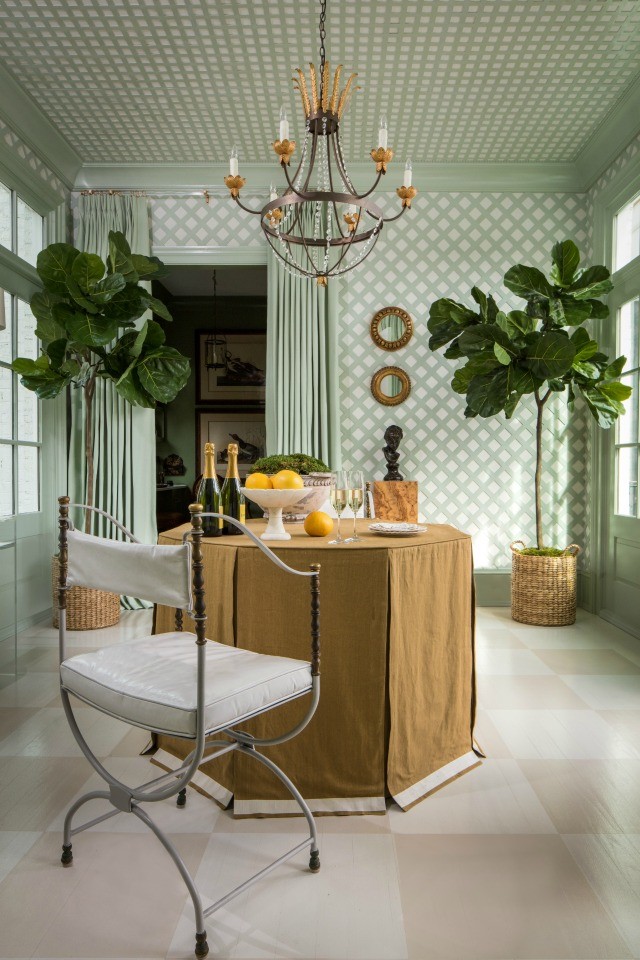 Anne Wagoner Interiors/ Photo-Smith Hardy
This garden room is awash in the most perfect shade of green, the trellis themed wallpaper emphasizes the perfectly executed garden theme….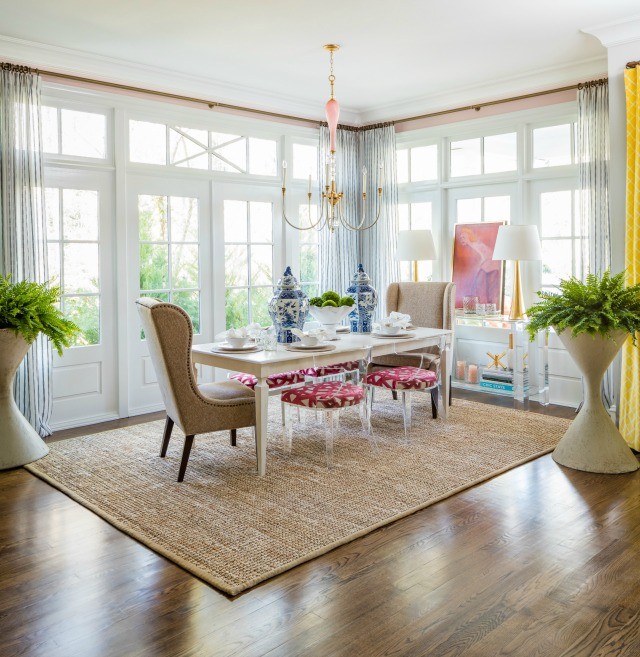 Designers/ La Maison-Photo/ Smith Hardy
The breakfast room is a perfect study in style and texture from the seagrass rug to "airy" details such as the acrylic Klismos chairs…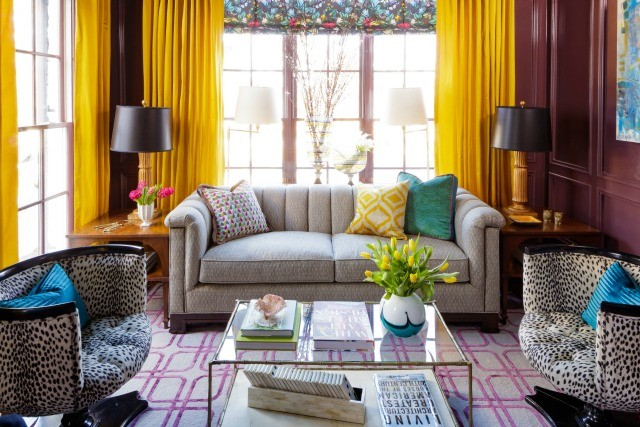 Designers/ MA Allen Interiors-Photo/ Smith Hardy
From the bold yellow draperies to the cheetah print chairs, this rooms sings with pattern and color…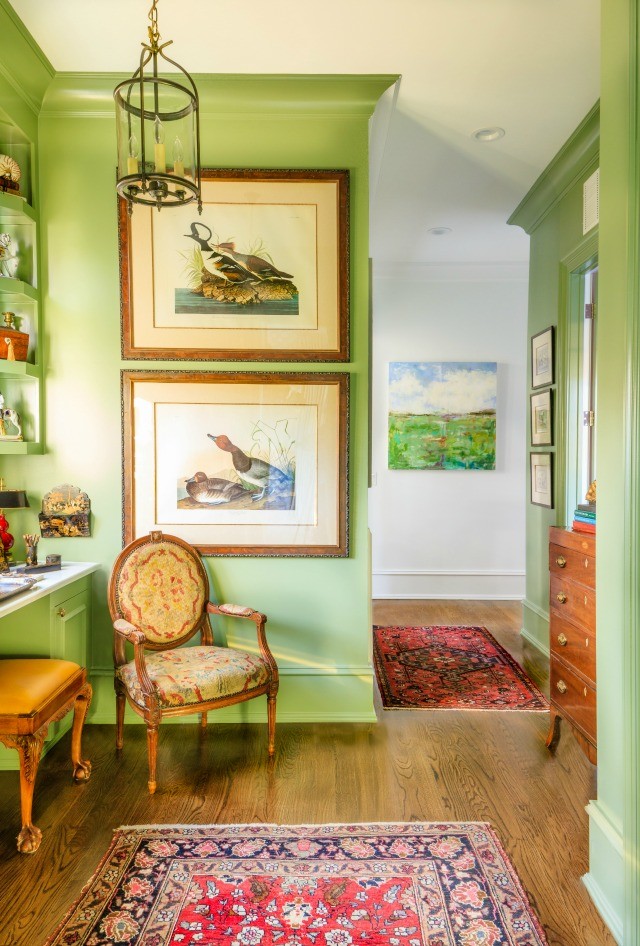 Designers/ DT & Co-Photo/ Smith Hardy
This Apple Green mudroom is the perfect study in classical design…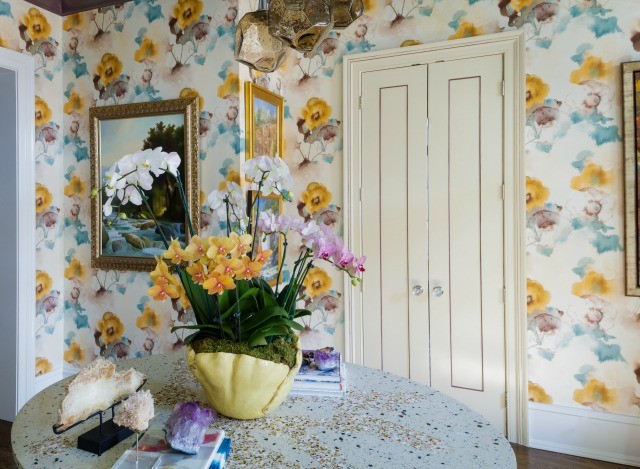 Designer/ Colorful Concepts Interior Designs-Photo/ Smith Hardy
This foyer blooms with color and style from the brightly colored wallpaper to potted orchids…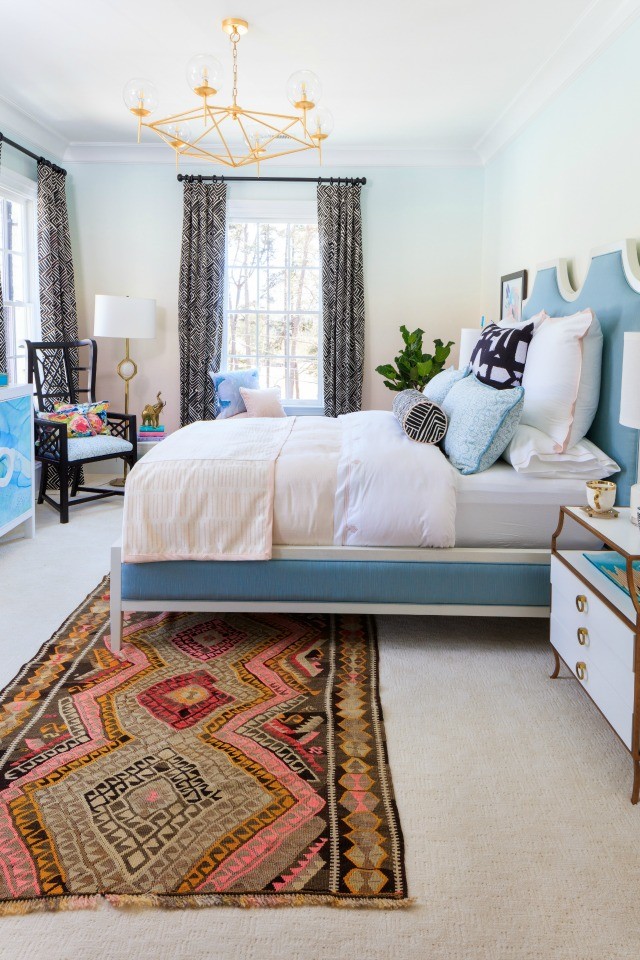 ACR Interiors/ Photo-Smith Hardy
A skillful mix of pattern, styles, and color combine to create a bedroom that is both beautifully timeless and current…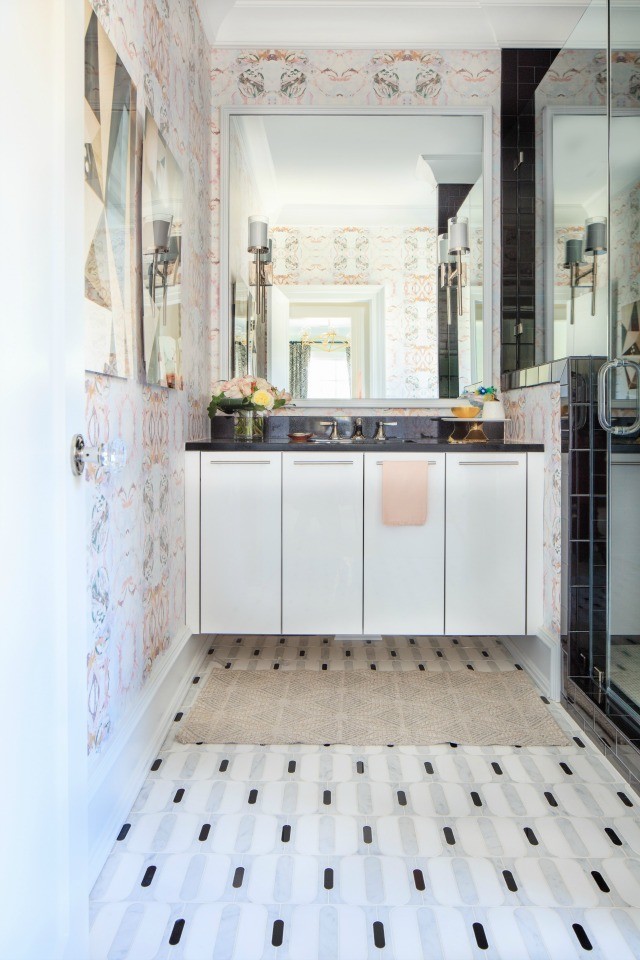 Designer/ ACR Interiors-Photo/ Smith Hardy
Softly patterned wallpaper countered against a boldly patterned tile floor create a stunning upstairs bath…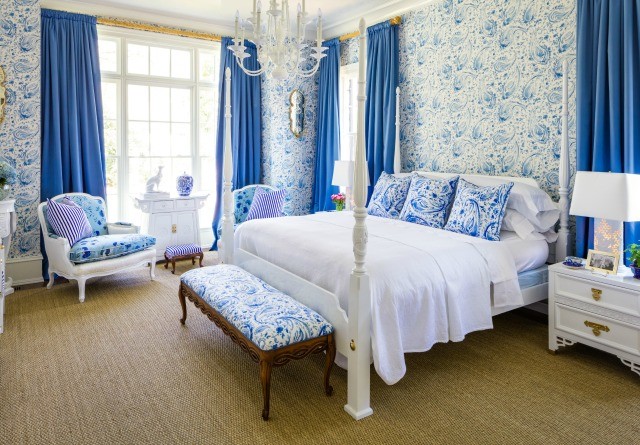 Designer/ Betsy Anderson-Photo/ Smith Hardy
A timeless color combination of blue and white gets an unexpected contemporary twist when paired with a lacquered bedroom ceiling…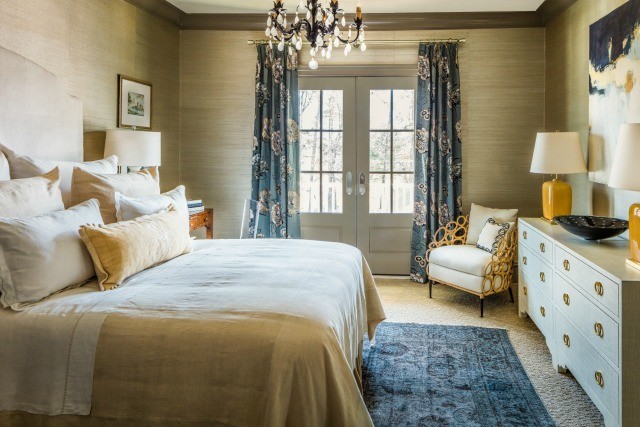 Designer/ Leigh S. Jones-Photo/ Smith Hardy
Soothing layers of neutral tones and stylish furnishings make this bedroom the perfect evening retreat…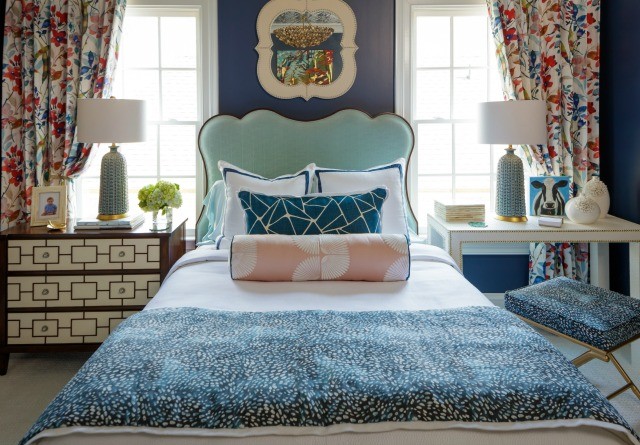 Designers/ The Warehouse-Photo/ Smith Hardy
This bedroom is appointed with chic details from the curveous headboard to the alluring mix of patterns…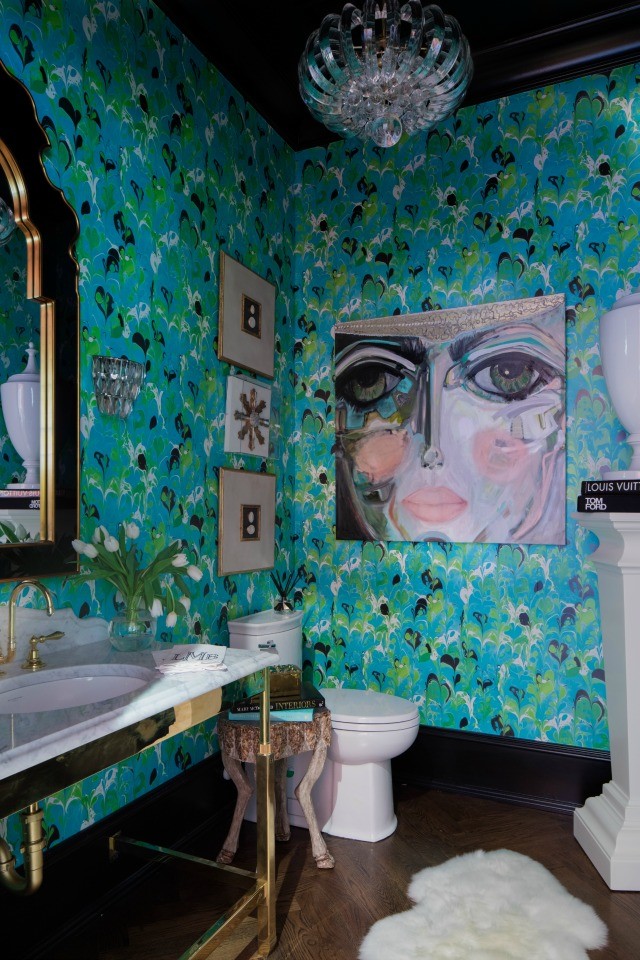 Designer/ Lisa Mende-Photo/ Smith Hardy
Lisa is known for her bold Southern style, and this powder room is a vibrant study in eye-catching details from the "Queen Charlotte" painting by Wendy O'Connor art to the stunning wallpaper from Jill Seale.
All photos courtesy of Show House Chair, Mary Beth Deloache
Until next time,
LIVE A LIFE WELL CURATED…
Are you a designer or architect (interior or garden) design event organizer, artist, or have entertaining tips? Would you like your work, project, or exhibit published on The Ace of Space?  Please contact us to Vicki@theaceofspaceblog.com.  We will review the material and your submission will be evaluated according to our Editorial standards.  Please note that not all submissions will be published; however, we urge you to submit again in the future. We do not provide monetary compensation for any articles or photo images, however, we will provide photo credits & copyright details if requested, and in some cases, a nominal fee will be charged.