I actually started a post Sunday, and changed my mind because of this one picture that has been on my office inspiration board for a few months….yes, ideas come from everywhere. In fact, I've been in love with Flokati's since I attended a "Designer Dinner" at a friend's house/fellow designer and blogger Julie Holloway, of Milk and Honey Home. She had them on the kitchen chairs, and I was so comfortable by the end of the evening that I was one of the last to leave. I've been obsessed since…of course her house is a visual feast and quite frankly I couldn't even tell you what we talked about because I was to busy trying so "sneak in peeks" without being obvious.
Julie Holloway's kitchen of milkandhoneyhome.com / Photo credit younghouselove.com
This is the room that started it all, Julie's fabulous kitchen…I'm all about layering and there is something about having something luxurious in an interior that makes you want to run and just leap onto it.
So I thought I would share my obsession with all things soft and fuzzy, someday when Mr. B. accepts the fact that I have creative control over everything that goes in our home, I'm going to put a large Flokati throw on our bed…and when football season comes around, I'm sure he'll be thanking he'll be thanking his lucky star (moi´) that he has something comfy to lounge on …P.S. The countdown continues for the Design Bloggers Conference in L.A., I'll be flying the friendly skies in less than 2 weeks!  I'm so excited to be attending again this year, I've reworked my wardrobe (more than a few times), added a few fabulously stylish pieces (Turquoise coloured Jimmy Choo sandals), and have been walking miles (okay at least one) everyday to get off the holiday weight. After all when I'm in the company of greats such as Barbara Barry I'll definitely need to have my "game on."
This is the photo that inspired it all, and that I obsess over everyday…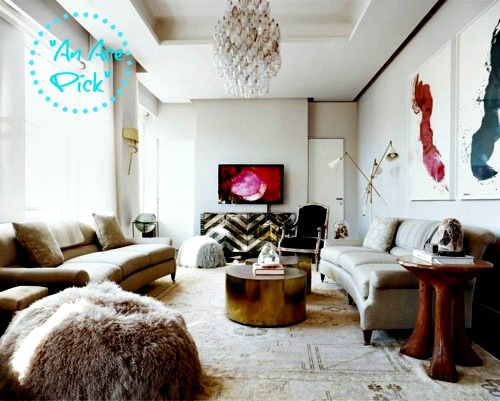 via lauradaydesigns.com
I could easily curl up on the sheepskin bean bag chair…
via designsponge.com
This room just defines comfort and style, I adore the sheepskin upholstered ottoman…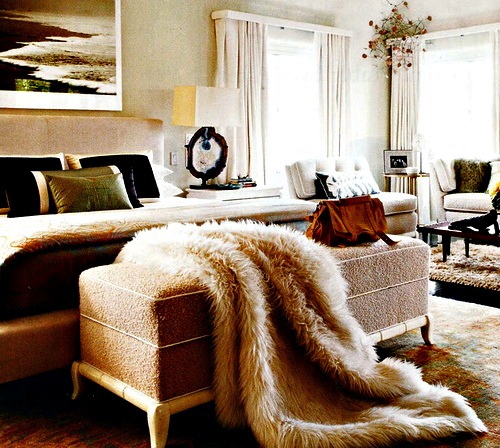 via jpdschoolofdesign
Ahh…the return of luxury, the throw is simply divine.
via HGTV.com
I love the luxiorious feel of this room…and the lighting gets an honorable mention.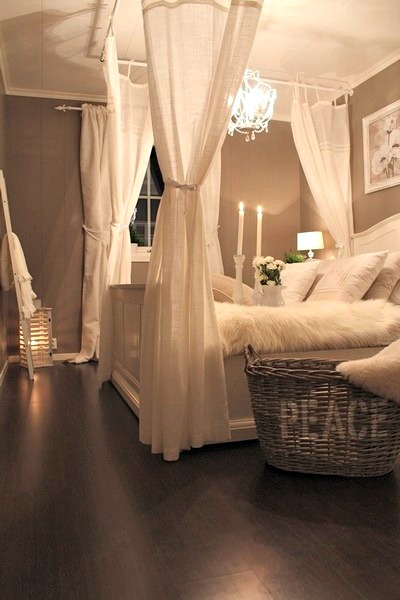 via salifou.com
This romantic space is "lounge away the day" perfection.
From katie-d-i-d.blogspot.com
Adding a sheepskin throw over a favorite chair, sofa or as an uber fashion- forward bed covering is a simple and inexpensive way to add texture and comfort.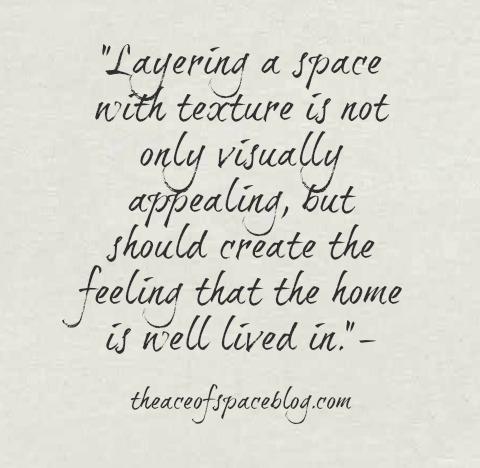 Cheerio!
Thanks for stopping by!