With the holidays fast approaching I have to admit, I've accomplished half of my holiday decorating goals. The Christmas tree is up, the garland runner on the fireplace mantel and a few other festive touches, but it ends there. With family arriving on Saturday, and only a few days left to decorate, I'm going rely on 6 simple and beautiful last minute decorating ideas that will make the holiday, merry & bright (and virtually stress-free).
Simple Last Minute Holiday Decorating Ideas
"Bring the "Merry into Every Space." Don't reserve your best holiday decor for one room, let the Christmas spirit surround you the minute you walk through the door. It's as simple as filling bowls with ornaments, evergreen clippings, pine cones or traditional orange pomander balls (which is a fun project to do with children).
"Use Presents As Decorations." Your beautifully wrapped presents don't have to be just under the tree. I love to use them around the house, stacking them in chairs, up the staircase or on tabletops. I start wrapping presents a month before and use unconventional wrappings such as fabric scraps, wallpaper, Christmas sweaters from 2nd hand shops (Cut to fit the gifts) and even pages from vintage books. Beautifully wrapped presents can be part of your holiday decor (at least until Christmas day!).
"Wrap Gifts in Greenery"-If you find yourself low on ribbon and paper, use basic household items. I always keep a roll of Kraft paper in the pantry (a household essential here at the Cottage), I use it for table runners and wrapping gifts. Tie some string around it and add a bit of greenery from the yard or surrounding woods, and you have a gift that has the perfect rustic touch, or if you are artistic you can draw designs on the paper such as holly leaves or snowflakes.
"Lights, Action, Christmas"-Lights add a bit of sparkle to the holiday. All you need are some boxes of lights and you can use them to wrap around the staircase, place them in glass bowls, on the mantel, or around door casings to add a bit of sparkle around the house.
"Go Artificial"– Artificial trees have become so realistic, and in many cases, the prices have been significantly reduced before the holidays. Some are already pre-lit so simply add natural elements such as pinecones, or even twigs placed amongst the branches for an organic feel. I add hand-tied ribbon in red and gold for a festive & classic look.
"Decorate with Greenery"-You can go to any pop-up Christmas tree stand and buy premade-wreaths, roping, and discarded tree branches (which many times will be free of charge). I will usually ask for the branches that have been cut off the Christmas trees and use them around the house, on the mantel or tied with festive ribbon and hung from the staircase railings. Place them in the center of your holiday table, mixed with other greenery and you have a quick and easy centerpiece. The centerpiece in the photo from past was made entirely from greenery I found in the yard.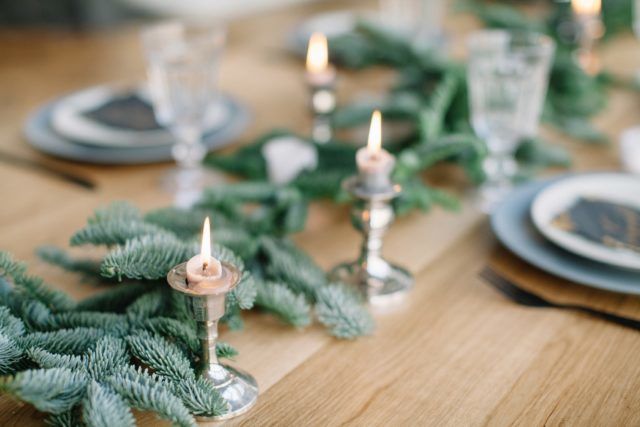 This post is from our sister site Sweet Pond Cottage, an inspiration and lifestyle cottage. We hope you'll follow along as we share the exiting projects we have coming your way!