It's Friday already? I feel like someone just hit the fast forward button this week, in fact when I last checked it was Monday. But, I am so looking forward to this weekend, we foster children, and we will have a little 6 year old girl that we also took care of last week. I have been working on finishing up the bedroom where she stays, and I have had so much fun pulling it together in varying shades of pink and grey. Last night Mr. B. (with some harmless prodding on my part)  installed the most adorable chandelier from IKEA. I went there last week (okay I'll have to admit that I hadn't been there in ages), and the store is just brimming with possibilities. I'll post pics of the room soon, but I like to put on every last finishing touch before I share. Who me a perfectionist?
On Tuesday, I am off to "Coverings" in Orlando, Florida which is "the premier international trade fair and expo dedicated exclusively to showcasing the newest in ceramic tile and natural stone. "Coverings" is the stage for the introducing some of the most innovative tile and stone products in the world." I am beyond excited to have been invited as a guest by Veeder + Perman + Caniato located in New York, N.Y as part of the V.I.P. Press Tour. So I will be blogging all next week about the latest and greatest from "Coverings" being held in sunny state of Florida. It's sure to be an amazing event!
Lately, I have been obsessed with black and white interiors, and so I started saving (okay hoarding) some picks by my favourite designers…and some new ones that I have begun following. So here are some of my favs…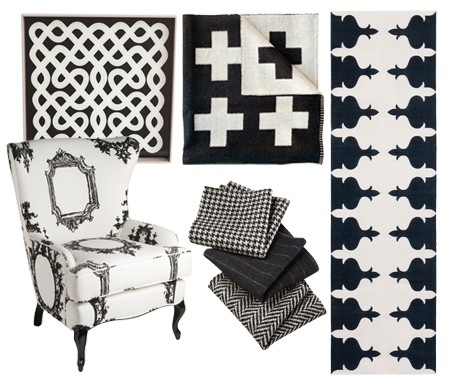 Some picks from House and Home, I have totally fallen in love with the squiggly fabric in the upper left hand-corner. Which brings up a point is squiggly a pattern?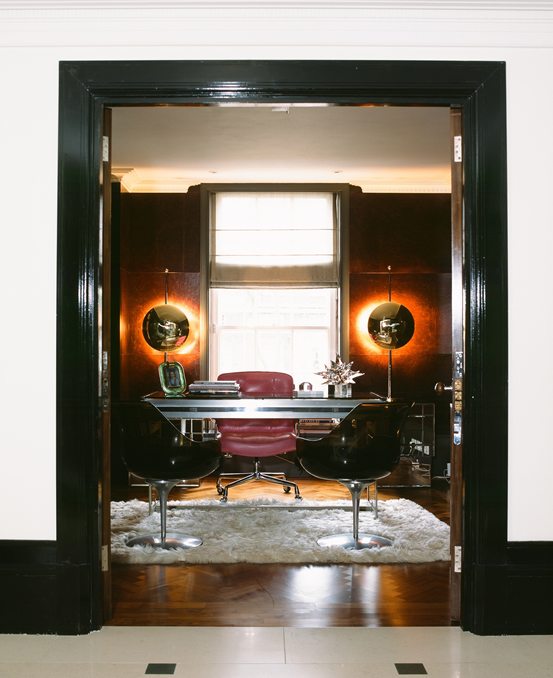 This designer's body of work is sheer perfection, and so is he quite frankly. This is none other than Martyn Lawrence-Bullard (my #1 design crush). The black walls are softened by the Flokati Rug and the punch of red.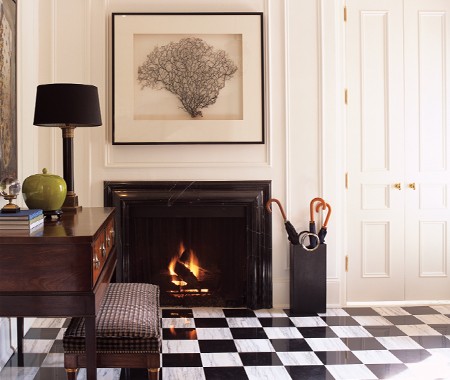 From Mary Douglas Drysdale who has created some of the most inspired interiors of our century. Pure classic design is timeless, and Mary is unequivocally the "Queen" of classic interiors.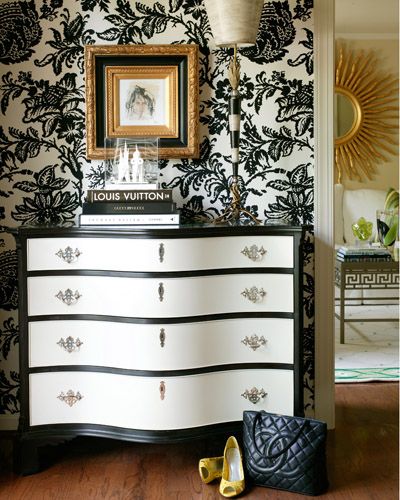 This interior just embodies Tobi Farley, from the Chanel Bag to the Star-burst Mirror, which is the shining star in the adjoining room. If you've ever seen Tobi she is without a doubt one of the most elegant and polished woman I have ever met. During a recent event, I had the pleasure of speaking with her and quite frankly, I really wish I had spent just a little more time on hair and make-up, maybe even worn an outfit with a few less wrinkles, because that woman is simply flawless.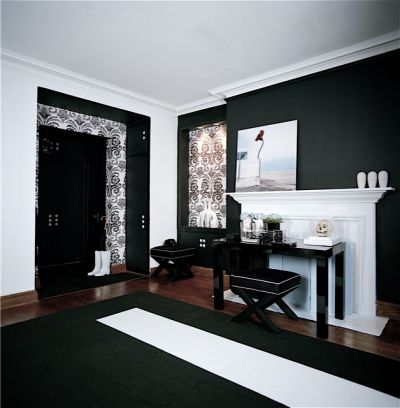 Designer Pol Thais/P T Interiors
This is a hallway, and I love it! From the damask wall-covering to the lacquer console table. If I could, I would lacquer just about every piece of furniture in our house…(Mr. B if you read this I am totally kidding).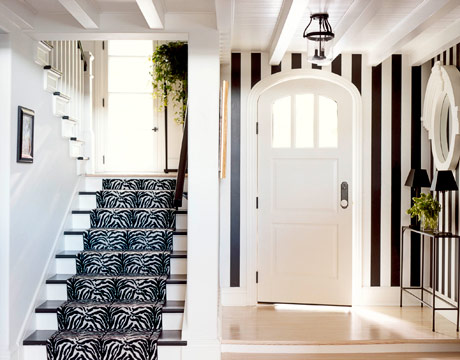 Courtesy House Beautiful
Well welcome home…who wouldn't love to walk into this this stunning foyer every day…I am going to be awake all night just dreaming about the animal print runner. 
 One of my favourite ATL designers is Suzanne Kasler, when I first met her over 10 years ago, I knew she was going to be a superstar and judging from this pic of one of her signature interiors was I wrong?
Designer/Thomas Loof
This room is just "Parisian Chic" at it's ultimate finest. From the ebonized chairs with the awning stripes to the wire cafe parasol frame hanging over the fireplace. I have stripped more than my share of fabric off lamp shades and parasols. Just let the bones of the piece be the focal point, and voila´ a unique piece of wall art.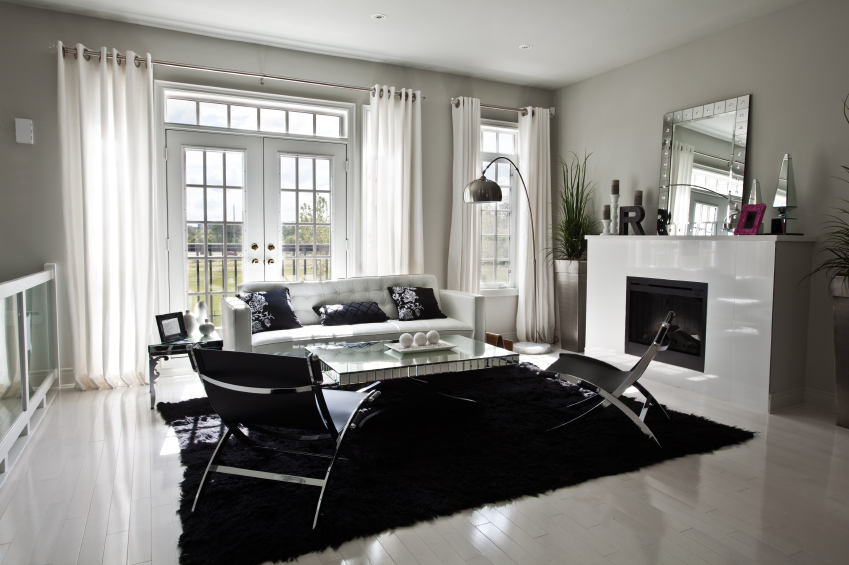 Photo Courtesy of Bolick Interiors 
This interior is just the perfect blend of modern sophistication with timeless elements. I wish I could tell you the name of the client…but my lips have to be sealed for now….which is one of the hardest things I have ever had to do, because I am just dying right now. This is truly one of the highlights of my career. So all in good time…
I hope you have an amazing weekend, and I look forward to sharing the latest and greatest from the "Coverings" show next week….I'm so excited to be attending, and of course I'll be blogging from Orlando.
"Black and white can do anything that colour can do." -Vicki Bolick
"Be Amazing!"
Vicki "The Ace of Space"
Bolick Interiors, LLC
Thanks for stopping by!