I have a new crush, and he's known as Sweet Paul. Is he sweet? Judging by his blog and  magazine, I think so. My apologies if I'm late to the game, it's certainly crossed my mind that perhaps I might be the only one who hasn't heard of him, and this downright delectable tome. It was by pure accident that I found the latter, I was in Greenville S.C. for a weekend visit to my mother-in-law and I decided to run an errand that took me straight to my favorite shoppe "Postcards From Paris", followed by a side trip to Anthropologie. It was the side trip that brought me to the magazine, because on a round table were books galore, and the sweetest little magazine just brimming with visual eye-candy. There was only one left, and I was the lucky recipient because it was also being eyeballed by another shopper, who even asked me if I was going to "buy it or read it." Well both actually. She even had the nerve to tell me that she had put it down, and came back to get it. Hmm…sounds a little fishy to me. Since one of my resolutions this year is to say "NO" more often, that is exactly what I did. All I could think about was rushing back to my mother-in-law's house (no offense but you'll rarely hear those words slip from my lips, I still haven't gotten over the fact that she once bought me an over-sized sleep shirt and asked me if I needed a bigger size. Ouch). All I needed was a comfy chair, my coveted magazine and a cup of java. My fingers were already tingling with anticipation. Did it happen? No. I sat down, opened the first page before Mr. B.'s mom asked me if she could look at it for a minute. What? Of course, I had to say yes. By the time she was finished I had fallen asleep. There's always tomorrow. Or was there? So the following day, I decided to read it on the way back to the ATL. If I could find it. The Fashionista was using it as a colouring book before I discovered her faux pas. Quite frankly, she's so unbelievably cute that all was forgiven.
So after we got home what did I do? Went to the local coffee shoppe for a little peace and Sweet Paul. After sinking into a well worn leather chair strategically placed by the fireplace, a woman seated next to me asked me if I was almost done with my magazine, and if she could read it. My response?  "NO!" After all I have to keep at least one of my "New Year Resolutions".
I wanted to share a few pictures with you, even though the magazine doesn't follow my usual style (think AD, House Beautiful) I fell in love with the glorious imagery. Recently, I found out that you can actually subscribe to "Sweet Paul" for $60 USD for four quarterly issues.  Whether your a DIY'er, Crafter, Foodie, or simply enjoy looking at beautiful imagery it's well worth the small investment.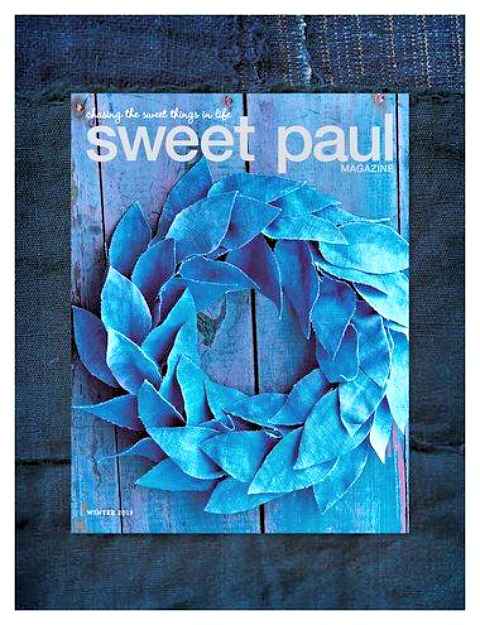 The cover that won me over…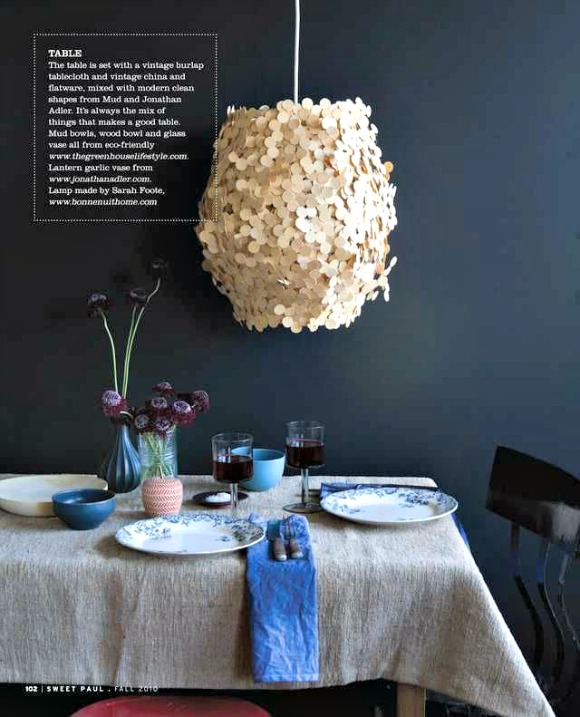 via Sweet Paul
The stunning chandelier by Sarah Foote is what caught my eye, and I absolutely love what was written in the caption "It's always the mix of things that makes a good table." I couldn't agree more…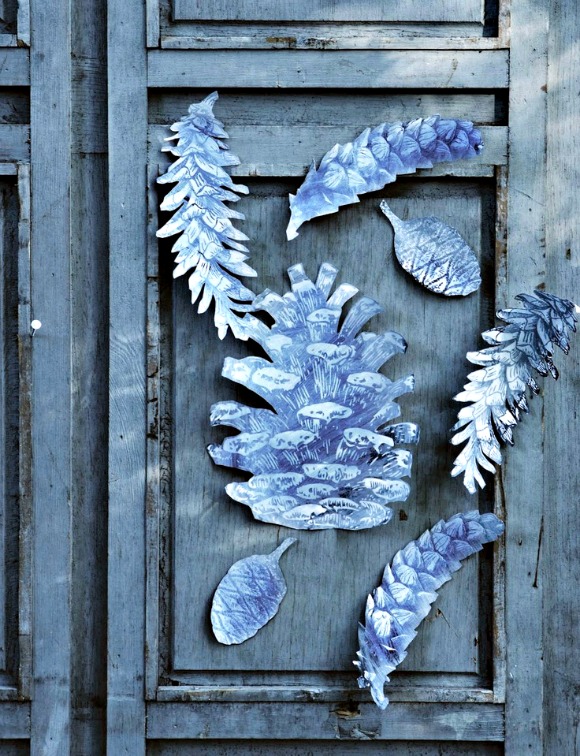 via Sweet Paul
A mix of paper-cut out pine-cones against a rustic door…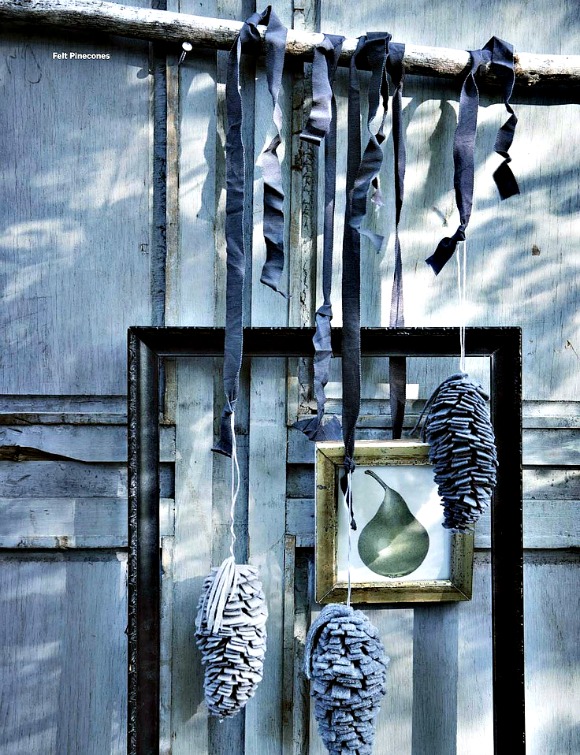 via Sweet Paul
If I could figure out how to make the felted pine-cones for Christmas 2014, they would be hanging from every mirror in my home…simply adorable.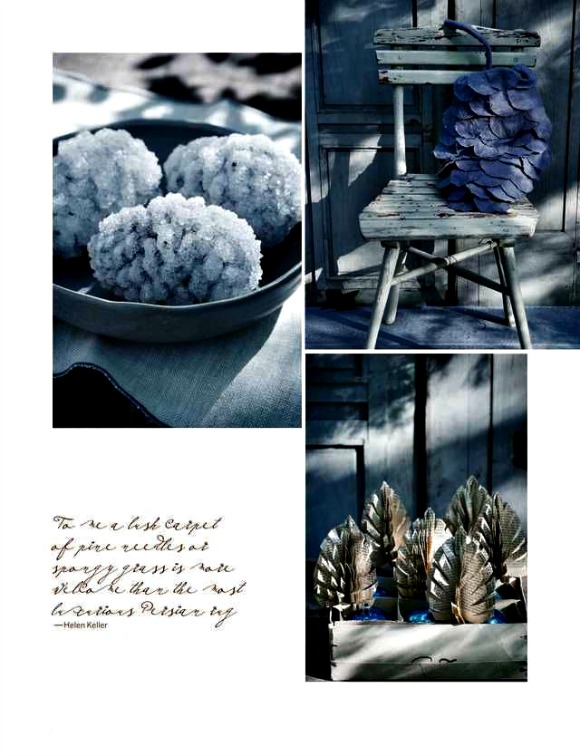 via Sweet Paul
These pictures remind me of childhood projects that my mother would have us create. I can remember scouring the woods for pine-cones, and gluing glitter on them for the holidays. In fact, why not use any of these ideas all year round whether it's the crystallized pine-cones in a bowl, the fabric pillow on a sofa or the felted pine-cones gracing a tabletop.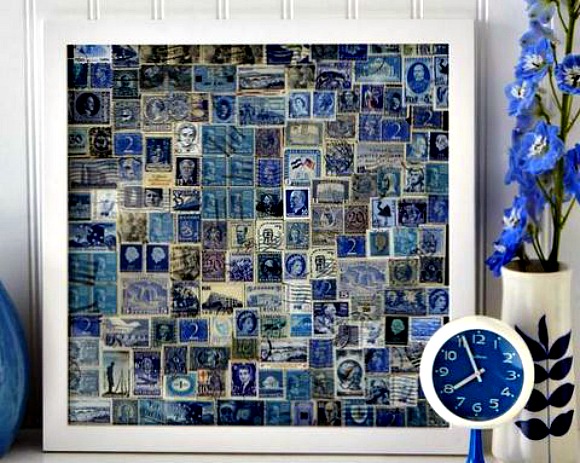 via Sweet Paul
A little known fact about me: I once worked for former President Jimmy Carter at the Carter Center in Atlanta. I handled his correspondence, and since he received letters from across the globe, I  would have some of the volunteers save any of the stamps that were interesting and unusual. I saved stamps from countries I hadn't even heard off, and some were simply miniature works of art. I still have them all in an envelope, and the light bulb went off when I saw this idea…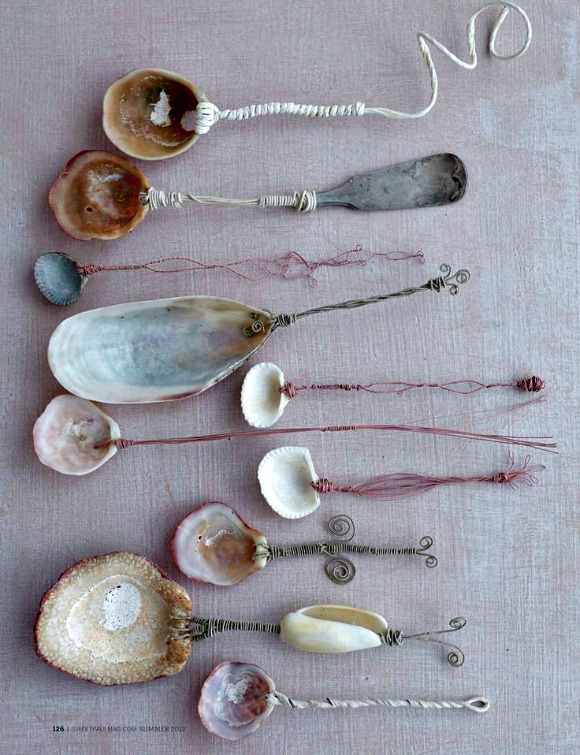 via Sweet Paul
Who doesn't collect seashells? What a brilliant idea for re-purposing treasures from the sea. I don't have a clue how to do metalwork but  this picture certainly makes me want to learn…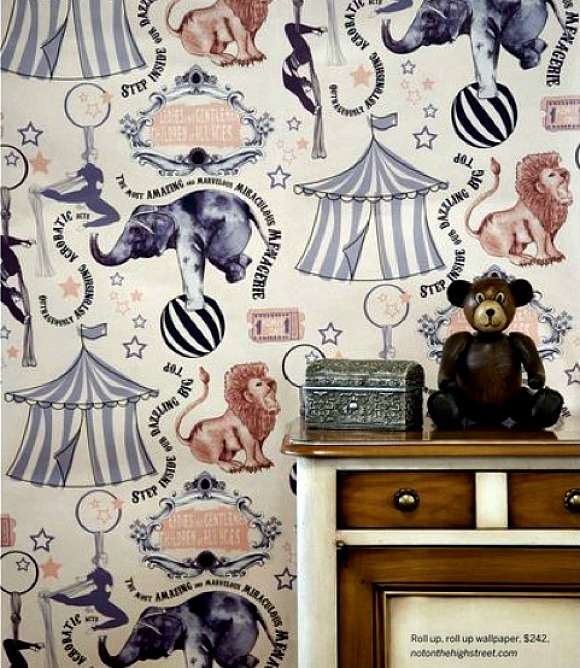 via Sweet Paul
The circus wallpaper is just plain adorable! If only I had a place to hang it!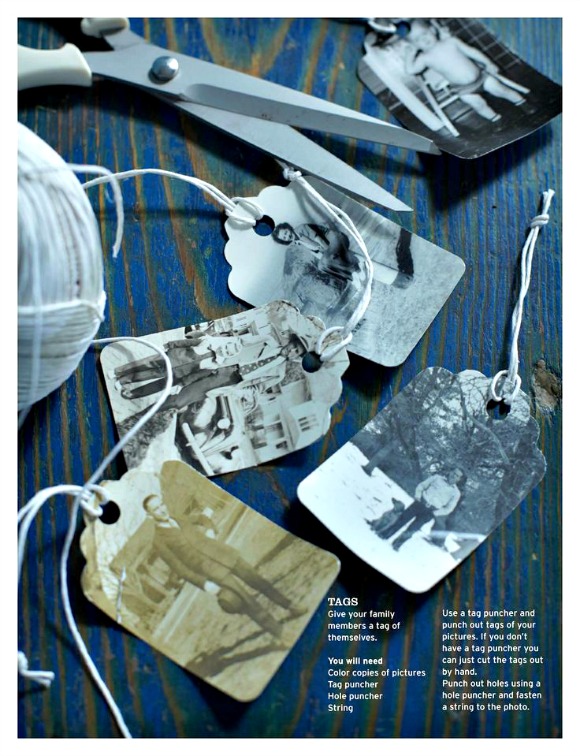 via Sweet Paul
Luckily this picture came with directions, because this year I have decided to add a personal touch to my gift wrapping and this is a perfect way to do just that.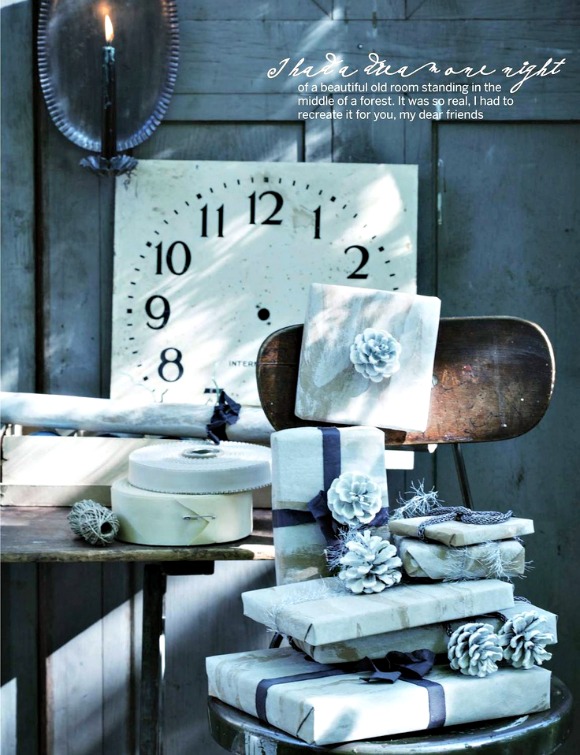 via Sweet Paul
I am so in love with the imagery and prose…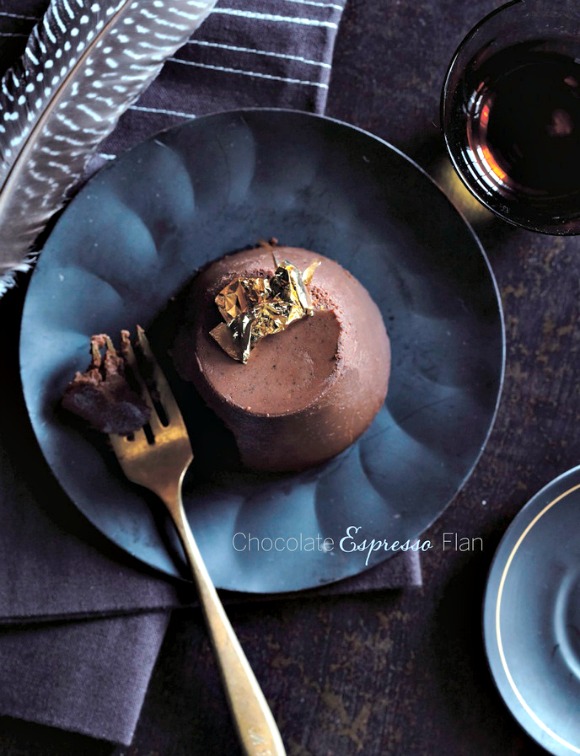 Via Sweet Paul
The magazine and Paul's blog is full of culinary eye-candy…
If you have a chance pick up Sweet Paul Magazine, it's a keeper and I plan to keep my stacked up by the sofa.
P.S. The musings are my own…
 Follow me on Pinterest for more design inspiration simply click on the link here: http://www.pinterest.com/bolickinteriors/
As always,
Thanks for stopping by!