The turkey race is on. In less than two weeks, I'll be stuffing the big bird, baking loaves of Cranberry bread, mashing the potatoes & mixing the gravy. But, what am I most stressed about? Setting the "Thanksgiving Table," which has always been my job. When I was younger, my mother would hand me a pair of pruning scissors, a wicker basket then "shoo" me off into the "Great White North." It didn't matter if the snow was past my knees; it was my job. I would come back with armloads of dormant (okay dead) plant life, sticks off birch trees, and evergreen boughs. Then I was tasked with making the centerpieces using antique sap buckets handed down through the generations of my father's family. Some of my arrangements were hits, and sadly some were misses. The misses? Well, it was usually when I made them too tall, or worse yet too wide, which caused my family to brush aside branches to get to their plates. In my defense, I was still learning floral arranging. Now as a designer with a trained eye the principles I learned in design school have served me well. It's now all about scale, texture and of course making sure that I don't go overboard and that people seated at the table can see each other and their food. Another lesson learned is that the "go big or go home" theory works well in picking out chandeliers but not when designing holiday centerpieces. Of course taking a floral design class at a now defunct flower shop in Atlanta helped and working for a well-known designer who was an extremely talented "color mixologist".
So in a few weeks, the Fashionista and I will be boarding a plane and flying to New York. This year I have a plan; I'm going to draw out a table-scheme in advance. Make a list of all the plant material I'll need and with the Fashionista in tow, we'll fill our baskets in record time and back to Grandmother's house we'll go. Having a well thought out plan is an essential part of the holiday table. Mix good food with family and great friends, and you have the perfect recipe for a memorable day.
On a side note: I just bought a book yesterday at one of my favorite stores in Atlanta, it's by Daniel Cappello titled "Dinner Diaries," it will also be available in my bookstore launching next week, it's full of tips and advice from seasoned hostess's around the globe. One quote was priceless-when Nanette Lepore was asked where she serves coffee after dinner she replied "We don't drink coffee; we dance after dinner." Here's to more dancing…
Here's a thought to live by when dressing your holiday table and creating holiday centerpieces…
"Whether opulent or conservative, be sure your china, linens, flowers and candles pull together. Even eclectic looks should look right."– Daniel Capello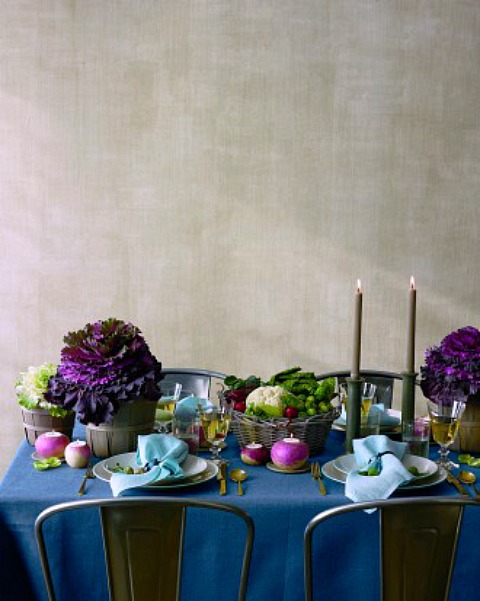 via marthastewart.com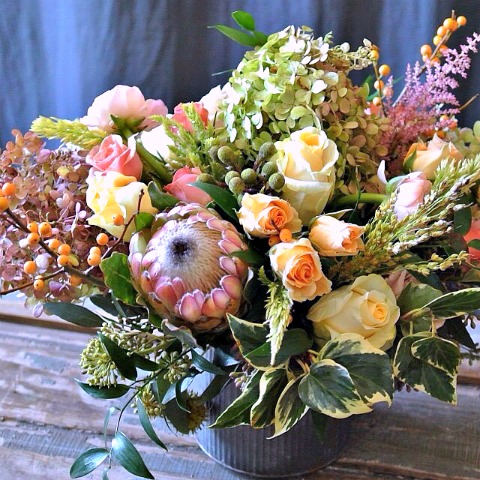 via Sullivan Owen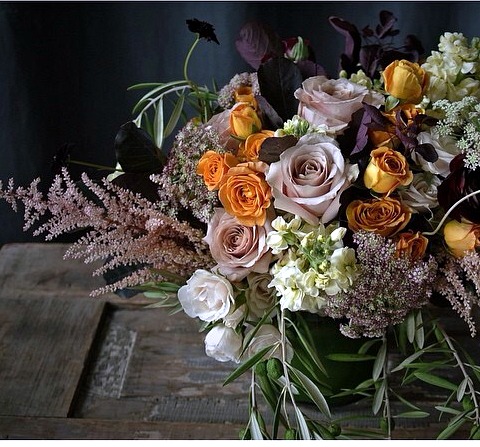 via Sullivan Owen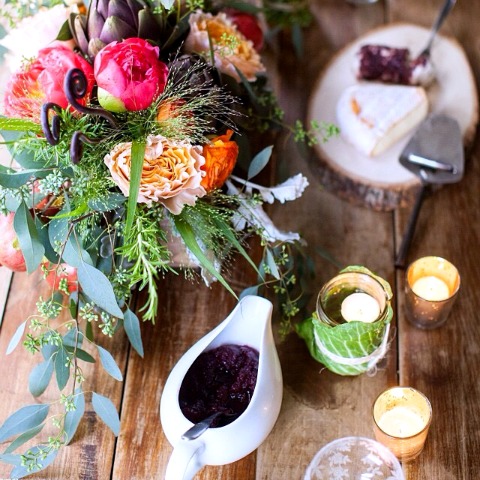 Via Whim Events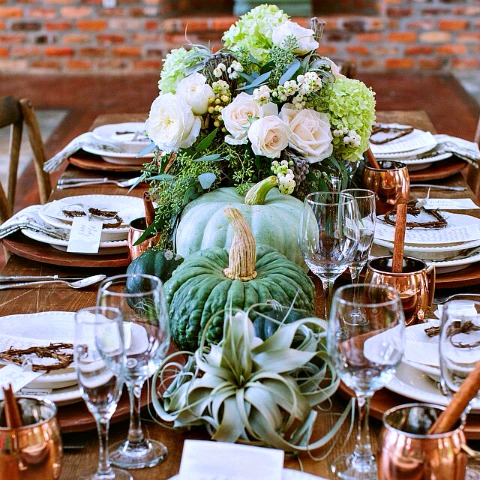 Via Angela Marie Events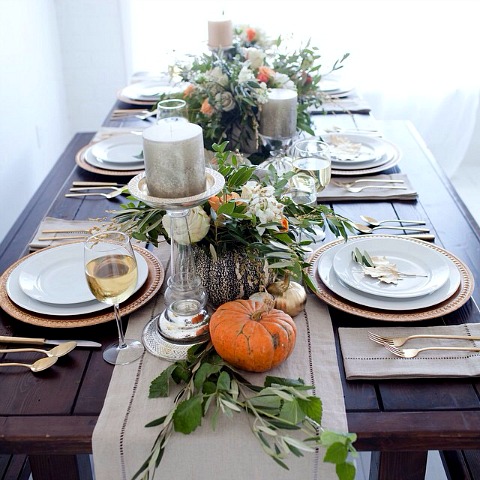 Via Pottery Barn Kids Blog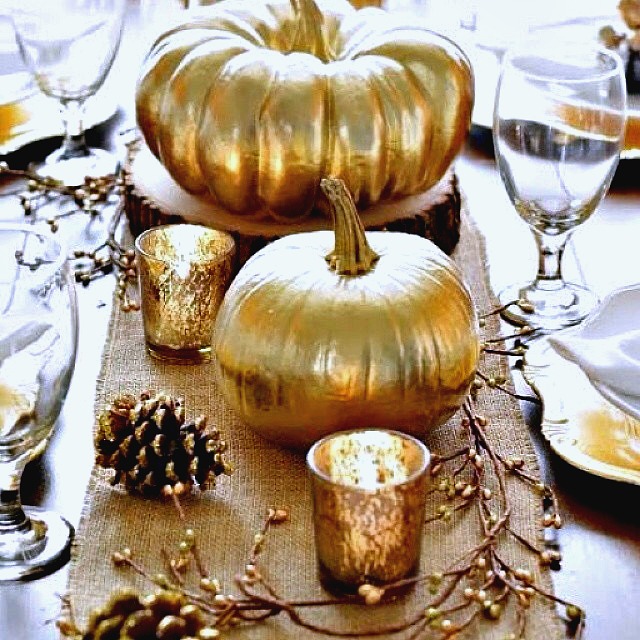 Via Creative Touch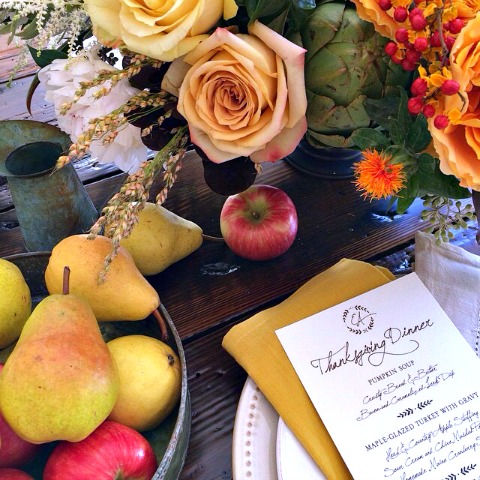 Via Ipanema Press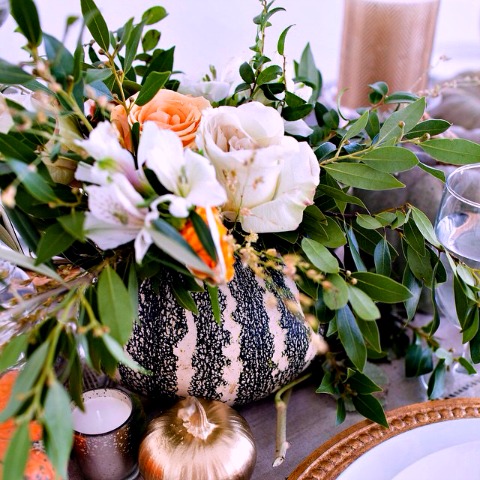 Via Pottery Barn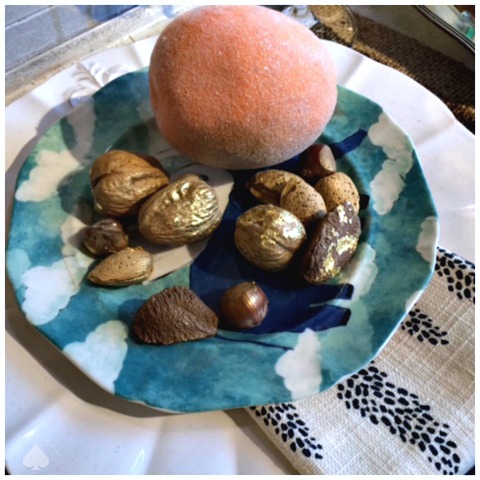 via Vicki Gladle Bolick-theaceofspaceblog
Of course it could be as simple as this place-setting I saw at Anthropolgie yesterday, and without a doubt since I'm cooking less is going to be more…
Most importantly, Thanksgiving is all about family, friends and creating lifelong memories…
As always don't forget to follow us on Pinterest, Instagram, Facebook, Goggle+, and Twitter…
Until next time,
BE INSPIRED. BE AMAZING.