It's Tuesday. The day I troll social media for the interesting, intriguing and incredible. Today is without exception. I feel a little like the cat that swallowed the proverbial canary (and I'm a bird lover). As part of my nightly ritual, I don't read books or magazines, but I sit propped up on my Frette pillows and look for that one amazing person, or thing that is going to be the subject of Tuesday's "An Ace Up My Sleeve." I'm a little excited about today, because the trio that make up the company of Antoinette Poisson (www.antoinettepoisson.com) are historic paper conservators, creators of "Domino Papers," and designers. If fact, I was pleasantly surprised to see their designs pop up on a John Derian pillow. John Derian evidently scooped us all. Antoinette Poisson's Instagram feed is a walk through the annals of time, and an education on 'Domino Papers." What are Domino Papers you ask? Well they are 14″x18″ papers that were originally used in the 18th century to line boxes, books, closets & hallways. A lost art until this trio of creative talent reinvented a craft that was all but lost in a world of mass production. Antoinette Poisson employs similar techniques to those used in the 1700's to create reproductions of Domino's with a unique interpretation that is at once captivating if not unarguably striking. (You'll soon agree). The patterns are hand-painted or hand-stenciled, and each is a work of art whether it is gracing a wall or the fabric on a pillow. For the design obsessed we are always looking on the horizon for the uniquely talented. Antoinette Poisson, a trio of multi-talented graphic arts and former conservation students from Paris; Jean Baptiste Martin, Vincent Farelly and Julie Stordiau are truly a breath of fresh air. Purveyors of the past and artistic visionaries with a commitment to reviving the splendor of Domino's. As with a few of my fellow designers I dream one day of living in a Pied-a-terre in Paris, and when I do I'll be lining my hallway with the incredible work of Antoinette Poisson… until then I'll be living in Atlanta, Georgia…dreaming the dream.
Based in Paris, I think the papers are destined for bigger things and it would be well-deserved. If my friend Anya, who speaks fluent French, didn't live in a time zone that was three hours behind I would translate more of what has been written about them, but for now I think pictures speak more than a thousand words. With the designs being sold on pillows and papers through John Derian…I think that this is just the beginning…so let me introduce you to the "Ace Up My Sleeve." The world of Antoinette Poisson…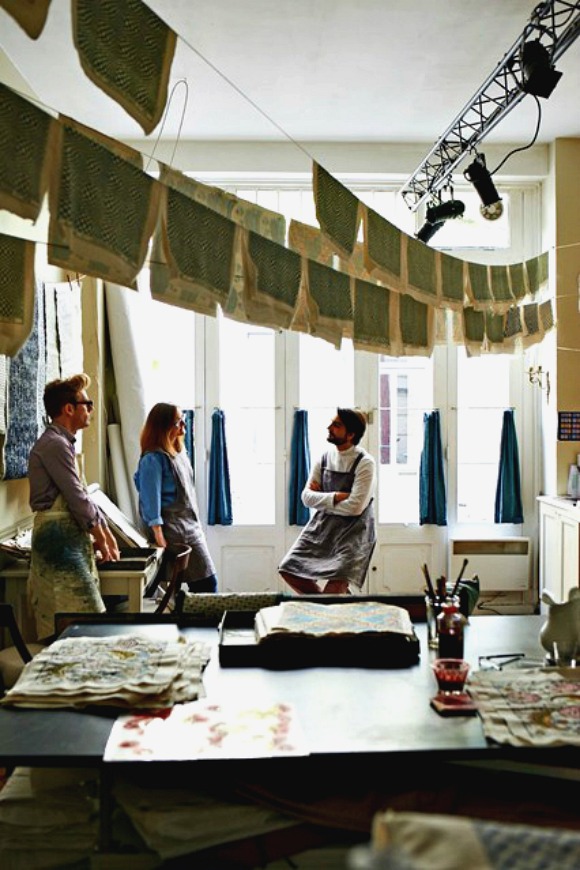 via houseandgarden.co.uk
The trio of Antoinette Poisson…
 via Antoinette Poisson
A showroom displaying their wares from pillows to wallcoverings…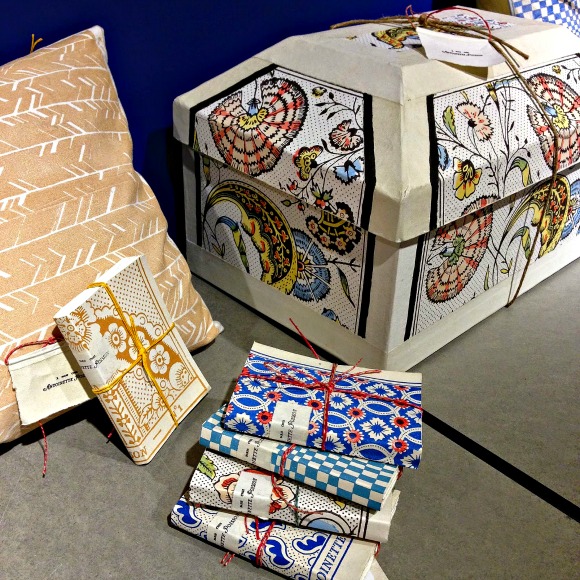 via Antoinette Poisson
The Domino papers covering books & boxes. If I could I would reinvent all my book covers in an array of stunning papers…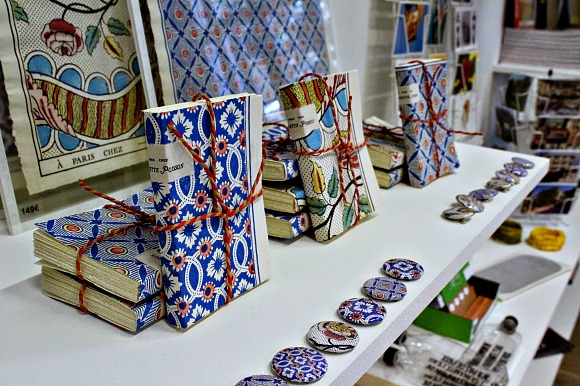 via Antoinette Poisson
Books and buttons in Antoinette Poisson designs…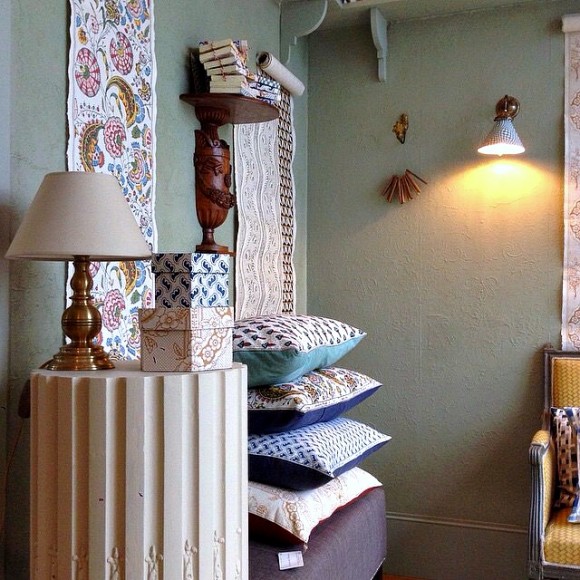 via Antoinette Poisson
and pillows…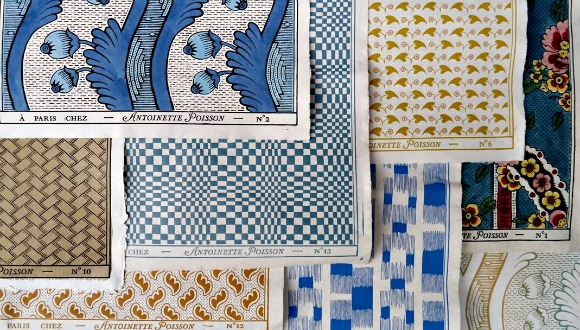 via Antoinette Poisson
An array of hand-colored and hand-stenciled papers…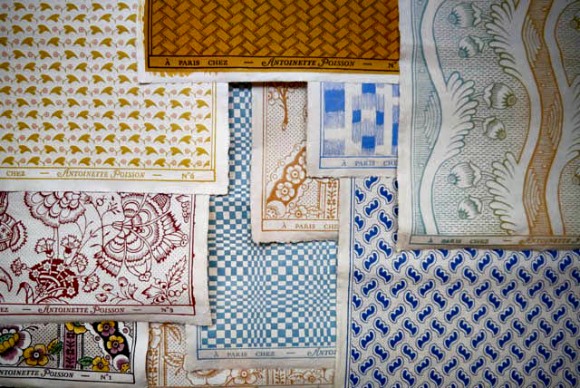 via Antoinette Poisson
Each paper is a piece of art….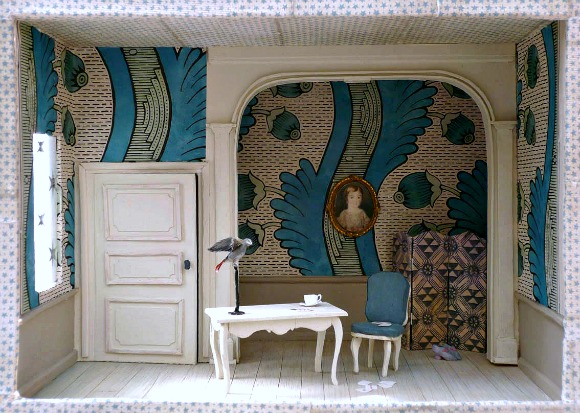 via Antoinette Poisson
Even though this is in miniature, this Maquette showcases the papers to perfection…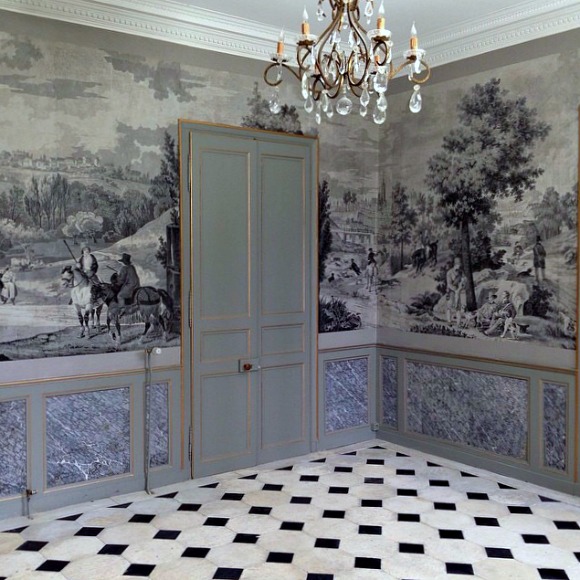 via Antoinette Poisson
Although, they have a line of paper they are also conservators and restorers. This room is one in which they restored the centuries old wallpaper…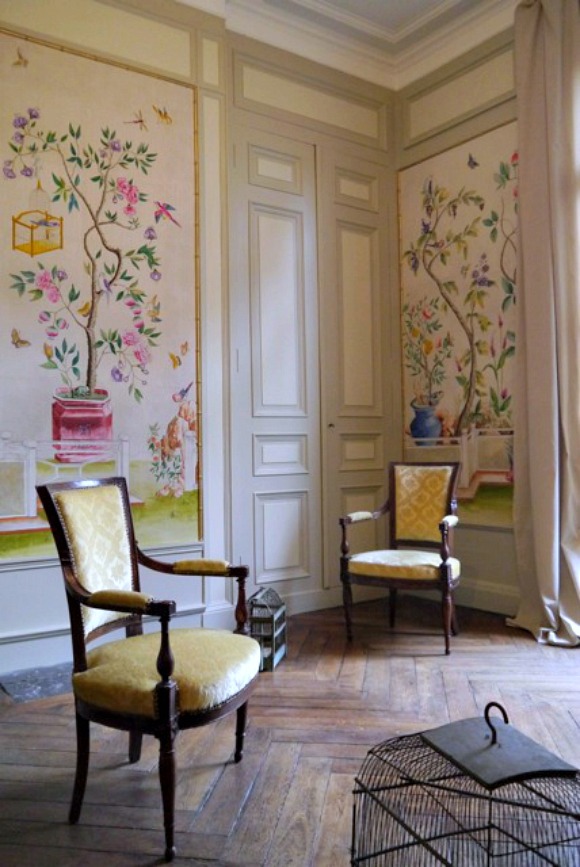 via Antoinette Poisson
This hand-painted paper is also one that Antoinette Poisson restored to it's former glory…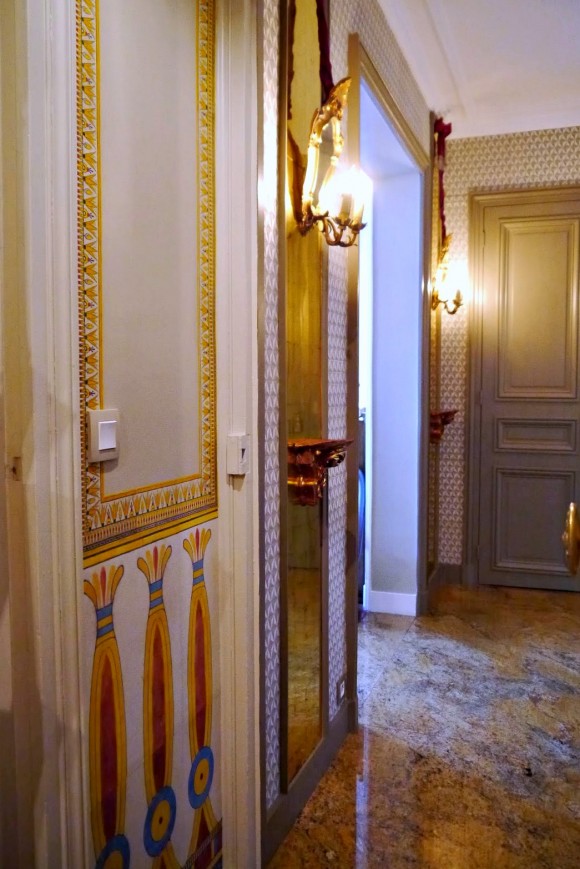 via Antoinette Poisson
A hallway in Paris lined with fabulous Antoinette Poisson papers…
I hope you enjoyed this installment of "An Ace Up My Sleeve" as much as I enjoyed not only discovering Antoinette Poisson (www.antoinettepoisson) but also sharing their fabulous work with my readers….
As always don't forget to follow us on Social Media for more inspiration and design happenings…
https://facebook.com/theaceofspaceblog
http://pinterest.com/bolickinteriors/
http://instagram.com/theaceofspaceblog.com
https://twitter.com/theaceofspacebl
Until next time.
BE INSPIRED. BE AMAZED.