Well, I'm back from San Diego where I enjoyed five amazing days with my BFF, (coming soon an entire post devoted to our high-flying hijinks). We spent some time battling the best that nature had to offer (known as sea-kayaking) and rubbing elbows with celebrities (it wasn't easy, but I absolutely behaved) at the Leica Gallery in Beverly Hills for the opening of a Beatles photographic exhibit by Astrid Kirchherr.
Then back to the ATL and the realities of life at Casa B. While I was away, I was invited to be a Blogger Ambassador and Tastemaker for the NYDC's upcoming "What's New, What's Next," Event on September 19, 2013. Although, I'll be participating remotely, it certainly doesn't diminish my excitement for this celebration in honour of all things new in ideas, design, materials and products. Not only is this one of the biggest product extravaganza's in the world of design, but it's a chance to rub elbows with the design elite such as Alexa Hampton, Vicente Wolf, Celerie Kemble, Thom Felicia, Victoria Hagan, Amanda Nisbet, Sarah Richardson, along with publishing powerhouses such as Newell Turner of House Beautiful, and other greats from-The Wall Street Journal, Lonny, & the newly crowned head of Veranda Magazine, Clinton Smith (formally of Atlanta Homes and Lifestyles, we miss you Clinton). So if you are in NYC or plan to be there this is a must for any Designer, Blogger or simply for the design obsessed. Quite frankly, I would be there if I could figure out a way to fly to NY from the ATL and still be back in time to pick up the Fashionista at school. Hmm….if only the Concorde still existed…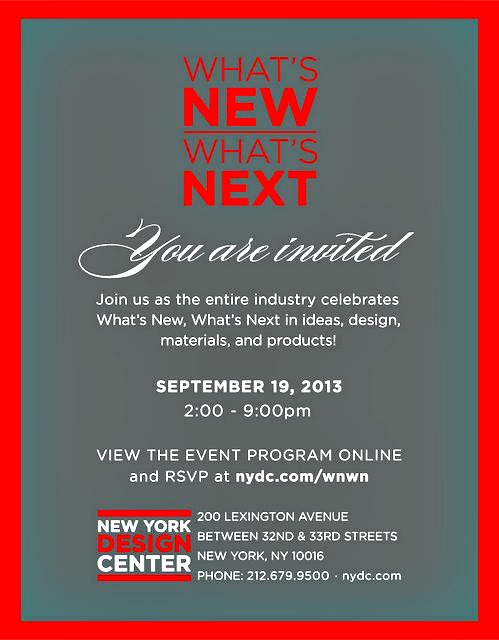 An invitation to this amazing event…
As a Blogger Ambassador and "Tastemaker," I was asked to do a "Pinterest Inspiration Board" which will be on display at the event. I was tasked with choosing from an endless array of products and using only 5-12 on my board. Was it difficult? Absolutely. Because there was so much fabulous product to choose from (thousands of new introductions). P.S. If you don't believe me visit http://deringhall.com/products or http://nydc.com. It was a virtual design feast for my jet-lagged eyes. Now for the unveiling of my collage for the NYDC titled "All That Glitters is Gold."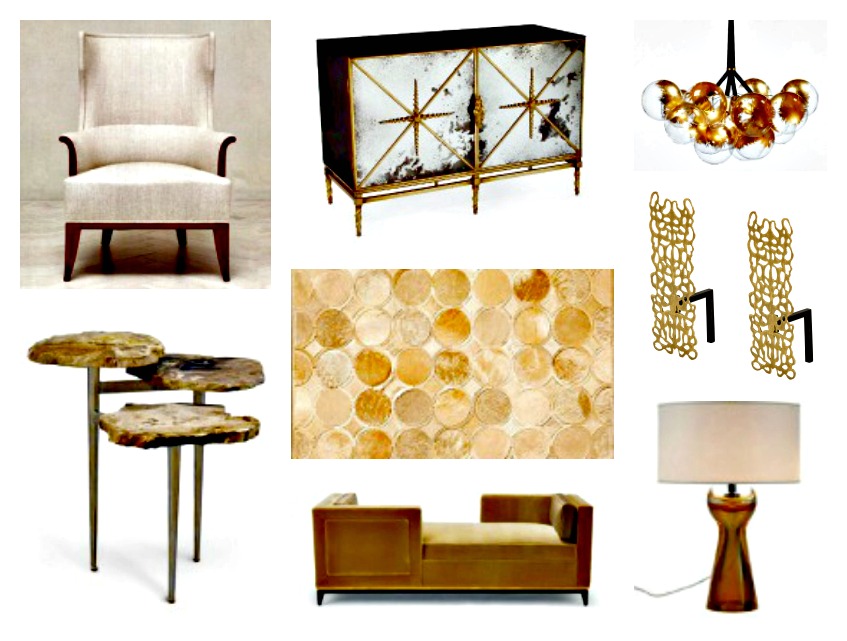 My Pinterest Inspiration Collage started with a 1)"Hair on Hide" rug from the Loop Collection at Kyle Bunting as the centerpiece. The board was created with an eye toward modern glamour, with the addition of luminous touches from the lighting to the Rio 2-Door Cabinet. Starting with the 2) Rio Cabinet by John-Richard and going clockwise 3) A chandelier from Pelle, the glass globes clusters are gold leaf which is applied by hand in a 12K or 24K finish. 4) Hedda Andirons from Arteriors. 5) From Serguso the Nico Table Lamp for Van den Akker in handblown glass. 6) The Raconteur double-sided lounge sofa in Camel Mohair with brass metal banding from Amy Sommerville, London. 7) Palecek's Petrified Wood Table. 8) A wing chair from Robert AM Stern. It was so much fun creating this board and I hope you are inspired to go and visit the thousands of new introductions at the New York Design Center http://nydc.com/products. Find out "What's New, What's Next" (#WNWN) on September 19th…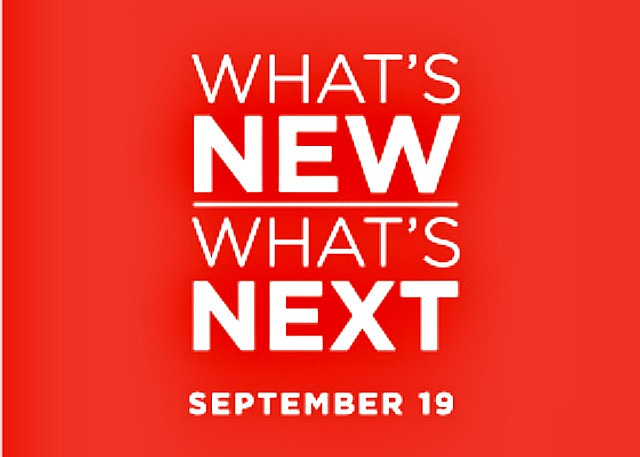 For more information about some of the product introductions visit http://pinterest.com/nydc/whats-new-whats-next-whats-pinteresting/.
Now I have a favor (huge), when you are on Pinterest (because most of us are) would you mind going to the NYDC's Pinterest Page and repining my design board? Visit here: http://www.pinterest.com/nydc/blogger-ambassador-2013-whats-pinteresting/ The top "Tastemaker" (judged by the number of  Repins of our collage) gets some extra recognition, and we all know an occasional pat on the back goes a long way!
Cheerio!