What a very long day…the one thing "Wonder Woman" and I definitely have in common is the name. When I got up today and thought of all the things I had to accomplish, I hid underneath the covers until the snooze button went off 6 times. In all honesty, I would absolutely love to hire someone to just run around town and do client "pick up's," that's it. Unfortunately, that only happens in the reality TV world of "Million Dollar Decorators." I would rather do my own laundry, clean my own house and make dinner then to plan out the logistics of picking up lighting, accessories, drapery, pillows, and sometimes upholstered items on one trip. Then I face the Olympic size task of squeezing it all in my car (wish I had a moving van) before heading back to the office. But, I did it, and if I could reach around and pat myself on the back I would do it, even my poor feet hurt, and I had on my brand new Tory Burch flats in very comfortable, very soft tumbled leather (a gift to myself because Mr. B. watched football one entire weekend and I had some downtime, total score).
One project I am tackling this year is the bathroom, and something you won't see is a standard aluminum shower door, or even a frame-less assembly. I am going one step beyond the "design standard" and doing a shower frame in iron, my personal prediction is that this trend is going to be "on fire" in the next several years, (and you heard it here first). Our master-bath is going to be fabulous, and if all goes according to plan it should be done in 2013. I am so obsessed with this look that I am attempting it in our Master Bath  (also known as the "design experiment").  Mr. B is totally on board, but there was a trade off, he gets a golf cart and I get a bathroom. Well played, very well played…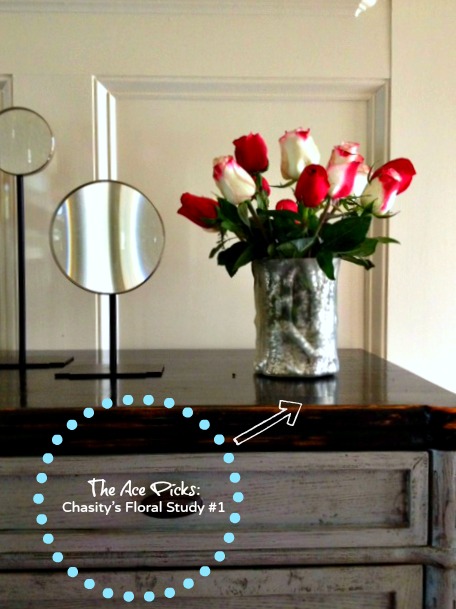 Once a week I'll feature a floral arrangement by my six year old designer-in-training, she picked out the flowers, arranged them and chose a vase…this week she chose white and red tipped roses from the supermarket because the colours "were really pretty together", and the vase "because it needed some sparkle."
Here are some of my favorite steel shower door enclosures….and they are all just stunners….
via brynalexandra.blogspot.com
I do want to give special mention the the qua-trefoil detail over the window…
via creativeinspiration.tumblr.com
via rosesandrust.com
via housebeautiful.com
via amberinteriors.com
I hope you are enjoying the new look of the "photo-graphics" and as always please don't forget to check out my Pinboards on Pinterest for more design inspiration. Help me reach my lofty goal of 5,000 followers by the end of 2013. I'm already up to 100…(start small and dream big).
Thanks for stopping by!