Where did the weekend go? Last I checked it was Friday and I had my tired feet resting comfortably on a leather ottoman, a stack of up-opened design mags beside me, with Miss Maggie, our beagle extraordinaire lounging on top. Her droopy hound dog eyes just pleading with me to stop working, and take a nap. Okay…I'm game. So nap I did, with both of us snoring contently on the sofa…dreaming away the afternoon with visions of client projects dancing in my head.
Fast forward to Saturday, with me and the little munchkin off to Target to pick up some baby gifts for a friend who just had the cutest little treasure. I let my mini-Fashionista pick out all the gifts and she did this momma proud. Yup…that newborn tyke is going to be wrapped in style, right down to her leopard print booties.  While at Target, we had to take the long way to the check-out. Who can pass up a stroll through the home furnishings aisle?  Let's face it that store never ceases to amaze, the pillows at "Tar-jay" were just utterly FABULOUS!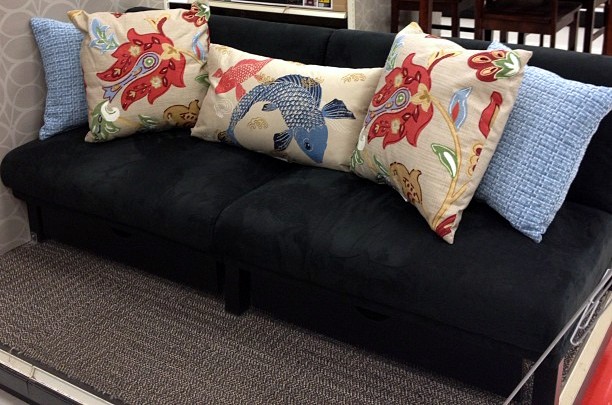 Totally cool, would have put together more combinations, but with my mini-fashionista in tow, wondering out loud why I was re-arranging the store (with curious shoppers looking on), I decided to call it a day, before she completely blew my cover… 
That's…right, I was totally and completely impressed, not only with the soft goods, but the accessories were just as eye-popping as those seen in high end showrooms. I ended up walking out with only a few ceramic Greyhound statues that are going to make some really stylish ceramic bookends (very Jonathan Adler-esque).
Those little Greyhound statues are now residing comfortably on the book-shelf at Casa B as book-ends. 
You can bet I'll be going back really soon to load up my cart…and pick up a few drapery panels in some very yummy patterns to make into shower curtains for a client project. To be honest, it's difficult at times to find anything that passes muster when it comes to shower curtains, so the "curtains going up" (as they say on Broadway) on some of my fav ideas plucked from my "style files."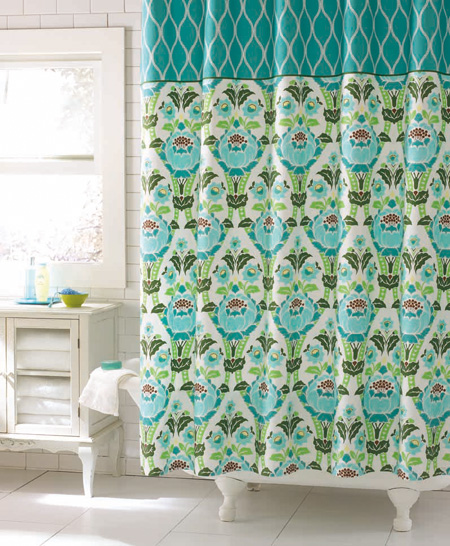 From the Amy Butler collection…stylish and whimsical. I could definitely see these as drapery panels too…which is actually what I intend to do.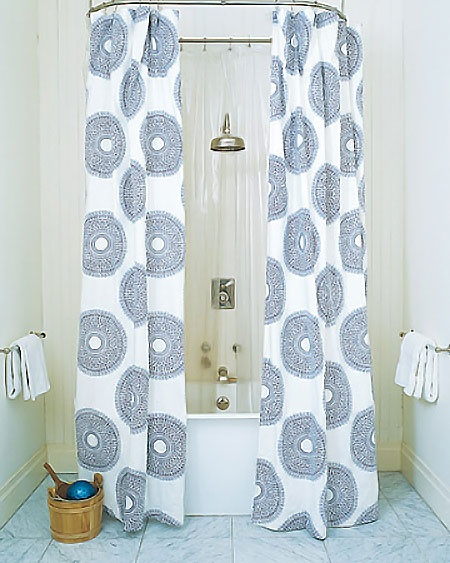 From bhg.com, I am in love with this medallion print which goes so incredibly well with the Carrera Marble tile…(I am saving money this very moment to splurge on a Master bath remodel and top on my list for flooring is Carrera Marble).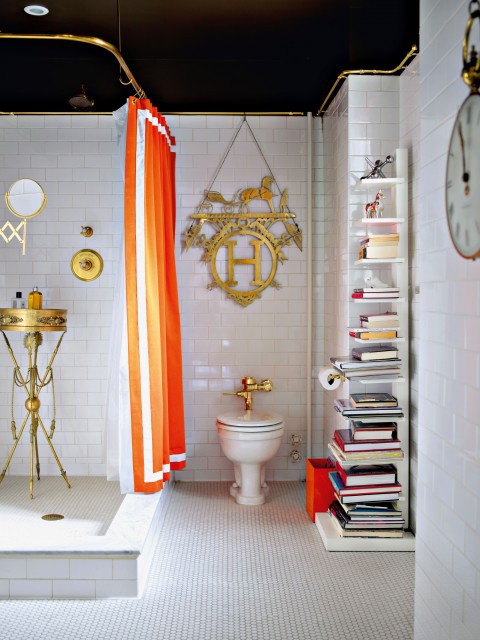 This is the bathroom of one of my favorite designers, Jonathan Adler, who I had the honour of spending time with years ago.  Even before he became part of the design elite, and quite frankly his designs just continue to impress. Seriously where-ever did he get that brass Hermes logo? If I had it, I would totally be wearing it around my neck all day long…and not feeling self-conscious in the least. (Think Flavor-Flav.) As someone so Hermes obsessed it hurts,  it makes total sense that this bath scores pretty high on my list of favorite things. Of course the signature Hermes orange shower curtain totally rocks…and is in perfect contrast to the crisp white tiles.
bhg.com
 Yellow and grey are one of my all-time fav colour combinations, and the shower curtains are actually made from drapery (have so done that), and I love the addition of the star-burst mirror on the back wall, unconventional, yet totally stunning.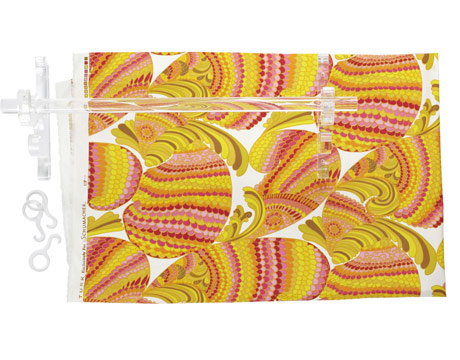 A little Trina Turk fabric mixed with some acrylic drapery rods (from aaronrthomas.com), retro-fitted for the bath and you have a really stylish shower curtain ensemble, that goes from drab to fab.
I am head over heels for this bath and the shower curtains add so much drama with the addition of the horizontal black and white stripes. Just plain yummy!
Via mediacache.com
I am a big fan of flanking shower curtains, I am not a fan of one continuous curtain,  although I'll be honest I'm guilty of using them, but only if my clients insist (I mean really insist, to the point of actually twisting my arm). I love the simple elegance of this curtain/cornice combo.
Ah…West Elm who always seems to fill the moderate price point with some really amazing product. I really love the way this looks…because it gives off the illusion of being pleated, which adds a lot of subtle pizzaz to this shower.
From curtains.com, I love the layering of several panels together,  the more dramatic print in the background, with a subtle pattern in the framing panels. Sophisticated without being overdone…a totally acheiveable look.
In honour of Sept. 11th, I would like to take a moment to remind everyone to remember all those who tragically lost their lives…we will never forget…
Thanks for stopping by!