It's cold season at Casa B., and I don't mean outside. The hectic pace of our lives finally bested me, and I caught a good ole cold. Yes, I've been housebound emerging only from a Sudafed induced sleep in time to publish Part II of "Home for the Holidays." I even missed the new Restoration Hardware's Grand Opening. I just couldn't bring myself to put on another festive holiday outfit armed with of a box of Kleenex tucked snugly inside my oversize Henri Bendel tote. Another opening, another time.
By now there have been throngs of design obsessed holiday goers making their way through the "Holiday House," enjoying the sumptuous luxury that will greet you around every corner. From the high drama of Michel Boyd's gorgeously appointed bedroom, wrapped in sensual layers and graphic style, to Margaret Kirkland's Traditional bedroom cocooned in lacquered Indigo Blue walls. The house is full of warm & sophisticated spaces that will please architecture and design lovers throughout the Southern states and beyond (I promise).
So while I am recuperating inside the relative comfort of Casa B., overloaded with visual imagery and inspiration from the Home for The Holidays Showhouse, I wanted to share some of my snapshots from an evening to remember. For more information or to purchase tickets visit AtlantaHolidayHome.com. The Holiday Home runs from Tues, November 18-December 7th, closed Mondays, Tuesdays and Thanksgiving Day.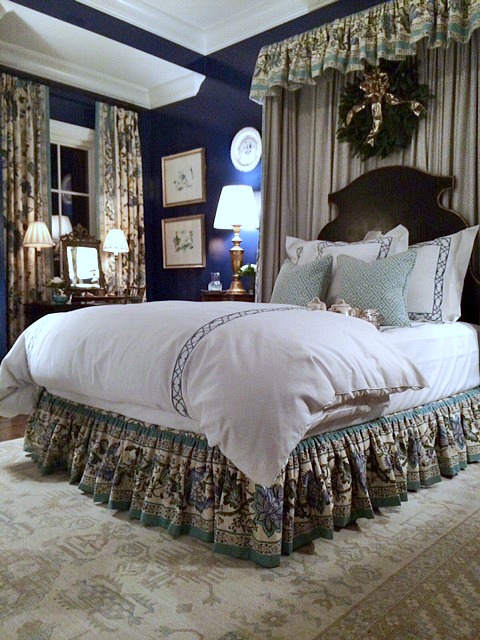 Designer/ Margaret Kirkland
This space is elegant and timeless with high gloss walls, the perfect backdrop.
Designer/ Margaret Kirkland
More traditional goodness…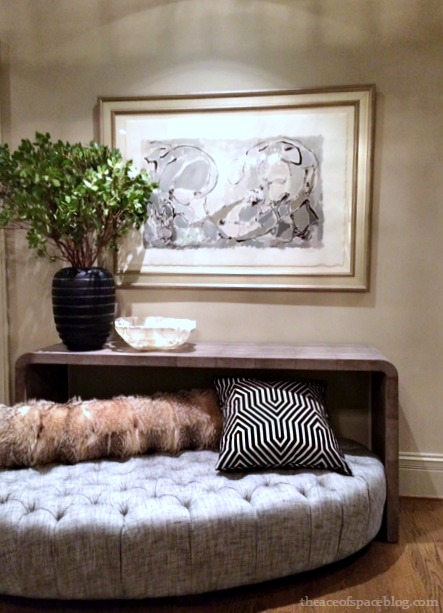 Designer/ Michel Boyd-SmithBoyd Interiors
The ottoman was a custom design and the perfect size for lounging…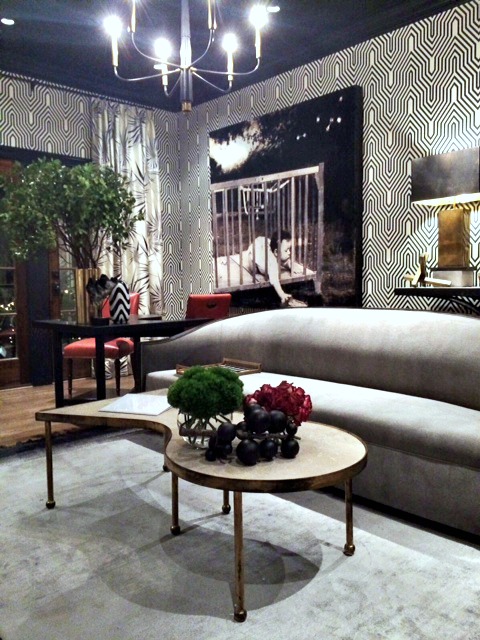 Designer/ Michel Boyd-SmithBoyd Interiors
This bedroom simply exudes sensuality…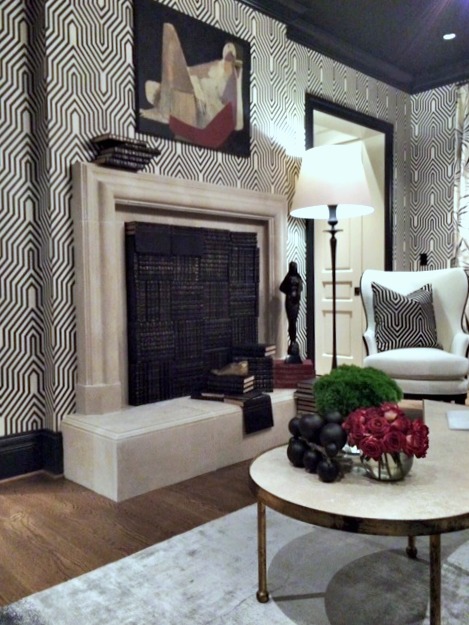 Designer/ Michel Boyd-Smith Boyd Interiors
The firebox is filled with books, the room was a refreshing mix of textures, pattern and materials. It exuded sensuality and sophistication…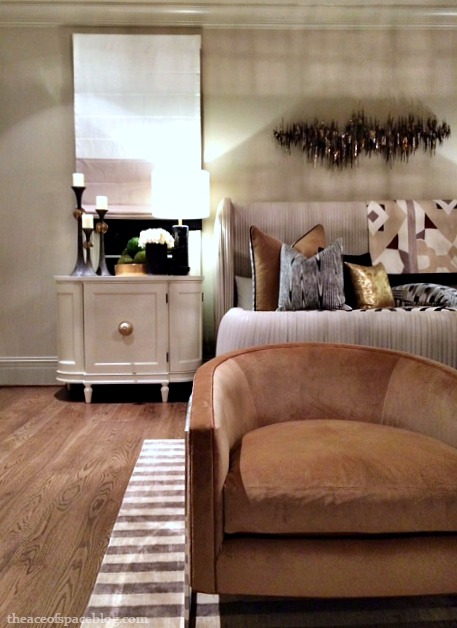 Michel Boyd-SmithBoyd Interiors
Pillow talk…a sumptuous mix of fabrics…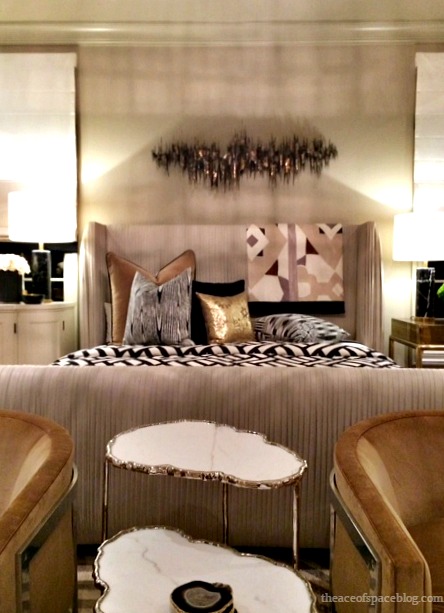 Designer/ Michel Boyd
All custom, all stunning…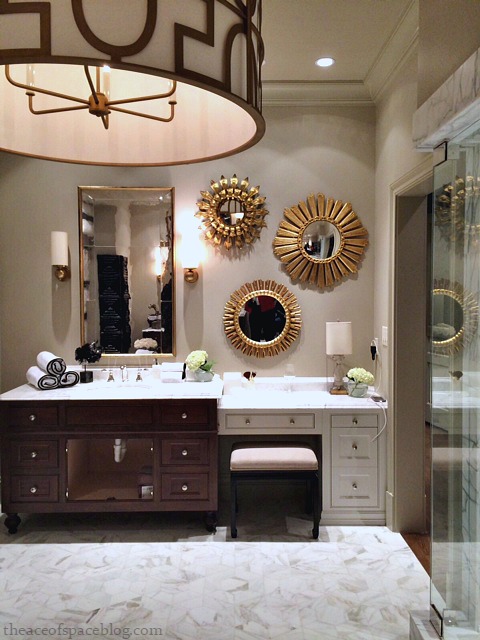 Designer/ Michel Boyd-SmithBoyd Interiors
Marble, gold and glamorous.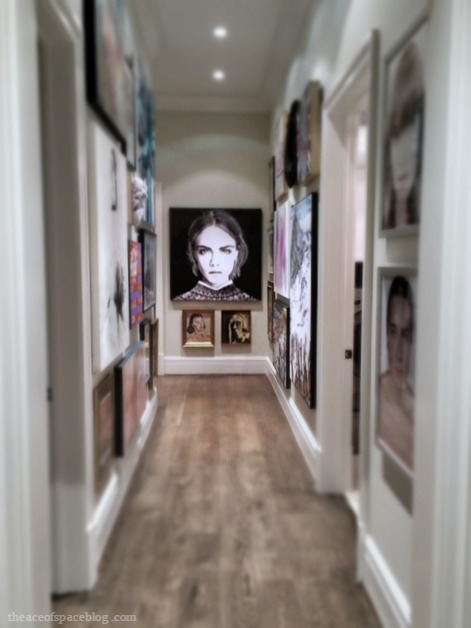 Designer/ Brian Patrick Flynn
A hallway and an art collection curated by the fabulous Brian Patrick Flynn…he also did a Powder Room and Laundry. Unfortunately, my pictures did not do them justice…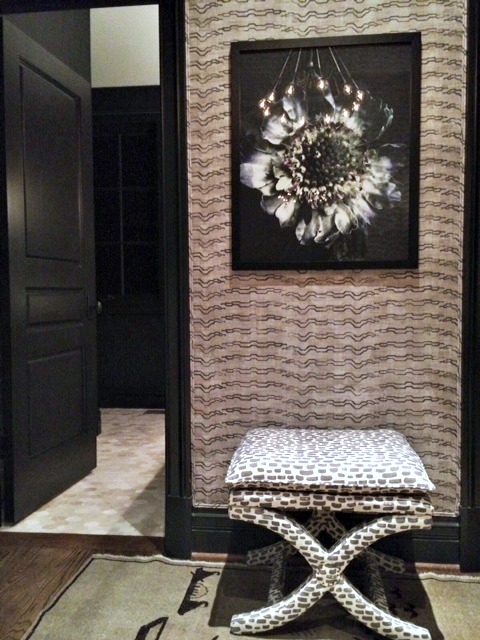 Designers/ Krista Nye Schwartz & Tami Ramsey of Cloth & Kind
I wish I had more pictures to share, unfortunately the evening light was not conducive to picture taking. This is just a peek into what you will experience when you enter this space by this design duo. The fabric on the walls was hand-stamped, the bonus room and vestibule were wrapped in organic textiles and unique pieces…
I hope you have an opportunity to visit this stunning residence and make it a part of a holiday tradition…
Don't forget to follow us on Pinterest, Instagram, Facebook, Twitter & Google+ for more inspiration & happenings.
As always,
BE INSPIRED. BE AMAZED.