Yesterday, I spent the entire day in Atlanta. Living in the burbs has changed my driving significantly, I cruise at my leisure on some of the back country roads getting a taste of good ole Americana. After all what's the hurry? So when I made the jaunt into the big city, my Sunday driving wasn't appreciated by the hordes of speeding drivers ready to rear end me if I didn't pick up the pace. Truth be told I have been known to have a lead foot, and I had to turn up the Turbo yesterday. That's right my car has Turbo, and I can pick up the pace with the finesse of an Indy 500 driver. But, I prefer to drive at a leisurely clip, which is why one of my friends calls me a "Sunday driver…seven days a week." Why was I in Atlanta? To pick out artwork for a few projects I'm working on with my "Brand Partners." So I met with a few "up and comers in the art world," and while I can appreciate all genres of art, I also see trends emerging in art that have me balking at spending several thousand dollars of my brand budget on art that will be passe in a year. Sadly, I saw some of my favorite artists go down the road of trendy art. I say to my followers, buy what you love.. all day long. When you invest in trendy art, that's all you'll ever have. When you go to sell it, it will be for pennies on the dollar. For years I have invested in art, Mr. B. believes in the stock market, I invest in art. I have a Chagall, Franklin VanCourt, some lesser but certainly as talented artists like Sarah Justice and Ambera out of Canada. The Chagall is not my favourite, but it came up at auction and a friend raised my hand with the words "You'll thank me later." I'll never thank her. We don't even hang it on the wall anymore; it's that much of an eyesore. If you read my blog, I only talk about trends if they will outlive themselves. In other words, the ones that will be around for a very long time, and have a certain timeless quality.
After yesterday, I decided to start framing my daughters colorings after seeing a series done with crayons. The gallery I visited has had the art in-house for four years, at over $1500- for each 12″x12″ piece, it became passe before the crayons were dry. Over priced "trend art" is flooding the market.
As with anything in design, a $400. art bowl for example that is massed produced and marked-up is not a good investment, I know because every year we have a garage sale and I have had to sell "client mistakes" for significantly less than I paid for them. No one sees the value in overpriced merchandise. Even if you can't afford to buy investment pieces there are a lot of sites and artists whose work are affordable, and something that you can live with for many, many years (unless you are a serious art collector). So if I can impart any wisdom today, buy what you love (just don't break the bank over it).
Here are some pieces from Casa B. that I'm sharing to show that you can truly mix art and incorporate it successfully into your home…and enjoy what you buy for years.
1. Buy "street art," I have and do. From Venice, Italy to Venice Beach California, I buy pieces from street artists, frame them and hang them around the house. They are meaningful and inexpensive (mostly).
2. Frame the artwork done by your children…and friends. Some of my favorite pieces were drawn or painted by my daughter and a few friends.
3. I love old school posters; I have one from Germany, and it hangs in the family room. (Thought I would show it off)…
4. Buy what you love, and speaks to you. If you buy trendy art, love it.
5. Buy and support local artists. A former client and her family lived in Singapore for years, and she had a substantial collection of carefully curated local art. A few pieces drove the entire colour palettes for some of the rooms. I also have a few pieces that I purchased from local artists.
6. Go black and white. There are a lot of photographers whose works are "wall-worthy," and can be purchased at a reasonable price.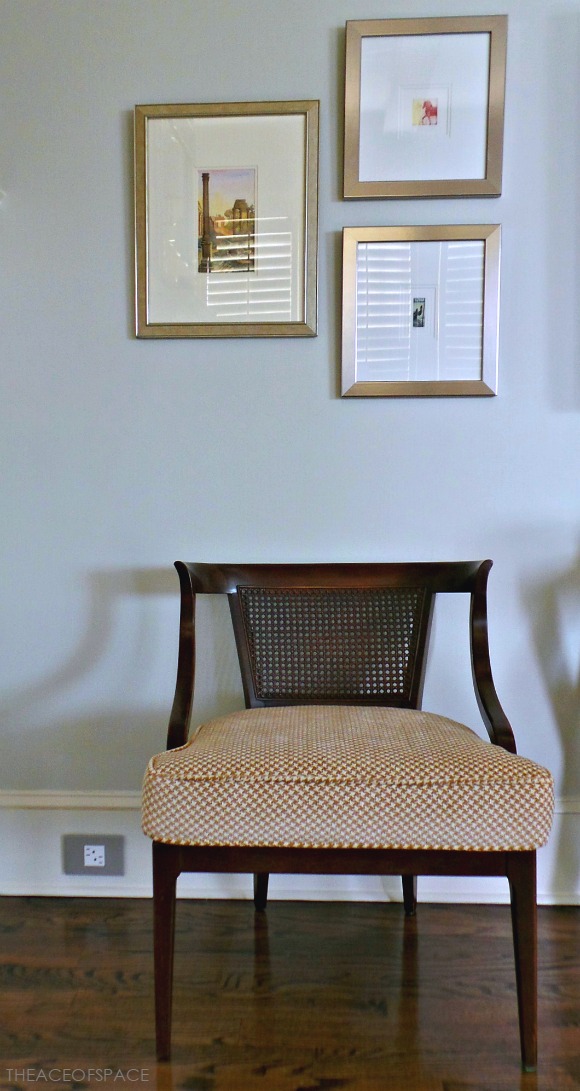 1. Some examples of the "street art," I've purchased, someday I'll frame the rest of the collection and it will fill up this wall.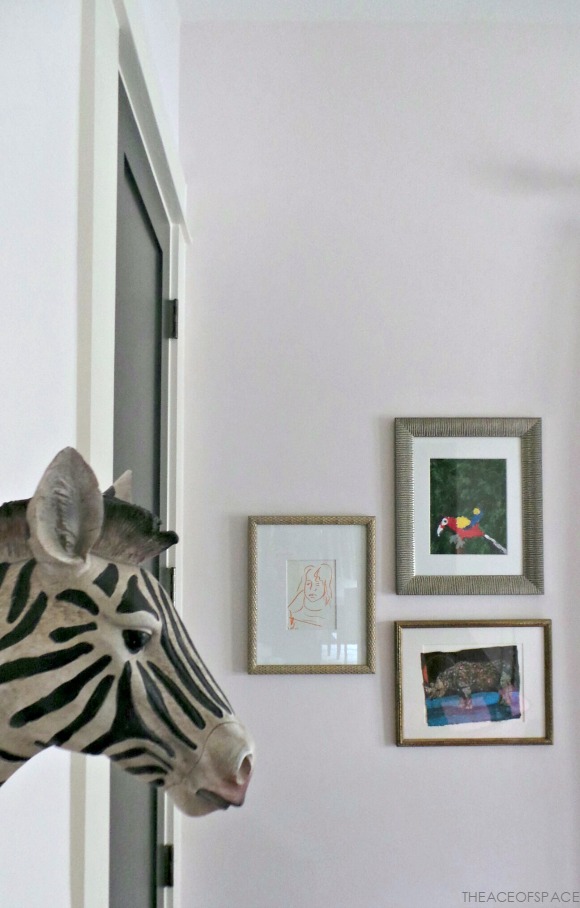 2. A meaningful mix-Artwork drawn and painted by my daughter, and a favourite sketch drawn by a close friend one night while we were sipping wine and reminiscing. Yes, that is a photo-bombing Zebra…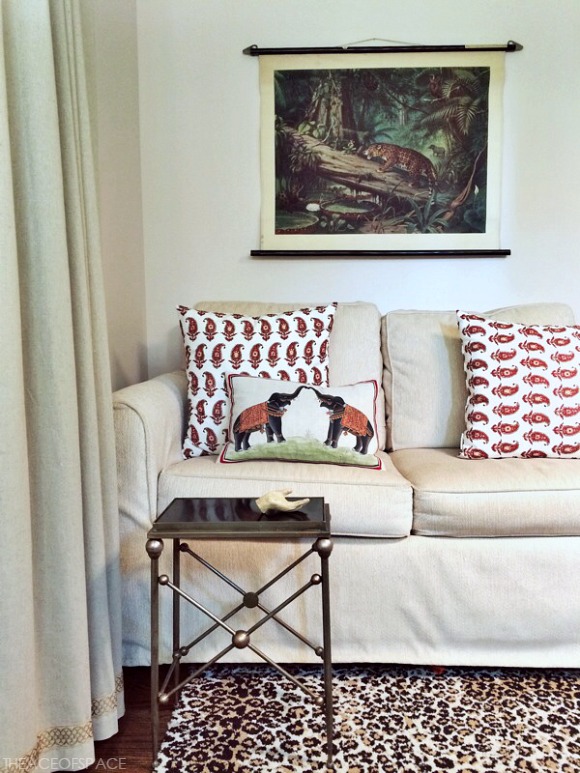 3. If it hangs on the wall, then it's art. I love this old school poster of a jaguar which works well in our "jungle chic" room. The entire room theme was driven by a John Robshaw pillow I bought at ABC Carpet in NYC.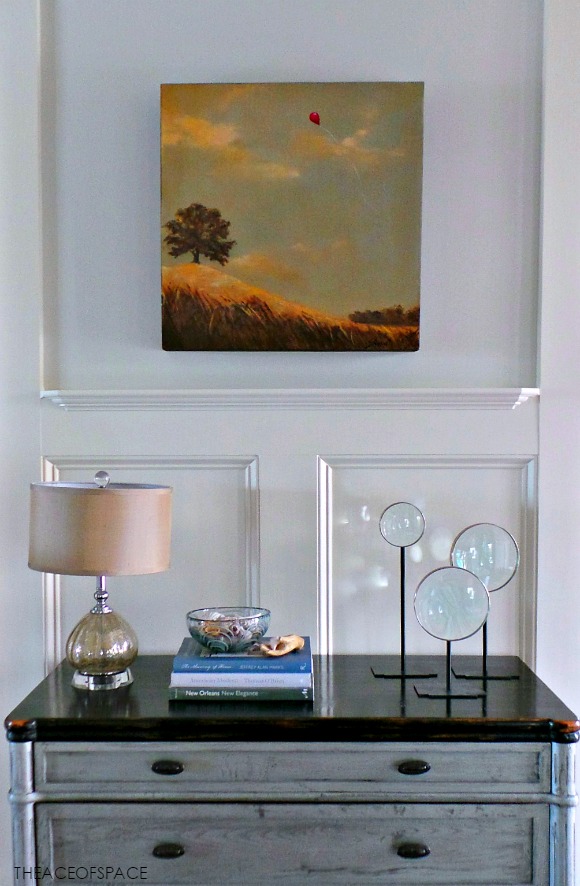 4. Buy meaningful pieces-this is one of our most favourite pieces painted by Sarah Justice. I purchased it for Mr. B. when I worked at an Art Gallery and Design Studio in Atlanta.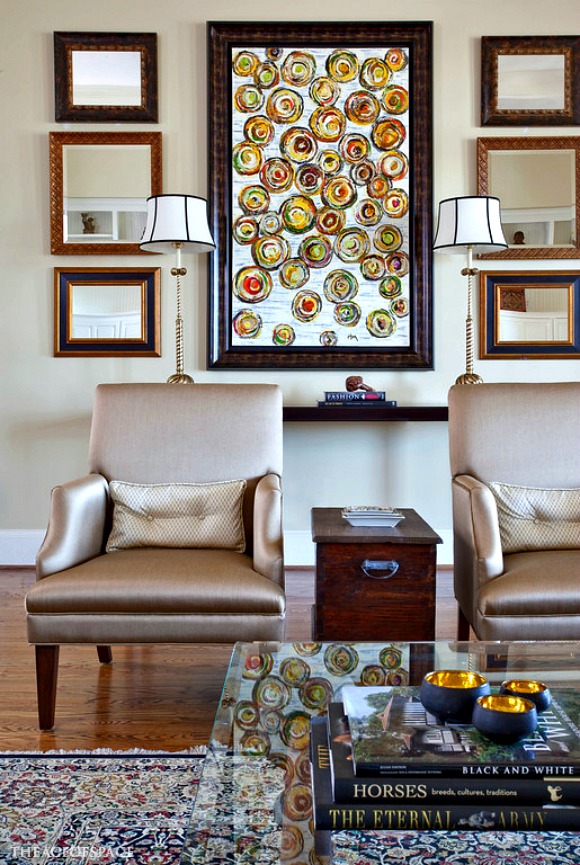 5. Photo/Christina Wedge-My former client collected art from local artists when they lived in Singapore. Buy local and support artist communities…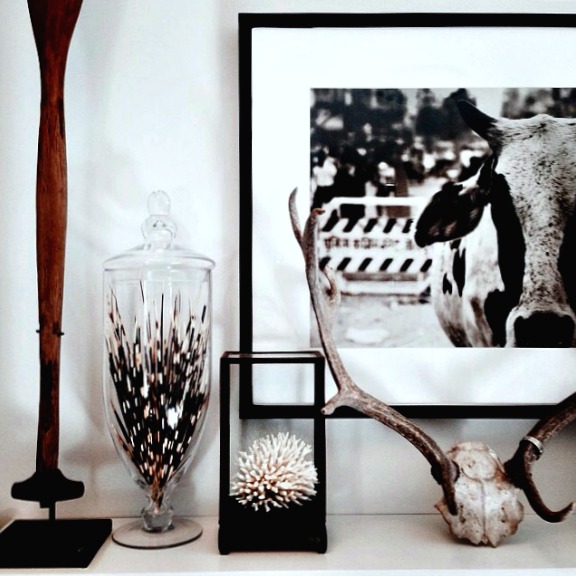 6. Invest in B&W photos…one of my favorite ways to fill up bookshelves…
I'll show you next week, what piece I decided on…
Until then…
BE INSPIRED. BE AMAZED.
♠♠♠ Now one more thing….as many of you know, I put my career as a designer on hold to blog & write full-time. So to be recognized for what you do is humbling. For the 3rd year, I've been chosen as a finalist for "The Hall of Fame Awards" at the Design Bloggers Conference in Atlanta. I have always been up against some truly talented Bloggers and that alone has been an incredible honour. So this is where my followers & supporters can help, this year we have been nominated in two categories-"Best Overall Design Blog" and "Best Writing On A Design Blog." But, I need your votes! Here is the link where you can cast your vote for "The Ace of Space."  design-bloggers-conference.com  Thanks to all for your incredible support -Vicki ♠♠♠
Also follow us on social media to find out all the latest buzz…
https://facebook.com/theaceofspaceblog
http://pinterest.com/bolickinteriors/
http://instagram.com/theaceofspaceblog.com
https://twitter.com/theaceofspacebl