I've been missing for three days, and for good reason. I was traveling. Not for vacation (although there were R&R moments). I was in a state known for "cheeseheads," lakes, and beer. What I was soon to find out, however, that there was a side to Wisconsin that took my breath away. Okay, it was cold (that explained a little breathlessness), and there was the scenery-endless trees displaying leaves in warm tones of fall lining the streets of a seemingly sleepy little town. One that bears the name of a brand that is a leader in the world of kitchen and bath fixtures, tubs, tile and bath furniture. Have you guessed it yet? If not…well it's Kohler. Yes, this industry giant (the best in bath and beyond), has a thriving village of over 2,000 of the nicest "down-home" people that I have ever had the pleasure of shaking hands with. Kohler, Wisconsin was originally built in the early 1900's for Kohler employees, complete with pockets of botanical gardens, art & memorable architecture. All master-planned by the Olmsted brothers (of Central Park fame, and Thompson Park in my hometown). The center-point is a century old factory defined by a symbolic smokestack rising up to meet the clear Wisconsin sky. I wasn't sure if I was going to arrive in Allentown, PA or a sleepy little New England style town. But behind this picture perfect facade is where some of the most cutting edge product in the kitchen and bath world is not only being developed, but produced. Yes, the buzz words that designers crave…."Made In America." My Tory Burch clad feet had touched down in a town that centers around a company that is the gold standard in the bath industry (www.kohler.com). But, don't let the phrase "factory town" fool you because Kohler, Wisconsin is a destination complete with a historic hotel that went from a dormitory for migrant workers decades ago, to a swanky five-star resort complete with a world class championship golf course on the shores of Lake Michigan.
As part of Kohler's Bloggers Conference 2014, we were treated to a peek inside a warm "family style" corporate culture, "The Beacon" building designed by renowned Chicago architecture firm of Gensler, and a "jaw-dropping" factory tour immersing us in the production of five star products. (Did I mention that Kohler is still a family owned company?). I'll be sharing the sights of Kohler periodically over the next month starting with the Design Center featuring vignettes from some of the most iconic talent in the design industry. One of the many things that I walked away with was that the tub is not just a tub, and a toilet is not just a toilet- it's a work of art (crafted with pride in Kohler, Wisconsin). So welcome to the world of Kohler, the best in bath and beyond. I'll share some of my favorites from the Design Center…but as always there is inspiration in everything we see. All the images you see highlight Kohler products from their fabulous bath lines.
TRISTAN BUTTERFIELD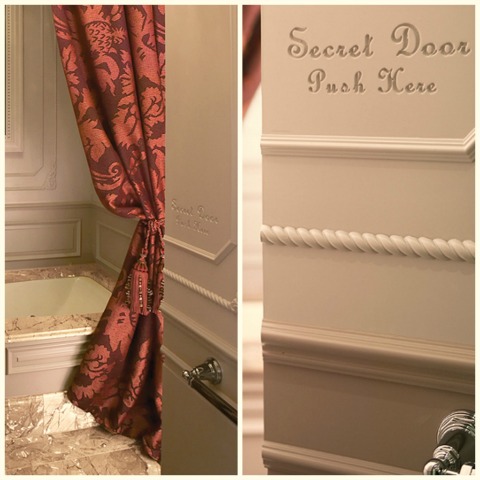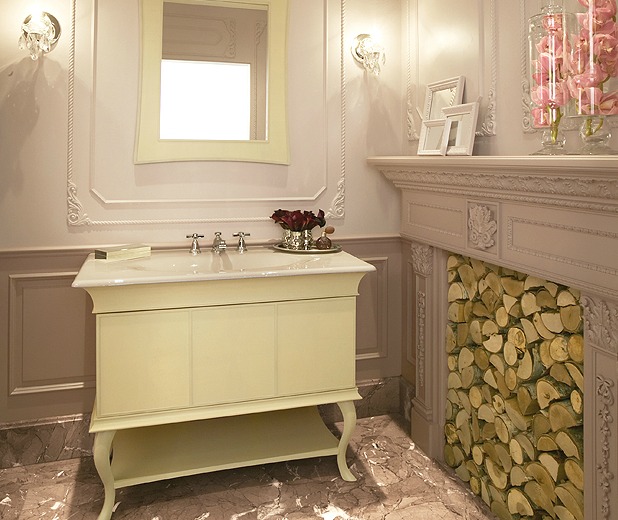 Photos/ Courtesy of Kohler
The hidden room (one of my favorites) was designed by Tristan Butterfield as homage to his years with the National Trust. Although, it's hard to tell -the room is actually a fabulous shade of pale pink.
JONATHAN ADLER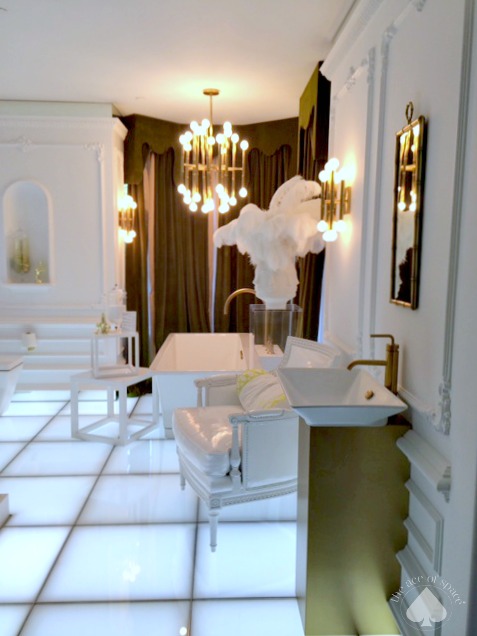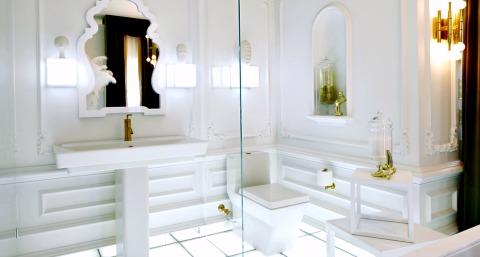 Bottom photo courtesy of Kohler
Yes, I have always loved the eclectic & creative genius of Jonathan Adler, and his "Roccoco Bourdoir" is based on the 2001 Space Odyssey which inspired this surreal environment.
BUNNY WILLIAMS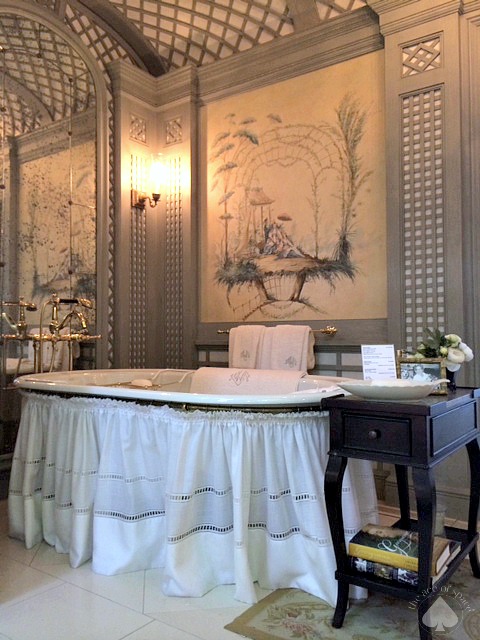 Photos/Courtesy of Vicki Gladle Bolick
I love Bunny Williams, and I had the honour of spending a few hours with her and John Roselli at Treillage in NYC this past Spring. She brought such warmth and English sensibility to her space aptly titled "Bath in A Garden Folly." The bath space was inspired by 18th century Europe and layered in texture, from the marble to the textiles. Of note is the lattice wall treatment reflected in the mirror…
ERIC COHLER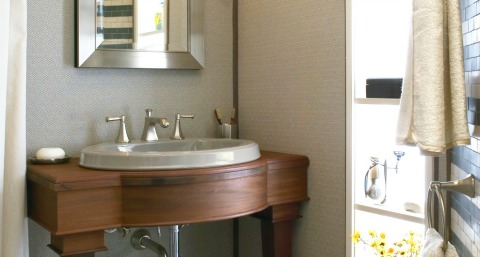 Top Photo courtesy of Kohler-Bottom photo-Vicki Gladle Bolick
This bathroom was FABULOUS. Pictures simply do not do it justice. This "spa tower" design was the brain child of Eric Cohler, featuring a 14′ castle like shower as an entryway. It was elegant and simply stunning. 
I do want to mention that all the vignettes showcase Kohler product, and I have no doubt that you will be inspired to create your very own dream bath or spa. While my travel expenses were paid courtesy of Kohler, all musings and opinions are as always uniquely my own. I'll be featuring a few more posts in the next month highlighting my visit to Kohler, Wisconsin.
P.S. Check back tomorrow for the first installment in our new series called "Design Crushin', " featuring the incredibly talented and funny, Brian Patrick Flynn.
Don't forget to follow us on social media for more design inspiration and happenings.
As always.
BE INSPIRED. BE AMAZING.