I LOVE leopard. A lot. Doesn't matter if it's on a chair, couch, or cushion. If it has spots I'm either going to wear it, or sit on it. In fact, I just ordered a pair of Tory Burch "Chelsea Flats" which are stunning, spotted and oh so chic. So that took care of my closet. What about inside Casa B.? Well I ordered a new sofa 3 weeks ago, and I'm pouring over fabric books to find the right pattern and shade of this cunning cat for pillows. I think this will be the last change that Mr. B. will let me make until the Fashionista is in college, and that my friends… is a very, very long time.
P.S. A little more from the homefront. Is mercury in retrograde this week? Why am I asking? As you'll soon see, I am having the strangest conversations with loved ones, (and it has occurred to me that maybe it's normal, and this is the first week I've actually paid attention...)…lets start with a call to my mother who had just left a message on my cellphone that she needed advice on paint colours.
Me: "Hello, Mother.."
Mom: "It's not my birthday (granted she is 85)…"
Me: "No, Mom it's Vicki, I said "Hi."
Mom: "I'm not." (She's not  high? She should be. Or she's not saying "hi" today? Which is it?).
click….
Then two hours later a snippet of the conversation I had with my seven year old in a fabric showroom while she tagged along as my pint sized "Design Assistant":
The Fashionista: "Mom, Molly's grandfather died".
Me: "Oh, that's so sad".
The Fashionista: "What did he die of"?
Me: "I'm not sure, I just found out when you told me".
The Fashionista: "So you don't know what he died of"?
Me: "No. Maybe it was a heart attack".
The Fashionista: "How do you know he had a heart attack"?
Me: "I don't, I'm just guessing".
The Fashionista: "So how'd he die of a heart attack"?
Me: "He didn't".
The Fashionista: "Well. Why did you say he did? Really, what did he die of?"
It's a crazy life. But it's my life.
So back to the world of design…and my favourite picks of all things spotted…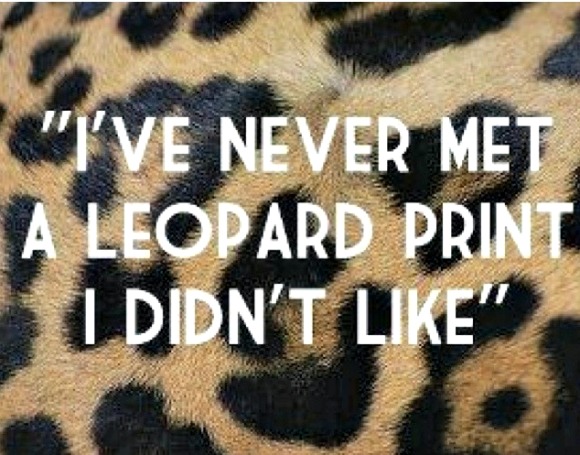 Neither have I…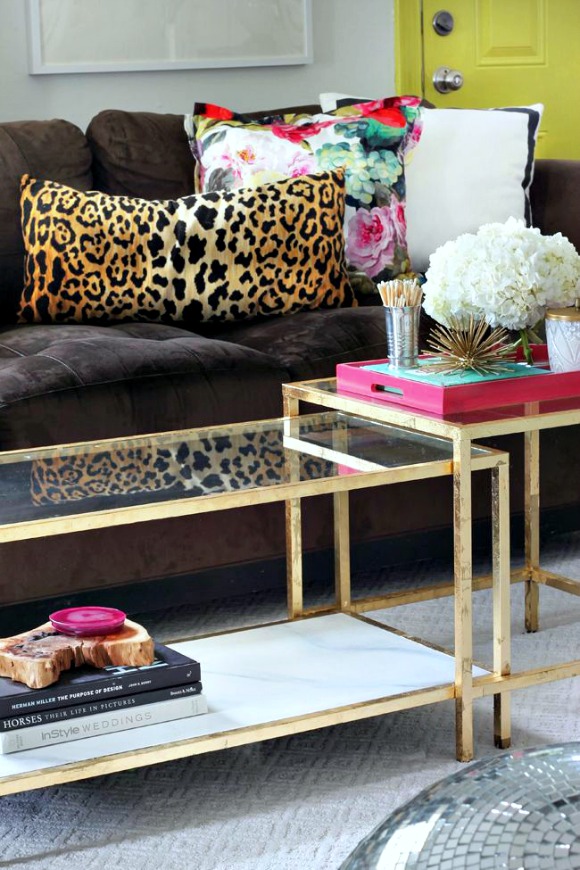 via The Hunted Interior
Leopard is a chameleon, it can be "Old World" French elegance or modern & bold.
via apartmentsilike.com
This is pure "Old World" & French, if I had an apartment in Paris, it would look like this. The layered, worn, shabby sofa with the leopard print pillow is both timeless & chic.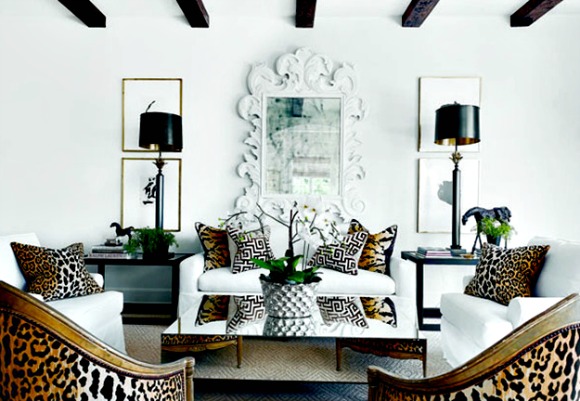 via paloma81.blogspot
The leopard print adds "glam" to this space, and I love how it "pops" against the stark white of the fabric, and of course THOSE chairs.
via Lonny
We are going to be renovating our Master soon…(known as "when I get around to it"), and in the plan is a total revamping of our closet, on my list of "must haves" is a pair of ultra-chic lamps with leopard shades.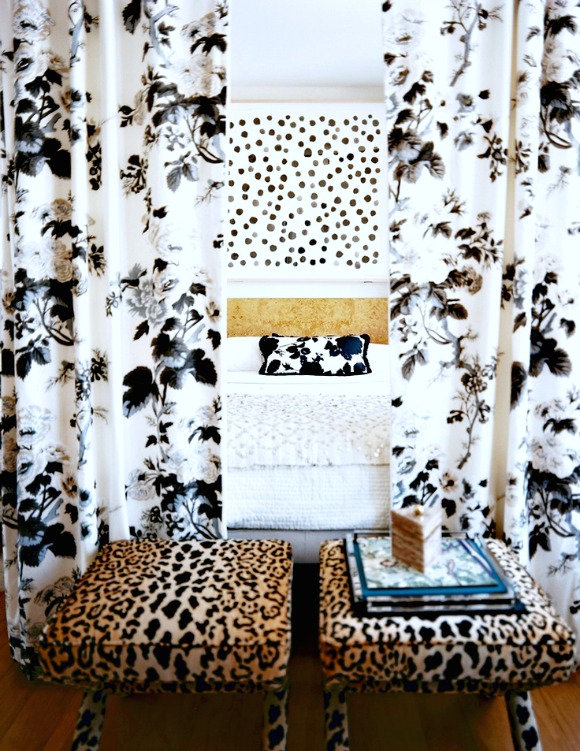 via Lonny Magazine
Is there anything that doesn't go with leopard?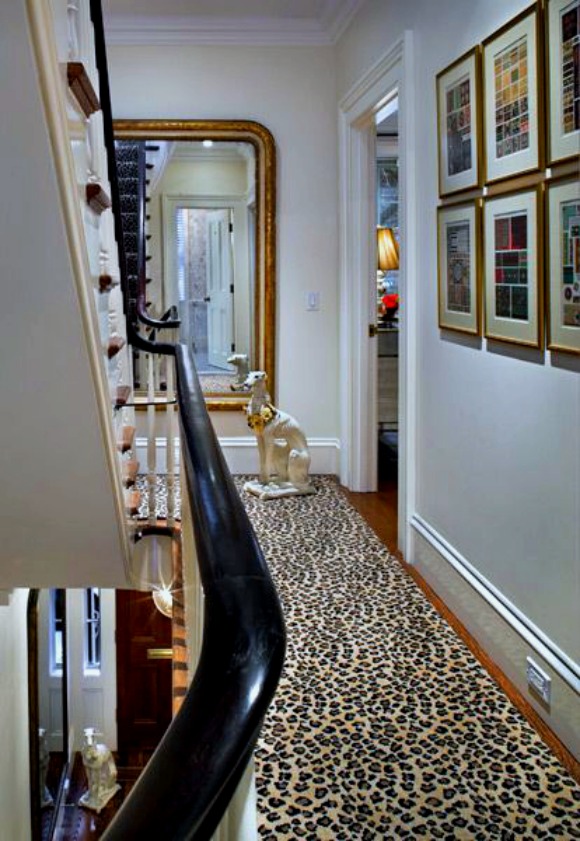 via CW Architects
 Look what's running down the hall…it's leopard!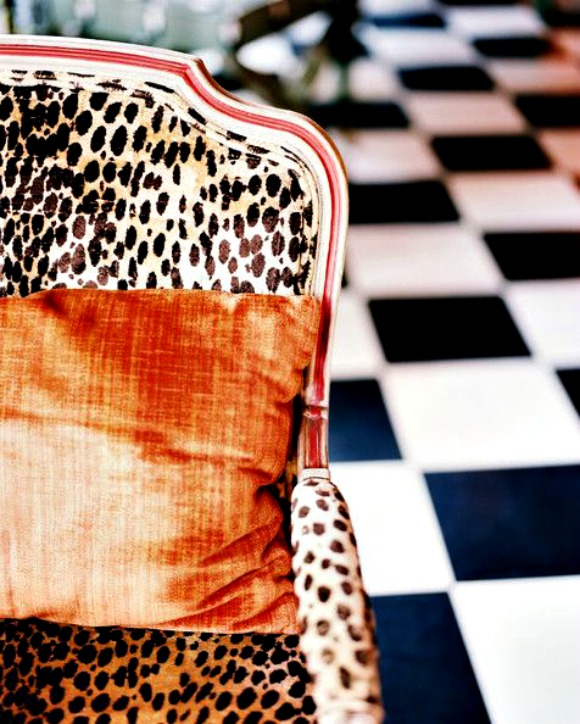 via Lonny Magazine
If only…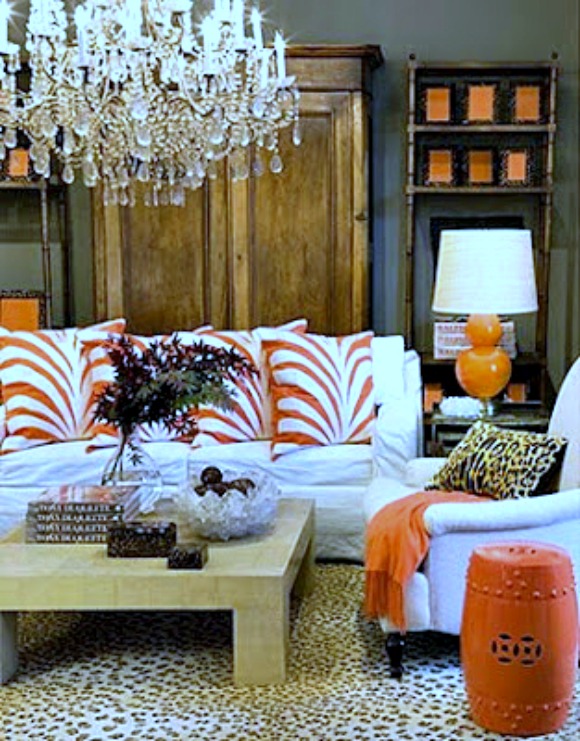 via interiorssetcdetails.com
The cheetah print rug goes so very well with the leopard pillow, and as always leopard acts as a neutralizing force…it's perfect paired with almost any colour…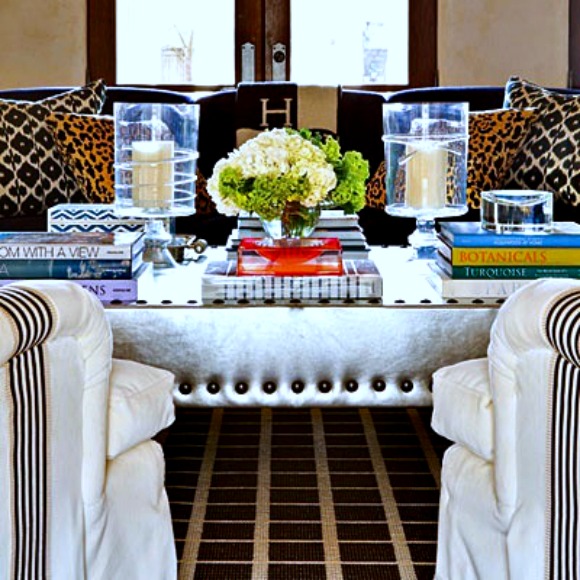 via madelineweinrib.com/ Kirsten Kelly Interiors
 I.LOVE.MADELINE WEINRIB. There I said it. In fact, one of the hardest things I've ever had to do is part with a Madeline Weinrib rug in a giveaway this summer. I know it will be stunning in the home of Yvonne Blacker of Design Vignettes, the very, very lucky winner of the "magic carpet." P.S. I love the injection of the exotic paired with the fabulous MW rug…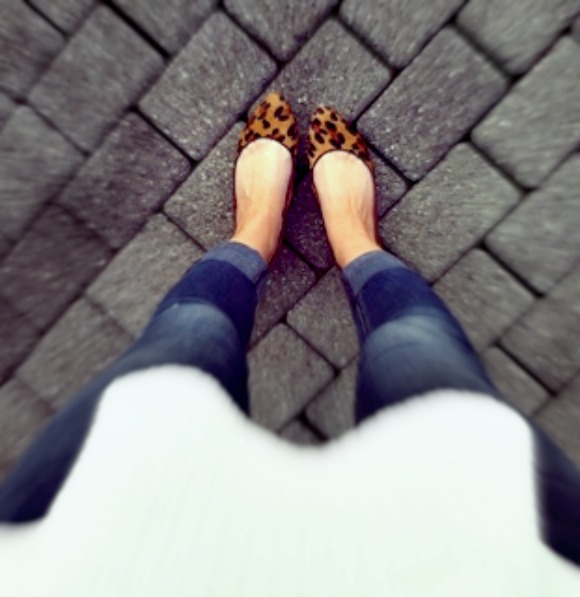 What am I wearing today? Leopard, of course…
Have an amazing weekend and check back on Monday for my interview with a very talented textile designer who hails from the ATL, and is the latest rising star from Hotlanta…
As always don't forget to check my Pinboards on Pinterest for more design inspiration…
Cheerio…