I can't believe it's been two weeks since I last posted, not only was this past week just pure design craziness, but there was a technical glitch which prevented me from posting even one sentence. Frustrating to say the least, but I am in the process of revamping my blog. These changes will accommodate three advertisers of whom have been so patient with all the difficulties that seem to come along with anything to do with website upgrades. I'm beyond excited, because I really love the changes that are being made, so in the next month (hopefully) it will be a new and improved "Ace of Space Blog." In the meantime I am just grateful that I can post again until my Web-Designer extraordinaire has the new site operational.
A few weeks ago I received a press release from Benjamin Moore, announcing their trend color for 2013, Lemon Sorbet. At first I was a little skeptical. But, truthfully it's such a soft transitional colour that is going to pair well with greys to blues and back. I think it's a colour that is going to withstand the litmus test of time. I was starting to get bone tired of "Tangerine Tango." I honestly didn't use it much. Just a pinch in a few pillows hidden away in Mr. B's basement, since most of my clients lean toward classic, timeless design, it really wasn't very appealing to me. Lemon Sorbet is something that I can get excited about….so here are some of my favorite interiors using a scoop of yellow…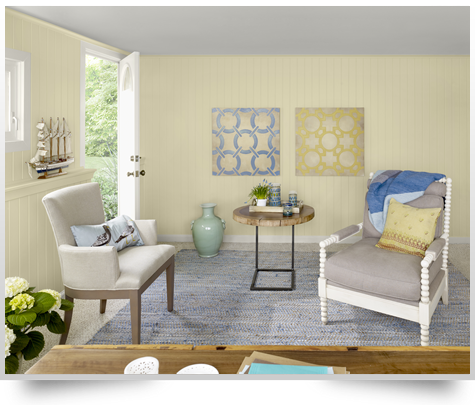 Picture courtesy of Benjamin Moore announcing the introduction of Lemon Sorbet-Trend Color 2013.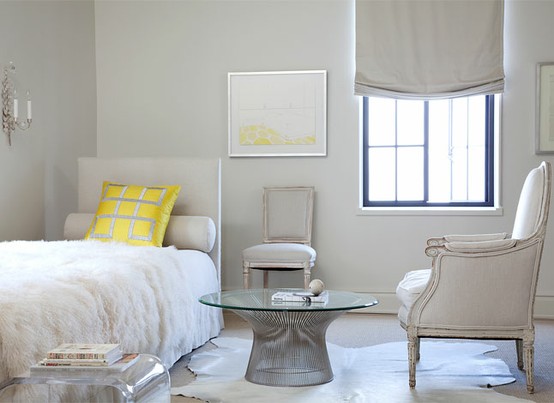 via Betsy Brown Interiors
There is something so dramatic about the pairing of yellow against white…so if you want to add just a little colour bring in a pillow, accessories or some inexpensive artwork.
Via Martha O' Hara Interiors
I love the crisp white, subtle patterned drapery and soft greys in the rug and sofa. I am absolutely head over heels with the silver orb on the coffee table. Stunning…
via THINK Decor
Not only is the soft yellow fabric on the headboard just the perfect compliment to the horizontal khaki stripes on the wall, but I am totally in love with the platform of stacked drawers under the bed complete with leather strap pulls.  
Melanie Turner Interiors
From the crystal chandlier, introduction of soft yellows on the chair backs to the floor to ceiling drapery, and the unique parquet design on the floors this dining space is just plain breathtaking.
via The World of Interiors
Texture, texture, texture…from the rug, to the spruce hued velvet chair. This space is just plain layered in style. The yellow and white striped headboard proves that that this sunny colour can be successfully married to a variety of shades…
Bolick Interiors, LLC
This is an interior that I did several years ago for Home Improvement Magazine, showing how to utilize a small space, in this case it was a pass through room to the master. I injected a little glamour through the use of colour and reflective surfaces. My colour pallete was inspired by the diamond print drapery fabric of yellow and white, which I carried through the room in the yellow wool throw, crewel print pillow and the lemony wall colour. The candle sticks which I used in the photoshoot are now gracing my dining room table, and were the very last pair sold by Williams-Sonoma Home. So talk about lady luck.
For more design inspiration visit my pinboards on Pinterest.
.
Thanks for stopping by!