I decided over the weekend that I will be posting at least twice a week-Monday, Wednesday, and on those exciting weeks that I have lots to share maybe an occasional Friday. Even if it's a guest blogger. I'm going to remain faithful to my promise, regardless if I have to go out of town, I'm sick in bed or life gets in the way. I'M.GOING.TO.DO.IT. (The only thing that would stop me in my tracks would be family, and the cutest little six year old). You get to a point where you realize that you've worked too hard to get to a certain place in your career/life and you have to keep pushing on. Plus, many of my faithful followers have simply shamed me into realizing how lazy I can be (it's hard to believe that over 20,000 people from places far and wide read my little blog in the month of December…I'm so very humbled and honoured).
Today, I'm finally going to see one thing on my wish list actually happen. Yes, the Master Bath!!! How? Well it had to do with a leaky shower pan, and water that found it's way into our Keeping Room. After I took a shower today, and came downstairs to get a much needed cup of Java, I heard a ping…ping…ping. Music to my ears. I grabbed my cell and phoned Mr. B. "Oh…my goodness….I think that our shower pan leaks…"(I absolutely acted devastated. I see an Academy Award in my future). "Yup…Mr. B. right onto the 2nd floor"….My brilliant solution: We are going to have to rip out all the tile in the shower, might as well replace all of it…and come to think of it, aren't they going to have to move the double vanity with the dreaded Crema Marfil marble top? (I HATE Crema Marfil on anything). Not sure we can even save it…and the Huge Mirror that I actually thought functioned as a wall (did they run out of Sheet Rock?).  Is going to be gone…gone… gone. Seriously, was there a fire sale on mirrors before the real estate crash a few years ago? So all my hoping and dreaming is going to be a reality…in the next week I will post my inspiration board…Life sure is good at Casa B….So when I received a shower-head last week from my buddy Josh, who represents Kohler, it must have been a sign. Ahh…a new bathroom, a new shower-head that has a built-in sound system via Blue Tooth technology, and I'm definitely going to be singing a new tune. I'll be sharing more about this cool piece of ingenuity after I use it for a few weeks…
Even though today was a great day for me…we had an amazing weekend out and about in the ATL. I had some business in Decatur, GA. yesterday, where we resided for eight years before moving to the burbs. Before heading back to rural US of A, Mr. B. suggested we check out a new eatery that he thought I would enjoy…oops did he forget I was a Design Blogger too? Because when I walked in I couldn't get my iPhone out fast enough. I don't usually get excited over restaurant interiors, mostly because we were total "foodies" before we became parents 8 months ago, and ate at all the latest and greatest in the ATL. Frankly, you begin to take the interior aesthetics for granted. This eatery was not only a visual delight, but the food was just "gastro-fab."  I was fortunate that we dined at an hour that allowed me to look and snap at my leisure (so that I wouldn't have to rearrange people, and/or furniture to get better shots). If you are a design blogger you definitely know what I'm talking about. So here's a brief tour of No.246, designed by Smith Hanes in corroboration with Architect, Mike DeCarlo. Smith Hanes defined this  urban eatery as "classic, vibrant, today, and historical" I couldn't agree more…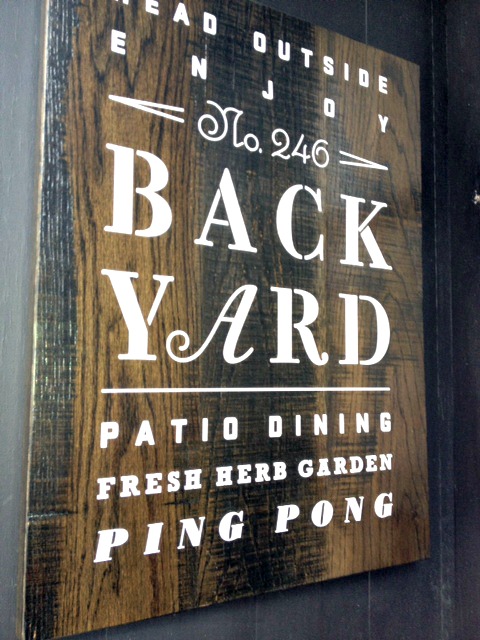 The exterior signage…which just hints at the ensuing dining experience that melds N.Y., San Francisco with a touch of Rome.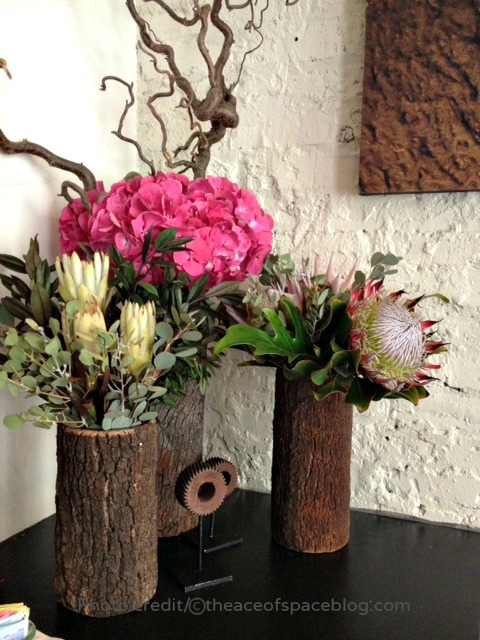 I love artistic florals, and these were tucked into a corner of the bar, greeting patrons as they enter…just perfection….urban, hip with a little bit of hometown. Believe me I am just dying right now.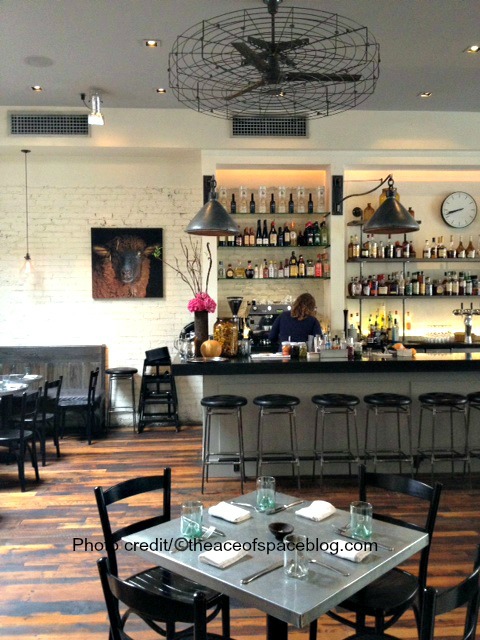 I know that you have noticed the ceiling fans, which are just fabulous. I don't have any information on them at this point, but hope to in the near future. The bar-stools were forged locally, and upholstered in leather hides. The bar-back shelf supports, long arm pendants, and front and back doors were also hand forged by a local artisan.  The flooring, which I was absolutely ready to get on my hands and knees and kiss (except I wanted to set a good example for my six year old daughter), was hand-scraped Vintage Oak from a barn in Ohio.
The hallway leading to the restrooms. On the left-hand side was an alley of wine coolers, stocked full of the world's finest. The cabinet detail was exquisite, and an honorable mention goes out to the antique gray reclaimed wood ceiling.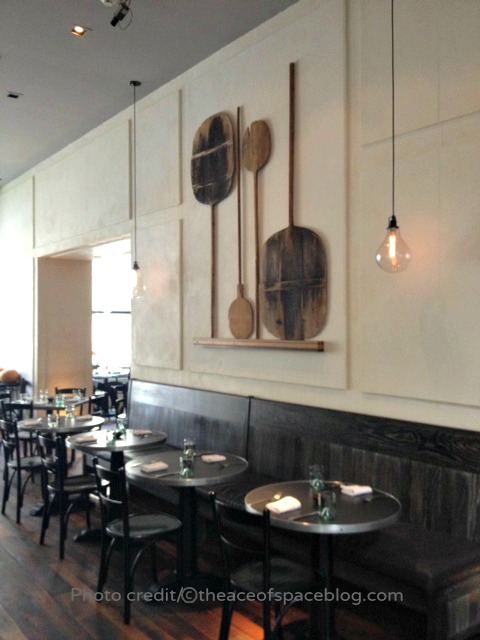 The round bar tables were vintage slate school blackboards from Ohio recycled into tops, wrapped in zinc bands with vintage cast iron bases from a pub in Albany, NY (one of my former places of residence for 5 years). The details were just mind-blowing.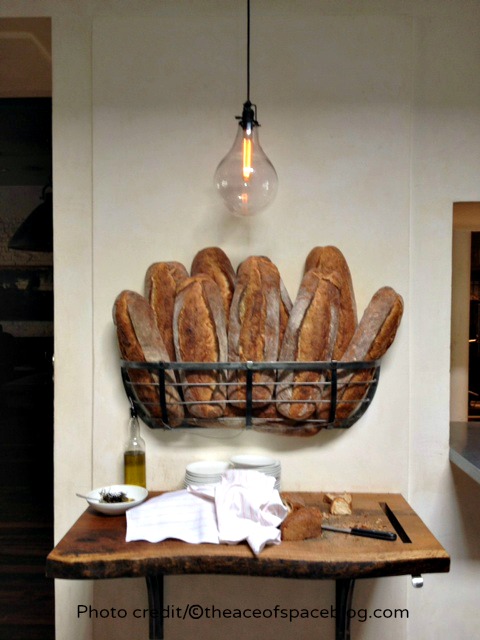 The bread station, with a natural wood top. The light-bulbs were hand-blown by Matt Janke, and are seen throughout the restaurant.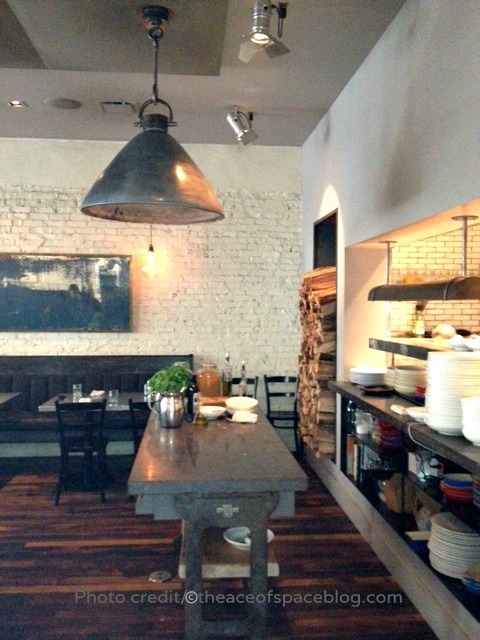 The kitchen opened into the dining area, giving it an intimate feel. All the pictures were a little hazy because of the smoke from the wood fired grill. The Chef's expedite table in front of the grill was laden with fresh herbs, including a huge bundle of fresh grown basil which adorned my Cannonelli, and my daughter's Pizza Marguerite. The ceiling pendants are hand-spun steel made by an artisan in Atlanta, and were hung in a row.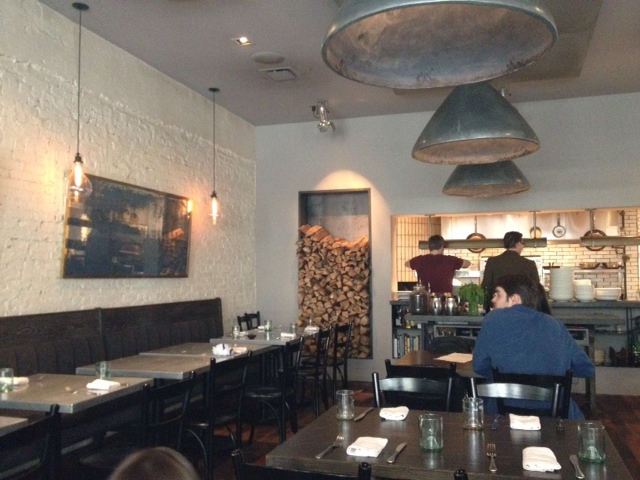 A room with a view, I love the openness of the dining area. The walls are hand applied TADELAKT, which was originally developed for the Hamman walls in ancient Marrakech. (Now this may be a great option for our future Master-bath since it absorbs the humidity in the room). The mirrors are foxed and fabulous, and of course more of the hand-spun sculpted light-shades.
If you are ever in Decatur, GA. put this on your dining "Bucket List." The use of reclaimed material and local artists created an unparalleled dining experience in a space which housed the most exquisite craftsmanship (I also have to mention that the food made my taste-buds sing). I want to thank everyone at No. 246 for answering my endless questions about the design, and also allowing me to take pictures, and to Smith Hanes for creating this masterpiece.
As always don't forget to check out my Pin Boards on Pinterest for more design inspiration…
Thanks for stopping by!