This week one of our favorite lighting companies debuted their 245 piece Spring Collection, an ambitious and eye-catching introduction spanning pendants, sconces, chandeliers, furniture and outdoor lighting. Currey & Company continues to charm a massive following in the Design industry by releasing one of the most stunning Collections during High Point Market. Often considered a leader in the lighting industry, Currey reaches another benchmark with vibrant and stylish pieces created to illuminate the design aesthetic of our homes.
Currey has also collaborated with some of the most creative forces in the industry from Bunny Williams, Aviva Stanoff to Denise McGaha. It's the brilliant pairing of talent with unparalleled workmanship that will forever make Currey a standout in the vastness of the design landscape.
With one of the most breathtaking curations of product at Market, Currey draws throngs of design aficionados every year. And if you aren't attending High Point, we are sharing just a few of our favorite pieces, so read on!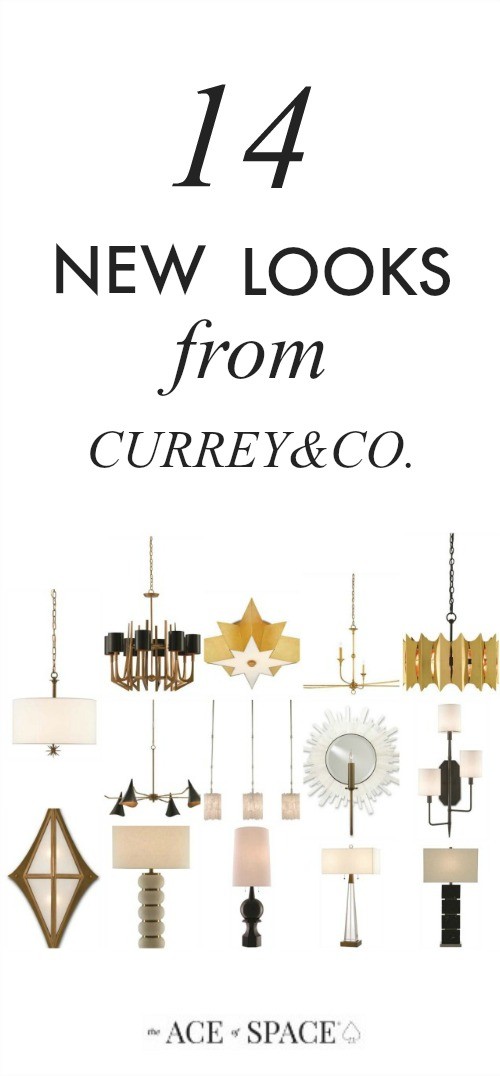 Top Row From (L) to (R)
Chancery Pendant 9000-0316-Inspired by the spirit of Knighthood, the Chancery Pendant features eye-catching details including a stem-like frame, Birch gray silk shade framed by a polished antique brass finish and a spikey ball dangling below. Perfect for a contemporary, transitional or mid-century modern interior.
Umberto Chandelier 9000-0332-A design influenced by Cubanism, the Umberto Chandelier has "abstract appeal" catering to a variety of design styles from mid-century modern to contemporary. Made of iron spikes in a brass finish and fitted with black metal shades this 8-light Chandelier is truly a lighting masterpiece.
Leo Flush Mount 9999-0041-This celestial shape is achieved in wrought iron with a contemporary gold leaf finish and a gold diffuser. A timeless design ensures this piece will become a perennial favorite.
Nottaway Chandelier 9000-0369-"Graceful arms stretch gracefully from a petite cog, ornamented with a ring. With minimalist overtones, the fluidity makes it a natural choice in Traditional and Transitional interiors." (offered in both gold and bronze).
Quill Chandelier 9000-0350-Top and bottom endpoints are shaped like nibs of a pen with polished brass panels fastened to an armature in a black finish. This stunning chandelier also comes in a wall sconce.
Middle Row From (L) to (R)
Library Chandelier 9000-0311-The organic shape of this chandelier is inspired by mid-century modern forms. Perfect for hanging over a dining room table or in a great room. This chandelier has timeless appeal, with an oil-rubbed bronze finish, and also available in a sconce.
Moonstone Chandelier-From the Aviva Stanoff Collection. "Floating on a frame in a chinois silver leaf finish" are three shades of Selenite crystals. Truly a bit of heaven floating over your table, and one of our favorites.
Halo Wall Sconce 5000-0091-"A mirror behind the light source illuminates the artfully placed rods of Selenite" with a stem and candle arm in an antique brass finish providing warmth. A work of lighting art for your wall.
Knowsley Wall Sconce 5000-0098-"A restrained design features a straight as an arrow stem and three tailored off-white Shantung shades." Equally, at home in a den or boudoir, the sconces are offered in both left and right facing making them the perfect choice when flanking a fireplace or headboard.
Bottom Row From (L) to (R)
Neptune Wall Sconce 5000-0095-With stylized nautical references this stunning sconce is perfect for a "beachside condo, lakeside retreat or an industrial chic apartment." A brass finish frame surrounds a frosted glass diffuser in this modern riff on nautical lighting.
Luko Table Lamp 6000-0329-" Quashed balls in ceramic" are interspersed with metal rings in an antique brass finish.
Steeple Table Lamp 6000-0329-From the Phyllis Morris Collection, "this lamp expresses the exuberant personality of its designer." An iconic shape reimagined in Rubberwood with a semi-gloss black finish.
North Table Lamp 6000-0308-"Architectonic in its character with clean lines and a juxtaposition of material such as optic crystal and a warm brass finish." This lamp is both sophisticated and functional complete with a plug for charging electronics.
Comine Table Lamp 6000-0304-"Made from blocks of black marble separated by metal vertebrae in a satin nickel finish." Pure artistry finished off with a square finial and an off-white linen shade. We will definitely take two.
I hope you enjoyed our picks, for more on Currey & Co.'s Spring Collection you can visit here. As always, our mission is to bring you the best in design, and all things stylish, smart and fabulous!
Thanks for stopping by!