Showhouses are a wonderland of inspiration for the many people who attend every year. And for designers, it's a laboratory of possibilities. A chance to try out new ideas and creative approaches to the many challenges of designing an interior. Rather than a home designed by one designer, each space offers us a unique perspective. And while there are "faces that have launched a thousand ships," there are interiors that have inspired people to redo, reimagine and in some cases completely remodel entire homes.
"Showhouses have inspired people to redo, remake and remodel entire homes…"
So a few weeks ago we traveled up a mountain through the picturesque foothills of the Blue Ridge Mountains to see the annual Cashiers Designer Showhouse benefitting the Cashiers Historical Society (you can see a previous year here). This year the showcase of design talent spanned across many different design genres memorably highlighted in three small cottages in the downtown area of this quaint mountain hamlet. Nestled in Cashiers, Cottage Walk is surrounded by some of the most incredible scenery, and whether you like to shop, hike or enjoy world class cuisine, this small village is the perfect destination for those who enjoy the great outdoors mixed with all the luxuries needed for the perfect mountain get away.
The Farmhouse style cottages define the newer trend toward smaller scale living, meticulously appointed with one-of-a-kind pieces and unique materials. Each room the perfect balance between good design and functionality. As with many show houses, we never walk away without being inspired and learning a few tricks of the trade. So read on for some expert tips on creating a stylish retreat (small or large)…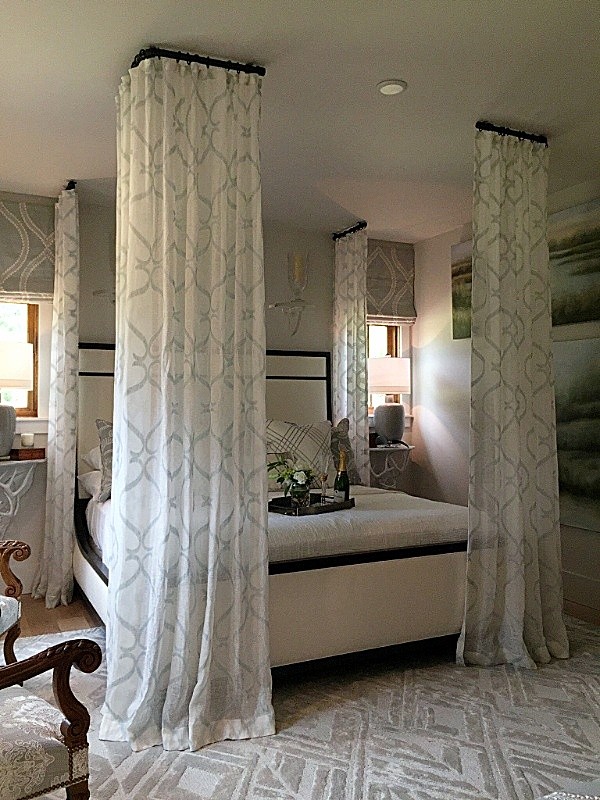 Photo/ Vicki Gladle Bolick
1. Style by the Yard.  Lynn Monday created a sumptuous retreat with a floor to ceiling canopy of luxurious fabric, hung on rods. A look that is rich and yet so easily achievable. A neutral color palette provides a calm yet sophisticated space, and creates a welcoming interior when mixed with warm textures such as nubby linens, and brushed velvets. Layering texture and pattern is the key to a well-designed and inviting space. And neutrals are always a classic.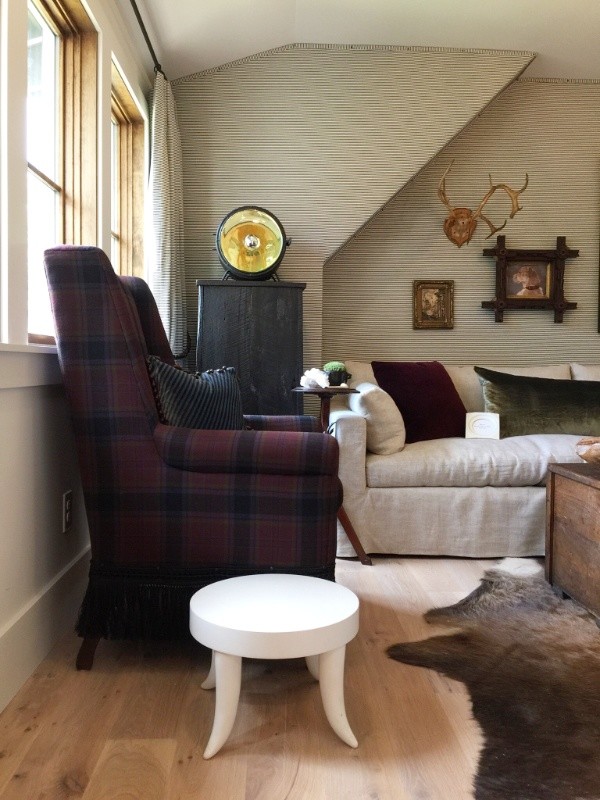 Photo/ Vicki Gladle Bolick
2. Great Walls of Fabric-Accents walls provides endless ways to create an unforgettable focal point in a small room. A fabric wall of subtle stripes adds depth and dimension to this gentleman's study designed by Shon Parker. Using matching fabric on window treatments & pillows creates a cohesive look which is key when designing small spaces.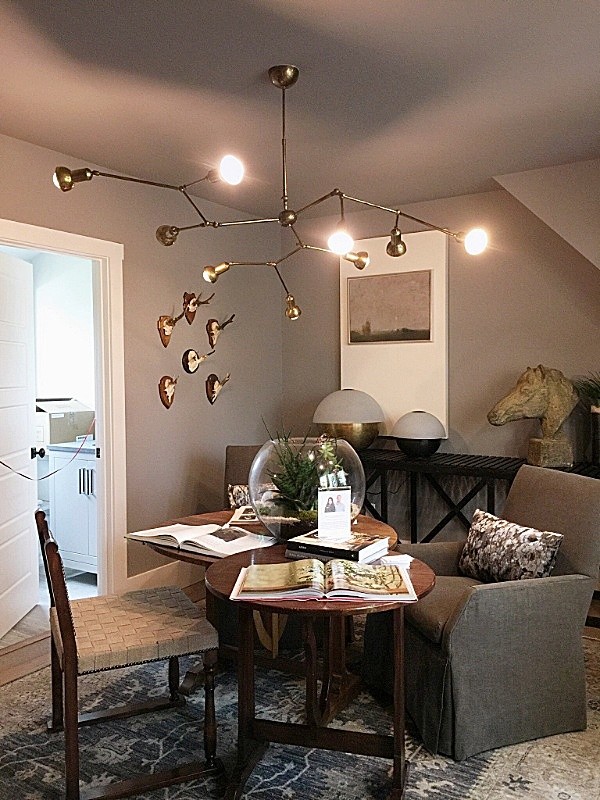 Photo/ Vicki Gladle Bolick
3. Living in Layers-In this retreat designed by Niki Papadopoulous and Mark Williams a clever layering of tables creates a unique and functional table surface. Larger spaces can sometimes be more challenging to work within, but smaller spaces provide an opportunity for creativity. Varying the height of the tabletops creates a unique focal point and allows the tables to be separated and moved around the room as needed.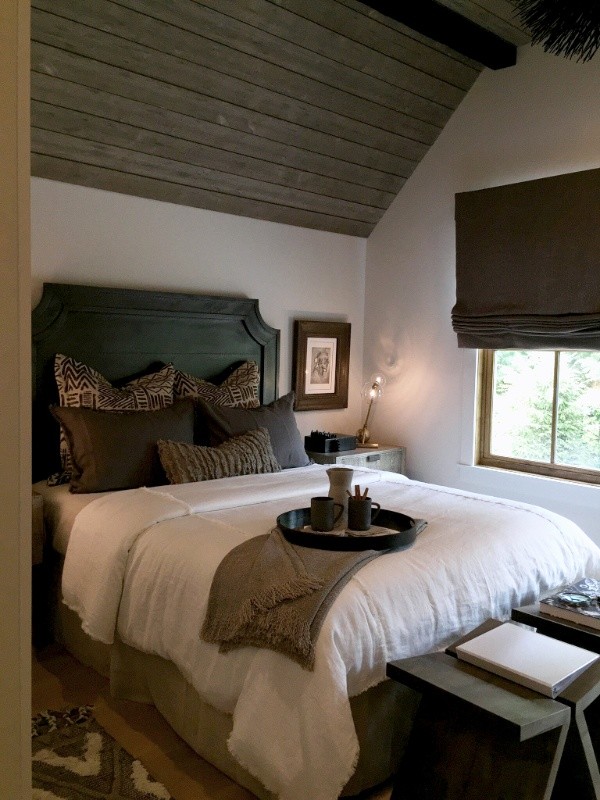 4//Looking Up-Most spaces benefit from ceiling treatments, but smaller spaces are the perfect opportunity to make an impact as the design firm of BD Jeffries accomplished in this bedroom. Adding beams or planks provides architectural detail while infusing a sense of history and character into a room. If the ceilings are flat try painting the planks one color, it will make the ceiling disappear and give the illusion of height.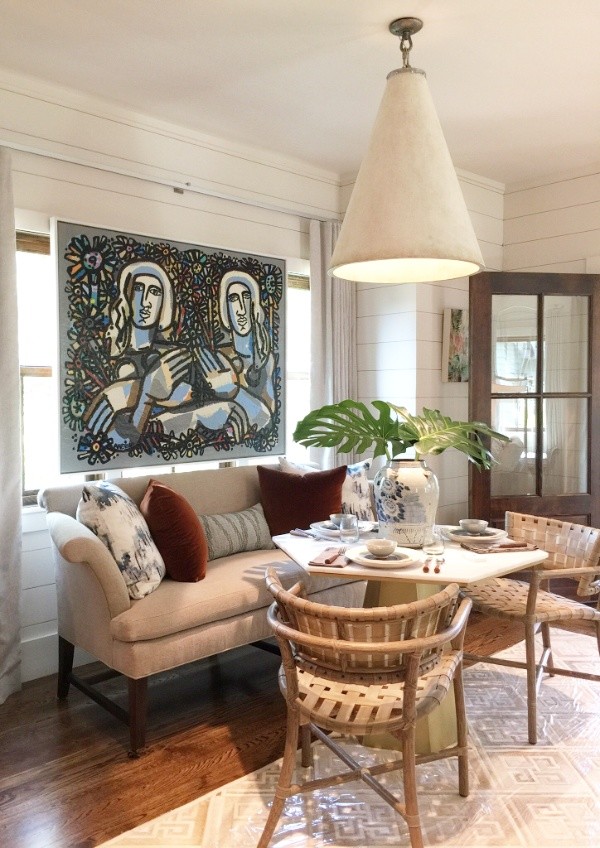 5//Small Space, Huge Impact-With smaller spaces and open floor plans there may not be a defined dining area. Designer, Tish Mills created one by using smaller scale furniture. Choosing visually light furniture is the key to making a space feel more open and less cluttered. A large rug unifies both the living and dining areas. Also, rugs help to create zones and define each nook but in this case can also create a multi-functional space.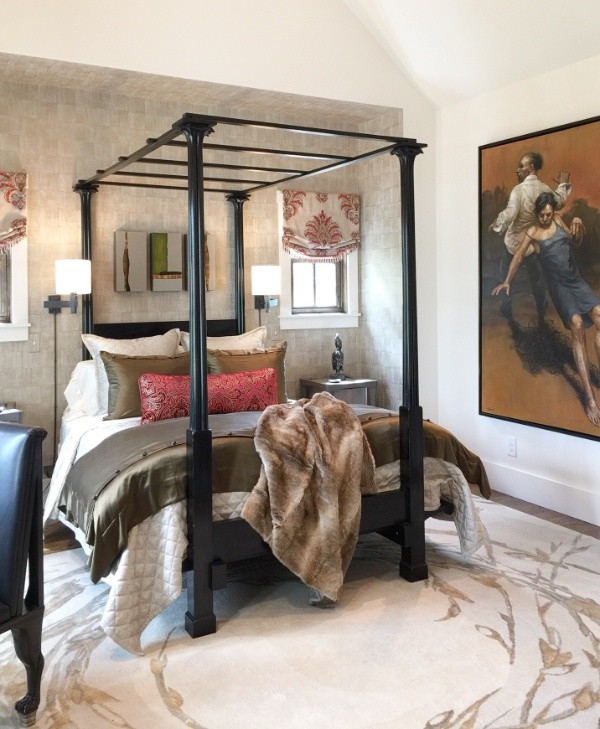 6//Less is More. When decorating smaller spaces especially a bedroom stay with a simple color palette (we like two or three), with a few bursts of color. Smaller spaces can become chaotic if there is too much color or pattern (the exception powder rooms, always). Painting all four walls the same color can exaggerate square footage of a small square room. Instead, create a focal point by adding an interesting paint effect or a wall of luxe wallpaper as Douglas Hilton did in this Master Bedroom.
7//Space Savers-Instead of one vanity centered in the space, this wall-to-wall unit provides additional storage, his and hers vanities joined together with a shelf bridge as seen here in this master bathroom designed by Lynn Monday. The lighter airy colors give this bathroom a spa like quality. Suspending lighting from the ceiling gives the illusion of height and makes the room feel even more spacious.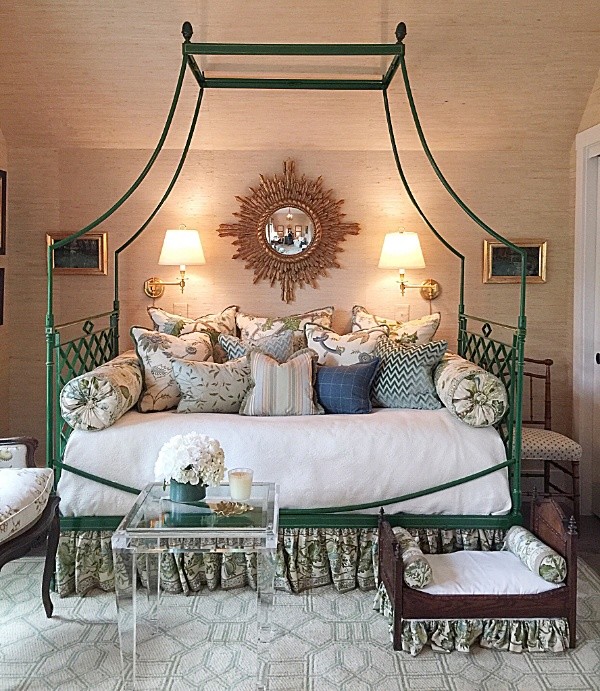 8//Double Duty-When space is at minimum rooms need to do double duty. A bedroom can become a sitting area by using a daybed, adding a pile of plush pillows transforming a space into the perfect day or night time retreat. Small scale furniture keeps a room from feeling less cluttered and using glass or lucite tables makes a room feel light and airy. Designer/ Stephen Mooney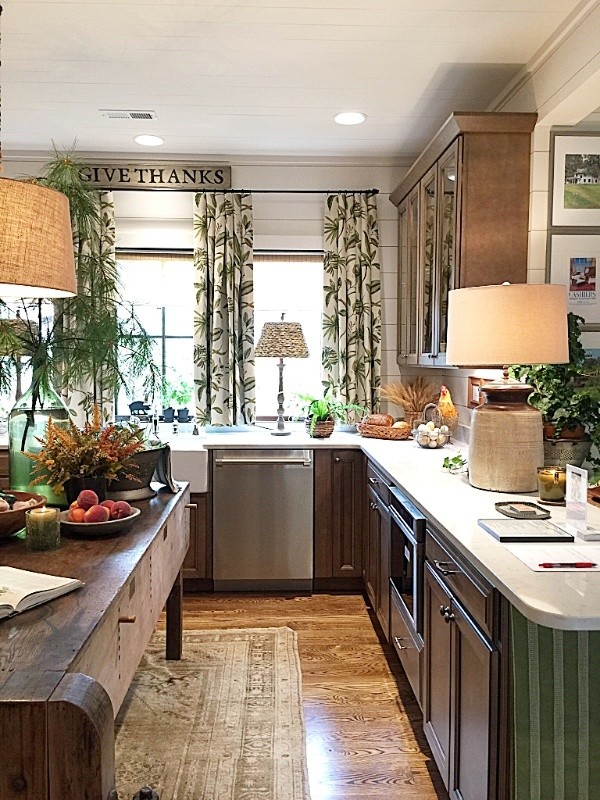 9//Make Yourself at Home. Kitchens are a place to gather, and regardless of the size adding warmth through varying wood tones, timeworn pieces, rugs, and lighting bring in character and a sense of history. Designer, Melissa Morrow Knott added personal touches that made this kitchen feel inviting encouraging guests to linger.
We hope you enjoyed our tips on decorating small spaces like the pros! Which room inspired you? We'd love to hear from you!