Lighting is quite often considered the jewelry of a room (although, I would say lately that furniture hardware is becoming a very close second). It's what comes to mind when I think of Venini. The quintessential sparkling jewel atop a delicious design cake. It first came to my attention when I attended a cocktail event at the home of a well-known designer in Washington, D.C. years ago. While my fellow dinner guests were mingling, I was preoccupied with a tiered clear glass prism chandelier centered in the middle of the room. It was an original Venini, an icon in the world of lighting. While the evening was memorable, it was the chandelier that has since left me scouring online auction sites, hoping one day I'll find the perfect piece, at least, one that reflects my income bracket.
As a Trend Scout, I've seen the introduction of many lighting styles but few have garnered the accolades received by this legendary art glass company. Venini is reputably one of the most successful types of glass to come from the furnaces of Murano, Italy. Venini glass was first developed in Italy by Paolo Venini, a Milanese lawyer who was simply born with a creative spark that went beyond the occupational limitations imposed by societal expectations. He went on to truly revolutionize the glass industry in the early 20th century. As the unconventional force behind the company, he successfully combined "avant guard" fashion and art into his glass blowing process infusing glass with new shapes and colors "bending the rules as well as the glass." In fact, it's not unusual to find Venini lighting as the centerpiece of high-end interiors around the globe, it's timeless appeal due to the transcendent quality in an array of colors from ambers, pinks & celadons.
I was honored to have the opportunity to observe the Venini process when I returned to the island of Murano a few years ago. Watching the Venini masters transform molten glass into "sculptures of light" was truly an unforgettable experience. Thankfully, the original techniques and principles of design are still in practice today and produced by the glass masters on the world famous island. One-of-a-Kind pieces, as wells as massed produced lights, are available through select lighting retailers or resold through auction houses such as 1st Dibs or Ebay. Next month Venini will celebrate their 95th anniversary as they continue to make invaluable contributions in lighting design. Vintage Venini lighting remains one of my personal favorite types of lighting styles, and I think you'll soon see why…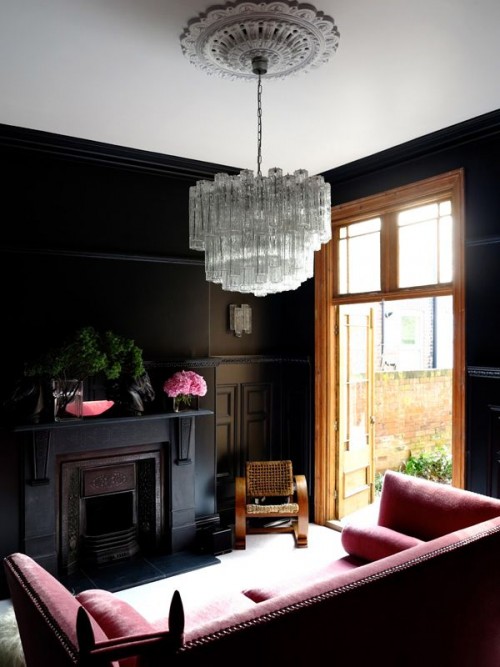 Michael of 47 PARKAVENUE Blog
A living room painted in black provides the perfect backdrop to a tiered crystal Venini chandelier.
BE INSPIRED. LIVE IN BEAUTY.