It's Monday, and already I want to bury my head underneath a pillow before I face the design disasters of last week. You know Project :: Disaster Bath, which now involves cutting a huge hole in our living room ceiling to access the upstairs plumbing? Luckily our bathroom will be downright gorgeous thanks to Kohler (they have truly been our saving grace), it's what you find behind the walls that's always a surprise like plumbing issues, or finding out that your shower pan has been leaking forever. But, as with all design related challenges things improve, projects are finished, and the residents of Casa B. will be happy, until the "next one"comes along. Yes, there will be a "next one" this year. That's right; I decided to bite off more than I could chew. Because along with the bathroom project, I am also re-doing our Guest Bedroom in conjunction with Taylor Burke Home and Cotton and Quill with the reveal on One Kings Lane in January. What could go wrong with that project? Besides the wallpaper falling off the ceiling? How bad would that be?
What's not bad, is one of my favorite trends for next year. Yes, it's bringing the outdoors "in." People want to live in forests, at least if they can fit inside their homes. A dream of mine is to find a house with a conservatory complete with an inside waterfall and a grotto. A tropical paradise right here in Cumming, Ga, sounds a lot like the Atlanta Botanical Gardens (which, unfortunately, isn't going to be for sale even if I had a Bill Gates sized fortune). Gone are the days of sun-rooms overflowing with tropical greenery planted inside a variety of random & mismatched pottery. We are going to see pocket gardens carefully cultivated in sculptural vessels. Or simple bowls of moss, mixed with other natural elements lending color and texture to a tabletop. As a design blogger & trend-spotter, I have seen some truly inspired uses of greenery, giving a new meaning to the term "living green." I do consider myself to have a "light green" thumb because plants live in Casa B. for at least a few months before getting destroyed by our resident rescue cat. Of which, obviously feels that she better kill the plants before I do. So in a way we are partners-in-crimes-against-plants.
This year I was extremely fortunate to have met some stars of the botanical world. Such as Tess Casey in NYC, of whom is a floral & plant designer extraordinaire for film and television. In fact, when I have the opportunity to watch television I now find myself looking more at the greenery on set than I do the plot. Time to rewind. I thought I'd share some of my favorites including a gentleman who lives in Germany that I have been following. At least I think he lives in Germany, unfortunately being bi-lingual is not something I own bragging rights to, and I was unable to translate the language on his website. Thankfully, "a picture speaks a thousand words" and his do.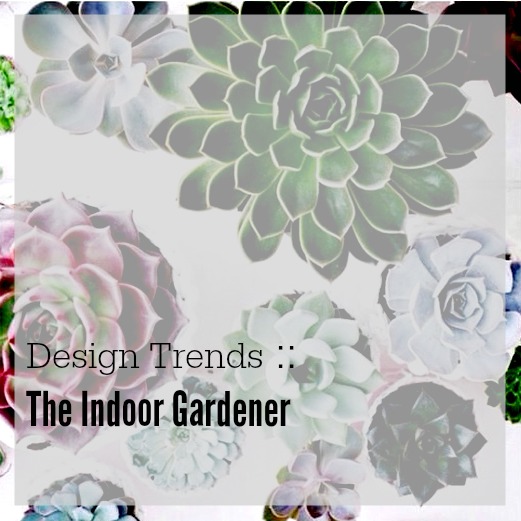 It's all about bringing in a little greenery..or a lot.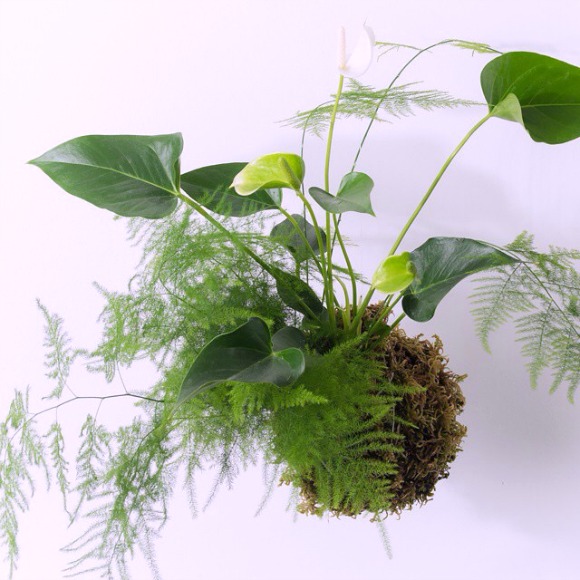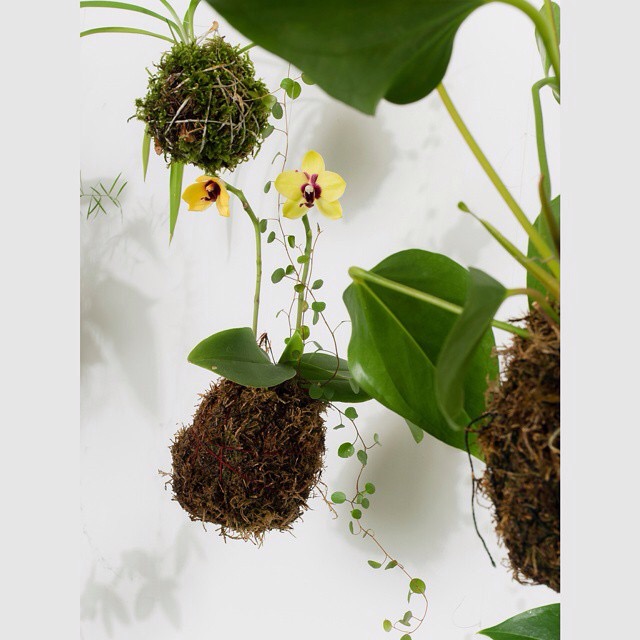 via Padre Oscuro
He is another one of my Instagram followers, and I followed him back for the reasons pictured above. He has a website (again I think in German), but the photos of his botanical works of art are worth looking at. They remind me of the Japanese art of Ikebana, simple, beautiful  arrangements. Visit www.mooslinge.at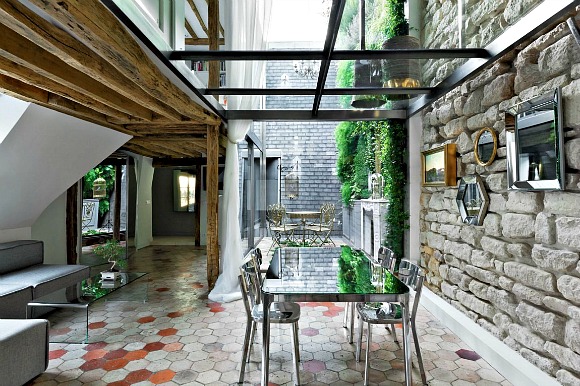 Photo Sebastian Scutyser
This indoor garden is truly one of the most inspired examples of bringing the outdoors in.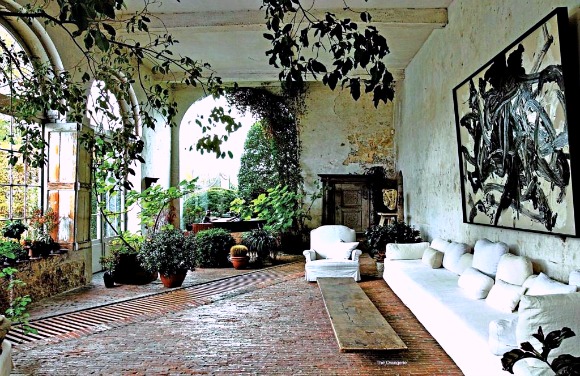 Via theorangerie.com
Half garden and half  living space.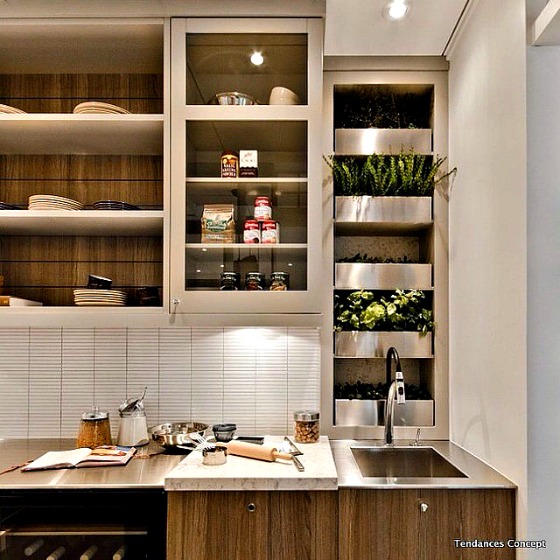 via tendancesconcept.com
This is one of the most brilliant ways to incorporate an herb garden in a kitchen.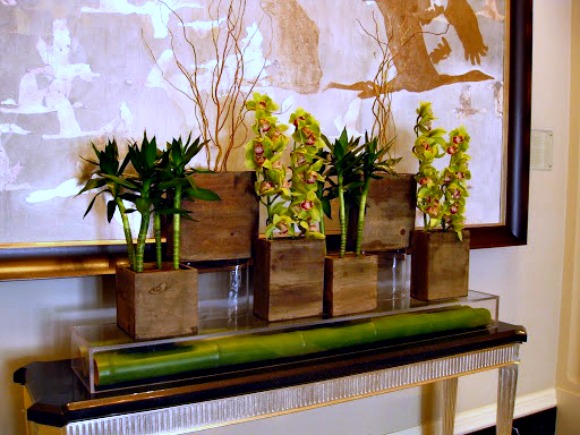 Via themandarinorientalatl.com
The Mandarin Oriental in Atlanta has some of the most beautiful indoor garden arrangements, as you walk in there is a living wall of greenery. Unfortunately, I am unable to locate the picture, but when I do I'll post it, but this is certainly an honorable mention.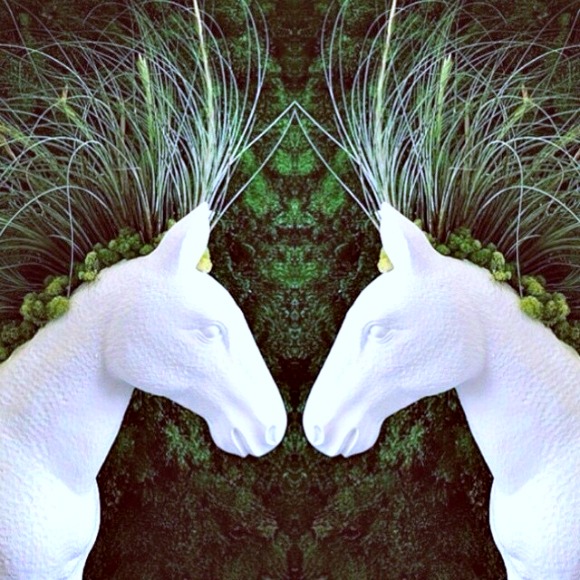 via @thirdaykuwait
This picture is from a person I follow on Instagram, and all his garden creations are truly works of art.  This is one that I'm  particularly fond of maybe because it's a horse, or maybe because it's stunning.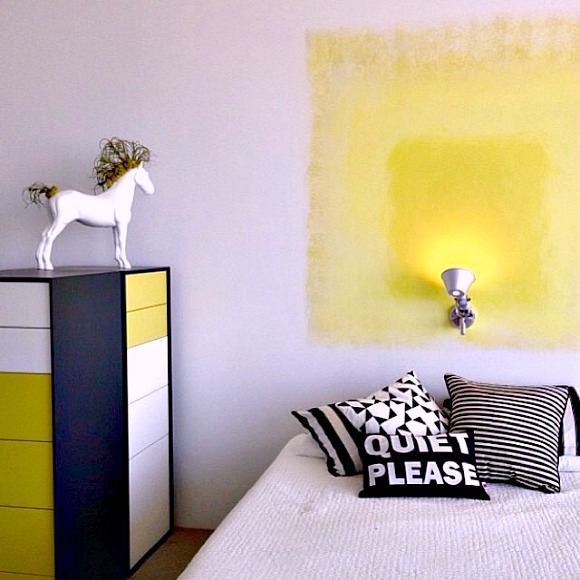 via @thirddaykuwait
One of his fabulous horse sculptures/planters in a room setting.
I hope you are inspired to bring a little green into your space. The next Design Trend? It's bringing colour into the kitchen.
Don't forget to follow us on social media for more inspiration and happenings. Links in the sidebar.
As always,
BE INSPIRED. BE AMAZING.
Thanks for stopping by!