It was one of those weeks…I broke my iPhone, our cleaning lady shattered my favorite mirror (that was part of a wall grouping perfected over the years), Mr. B. and the Fashionista baked cookies (I'm trying to get in a pair of jeans from last year, and count the cookies as a very bad thing), and George Clooney got married (even if you don't think you care lets face it you do). Luckily it's Monday, and I like to think I'm starting off with a clean slate. So let's go back to last week, I had a company ask to photograph one room in our home, using some of their products (which are drop dead & fabulous) causing a chain reaction of panic. Because, it's not finished yet. The room functions as everything except it's intended purpose which is a guest room.
For one thing, I dislike white crown molding, but we have it throughout the house. It's a safe choice, but in a year of living dangerously, I want something with more impact. When I was working with clients, I had a lot of fun with mouldings. Sometimes I had them painted the same color as the walls (even if they were Indigo Blue and I still dream about that particular room), once had them painted with a Chevron pattern for a young girls room, and on another occasion had the mouldings gilded to match one of the predominant colors in the wallpaper. So then I wondered, what to do with the stark white molding in the guest room? Who came up with the rule that moldings always had to be white? Because in my design book, they don't. Well I still haven't decided what to do as dawn breaks on Monday, but while I was sitting on the deck at Casa B. yesterday watching geese land on Greens Pond, I looked at all the possibilities on my iPad Mini (what's a new iPhone without a coordinating iPad?). In fact, I was shamed into the purchase when the salesperson loudly announced that I had one of the first ones ever made, and made a snarky comment about whether or not it was internet compatible. So I bought a new one, and I'll say it's pretty cute with a sassy pink and coral cover.
While I was surfing the net with my new "Mini," I didn't quite find what I was looking for, but I did find enough proof to show Mr. B. that people (other than me) actually paint their crown mouldings a different color, and that it wasn't another of my schemes to pull him away from the TV and football. Yes, unless a large section of the population does it, he won't budge. I am sadly lacking in the DIY department, including painting anything (including millwork), so I am sadly at his mercy. I thought I would share some pictures that I thought were great examples on how to make your crown mouldings just a little more interesting..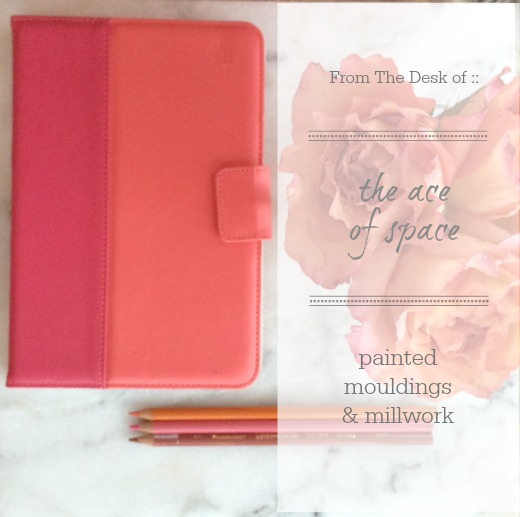 Source/ cococozy.com
Paint it all with the same hue of paint, and change it up with different sheen's, it makes for a bold choice.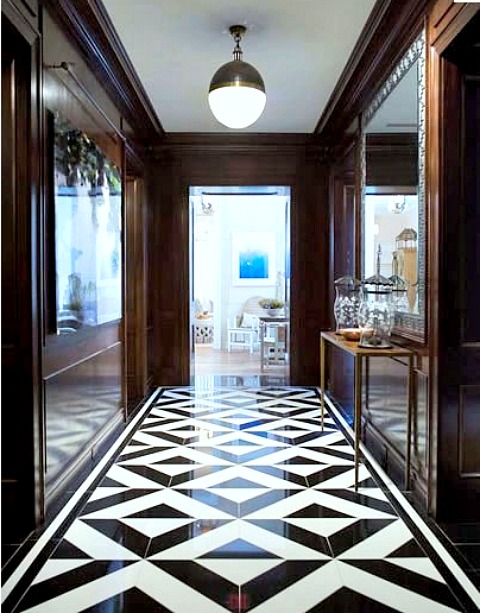 Designer/ Phoebe Howard
I am positively obsessed with black mouldings, and Atlanta's own Phoebe Howard does it so well.
Designer/ Kelly Werstler
Contrasting patterns all made cohesive by using similar colour tones. Of course, black crown mouldings…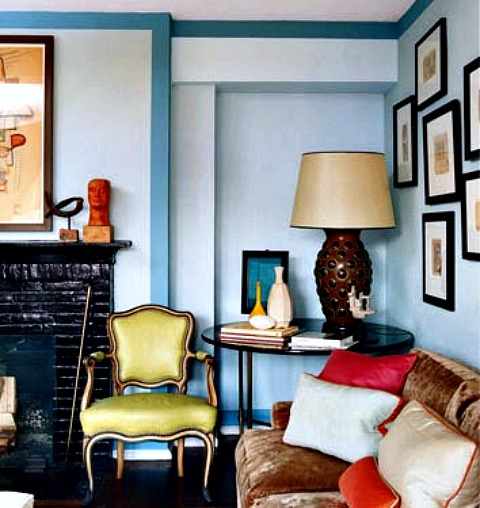 Source-greigedesign.com
An eclectic interior benefits from contrasting mouldings…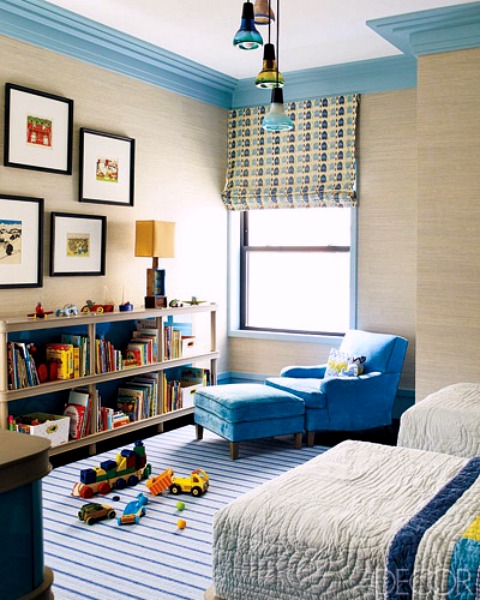 via elledecor.com
I love blue, can you tell? The crown moulding in this boy's uses a contrasting blue crown moulding to actuate the colour palette.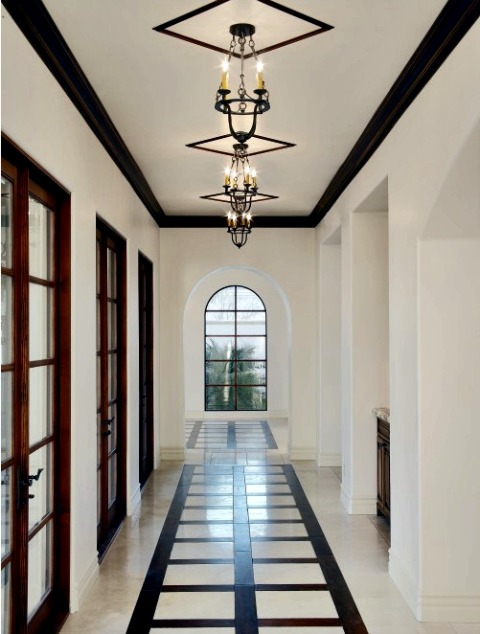 Source: glamourhouse.com
This hallway is defined by black lines, and the black crown moulding gives the illusion of  lower ceilings serving to make this space a little less austere.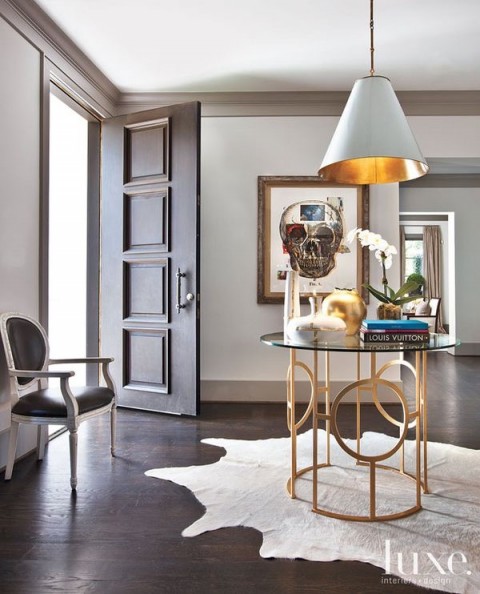 Source: Luxe Magazine
A little grey, a little glam…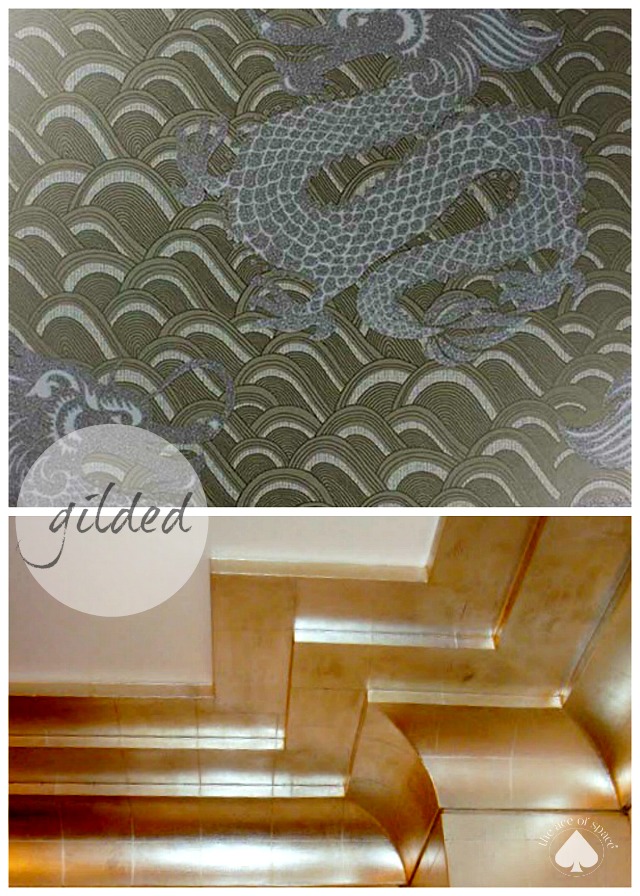 Designer/ Vicki Gladle Bolick
From a dining room I did for a former client…the wallpaper is from walnutwallpaper.com, and is called Celestial Dragon. The mouldings were handpainted a gilt finish.  The client was all about high drama…
As always,
BE INSPIRED. BE AMAZING.
Don't forget to follow us on social media for more design inspiration, you can find us on Pinterest, Facebook, Instagram, Twitter and now Tumblr. All the links can be found on the sidebar.
Thanks for stopping by!