If a door has some age on it…I'm going to love it. In fact, I had to pass on this beauty in Upstate NY last week because I don't believe that it would have fit in a priority mail shipping box, and my days of trying to figure out the best way of shipping back antiques are over, at least that's what Mr. B says. So hopefully this door went to one lucky home. P.S. I was so desperate to get a photo of this spectacular piece that I had to stand in the middle of a country road, but luckily in small town U.S.A. no one is in a hurry and the patient farmer on a tractor let me snap this photo before he drove off with a wink and a smile.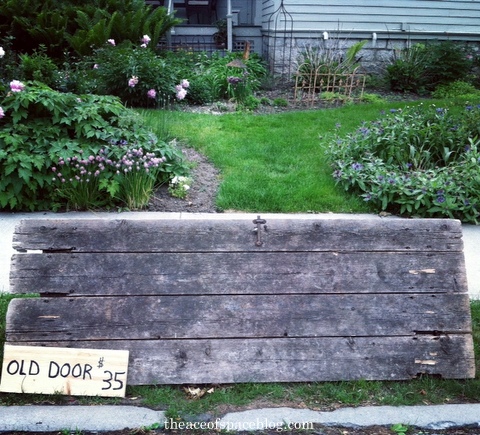 The door that got away…
I  have used old doors as console tops, to replace new doors to give some added character, used them as bench or table tops, affixed several to a wall to anchor pictures on, and re-used them for just about anything that you can imagine. Seriously, the older I get the more I appreciate a little age on just about anything…after all what doesn't get better with age? (Other than a few well-earned crow's feet…)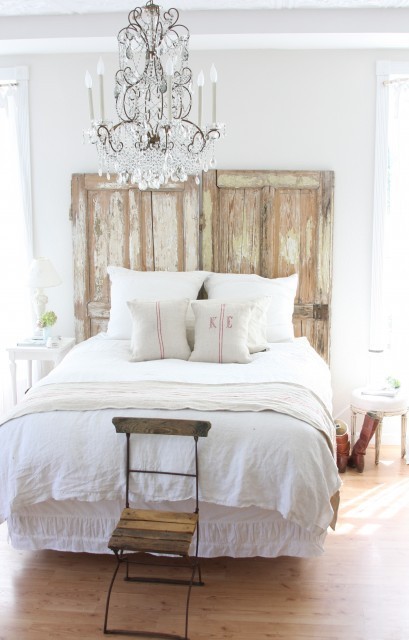 The perfect storm "romantic rusticality" anchored by a pair of well-loved upon doors…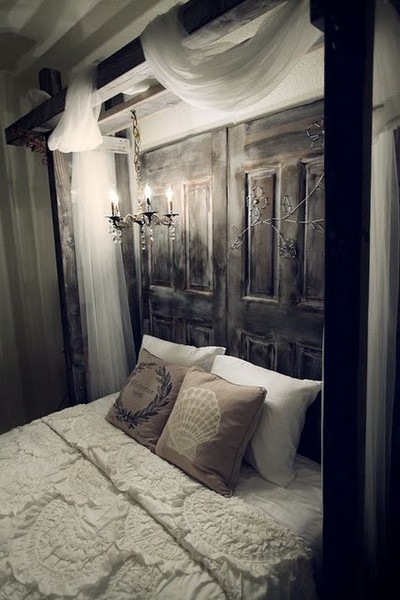 via French Country Magazine
Ah…the rustic headboard just adds the right amount of romance. But, what's even more striking is the way that they framed it with substanial columns softened by gauzy fabric…this room would be perfect in a cottage or a castle (or as my guest room).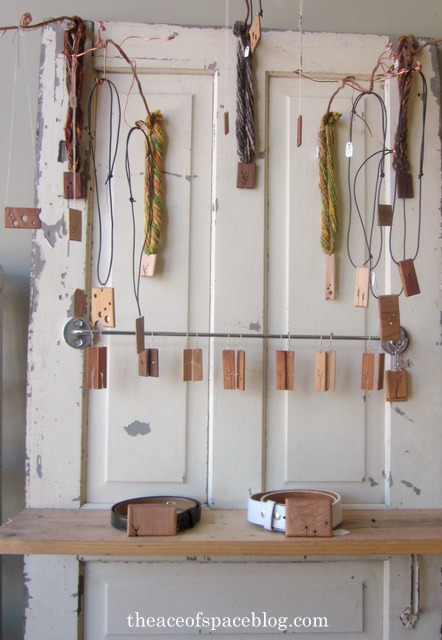 This antique door was used in a retail space to display some of their fab inventory, but could be easily modified and used in a closet space to display and hang necklaces and with the addition of a few more shelves, voila´ added storage for scarves, and shoes. I still think about this door that was a "free" roadside find, but was glad I was able to give it a good home.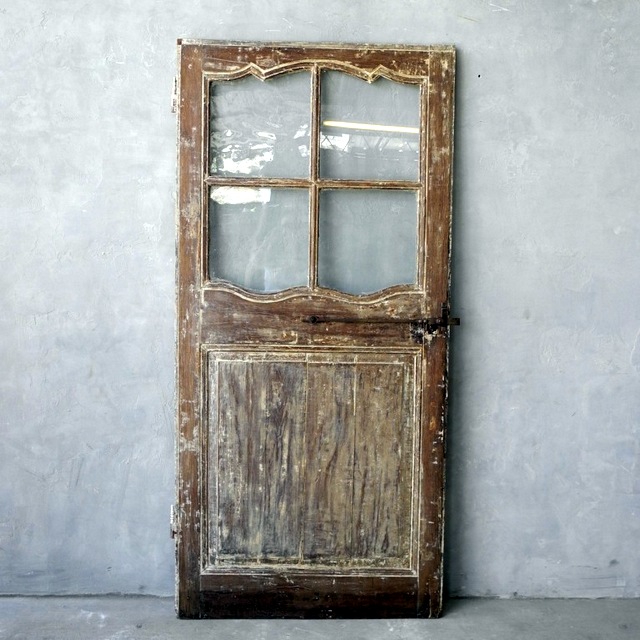 I have been eye-balling this Louis XIV door from Maison de Maitre on 1st Dibs (offered for sale by Chateau Dominque) for a client project, we need one for a historical restoration as a back door. I don't know who is more head over heels for this "French chateau find" me or my soon to be lucky client. I have already told her that if she gets it that I'll always be making my grand entrance at the back of the house.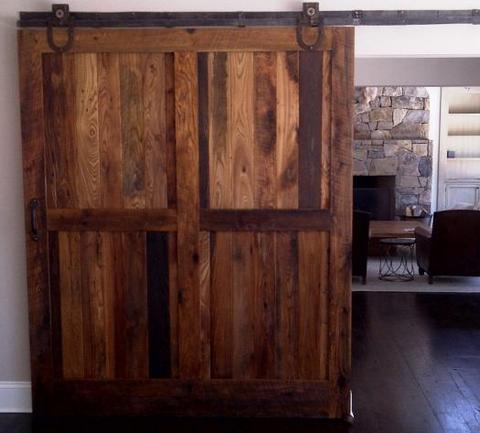 This is one great looking barn door that has found the perfect spot off the farm. I have even used them as false doors giving an empty wall added architectural interest. If only…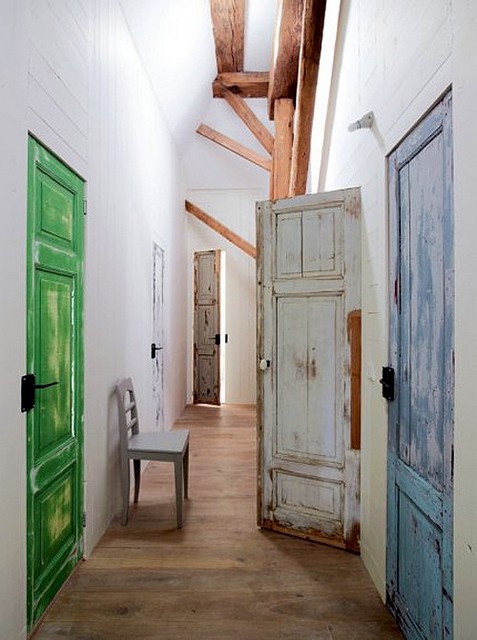 via kitchenbuilding.com
 This is the interior design version of the "Price is Right"…wonder what's behind door Number 1? Seriously, though I love the quirkiness of this hallway, and the fact that each door has its own unique character…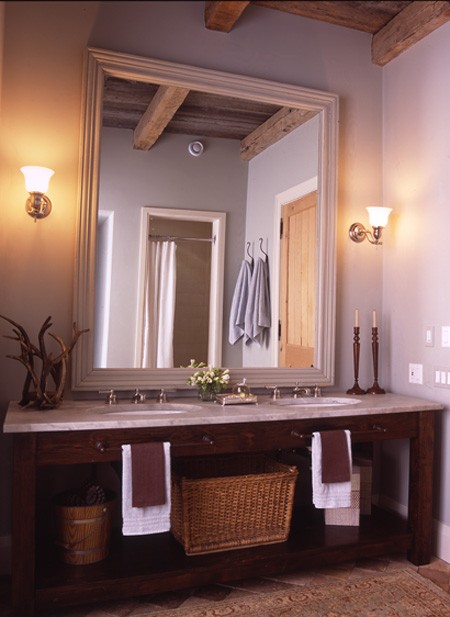 Designer/Jill Kantelberg-Photo/Ted Yarwood
I absolutely adore this bathroom, made even more stunning by the mirrors made from two antique French doors…
Anyway, things are beyond great at Casa B., and our new daughter is just beyond amazing. I want to give a heartfelt thanks to all those who have supported us through this process, and to all the well-wishers, and my friends who have loaded her closet with the cutest clothes, shoes, and toys. She is up to 4 wardrobe changes a day, each piece of clothing, every toy has been so special to her because in foster care she didn't get many new things, or toys she could call her own. It just about breaks my heart everytime she asks me if she can keep something, but being able to tell her that "Yes, that is really yours" is also the best feeling in the world. It's going to be a special summer for all of us,  just being a family…and showing her all the joys of childhood. 
Thanks for stopping by!