Now that the election is over, it's time to get back down to business. I'll be honest I was glued to the news for most of the day yesterday…regardless of who you voted for it's time for our country to heal-starting today. Enough said. In a way…the old red, white and blue was the inspiration behind my post. Blue specifically..the deep rich, "paint it in my study" kind, the colour that has been inspiring designers such as Ralph Lauren for decades, and happens to be Pantone's Colour for 2013-Monaco Blue. In fact, I sent my little fashionista to school today dressed in a Ralph Lauren Tartan plaid shirt and Cobalt Blue leggings, that is how committed I am to using blue. Because I'm pretty sure Mr. B. isn't even going to let me add a pillow to the sofa, so why not inject a little of 2013's trend colour into my daughter's wardrobe? A small consolation, but I have used blue in the past, in a client's basement (for that "Country Club" vibe), and in a Powder Room with some really stunning Osbourne and Little wallpaper (www.osbourneandlittle), a crystal chandelier and a Venetian Mirror. I still daydream about that room, but unfortunately 10 years ago, taking pictures of my work was the last thing from my mind. Now I wish I had at least one snapshot…and I might just have to replicate it very soon. Because one of my client's told me today that she is going to let us re-do her powder room and she adores blue, which gives me a great opportunity to push the design envelope again, (all with her blessing of course).
Now from the style files comes some really fabulous bluesy interiors, and a close up of a custom headboard I did for a client last year…in a deep blue with pops of gold….
A little slice of blue heaven in this custom headboard with the gold accents….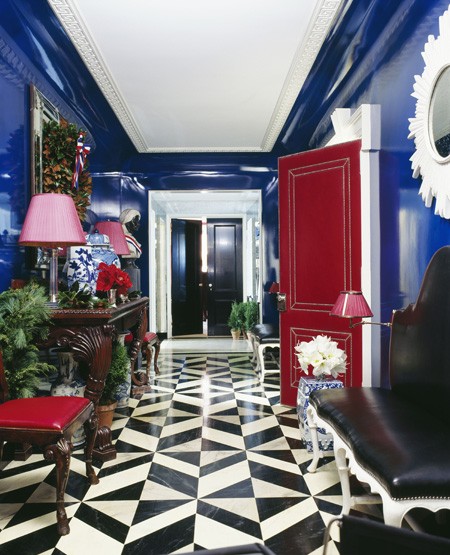 Designer/Miles Redd
I have to admit I have been a huge fan of Miles Redd, not because he hails from Atlanta, but because he creates the most dramatic and visually stunning interiors that my baby blues have ever laid eyes on. This space is no exception, the deep blue lacquered walls, the black and white tiled floors and the red accents create the perfect fusion of colour in this NYC foyer.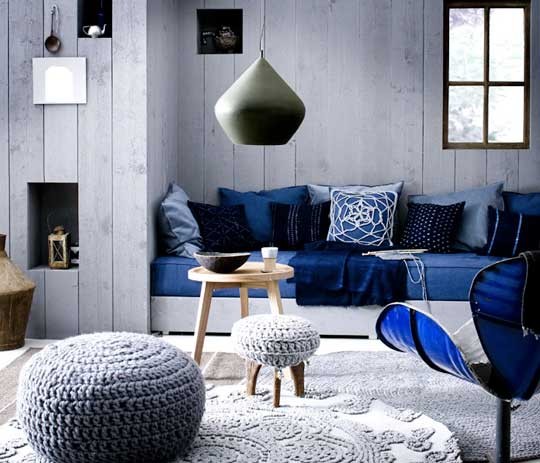 From Elle Decor
This space is full of inspiration, and is a lesson in layering. The rug reminds me of a oversized crocheted doily (in a good way), and the mix of modern pieces with more relaxed furnishings creates a cozy and eclectic space. All while using a colour palette of deep blues.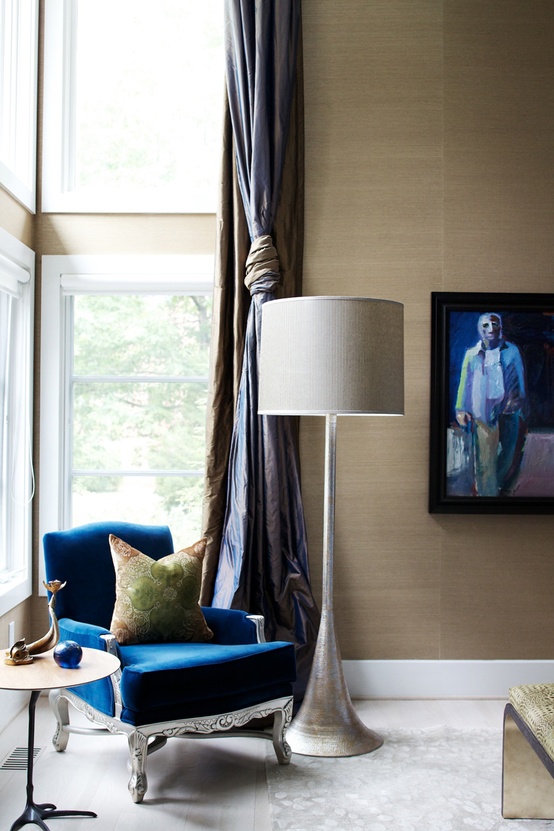 via Rue Magazine
I love the layering of blues in this space, and the fact that they brought in a deeper cobalt in the artwork, although I'll say the subject choice is…interesting. The real standout is the knotted drapery…just luscious.
via House Beautiful
I have loved this photo for so long that it's dog-eared and faded, but it's still pinned to my inspiration board (barely hanging by a thread)…I.LOVE.THE.FOXED.MIRRORS. In fact, a room with mirrors, cobalt and white is simply stunning.
(L)-Joel Bray, (R) Stella McCartney
From the runway to home interiors, Cobalt is making it's regal presence known…
An ad from Ralph Lauren, using a bit of darker blue. A special mention goes out to the patina on the distressed walls….L.O.V.E.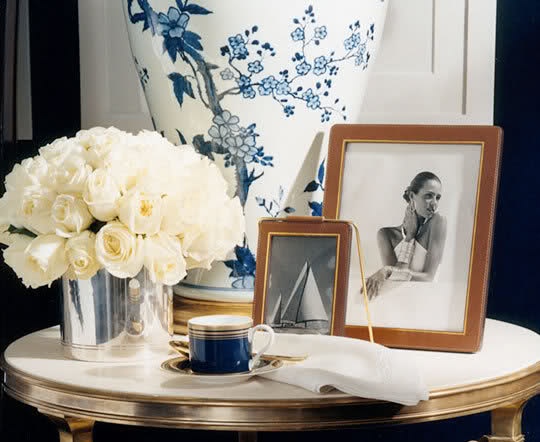 via Ralph Lauren Home
 I'm a "little or a lot" kind of girl, there is no happy medium as far as I'm concerned. Which is why I love this little table vignette…perfection. Adding a little touch of trend colour will bring in some pizazz…
So here's to a new start…
 For more design inspiration visit my Pinboards on Pinterest.
Thanks for stopping by!