Summer vacation is here. If you're a Mom you know what I mean. I decided to be brave this year, we will not have a nanny, we will not put the Fashionisa in daycare, she and I will be spending quality time together until Mr. B. decides that it's actually costing him alot more money to have her stay home. But, I do have a "Mother's Helper," it's a Southern thing. When I grew up in a rural area of New York, my mother would shoo us out the Victorian screen door in the AM, armed with a paper-bag lunch, and didn't expect us back until dinner time.  Being the youngest and a creative type, I would spend most days at my neighbor's house where I became a surrogate daughter, she taught me sewing, cooking and the "art of embroidery." Once I learned this skill, I embroidered everything…even my sister's beloved Lacoste tennis shirts. What's a signature alligator without an embroidered frog and a few butterflies? Needless to say she hasn't forgotten or forgiven.
This week the pint sized Anna Sharapova is in Tennis Camp, so rewind to yesterday when I went to pick her up: Mommy, I need tennis outfits like the big girls. Me: Sure…(After all I totally understand the need for matching tennis outfits or matching anything for that matter). So off we went…to a tennis shop, seriously can the outfits for an eight year old be any cuter? So 100's of dollars later, she had four outfits with matching sneakers and headbands. Then we were off to a showroom to pick out fabric for a window shade in her bathroom, her favorite-John Robshaw. At $72.00 dollars a yard wholesale, I overlooked the price, because I felt like it was more important to nurture her discerning eye. Is it possible at eight that she is going to be a budding designer, and take over my business (or worse yet overtake her Momma and be on next years list of "40 Under 40" designers to watch). Perhaps a wunderkind of the design world? So while we are refreshing the interior in our home, and looking at various and sundry fabric, redoing the Master, building a bigger and covered deck, painting the house, she is flexing her design muscle and insisting that she needs an embroidered Madeline Weinrib pouf. Which is going to bring me to a trend (yes, I said the dreaded word) that I think is fabulous, if you read my blog then you know that I may talk about trends, only if I think that they are noteworthy and have the potential to be a "timeless" addition. That is how I feel about embroidered anything…"timeless." I am totally enamored with the unexpected visual impact that an embroidered sofa has, or an ottoman. So here are some my of my favorites that I think are fresh and will add a little bit of panache. Also, don't forget to check back later this week (although, I know it's already later, but it was a holiday) we will be interviewing our third "Tastemaker," the amazing Amy Vermillion, you won't want to miss one of the South's leading designers &  "influencers"…For next weeks "Tastemaker," I am begging one of my favorite Atlanta designers (and friends) to let me come in and shoot just a tiny bit of a centuries old mansion that he just bought and re-decorated (think floor to ceiling Hunter Green in the library, yes and the ceiling…)
P.S. We are adding a contributing writer as we expand, and interviewing another. They will bring a lot of talent to the table, and allow us to cover more of the latest and greatest in the fabulous world of design. So keep checking back as we continue to grow, even though there may be some "pains" it's going to be so worth it!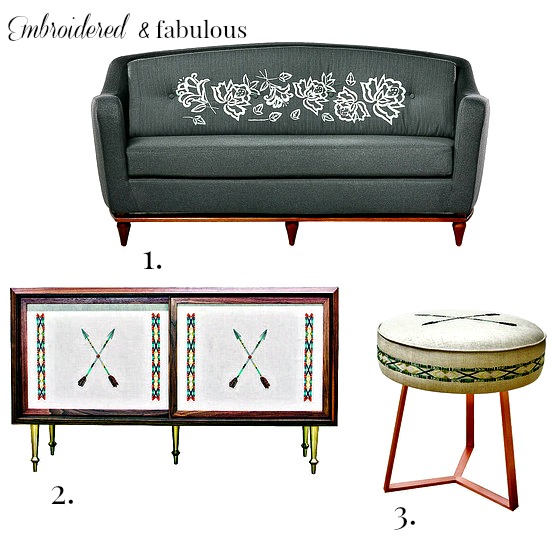 On the cutting edge of design…the couch would be so unexpected in a room. This Rocco Elipse Flores Sofa (1) with Hilando Mexico Embroidery would be so worth the investment. The credenza (2) is from Blend Design and features Coral & Tusk embroidery, it is truly a work of art. Imagine a pair of embroidered Volk stools (3) placed in front of a sofa…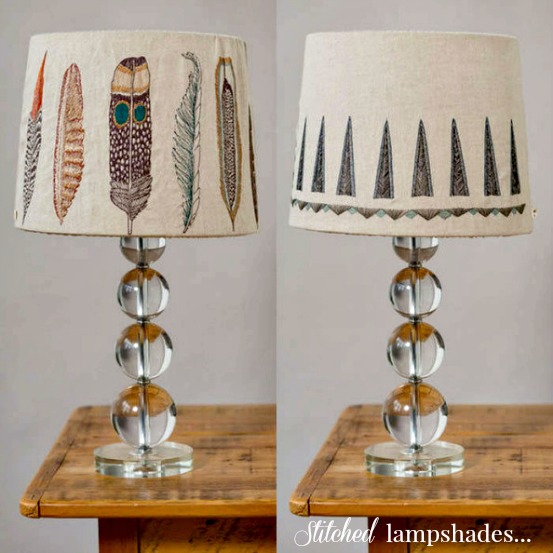 via coralandtusk.com
If you don't want to commit to larger scale design, these embroidered lampshades are a perfect way to add visual punch in the most beautiful way…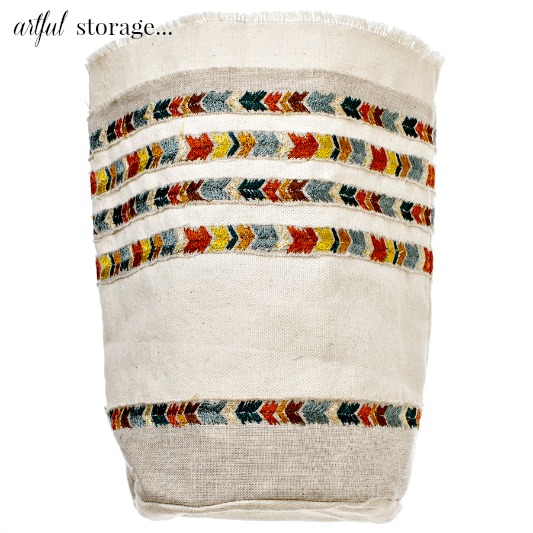 via coralandtusk.com
This embroidered bucket is adorable & functional…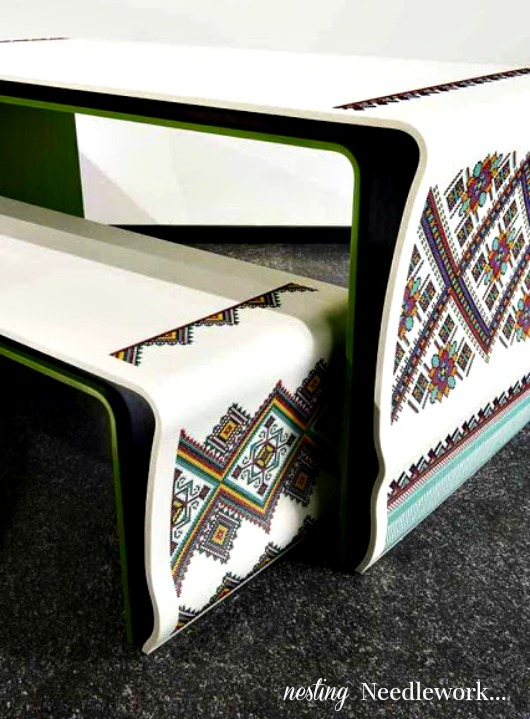 via Yaroslav Galant
These nesting tables are actually the combined design genius of Yaroslav Galant & Corian, embroidered with Ukrainian motifs these designs combine cultural heritage with modern technology, making their debut at Milan Design Week…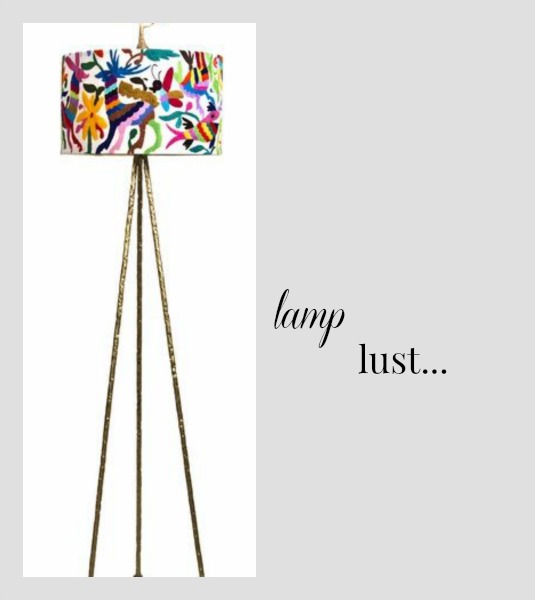 via rosenberryrooms.com
I think you'll agree that this floor lamp with the embroidered shade deserves to be centerstage…
Photo-Madeline Weinrib
Who doesn't love anything covered in a Madeline Weinrib fabric?  Including this embroidered ottoman. Madeline brought back needlework and has made it so de rigeur…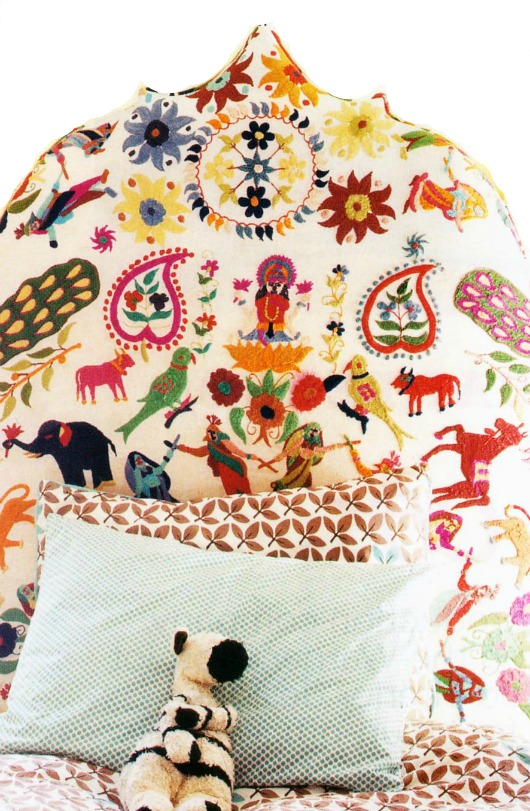 via Domino Magazine-Circa 2009
I saved this photo because I have always been positively enamored with the headboard covered in a vintage embroidered John Robshaw blanket…In fact, I think if you could find a gorgeous quilt this is a perfect way to re-purpose like Fawn Galli did here.
We'll be back next week with more design inspiration, and there are some exciting things on the horizon including a collaboration with a national brand on our Master-bath project…
So until next time…
Be Inspired. Be Amazing.
Thanks for stopping by!