I took a much needed hiatus (yes…three glorious weeks) to focus on the new addition to our family. I wouldn't have exchanged this special time for anything in the world…visits to the aquarium and the sunflower fields (my all time favorite thing to do in June) made even more special by sharing it with our new daughter. A sea of yellow perpetually happy faced flowers before us was just the thing to brighten an already perfect day .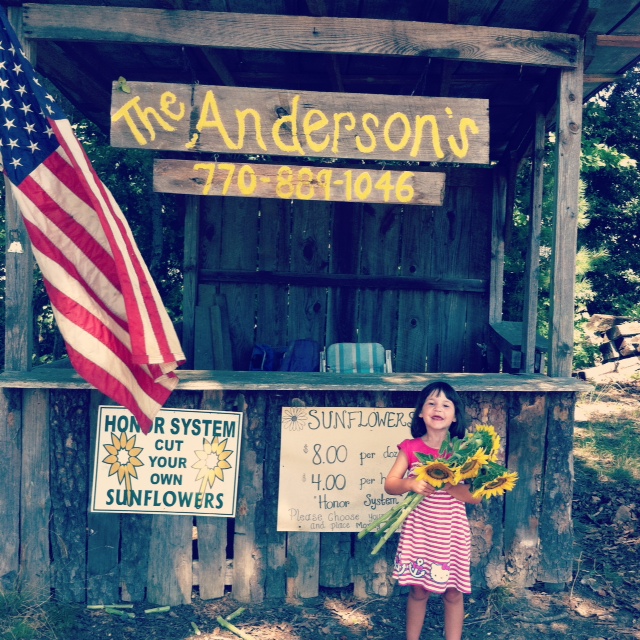 Good ole' summertime in the US of A.
So back to work I go, with the wee one going to summer camp a few days a week. I have some amazing projects coming up that I'll be working on, a bedroom sanctuary for a client who loves all things beachy (almost as much as moi´), and a huge project that we just took on for a lovely couple who have one of the most extensive collection of antiquities and art that (without a doubt) rivals any that I have ever seen in any of my travels throughout the world. They recently moved into a much larger space so we will be adding some upholstered pieces and highlighting what they already have.  I am beside myself with enthusiasm for the opportunity to work on this unique space, and of course pinching myself that I have the honour. Since they have traveled all over the world the pieces are just beyond amazing, and if you are familiar with Elle Decor Magazine you'll get a sense of what I'm talking about.
This interior from Elle Decor is exactly what I'll have the pleasure of working with, modern art melded with antiquities from around the world.
I also wanted to share a sneak peak into one of the bedroom projects that I am working on for a client, I like to think of it as 'rustic coastal glamour". It's been a whole lot of fun to do since I was able to add some custom pieces by several artisans that I have been dying to use. A shell-encrusted chandelier made by an artist out of Charleston, a driftwood desk that was crafted out of pieces of well worn wood washed ashore on the craggy coastline of Oregon, and a mirror made from a collection of shells that my client has collected from beaches around the world. We paired some traditional fabrics with a few sun-washed patterns for a look that will hopefully "tide" them over until they retire to Alys Beach in a few years. Lucky them and lucky me because I'm pretty sure that I see invitations to visit them in my future.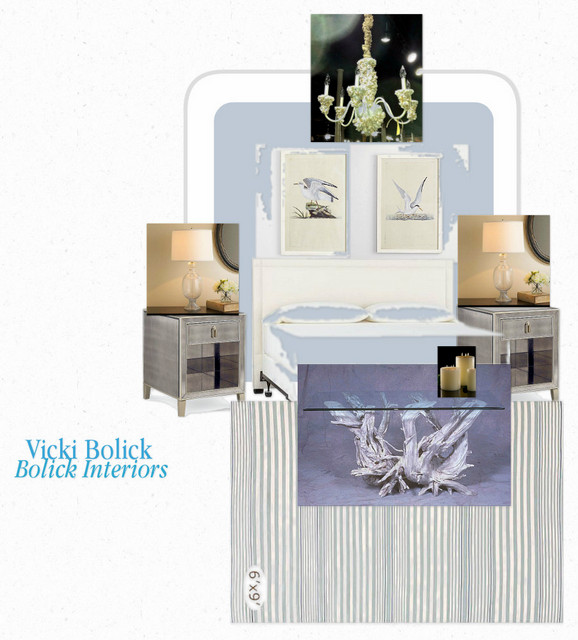 The pairing of mirrored end tables with the rustic desk at the foot of the bed just defines coastal glamour, all centered around a palette inspired by all things sand and surf.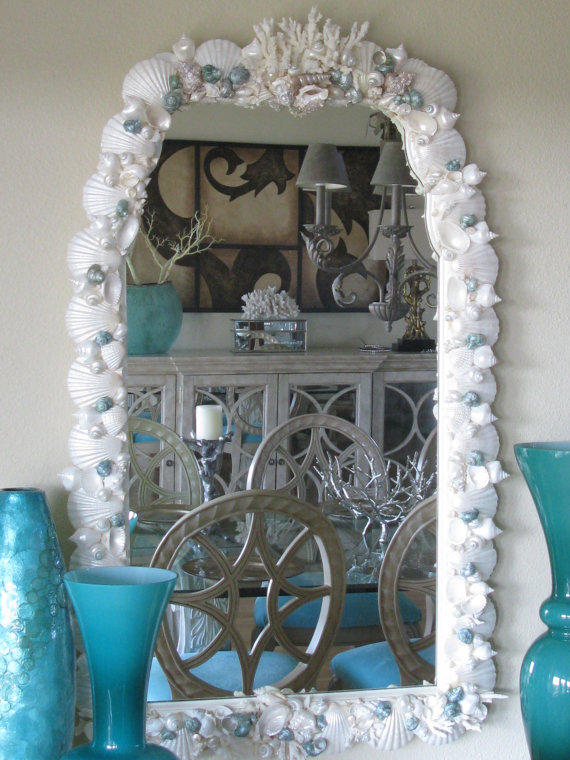 This custom mirror will be gracing a small ante room off the bedroom…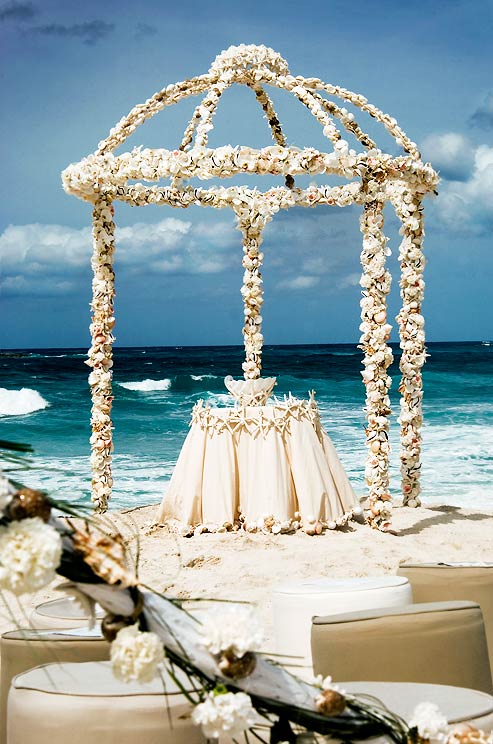 Since we are talking about the beach I thought I would sign off with this amazing gazebo lovingly constructed for nuptuals orchestrated by none other than wedding planner extraordinaire,  Colin Cowie. If Mr. B and I renew our vows this would be just the ticket.
Anyway, glad to be back in the blogosphere, and looking forward to sharing the latest and greatest with you on a regular basis…so check back….
Thanks for stopping by!