I am back from California, and with my internal clock still somewhere between the West and East coast, I'm barely able to function. Well maybe enough to write a blog post, that never changes. Traveling was just what I needed to revitalize, reinvigorate, and renew. If you have a family, you know that trying to coordinate a trip is something of epic proportions, it's not much different than working for a world leader (speaking from experience) right down to what goes into the lunch pail while your gone. So by the time my feet hit the sand I was ready to throw off the Hermes scarf, my Tory Burch shoes and run carefree down the Pacific coastline. Ah….the taste of freedom. From drinks at the L'Auberge hotel in DelMar to an afternoon strolling through the tony shops of LaJolla this girl had sensory overload. In fact, not many pictures on this trip because sometimes you just want to turn it all off, and just enjoy the scenery. Which I did.
So upon my return, I'm faced with a complete master-bath renovation, the deck and my office (still)…Thanks to Kohler, I have everything covered except the tile. Which is going to be fabulous. Another change is the Fashionista's room. While I was unplugging in California she decided she wanted new bedding. Not just any bedding, but something "colorful" for a big girl space. Insert tears here. Wait…she didn't want the pastel purples and pinks anymore? No. She wanted polka dots. The equivalent of having a twister board as a duvet cover. As a designer turned blogger, I made a complete 360° and went right back into "Designer Mommy" mode. So yesterday, with just a few hours of sleep, we went to seven stores…that's right. My pint-sized fashion forward tot wasn't slowing down until she found the perfect dot. I tried floral patterns; Pottery Barn stylized prints and Dwell Studio kids. Forget it. I tried to sway her decision with ice cream, promises of trips to Disney World, and never having to do another chore until she was eighteen. No. The girl wanted Polka Dots. Even Mr. B. had a reaction. When he walked into her room, I heard "Good god!" Enough said. Yes, I gave up my dream of a perfectly coordinated space and let her make a design decision. I was proud of her, and in all honesty I was glad that she is growing up into a young girl with a sense of who she is. As she told me after multiple stores, and looking at all things not polka dot, "It's just not me." I am raising a girl who knows what she wants, and I'll gladly live with Polka Dots (yes I say this as I'm cringing).
Which brings up a point. Designing children's spaces can be challenging, and as someone who has designed many- I can tell you this- it doesn't have to be perfectly designed, and kids have an opinion if you let them in on the process. They have "likes" and "dislikes." If the room is perfectly staged and styled then it's not livable. While the room may look perfect in a magazine, it's been manipulated to appeal to the adult eye not your child. Rooms are made to function, and it's possible to make them pretty too. These are some of my favorite children's rooms, full of ideas and inspiration.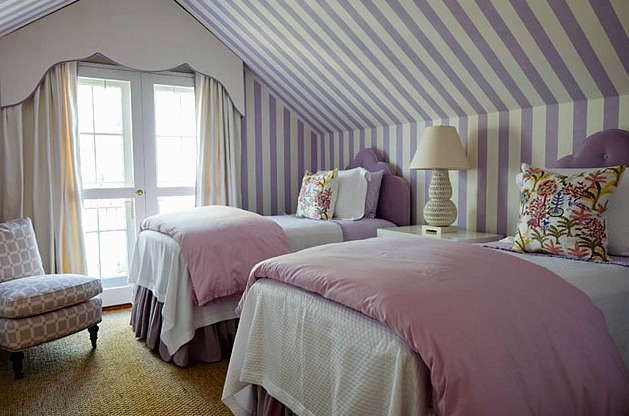 via thingsthatinspire.com
I love the soothing tones of lavender, and the canopy of striped wallpaper running down the pitched ceiling. How clever is the cornice that fits perfectly into the structural lines of the roof? The drapery has always been one of my favourite designs.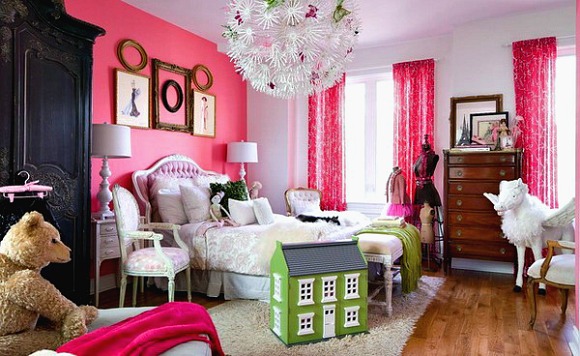 via digsdigs.com
This room has the right amount of elegance mixed with child-like whimsy. I love the fact that it tells the story of who lives here…and with a few changes this room can take this little girl into her teenage years and beyond. How perfect is the wall grouping?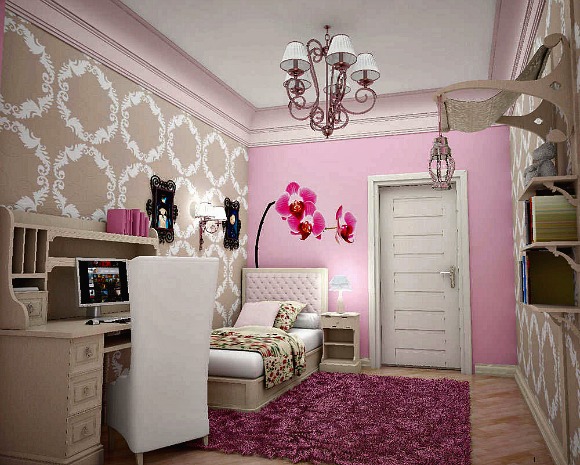 via ihdwal.com
Yes, vintage charm with a modern flair. I positively love the old world pattern stenciled on the wall paired with a modern floral mural. While this room is more rectangular the layout utilizes the space perfectly, function first with a stylish punch.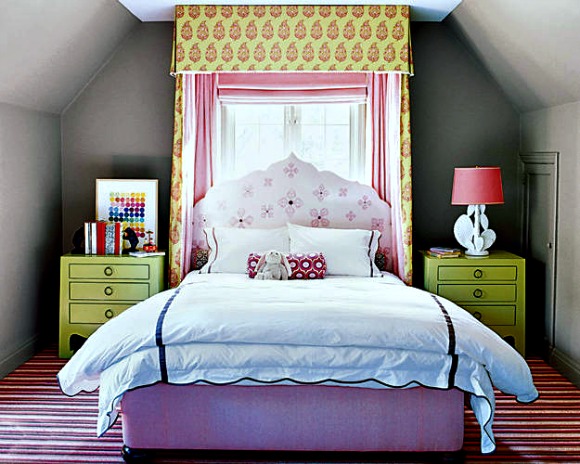 via elledecor.com
 I bookmarked this room because it says "little girl" without being overpowering. It's soft, girly and chic.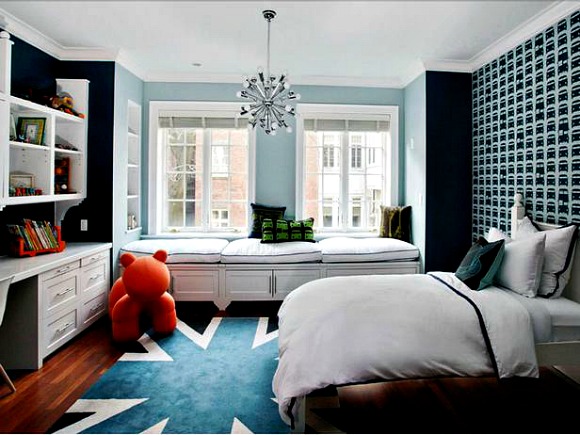 via mytinynest.com
The wallpaper is the perfect backdrop for this British inspired boys room. Proving you don't have to wrap a room in wallpaper to make an impact…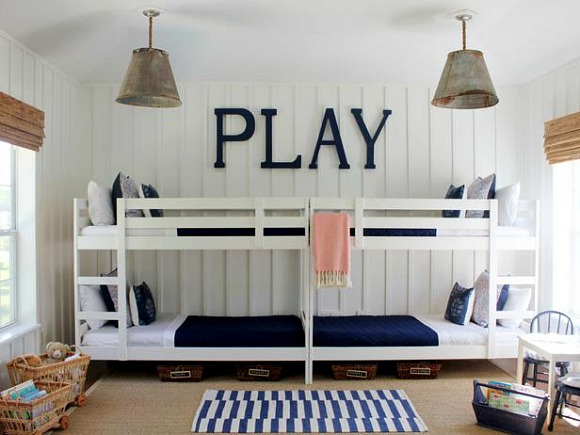 Designed by Farima Alavi
Do you want to play? This is bunk-room perfection. The simple furring strips running vertically down the wall adds architectural detail, and a simple pallette of blue and white is a telling sign that boys live here.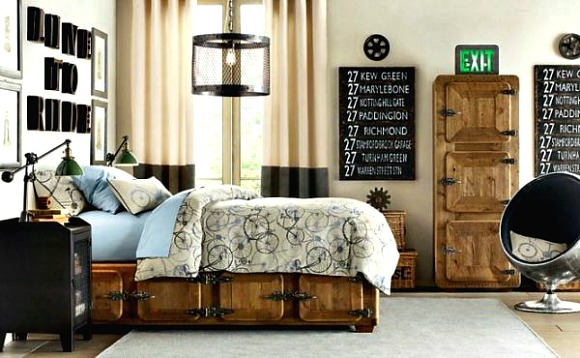 via homedit.com
I LOVE THIS ROOM. The ice chest style of this bed allows for ample storage, and this space also integrates the interests of the child it was designed for.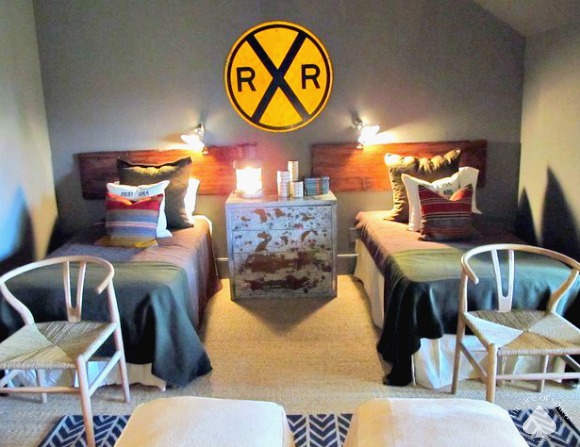 Photo/ Vicki Gladle Bolick-Designer Jimmy Stanton
Jimmy is a "Design-elebrity" right here in the ATL. His work has been published many times over, and for good reason. As you can see from this boys space at Foxhall, this room has all the elements that define great design.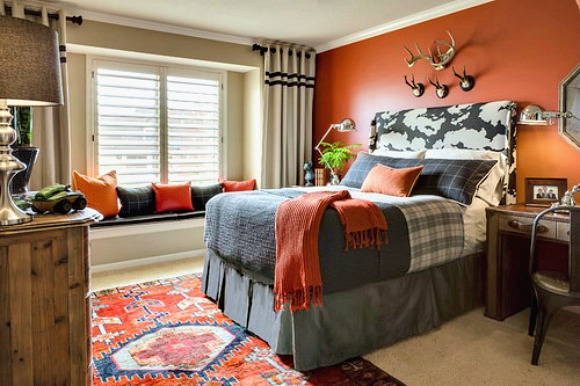 via bozeman.net
This room incorporates modern day cowboy with teenage chic from the plaid bedding to the cow hide pattern on the headboard. Genius.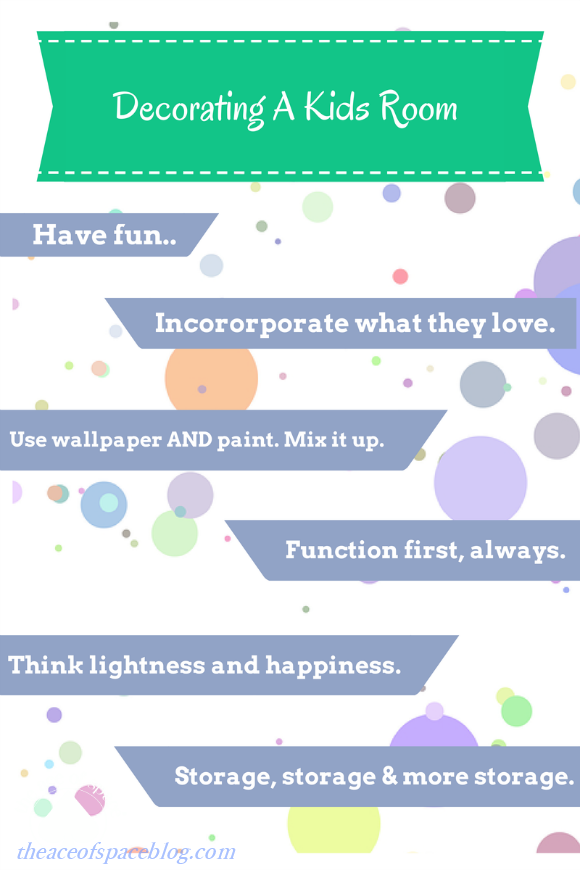 As always don't forget to follow us on Instagram, Pinterest, Twitter & Facebook, for more design inspiration. The link is at the top of the page…We have lots of exciting things happening on the Horizon, with a whole new look and several new features. The Ace of Entertaining & The Ace of Style are coming soon.
As we launch our new look soon we'll be looking for more contributing writers, so if you love design, entertaining or fashion you can convoy me at Vicki@theaceofspaceblog.com and let's talk.
BE INSPIRED. BE AMAZING.
Thanks for stopping by!