It's Sunday morning, the sun is shining, and if I were a cat I would be curled up in the ray of sunshine that is streaming through the window onto our breakfast room rug. Instead, our 12 year old resident Beagle is snoring loudly, enough that the Fashionista even left the room because "That is so annoying." I'm content simply because I have a cup of java and the current issue of Vanity Fair to keep my mind off from the noise emitting from the canine "jet engine" sleeping at my feet. (Fast forward to Thursday, because I'm sitting in New York finishing this post).
One more article to finish and then on to finalizing selections for the perfect wallpaper to hang in a nursery that I'm working on. In all honesty, I could work on children's rooms all day long, which is the perfect lead-in for this announcement. Bolick Interiors is going to specialize in designing luxe children's spaces. We'll still be doing a few grown-up rooms, but I'm in the process of having my website showcase the work I've done from pint sized to teenage clients (yes, I am brave). The blog will still reflect my musings of all things design, and because blogging is my main focus (taking me all over the globe and back), I wanted to devote what little time I have for actual design on my true passion, designing for children. Some people have said "Im crazy" for doing this, coincidently they were also the same people who had similar comments when I started my blog. Fast forward to two years later, and my blog has exceeded even my own expectations. It's all about doing what you love, and the rest will follow. End of story.
So for this toddlers space my client wanted an "upscale" themy room devoid of murals, decals or paint. Specing out wall coverings for her tiny tot has been downright delightful. When I was growing up it was wallpaper gracing the walls of my bedroom, French pink ticking stripes on the accent wall and "vintagy" roses in matching shades on the other three (all chosen by my mother). She has a keen eye for design, and created a stylish haven that took me into my teen years and beyond, and I hope to create the same memories for my clients. So here are some wallpapers that I think are simply divine for a small children's space…

From Sian Zeng complete with wallpaper magnets…how absolutely brilliant!
 Or the equestrian themed wallpaper from Quentin Blake (in the upper left corner)…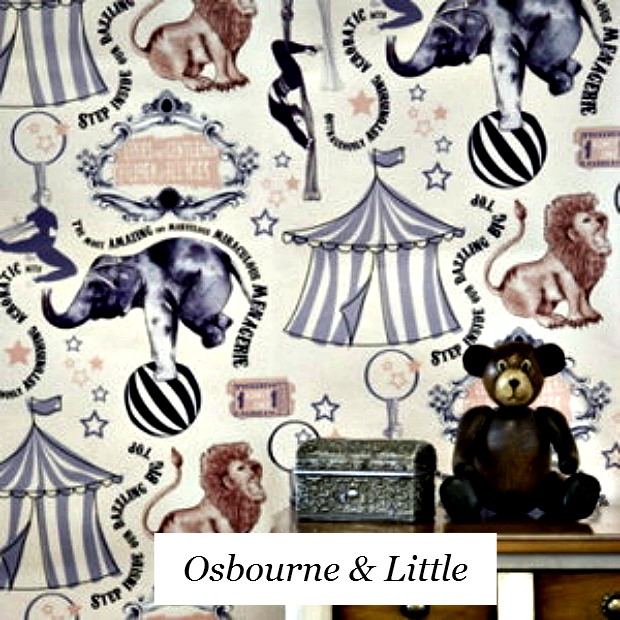 Or this fabulously whimsical circus from Osbourne & Little…
What ever she decides, it's going to be the perfect foundation for the rest of the room…I'm in New York (again) and will post some pics of my trip in the near future (it's hush, hush for now, but I'll be sharing the details very soon).
P.S My apologies for any inconvenience on my website, it's currently under construction and unfortunately we are having issues with the links. Thank you for your patience.
Cheerio!
Thanks for stopping by!