It's Thursday evening and My. Feet. Hurt. We just finished a huge client presentation, and of course I'm trying to prolong the agony of wearing sandals with 3+" heels until the last vestiges of summer are over, not a great idea after standing on my feet all day, but I have to admit the sandals really rock. So is it better to have your feet crying out in pain for the sake of fashion? I think so…
My associate, Bridgette standing guard over our massive client presentation.
So anyway, back to last night, we presented a project: the boards, fabric selections, yada, yada to one of the nicest couples with two amazing daughters, all of whom just relocated back to the states from living in Singapore. I do want to mention they have an art collection to die for, and some truly fabulous pieces of furniture that they acquired in the nether regions of the Orient.  I have to admit there is definitely some serious jealousy going on here…because if anyone loves a really fine piece of furniture or art, it is yours truly. Ask Mr. B…he's still in slight shock over a lacquered chest I purchased on a whim many moons ago, although secretly I think he's really grown to love it…
While we were at the presentation our client mentioned that a friend of her's had acquired a Zebra rug at one point, then unfortunately moved to a smaller space which limited their options for rug placement, so they attached it to the ceiling. I LOVED it, and many thanks to my client for sharing it with us. Because that must have stunning…and a totally brilliant idea.
So here's to the 5th wall in the room…one that is often overlooked and sadly under-utilized, but if done right can bring add the right amount of pizzazz to a space…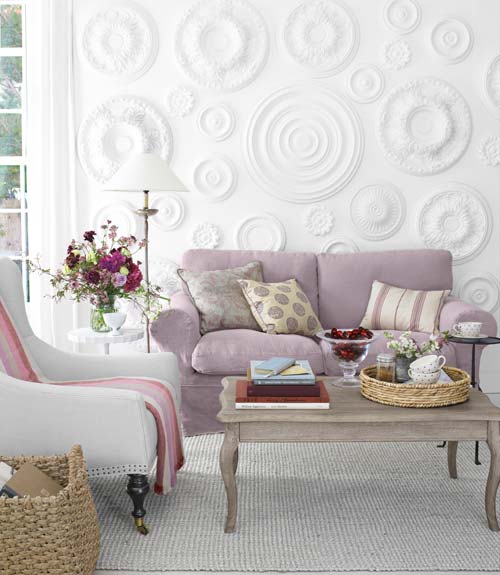 Although the ceiling medallions were applied to the wall, I like the idea of having them on the ceiling, painted in a metallic colour…which would be just plain stunning...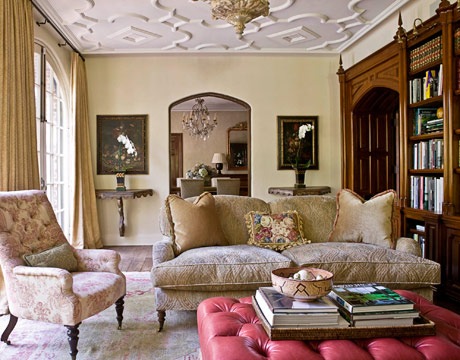 My hats off to Ginger Barber who created this absolutely fabulous ceiling treatment reminiscent of Moroccan architecture…
Bolick Interiors, LLC
I'm not sure how we accomplished this, there was a lot of blood, sweat and tears endured by my installer (who is still thankfully talking to me after this "back-breaking" endeavor), but this split bamboo ceiling was absolutely worth all the effort, and my client was absolutely in love. I had to take a close-up to get the detail, and you really can't get the full effect unless you are standing in the room…Thinking outside the box yet again, think of using a sisal rug, or any natural fiber rug, it adds some texture to the ceiling and you can get remnants from a carpet store…
I don't believe that I have ever seen a room transformed by Jeffrey Bilhuber and his magic design wand that wasn't absolutely stunning, and I am completely head over heels for this lacquer ceiling….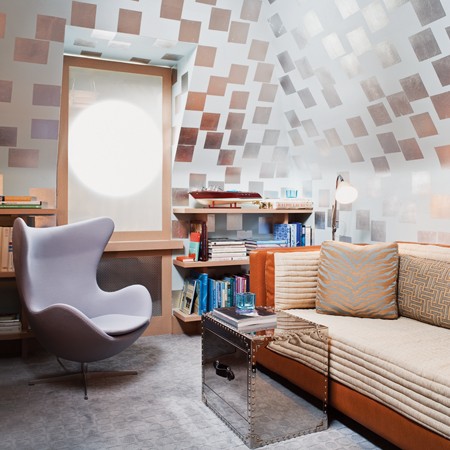 The inspiration for this room by TM Design, was a luxury ocean liner (of which I wish I were on right this very minute), and bringing the metallic wall-paper on the ceiling really opens up the room, and makes it appear much larger…
Milk and Honey Home/Designers
Starry, starry night…the ceiling detail in my daughter's room, done by an amazing faux artist, Kate who came up with this custom design stenciled with metallic paint. I purchased the chandelier at IKEA…and it adds the perfect amount of warmth and whimsy. A stencil done right can transform a ceiling into a gorgeous work of art…thanks, Kate!
This dramatic Groin ceiling is all this foyer needs, and I should mention that this is on my design bucket list for our dream home that Mr. B will build for me someday.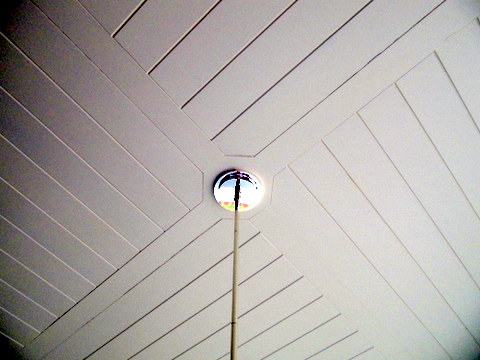 This is one of my own designs that I sketched out on a napkin while waiting for a friend to show up for a girl's dinner, proving that good things come to those who are kept waiting…An exciting moment for me when my sketch became an actual ceiling treatment at Casa B. 
In February, when I attended the Coverings 2012 event in Orlando, Florida as part of the press tour, I came across some of the most stunning designs in tile that I believe I have ever seen at Sabine Hill (www.sabinehill.com). But, quite frankly the whole event was a visual feast. So here's to using this divine tile on the 5th wall because it would definitely breath life and bring some razzle-dazzle to the ceiling, and might be just the ticket for making an entrance in the foyer..
 "Are you really sure that a floor can't be a ceiling?"-M.C.Escher
Thanks for stopping by!