It's Tuesday evening and I'm sitting (as usual since it's also becoming my office) in the breakfast room overlooking our pond, the rain has stopped, at least for a while. The sky has turned into the most beautiful shade of Robin Egg Blue peeking out of clouds layered in shades of grey, and pink. You really can't beat nature for colour inspiration, and I'll be honest the sky has been my best source for picking out shades from the most vibrant sunset at Mallory Square in Key West to the often moody skies off the coast of New England. In fact, my most treasured possessions in our home are paintings of clouds…absolutely, positively obsessed…
So I came up with a custom designed palette using the colours of the stormy Tuesday evening dusk sky, and found some stellar interiors using similar hues, it just goes to show inspiration is everywhere…
P.S. This is the first installment in my colour inspiration series…so check back every Wednesday.
Custom Palette/Bolick Interiors, LLC
Here is the colour palette that I designed inspired by a moment in time when the sky became this designers dream…The paint colours are from the Martha Stewart Collection so if you are interested in finding out what shades I used feel free to e-mail me…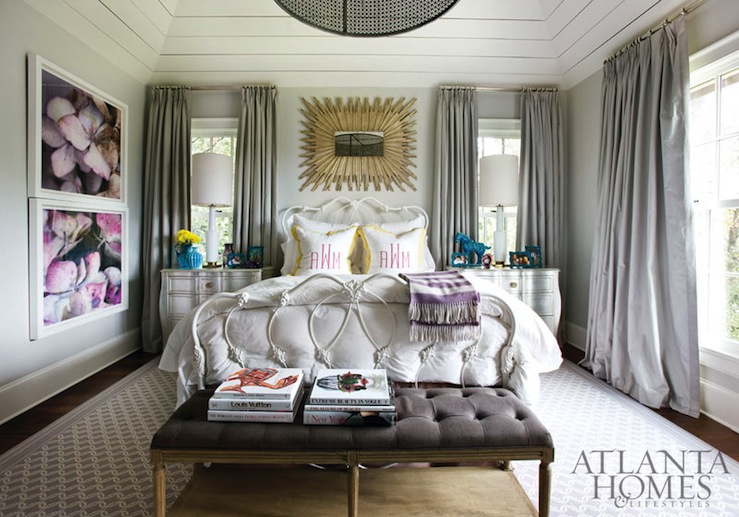 Amy Morris Interiors
Gray walls, pinch pleat drapes, pink monogrammed shams and a touch of blue. The perfect blending of colour which equals soft sophistication.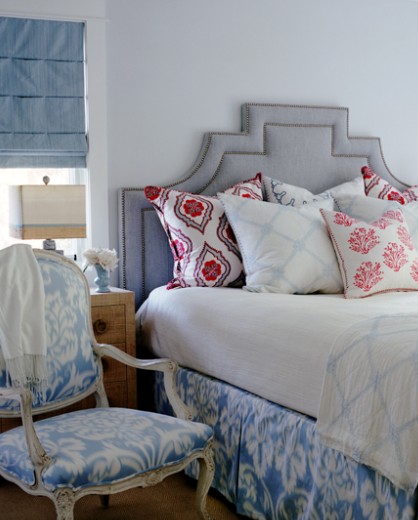 via Decorpad.com
Nature's palette at work…the melding of pink, blue, and grey is just sheer perfection in this stylish haven of comfort.
Kevin Walsh of Bear Hill Interiors
When I saw this space all I could think is we need a major change at Casa B…it just defines divine design.
Lukasz Zandecki/Gap Interiors
This is essentially the same scheme, just punched up a notch using more vibrant hues of the same palette.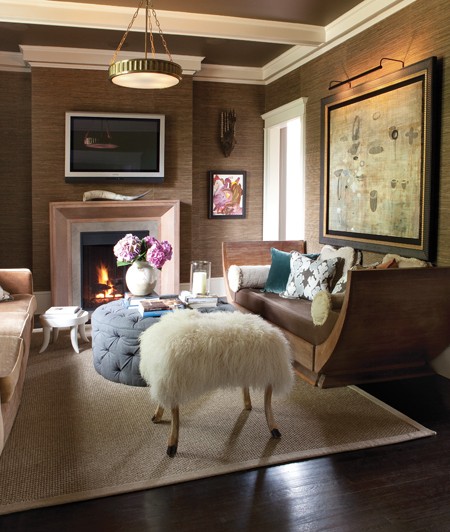 Designer/ Nam Dang-Mitchell, Photographer/ Colin Way
This rich and cozy den gets infused with texture, and a subtle layering of blue, pinks and greys. Defining style and sophistication at it's very finest…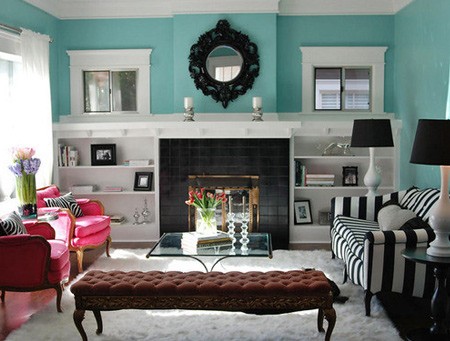 Jannsen Interiors
 Instead of gray substitute black, for visual impact…this room is wrapped up in blue like a Tiffany Box…made all that more spectacular by the perfect blending of styles…
Seldom Seen Interiors
Another interior using the same family of colours in more vibrant tones. This just epitomizes Palm Beach design, from the coral console to the fab sconces, and who can overlook the cobalt blue zebra carpet. This foyer is just a pure confection in blue, white and coral. Imagine moi' a maven of Palm Beach Society all decked out in my Lily Pulitzer (or Tory Burch) residing in this chic "manse". Hey, a girl can dream right?
 "Clouds come floating into my life, no longer to carry rain or usher a storm, but to add color to my sunset sky"-Rabindranath Tagore
Thanks for stopping by!