It's back to work I go…school started yesterday and the first course of business is to hide my daughter's "Furby".  She asked me to watch it, and if you know anything about this furry little bundle of annoying gibberish, it wakes up at random times, and never stops talking/singing/dancing. The rest is going to be history after she walks out the door every morning (it ends up in the back of the closet in the 3rd floor guest room).
So the projects resume, we still have to finish the "big one" the clients have added on quite a bit so it continues on into 2013. I'm excited to see the custom lighting go up, the "lighting guys" called last week and they are finally working on the antique Chinese birdcage that is going over the breakfast room table. I am just dying to see it in all it's finished glory (and so are my patient clients).
And my wish list continues…if we stay in our house these are the changes I am going to be making in 2013…because a "happy wife=a happy life."
1) Upgrade (totally gut) our builder grade bathroom…it is so utterly horrendous that I doubt I will even show the "Befores". But to give you an idea, the shower and floor tile are a fleshy tone that I'm pretty sure was discontinued back in the 80's (our home was built in 2008). It's so bad that we almost didn't put an offer on the house when we saw it…I'm not sure I would change much in the inspiration photo…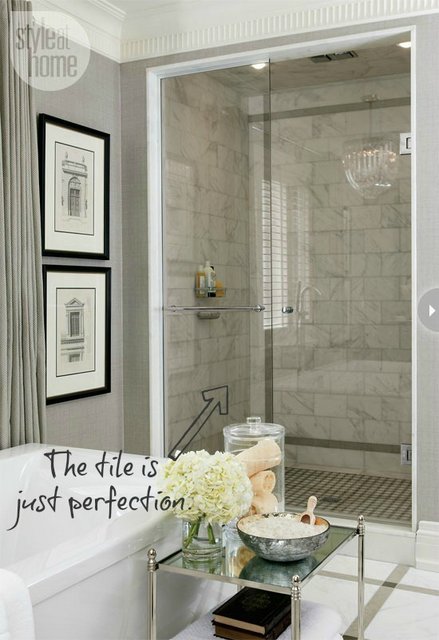 Photo credit/Harvey Wise
2) Finish my office, I moved it from the 2nd level to the basement, and that's about as far as I got. Now I have serious incentive, I have a bet with Mr. B. that I will have it finished by the end of February (in addition to having our garage cleaned out so he can park his car in it for the first time in 5 years). What do I get if I win the bet? It has to do with a weekend away, at a spa, all by myself (Can you say Canyon Ranch?). Game on. So here is my inspiration board…#1 I love this space overall because of the "collected feel", #2 I am absolutely head-over-heels in love with the bookshelves, #3 The graphic wallpaper is perfection, #4 If you haven't already guessed it's the ceiling fixture…
My Inspiration….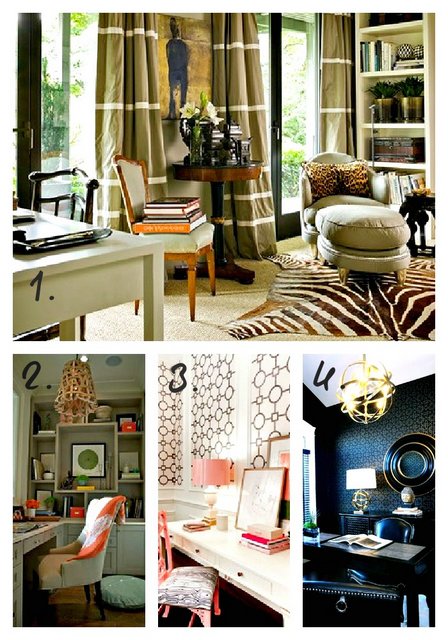 Picture credits clockwise: via brynalexandra.blogspot.com, atmosphereinteriordesign.com, stayathomechic.com,fieldstonehill.blogspot.com
3) New cabinet hardware in the kitchen. (I'm thinking #8 in matte nickel). But, really any of these are just so amazingly gorgeous that I may have to replace every knob on every cabinet in every room…
vivafullhouse.com
4) Overlay's on every cabinet in every bathroom in our home. Dear Danika and Cheryle, the design world is just so incredibly thankful that you came up with this ingenious product,  allowing us to totally transform cabinetry.
5) Perk up the guest room…just a little bit. (This is a whole blog post, so in the near future I'll share the proposed changes).
6) The DECK. Yes, if we stay put. This is the big project of 2013, we were going to do it last year, but then we got our daughter. Everything just stopped, because we wanted to spend every waking moment with her. But, as with any other "Spec" home we we had to just overlook the fact that it's totally unusable for most of the year (think southern exposure, and in the summer, which lasts about 10 months in the south, I could seriously fry an egg on it). So we have grand plans, fireplace, screened, with a separate grilling deck. Yes, one of my pet peeves is having a grill become a focal point in my seating area.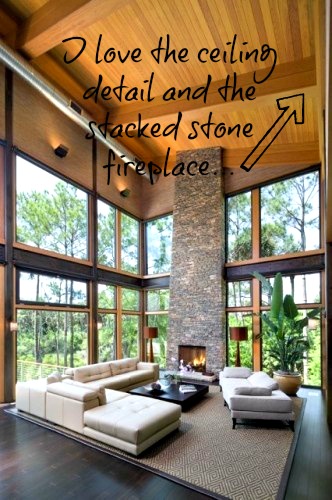 via Pinmarklet
Let me know what you think about the addition of the "photographics", I'm still getting used to it, but it makes highlighting the photos easier (plus it's alot more fun for moi′).
Don't forget to check out my Pinboards on Pinterest (one of my lofty goals for 2013 is to have 5000 Followers).  Once again, I am "dreaming big" considering I just started seriously pinning 2 months ago…
Thanks for stopping by!