A new year, a fresh start and a few changes. I won't list them because once I put them on paper then I feel obligated to fulfil them. We all know how that goes, lose weight, make lots of money, post on my blog three times a week (this one I'm really going for).
But, what this year is going to bring is maybe a move, we have an idea of the neighborhood, and if we can't find our dream home then I have a whole bucket full of wishes for our house. Secretly, I hope we find a new home, sometimes a fresh start makes all the difference.  If you are a designer you'll totally understand this…once we do everything that is creatively possible (and our spouses let us) then the itch starts. To begin a whole new project. Another option that we talked about is getting a smaller house (ouch) and then a vacation home/lake house/beach house or mountain cabin. I'm for the beach house or lake house, since I grew up with a family beach house and we lived near a lake, of course ideally I would love to have all four. Dream big, right?
So this year is going to be full of change…on my wish list for this potential new home would be:
1) A front porch. I'm not sure I really want this, or it's the result of years of brainwashing by Mr. B. trying to convince me that it's the most important feature of our new home. If we get one, I hope that he actually uses it, I'm not sure I can see him rocking in a chair on the porch with a Mint Julep in hand, but we shall see…
via blah2beautiful.blogspot.com
2) A huge office space, to make room for my assistant, and my 6 year old daughter who has design aspirations. Quite frankly she's pretty impressive with choosing colours…so watch out for this breakout star in the near future.
 via decorpad.com
3) A separate kitchen…with double islands. I don't know why I think I need 2 (because I don't even use one), but I sure love the idea…
via thedecorista.com
4) A large Master-bath, encased in Carrera marble, because I'm enchanted with it's timeless appeal, and it will look great with my "glammed out" closet.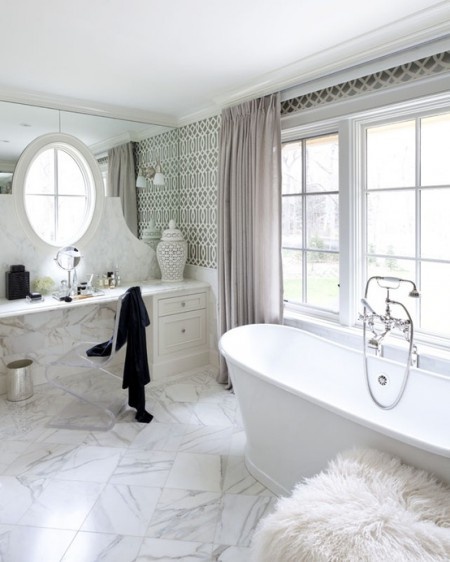 via preciouslyme.com
5) My very own closet. With wall-to-wall foxed mirrors, crystal chandeliers and Flokati rugs with a plush velvet daybed/or ottoman. Yes, I dream of hiding out in my closet just thinking of all the ways I can fill up the shoe cubbies and clothing racks…(Mr. B. if you read this you know I'm not really serious).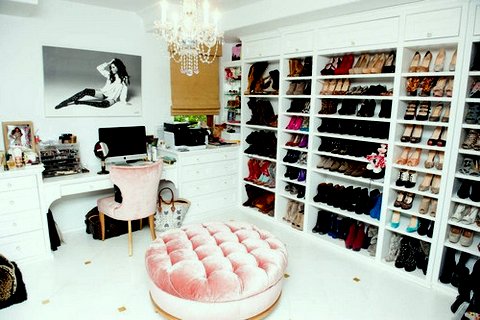 via tumblr
6) A big laundry room with craft space. Not because I love doing laundry or crafts, but why not? As I advance into old age, I'm sure that I'll need something to keep me busy, and with the addition of Pinterest, I feel obligated to try my hand at some of the projects that I faithfully pin every week. Or at least a bigger space to hide the mountains of laundry that take over our 2nd floor every week…(does everyone in our house really have to change their clothes 3x a day?).
7) A 4 car garage. Not because I want 4 cars, but have you ever seen a designers garage? It's usually filled with # things that we thought we would use on a project but never did, #but we think we will in the future (Mr. B, I promise).
via Vickery White 
8) A sweeping staircase that ends in spectacular foyer. You've seen "Gone with the Wind" right? End of story…
9) An enclosed deck with a fireplace. As much as I love the open air, I hate bugs landing in my drinks and the pesky "Southern Bees,"  which seem to love swarming (tormenting) this girl from the North.
 image via abodelove.blogspot.com
So I'll keep dreaming, hoping and wishing…
Thanks for stopping by!