Next week we begin the total gut of our soon to be utterly fabulous master bathroom. Our contractor called yesterday and gave me a hard date (next Thursday). So now I'm in panic mode, once the tile is installed there is no time for second guesses, or thirds. We have the tile selection picked out, well sort of. That was until Mr. B. decided that he may not want to go with my idea of a bathroom encased in Carrera. Say what? He's actually interfering with my dream bath selections? Let's face it men are in and out of bathrooms unless you are John Stamos, who looks like he spends a lot of quality time in front of the mirror perfecting his pouf. Not so much for Mr. B. for reasons I won't go into on this post. So it was back to the tile showroom (this morning), I'll budge on the flooring, but I absolutely will not on the walls and counter-top surfaces, for one thing Kohler supplied us with a positively gorgeous vanity top. Then combine that with the fact that I have dreamed of Carrera subway tile since I took my first baby steps, and you can understand my frustration. In all honesty I'm more concerned with the shower niche in the master bathroom than making any last minute material changes. Yes, I am agonizing over every detail, because unless we move out of state I'm going to be at Casa B. for quite a few more years. So I want it to be a space that I am going to enjoy spending a lot of quality time in…and I can't wait.
I humoured Mr. B. by making the last and final trip to the tile showroom and with our time constraints I have a feeling that I am going to win this design battle. As most designers know there is a lot you can do with different size tile in the same material, in our case Carrera. So with Herringbone, 12″x24's," and subway, the latter of which is going to be an "offset joint" pattern giving the most timeless look, and Herringbone tile on the floor and in the shower niche (I think), I am back to making another flooring decision. In this case, I may have to keep him happy because I want a boat next year. Fair trade off wouldn't you say? So these are some of the flooring options I'm willing to consider to make my boating dreams a reality in 2015. P.S. As of this moment I have made a decision for the master bathroom floor tile, it was between the two below and I went with honed limestone. Also, stay tuned because next Friday, I'll give you sneak peek into our progress…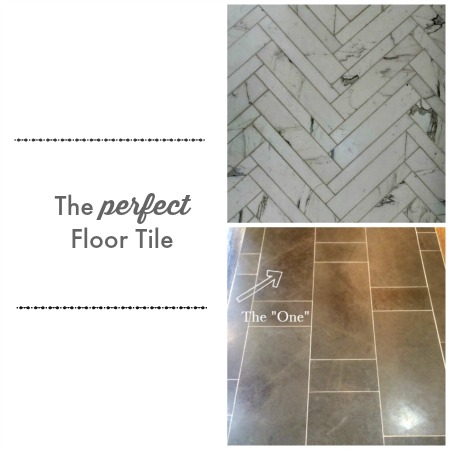 Yes, I found the "one," it was a difficult choice but instead of the herringbone Carrera, I decided on the limestone…the showroom lighting was not conducive to photos…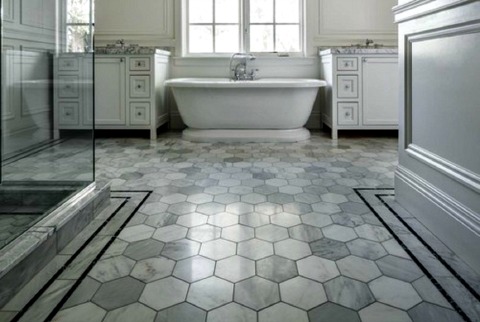 via homedesignideas9.jpg
When I was considering Carrera this was one of my favorites, I was obsessed with the hexagonal tile…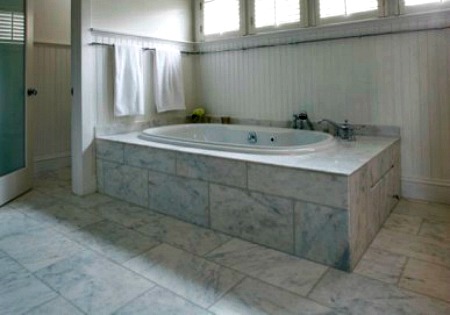 Source/desiretoinspire.com
Yes, this was almost a reality  including the tub deck encased in Carrera…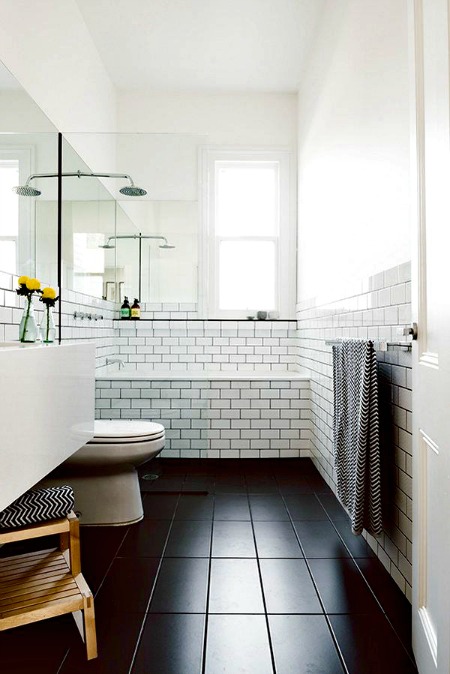 Designer/ Steven Gambrel
If I had an unlimited budget, I would have flown in Mr. Gambrel on a private jet and given him free reign on the "Master-bath Project"…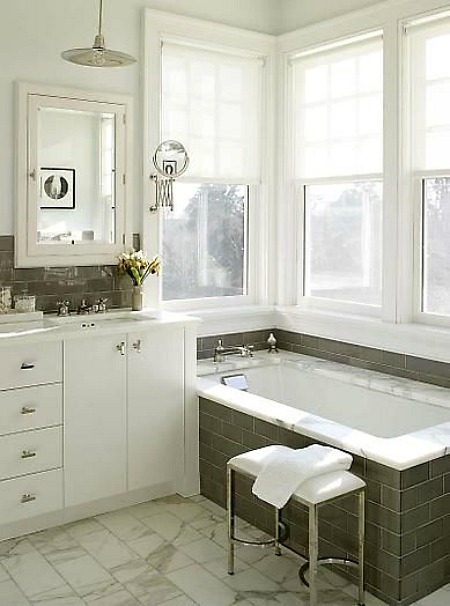 Source/ linenandlavender.net
After seeing the inspiration photos, I'm having second thoughts about the limestone…
Finally, having a functional niche will be a dream come true. Top image-via Lisa Ferguson, Lower image-via decorpad.com
As always don't forget to follow us on social media for more design inspiration…
Until then.
BE AMAZING. BE INSPIRED.