A few weeks ago, I attended the Southeastern Showhouse in Atlanta on my quest for design inspiration. The Southeastern Showhouse did not disappoint, each room was a design dish waiting to be savored. This English manor-style house Showhouse is situated on a 3.5 acre sprawling lot which also included a 2,800 square-foot pool house, an infinity edge pool & tennis court. It was an impressive undertaking produced by Atlanta Homes & Lifestyles benefiting Safe Kids Georgia. Inside were spaces designed by some of the South's most significant creative talents, who were able to create a design masterpiece unified by a seemingly collective vision. A seamless confluence of southern style and influence under one magnificent roof.
This year was the inaugural Showhouse, and if you weren't able to attend, there will be another next year. I wanted to share some highlights from this spectacular home. So here's a look at the 2016 Southeastern Designer Showhouse & Gardens.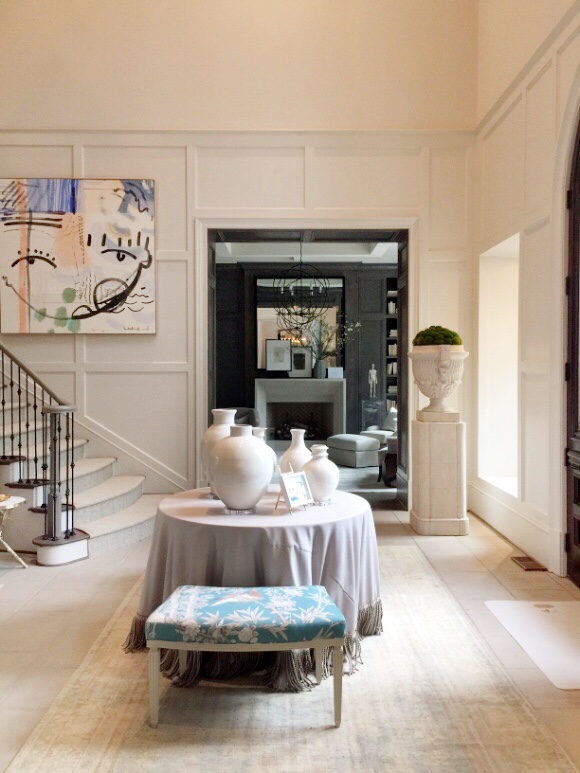 Designer/ Melanie Turner-Photo/ Vicki Gladle Bolick
This grand entry was best described by Melanie, "Fresh, inviting, and classic with a bit of whimsy." The artwork is by Atlanta's own Sally King Benedict.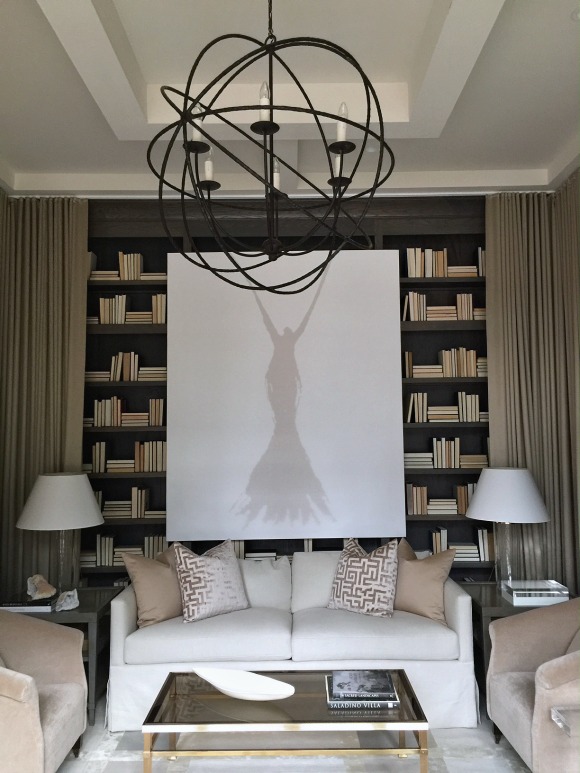 Designer/ Robert Brown-Photo/ Vicki Gladle Bolick
The artwork in the study "fool the eye," and the subject appears to hold up the chandelier. A detail I adored! A recurring geometric motif provides strong visual impact from the pillow fabric to the books lining the shelves. Muted shades of brown and cream are layered throughout, creating balance & a sense of serenity.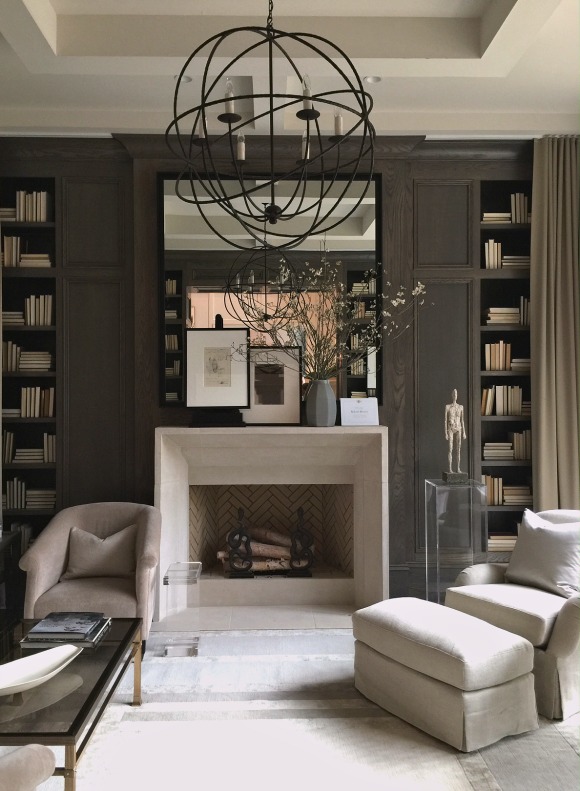 Designer/ Robert Brown-Photo/ Vicki Gladle Bolick
Curtains soften the corners of the room, while a relaxed slip-covered chair provides the perfect spot to curl up and read a book…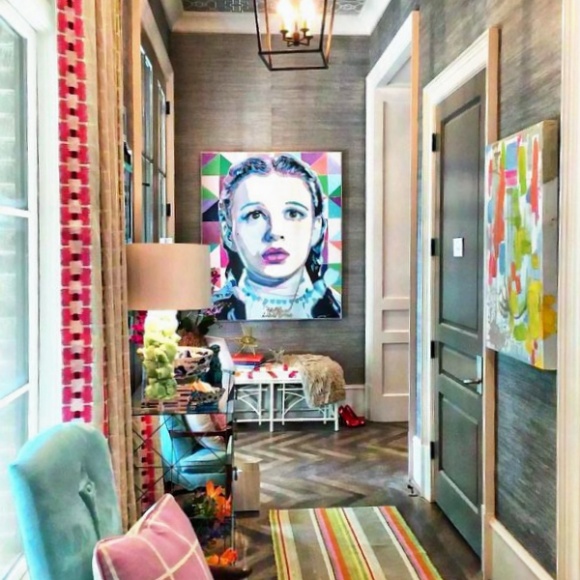 Designer/ Lisa Mende Design-Photo/Lisa Mende
There is "no place like home." Artwork by Mark Boomershine provides the inspiration for a space that is vibrant and chic. Layers of colorful pattern and texture capture the attention, while the soulful gaze of Dorothy captivates our imagination. 
Designer/ Rivers Spencer-Photo/ designlifenetwork.com
Timeless, Elegant, Tailored & Fresh. This space is quintessential Rivers Spencer.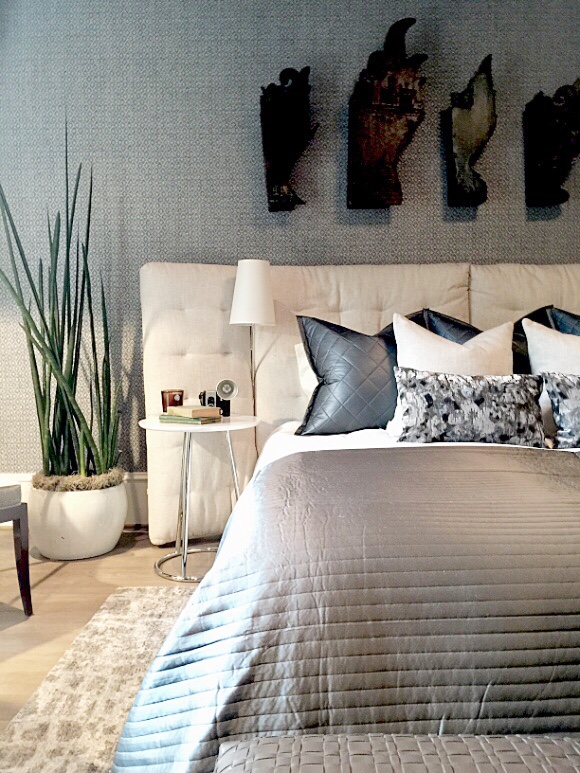 Designers/ Niki Papadopoulous & Mark Williams, Photo/ Vicki Gladle Bolick
This masculine space featured custom teal grass cloth wallpaper, rich textures & a positively jaw-dropping floor to ceiling wall mirror (not featured in this photo).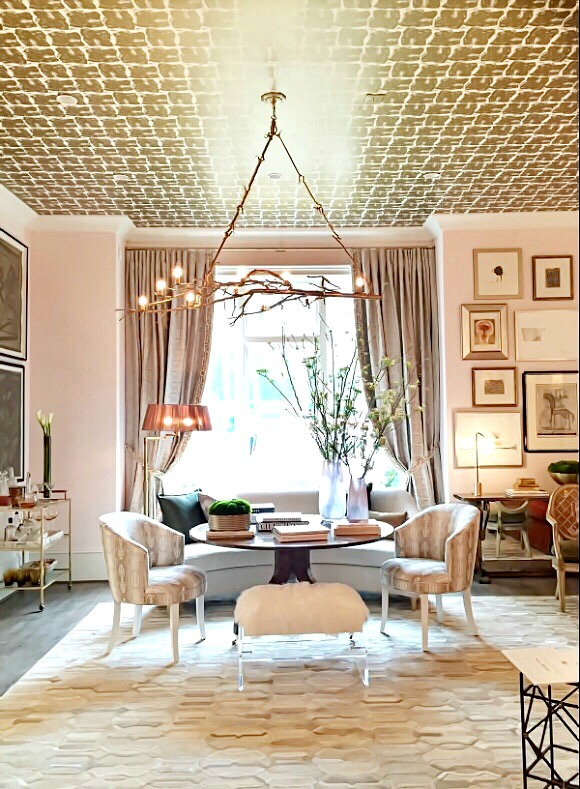 Designer/ Amy Morris-Photo/ Vicki Gladle Bolick
Unexpected color pairings, layers of soft textures, and eye-catching patterns define this sophisticated and chic space.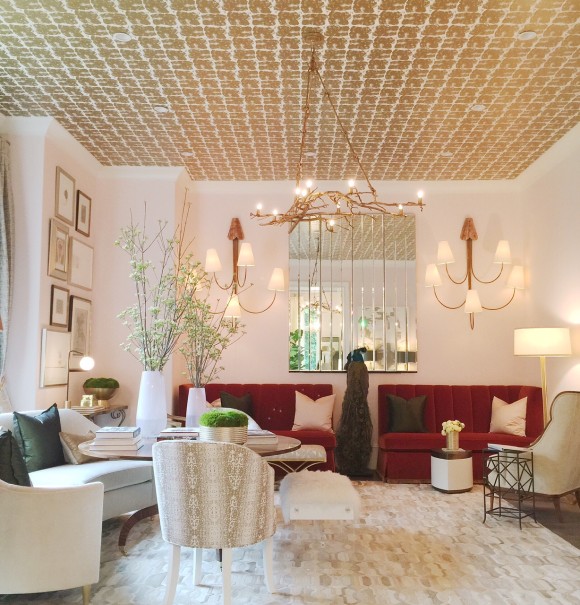 Designer/ Amy Morris-Photo/ Vicki Gladle Bolick
Paneled mirrors, over-sized sconces, matching banquettes in rich red velvet were just a few of the captivating details in the sophisticated & elegant Lady's Lounge. On the ceiling was the "piece de resistance," stamp wallpaper by Clay McLaurin Studio.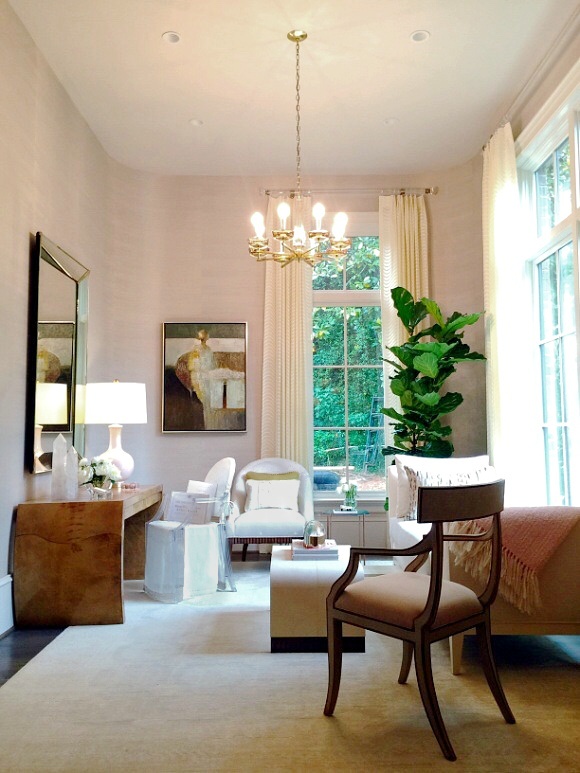 Designers/ Alison Womack Jowers & Cheryl Womack-Photo/ Vicki Gladle Bolick
The power of pretty. Feminine details define this classically elegant dressing room.
Designer/Kay Douglass-Photo/ styleblueprint.com
Kay Douglass is known for her effortless European design. The morning room features a custom wall to wall emerald green velvet sofa, indigo blue club chairs & contrasting citron ottomans. 
Designer/ Andrew Brown Interior Design-Photo/ Vicki Gladle Bolick
Nude toned peach hues were the perfect backdrop for accents in deep green jewel tones. This exotic space is a mix of antiques, vintage pieces, custom finishes, and art. The inspiration a Gauguin exhibit at the Met.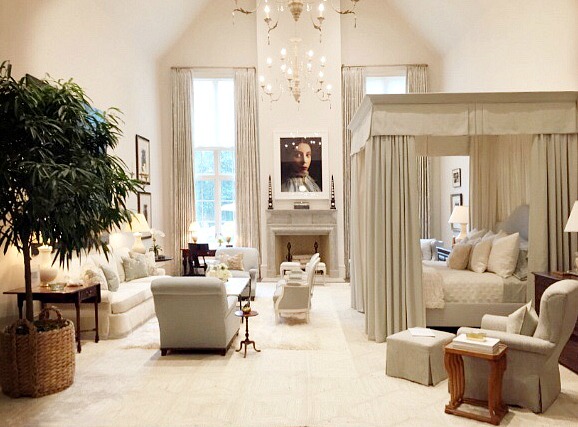 Designer/ Phoebe Howard-Photo/ Vicki Gladle Bolick
Classic design by one of Atlanta's finest features a dreamy palette in soothing neutrals and serene blues. Traditional lines were punctuated by layers of texture creating a restful bedroom retreat.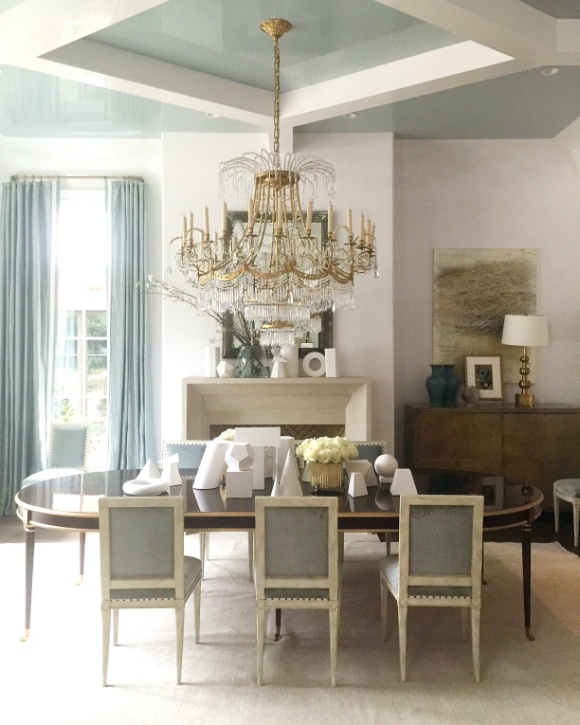 Designer/ Suzanne Kasler-Photo/ Vicki Gladle Bolick
Suzanne is known for her love of blue & traditional elegance with a "twist." Her serene formal dining space was cloaked in stunning high gloss lacquer (by Struttura.us) accentuating architectural details. Modern accessories in geometric shapes provide the perfect "twist." A spectacular chandelier by Paul Ferrante Lighting brings sparkle and classic glamour to this jewel box.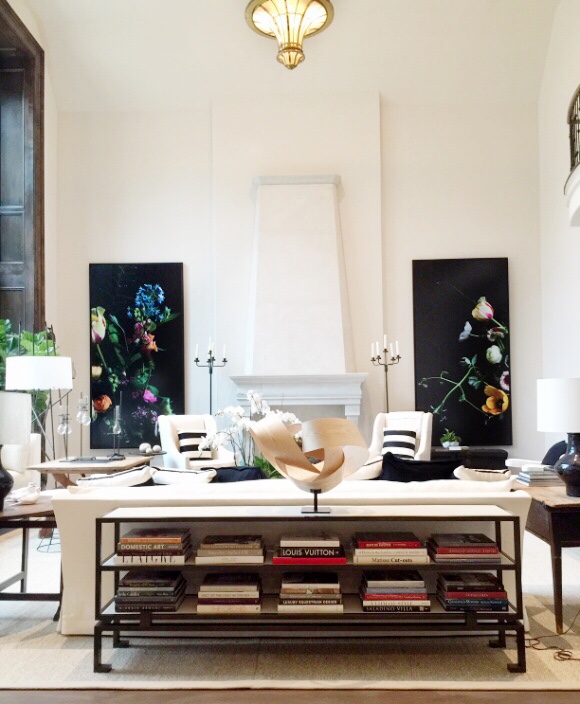 Designer/ Barbara Westbrook-Photo/ Vicki Gladle Bolick
Floral photography from Whitney Ott blooms inside this classic white & black Great Room. The room was one of the largest in the house, but with Barbara's inviting approach to timeless design, the room was intimate and warm.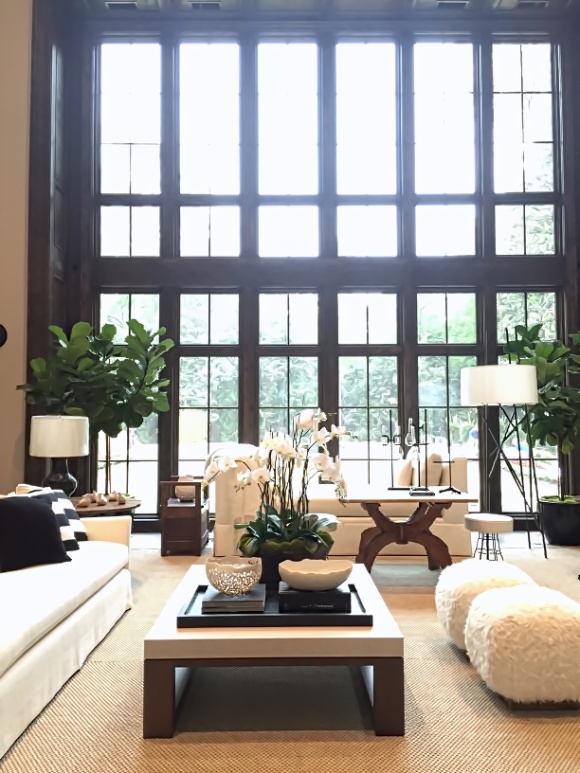 Designer/ Barbara Westbrook-Photo/ Vicki Gladle Bolick
Light streams through the impressive floor to ceiling windows providing inspiration for the color palette in this elegant white walled room. Large fiddle-leaf figs bring in the perfect amount of botanical drama…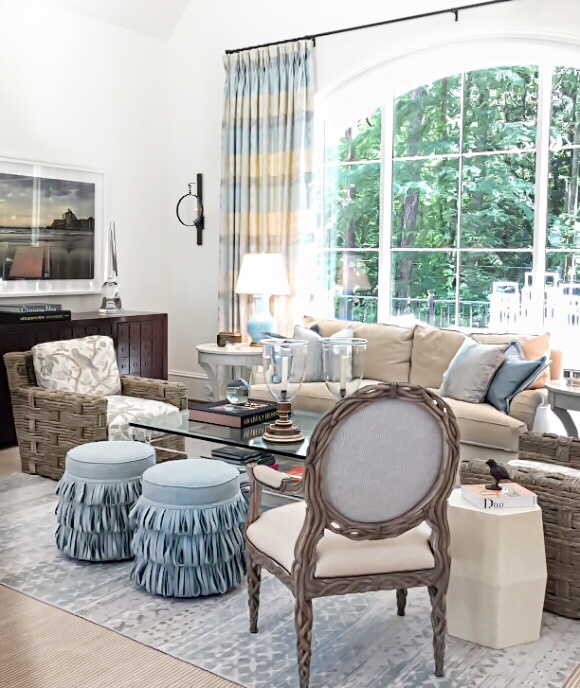 Designer/ Tristan Harstan-Photo/ Vicki Gladle Bolick
The main level in the guest house featured this stunning space with an updated coastal vibe. It was layered in rich natural texture, and soft shades of blue. The gorgeous looped fringe stools provide an unexpected element of drama…
Designer/ Kati Hardwick of BD Jeffries-Photo/ Vicki Gladle Bolick
A nod to global design. Hand blocked textiles, artwork inspired by the tobacco sticks of an old farm, a beached teak root bench, and Flokati pillows & rugs bring organic allure to this guest bedroom.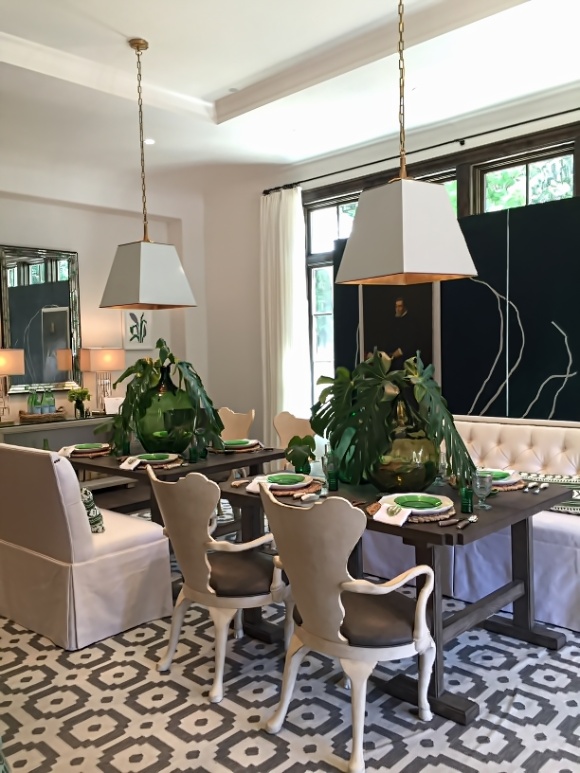 Designer/ Beth Webb-Photo/ Vicki Gladle Bolick
This classically designed space pays homage to Spring with accents of green. A graphic rug gives the illusion of floor tile, while several tables (mirror images of the other) provide a unique and eye-catching seating arrangement. As quoted by Beth-"Green is the prime color of the world, and that from which it's loveliness arises."  Pedro Calderon de la Barca
This home was truly an incredible testament to some of the best design the South has to offer, and I hope you are as inspired as I was! Also, I did want to credit the architect of this exquisite home, Dietrich T. Logan of Logan Design Group & the builder, Bill Preston of Paradise Builders.
As always,
LIVE A WELL-CURATED LIFE…