I have been saving pics of headboards since they invented the scissors, (okay maybe that's a slight exaggeration). My decades long collection of dog-eared pages includes anything that is unique, creative and inspired. Let's face it, upholstered headboards are a design staple, yet there are so many other options available to those of us who crave something a little more stylish on which to rest our weary heads. Committing to furniture is a lot like dating because you'll more than likely be married to it for a long time. So if you want some sage advice you better love it.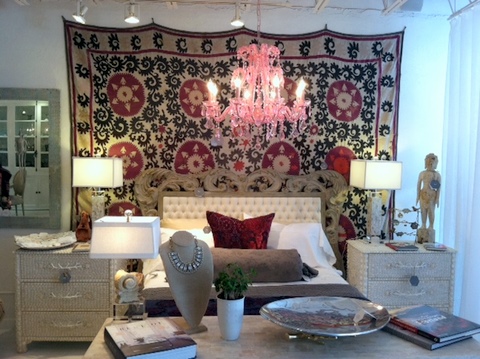 Photo-Bolick Interiors/Bee, Atlanta, GA
This is from an adorable shop in the Buckhead area of Atlanta, they had some really eye-catching vignettes, and I was really captivated by this one. I loved the inspired layering of fabric behind the upholstered headboard, and the pink blown glass chandelier was beyond fabulous. I've been dreaming about it since I left the store, and trust me there is a good chance that you'll be seeing it again in an upcoming project.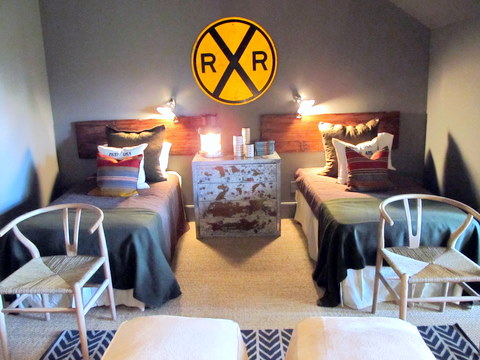 Photo-Vicki Bolick/Designer-Jimmy Stanton, Stanton Home Furnishings, Foxhall
Yes, this interior is by one of my fav ATL designers, Jimmy Stanton. He did a show-house last year at Foxhall, an equestrian community which I had the pleasure of visiting. The industrial vibe of this space gets an additional injection of style from the Chevron rug, and don't you just love the floating headboards made from planks of wood?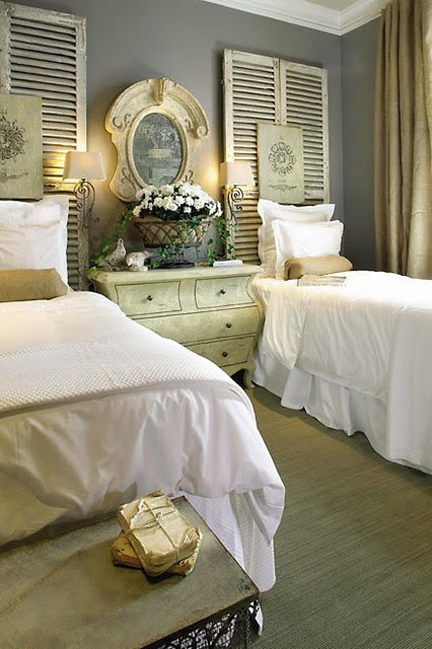 Photo-Aiden Gray
I am completely "over the moon" about this room. My personal style leans more toward modern eclecticism, but I could totally see a room in my home designed with this "big easy style." The use of shutters as a headboard creates that old world charm synonymous with New Orleans, and seriously the linens look beyond comfy. I really hope this isn't the guest room, because I have a strong suspicion that people would over stay their welcome (I know I sure would).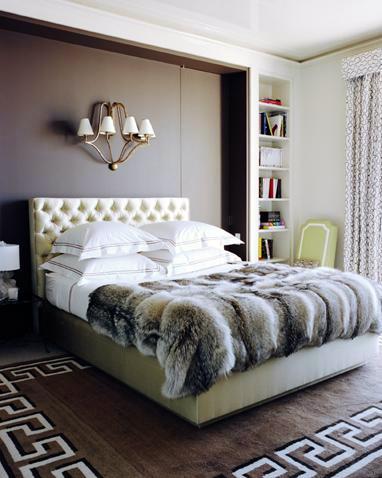 Pamplemousee Designs
What's not to love about this room? From the inset panels with the fab sconce (which is a brilliant idea by the way), to the bookcases flanking the bed. This room is an elegant, sophisticated oasis of style.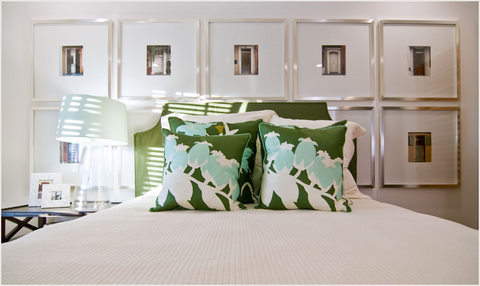 Tracery Interiors, Ays Beach Project
This design firm does such amazing work that I'd feel selfish if I didn't share. The simple grouping of framed pics behind the St. Patty's day green headboard creates a unique focal point. Sometimes a little bit of style goes a long way…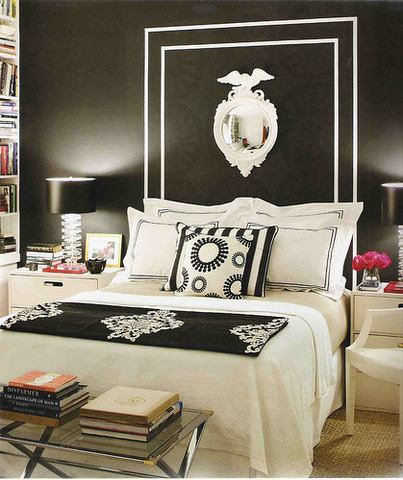 Via-Apartment Therapy
This room sure makes my blue eyes brown. The melding of styles creates a restful haven from the Federal Style Mirror to the modern lacquered bed-stands. The simple wall frame creates the illusion of grandeur…and if you have someone like Mr. B. who is handy around the home, this would be so easy to re-create.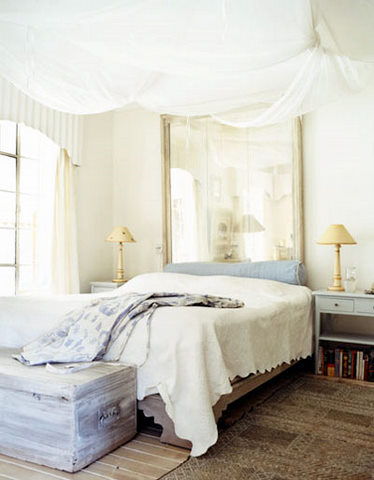 via Pinterest
This mirrored headboard takes this room from pretty to perfection, and it's just the pure definition of  "Shabby Chicness".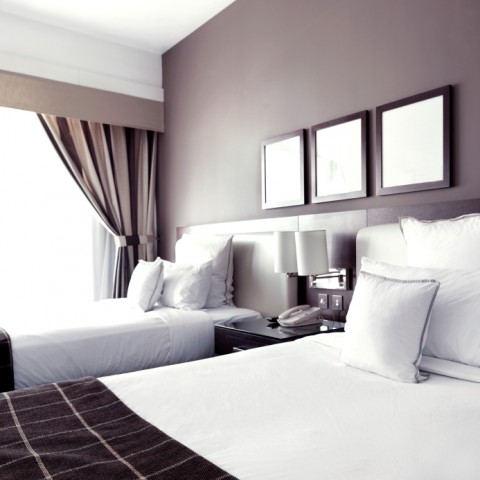 Courtesy Bolick Interiors
This was all about fusing modern with more transitional sensibilities, the wooden headboard connects the two queen size beds creating the illusion of one bed (which also works well with twin beds). The white and brown palette is gender neutral with some slight feminizing through the addition of striped curtains, combining the taste of both clients. Happy clients=happy designer, and at the end of the day that means we did our job.
Now that Spring is here, I hope you'll take some time to rearrange, rethink, and refresh.
"The bed has become a place of luxury to me! I would not exchange it for all the thrones in the world."-Napoleon Bonaparte
Be amazing!
Vicki "The Ace of Space"
Bolick Interiors, LLC
1 Comment