My road is sure paved with good intentions. I have been sitting on this half finished post for about a week now, and everytime I went to finish it life simply got in the way. Plus, I am sitting on some big news that I just can't share right now, but I hope to soon. I promise…so please keep your fingers crossed for us (and say a few prayers).
It's been a crazy busy month on the work front. I went to an event at the W Hotel for Bloggers to see a few residences designed by some of the ATL elite such as William Peace, Barbara Westbrook and Susan Ferrier. It was a fun night, but I have to admit I didn't get an opportunity to see all the rooms because I hung out with the fun people from Mitchell Gold and Bob Williams for most of the evening. In fact, last week I went to the showroom and had a "Lunch and Learn" with a few of my designer peeps. Since I put the period on the last sentence I'm back and not only did I have an amazing lunch (did I mention they served up the best cupcakes that my tastebuds have ever had the pleasure of meeting, pilled high with the most delice icing), but they gave us a preview of their product line, and the new additions did not disappoint. So if you get a chance take a gander over to their online catalog www.mitchellgold.com. If you follow my blog you know that I absolutely adore Mitchell Gold, and in my humble opinion they are one of the most cutting edge furnishings companies out there to date. So in the next month or so, I'll post some of my fav pieces from my visit.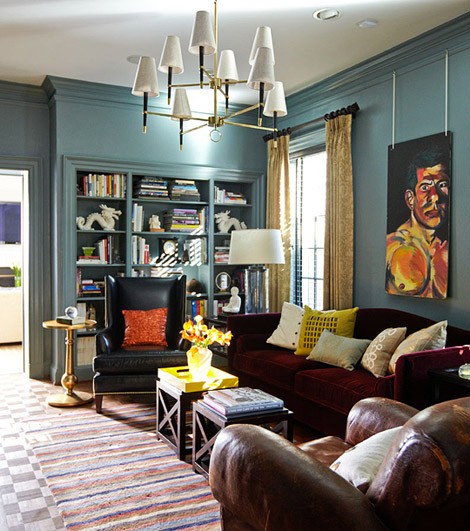 This is the Hickory, North Carolina home of Bob Williams, of course designed by Bob Williams, with a touch of yellow…
Last week when I was sourcing for a client I stopped by "Pieces" in the ATL, and I want you all to know that I have fallen deeply in love with yellow (Sorry Mr. B)! Not just any yellow, but that lemony, sunny colour that makes you just want to smile. It's everywhere this year, and it just shouts Spring is here!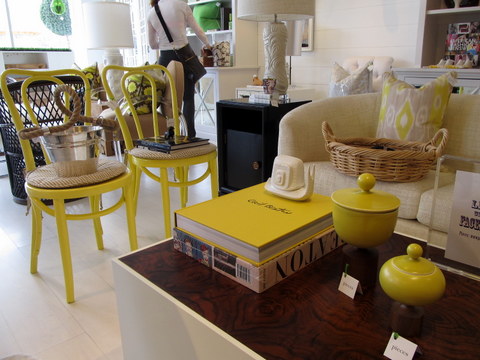 Photo-Vicki Bolick/Courtesy of Pieces
I LOVE this vignette of creamy whites, and vibrant yellows. It's just the right amount of "sunny." Adding some spring colour would be so easy, find some inexpensive "pieces" at a used furniture store, grab a can of spray paint and voila´ …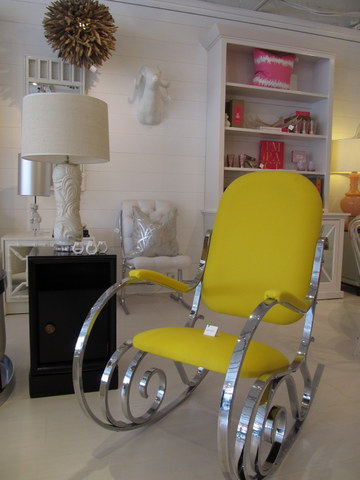 Photo/Vicki Bolick-Courtesy of Pieces
 This is certainly not your average rocking chair, but a totally hip, mid-century modern version covered in a fabric that reminds me of a tall cool glass of lemonade.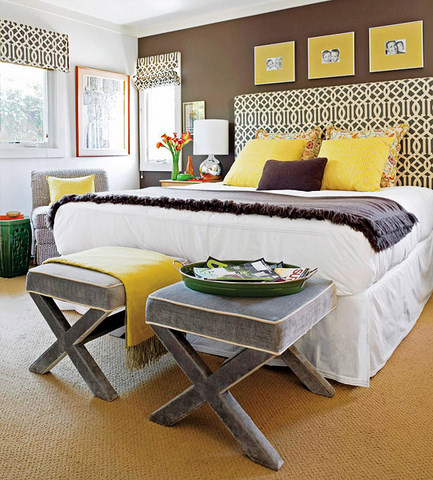 Photo-Better Homes & Garden
One of my fav colour pairings is grey and yellow, and this room from BH&G has just the right amount of happy from the photo mats to the throw pillows.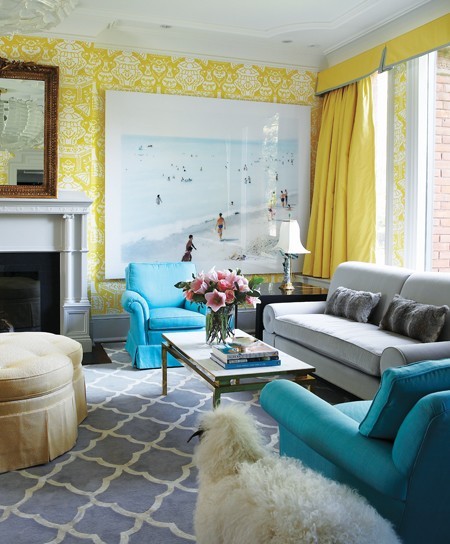 Photo-Michael Graydon/Designer-Victoria Webster
This room is just so bright and playful from the box pleated valances to the stylized wall covering all balanced by the grey sofa and the addition of ocean blue. A little sun, a little sea=a successful pairing. Plus I love the contrast of patterns, and the spot on layering of colour…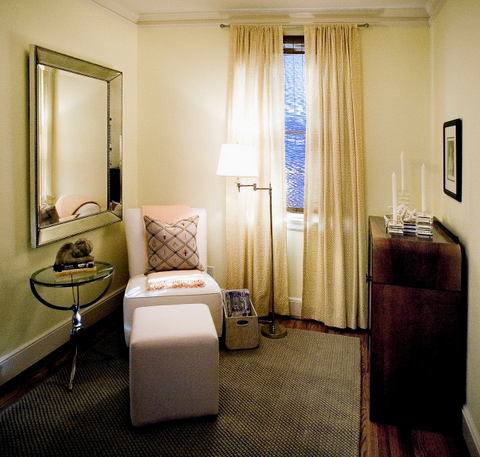 Courtesy Bolick Interiors/Photo Melissa Crain
This was a room I did for Decatur Living Magazine, showcasing small budget design. It was elegance for under a $1000.00. The walls were a very soft buttery yellow, and the drapery panels were in a graphic trellis pattern made from a fabric by Laurie Smith of "Trading Spaces" fame (I so miss her fabric line). This room was a pass through to a Master Bedroom so I made it into a sitting room/guest room perfect for reading and relaxing. The slipcovered chair was actually a "twin bed" in disguise, and from IKEA no less.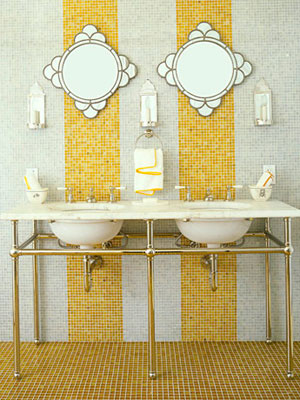 Photo-Stacey Brandford/Designer-Emily Norris
This bathroom is just beyond fab from the "Deco" mirrors a la Pottery Barn to the glass tile from Waterworks, proof positive that you can successfully pair high end with mid-range products. This photo is courtesy of my office inspiration board titled "Someday." Which means someday this will be in my dream house…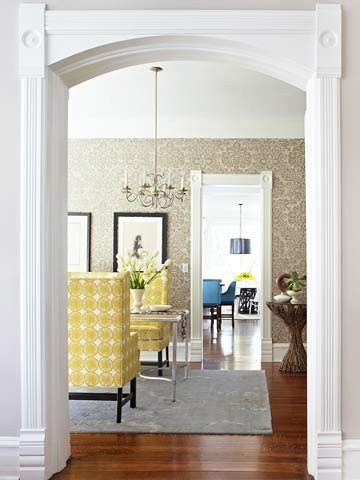 Photo-Renovation Style
This room is packed with style, from the chairs to the rug to the wall paper. I also love to experiment with patterns, and everything in this space just works so well together. Sometimes it pays not to play it safe!
I hope you are feeling inspired to add a punch of colour to your space, and that your world is filled with sunshine. I'll be back to posting on a regular basis after what was a very short break so check back often for a little inspiration…Next week I was invited to attend a press event for a well known spanish tile company which I will be blogging about. I am so excited to have been given this opportunity and beyond honoured to be attending. I can't wait to share all the excitement with you!
"How wonderful yellow is. It stands for the sun." -Vincent VanGogh
Be amazing…
Vicki "The Ace of Space"
Bolick Interiors, LLC