I was hoping to write this post on my new blog platform, but unfortunately it's still not ready yet. I feel like a little girl counting the days until Christmas, or at the very least a grown-up gal waiting for the latest delivery from toryburch.com. (I adore everything Tory can't you tell?). It's going to be fabulous, and the changes will be unveiled very, very soon.
It's been crazy at Casa B., if you follow the weather you'll know that we had more rain than the Amazon spanning over five days. Equating to a very leaky Casa, our roof, the basement and a few windows. I didn't bat an eyelash over the roof leak , but the basement leak was crushing because the water ruined two new velvet mohair chairs from Barbara Barry that were going in our keeping room. They'll be replaced someday, after I get over the trauma of it all… The best line of the week during the flood, was when Mr. B actually asked me if we had a vacuum. What? He's lived here for 6 years and he doesn't know if we have a vacuum? Um…yes we have one, and we also have a washer and dryer. So this weekend I think I'm going to give him a little tour of our house…just as a refresher. P.S. Mr. B if you read this you better not even think of using the house vacuum to suck up the water in the basement…ever….
So while we were mopping, emptying buckets and wringing out towels, I found a little time to do some research on Lorenzo Castillo, a Spanish Designer who melds classical flair with modern sophistication. One picture from a water-soaked past issue of Elle Décor (a sad victim of the flood), became a full fledged obsession.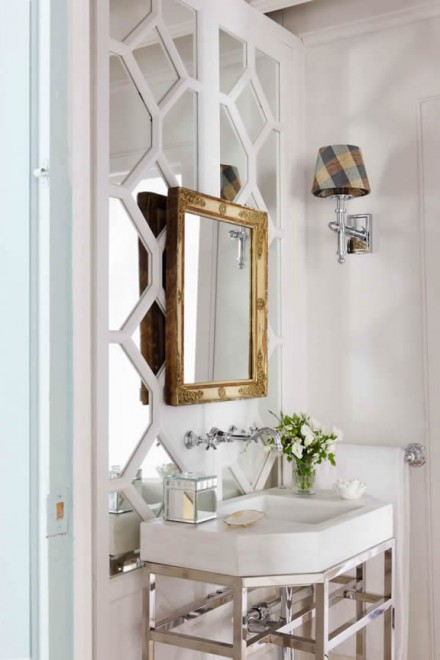 Designer/ Lorenzo Castillo
The picture that started it all…
So here are more of my favorites from Lorenzo Castillo, whose work spreads around Europe from private pent houses in Spain and France to hotels in Madrid, Malaga (where my great, great Grandmother was raised), or Rome. This uber-talent has an obvious passion for interior design and antiquary joining vintage pieces, modern art and complex color schemes with time worn textiles, and furnishings.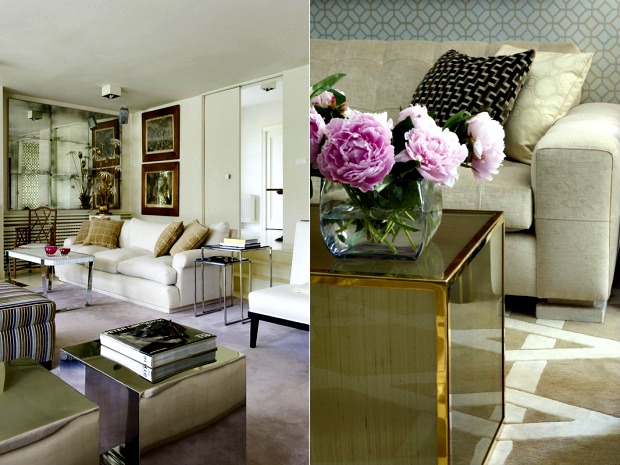 Designer/Lorenzo Castillo
The perfect mix of old world, vintage and modern….the mirrored pieces visually open up the space, and provide sophistication.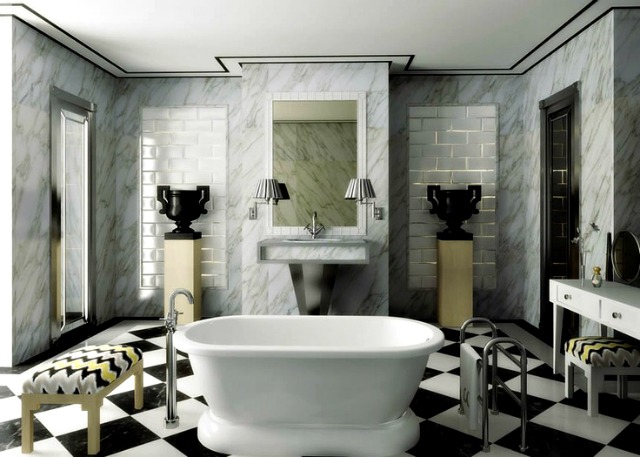 Designer/Lorenzo Castillo
This bath is pure luxury, with classical appeal. I love the fact that the space was tiled to the ceiling line which allows the veining in the marble to really become a focal point, and a true work of art.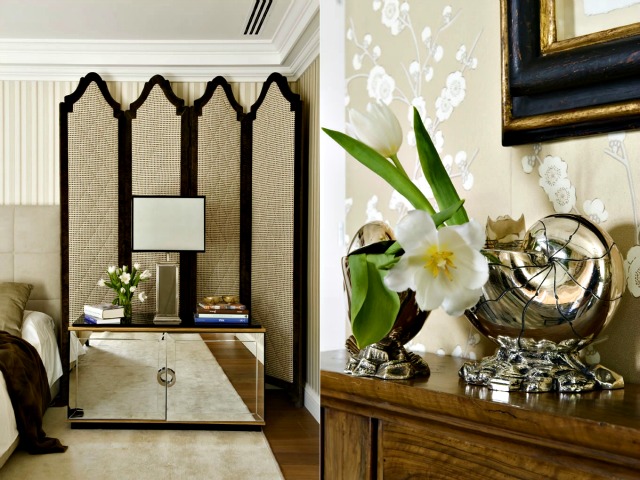 Designer/Lorenzo Castillo
Silver on wood is provides the perfect contrast of materials, the screens flanking the bed add architectural interest…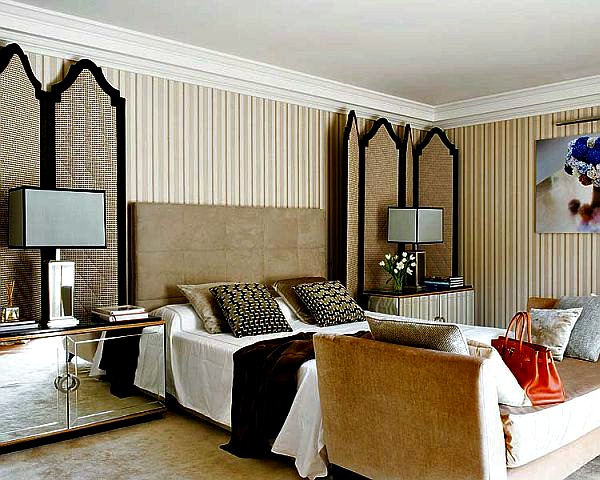 Designer/Lorenzo Castillo
A room with a view…a better vantage of the entire bedroom space. A question for any fellow Fashionistas, is that a Hermes´ Birkin Bag I spy on the ottoman?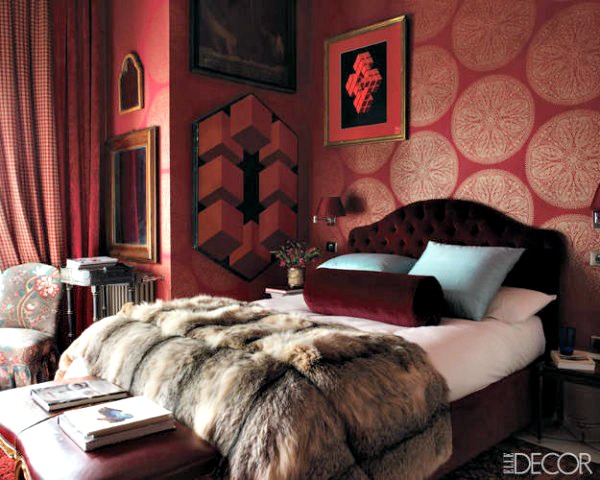 Designer/ Lorenzo Castillo
With an upholstered headboard in Valentino Velvet paired with Sanderson wallpaper and 17th and 18th century mirrors this room is just the pure definition of time worn sophistication…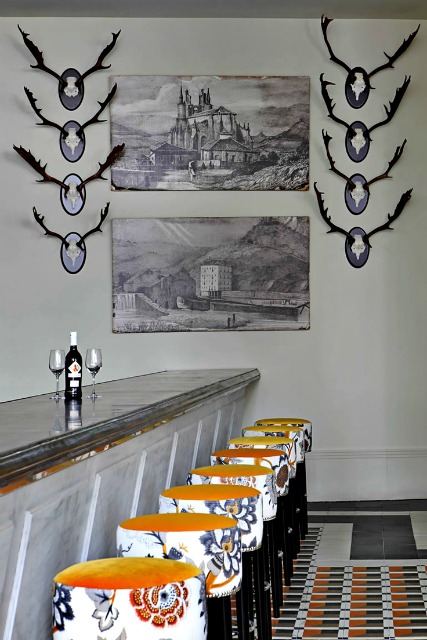 Designer/ Lorenzo Castillo
Raising the bar in design…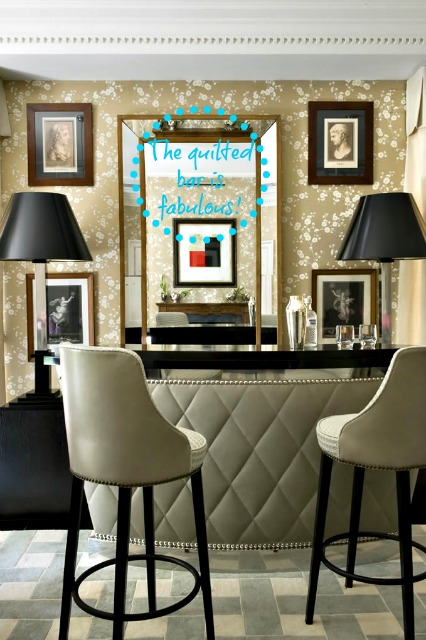 Designer/ Lorenzo Castillo
The quilted bar with polished chrome nail-heads is pure glamour….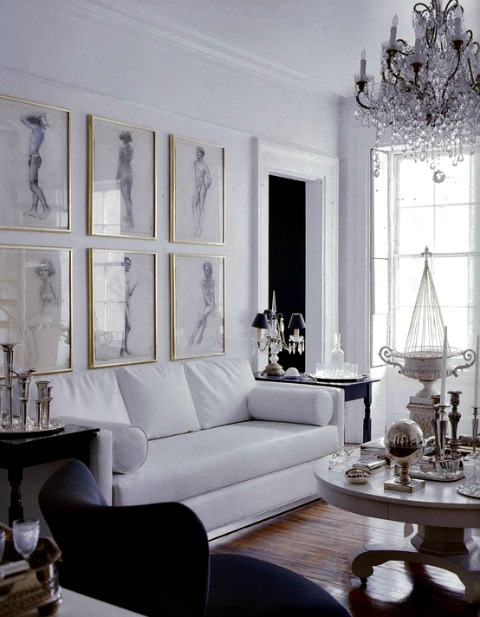 Designer/ Lorenzo Castillo
Fusing antiquities, with rich fabrics, and a modern leather sofa all evidence of Lorenzo's signature style…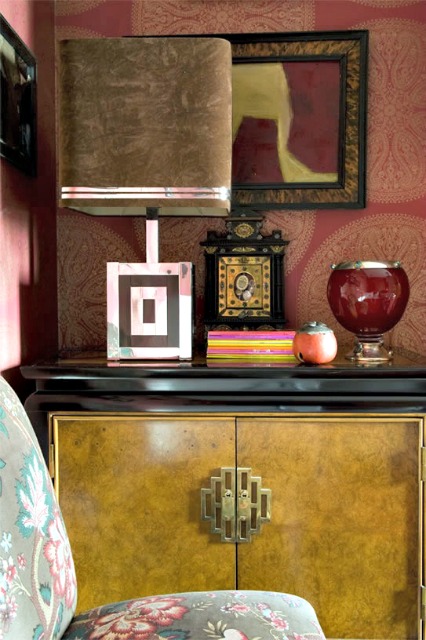 Designer /Lorenzo Castillo
The art of display…
Don't forget to visit my Pinboards on Pinterest for more design inspiration, and pictures from the portfolio of Lorenzo Castillo.