It's Sunday morning and I thought I would take a moment to finish this post with a cup of Starbucks Via in hand and a content pup snoring (loudly) at my feet…Of course, it helps that we are staying in town this weekend, sadly Mr. B. was sick of traveling, and this might be the first Memorial Day Weekend that we have actually stayed in the ATL instead of going to my family's vacation house in New Smyrna Beach. This year I'm swapping the sound of the ocean for the sound of lawn mowers, kids zipping up and down the street on their motorized scooters, and general neighborhood mayhem. Ah…the sweet sounds of summer.
While I was cleaning out my old upstairs office before I get banished forever to my new basement space, I came across some pictures of chairs that I had been saving, and I must say that I have excellent taste (In my own humble opinion of course). Two of my  favorite chairs are thankfully in my own home, they are mid-century modern from England. I worked for a designer when I was in design school, and she imported containers from the "Land of the Union Jack". I fell in love with the worst of the lot, the chairs were destined for the dumpster, or at the very least firewood. Needless to say she was more than happy to let me have them. So I took them to a guy who is Atlanta's best kept secret, and he performed a modern day miracle by restoring them back to their original fabulousness.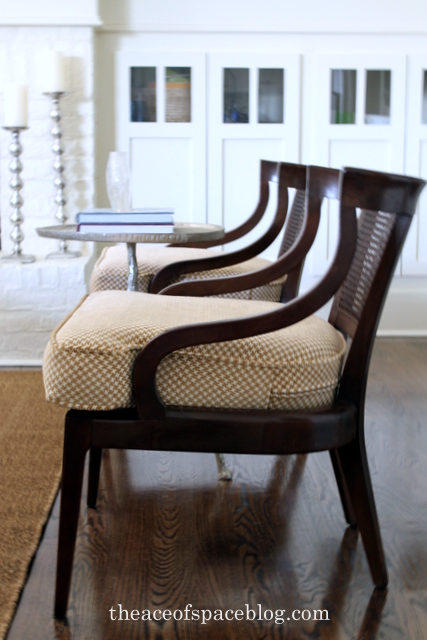 The best seats in the house…
I've changed the fabric on the seat cushions a few times from a leopard print to the current hounds-tooth (of which they'll be for quite a while, since Mr. B. has forbidden me to change anything in the living room for at least a year). I even considered selling them once to a collector of mid-century modern furniture, but thankfully I had a change of heart at the last minute. So in addition to my cherished chairs these are some of my all time favorites…
These chair backs are actually hand-applied decals from Wietske Hoogstadt for Studio Habraken. I've just been counting the days until I can use them in a project…they are beyond fab…
This was a custom designed chair for a client project, azure blue mohair with lime green piping. My client was head over heels and that made me one happy gal…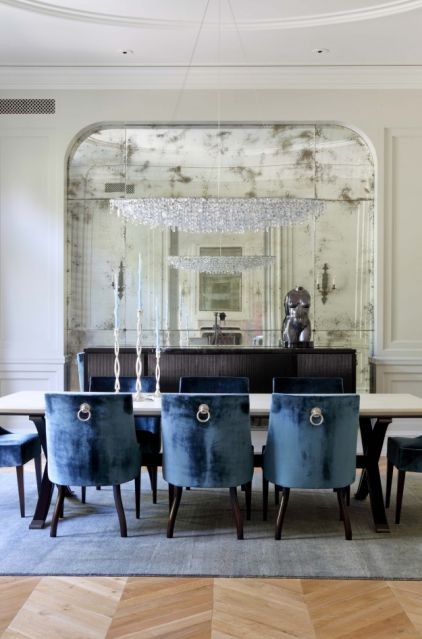 via Houzz.com
I love the hardware detail on the back of these dining chairs and the herringbone flooring definitely deserves an honorable mention…
via Interiorholic.com
These chairs just define style and function. They would be equally as interesting paired with a rustic table…
If you look closely you can see the most fabulous acrylic chairs, there are bubbles encased in the moulded plastic and words don't even begin to describe how in love I am. The pic is actually from a website (www.ownersdirect.co.uk) that lists property available for rent in Europe. Quite frankly they have some of the most spectacular properties for lease that my baby blues have eye laid eyes on.
Longwood Events
These beach chairs can be seen or better yet sat in at the Wychmere Resort on Cape Cod (www.longwoodevents.com). They go beyond rustic charm into the category of "Beach Chic."
On a more serious note and in honour of Memorial Day, I think it's fitting that we all take time to remember the men and women who have fought for our country and the freedom of others. My stepfather-in-law sadly passed away unexpectedly over 3 years ago. Ralph bravely fought in WWII, and earned several well-deserved Purple Hearts. He was without a doubt the most amazing man, and I was so very grateful to have him in my life for 12 years. We all miss him tremendously, and Ralph you fought for our country with honour and lived your life with grace. We remember…
Thanks for stopping by!