In the design industry there are designers who can be defined by sheer god-given talent, who quietly go about crafting breath-taking interiors until it (deservedly) catches the attention of someone in the world of publishing. Lisa is a designer whose work deserves it's own board on Pinterest or Houzz. Yes, you'll most certainly want to start a board titled "The Favoloso Work of Lisa Gabrielson Russo," and pin away. Her aesthetic is enviable, and one that continues to pique the interest of the industry. I first met Lisa about five years ago when I walked into a store that showcases different purveyors of design, antiques & vintage wares. It was her booths (four showstoppers) that I kept coming back to, they had a European sensibility mixed with Vintage charm, and a pinch of quiet sophistication.
While we are more transitional in our home leaning toward Mid-century Modern, I would gladly sell off every piece of furniture in our home (except for a pair of prized chairs), if I thought that Mr. B. would agree to have our home completely redone. If he did, I have no doubt that Lisa would be one of my first calls. The second would be to my best friend to tell her that I won another re-decorating battle (while she was sitting down of course).
Design is all about texture, layers and color, of which when masterfully blended will create visually appealing & evolved interiors. But what would happen if that same interior seamlessly combined the style of the inhabitants with that of an uber talented designer? You get a home that is not only breathtakingly beautiful, but reflects the personalities of the people who live there. That is the true measure of a successful design. Lisa is that designer, one of those rare individuals who is not only beautiful on the outside, but on the inside, and talented…someone who is refreshingly approachable. I do want to mention her fashion sensibility rivals that of a Hollywood stylist. So if you hurry (really hurry, I mean drop everything) you may be lucky enough to hire this design powerhouse before three of her interiors appear in a magazine this summer.  Oops…did I mention that she speaks fluent Italian? Although, I can only speak a few words, there is something about the Italian language that is so "Under the Tuscan Sun" don't you think?
I want to thank Lisa for taking the time to meet me and also be the latest southern "Tastemaker." She had three projects being shot for a magazine this week, and still took time to answer my questions. How nice is that? Remember this is a series of "pop-up" interviews, which means I reach out about a week prior to publishing. I personally love surprises (although I can't keep one) plus we see glimpses into current projects some of which haven't even been published yet. Let me introduce you to Lisa Gabrielson-Russo, the second "Style Influencer" of our ten part summer series….
//How did you chose design as a profession?
Ever since I was in third grade, growing up in Minnesota, I wanted to be an interior designer. I ended up getting a degree in Art History from Mills College in Oakland, CA, and then moved to Italy where I worked in fashion (footwear, Gucci, and owning a children's clothing company). Over the years, friends recognized my passion for design, and asked me to decorate their homes. I knew then that design was really what I was meant to do! When we moved to the US in 2006, we virtually started our careers from scratch. I found that the best way for me to take care of little kids and start a business in design was to open an antiques booth. That business grew steadily to four booths, and in 2009 I opened Lisa Gabrielson LLC. I have been designing homes for residential and commercial clients ever since then.
//How did living in Italy influence your design?
Italians are masters at blending centuries old architecture with cutting edge modern design. Florence, in particular, has been known for its understated elegance since the Renaissance. This is exactly the approach I take to design having been influenced by living in Italy. My favorite spaces combine timeless, clean lined pieces and one-of-a-kind treasures that tell a story.
//How would you describe your design aesthetic?
I have a very eclectic vision of design. I love antique, modern, ethnic, bohemian, grayed blues, soft whites, neutrals, and at times bold color. My spaces need to be comfortable, warm, welcoming and loaded with charm. They are never nailed down to one particular genre, although I am very partial to, and influenced by French, Belgian and Italian design.
//If you could have a dream project what would it be? "Carte Blanche" on a medium budget in a beautiful location. ("The Ace": Can I be your assistant when you go?)
//If you could live anywhere in the world where would it be?
South of France. San Francisco. Fiesole….in equal parts.
//What's your favorite room in your house? My favorite room is our formal living room where we have a mural of Tuscany given to us by my parents as a wedding gift. The day bed was a hand-me-down from my best friend. The Italian table from an old neighbor in Tuscany…all of the pieces have been collected over time and tell a story of our lives.
//What is the biggest mistake people make in design?
Lighting is highly underrated, and I am not sure why. To create great atmosphere and maximum functionality, every space needs a mix of good lighting from the ground up.
//What are your go-to colors?
Blue in any way shape or form! In terms of paint, I love these colors;
Benjamin Moore- Edgecomb Gray, Benjamin Moore- White Dove, Sherwin Williams- Anew Gray, Sherwin Williams- Topsail for ceilings, Annie Sloan Paris Gray and Duck Egg, Sherwin Williams-Sea Salt, Valspar- Fieldstone.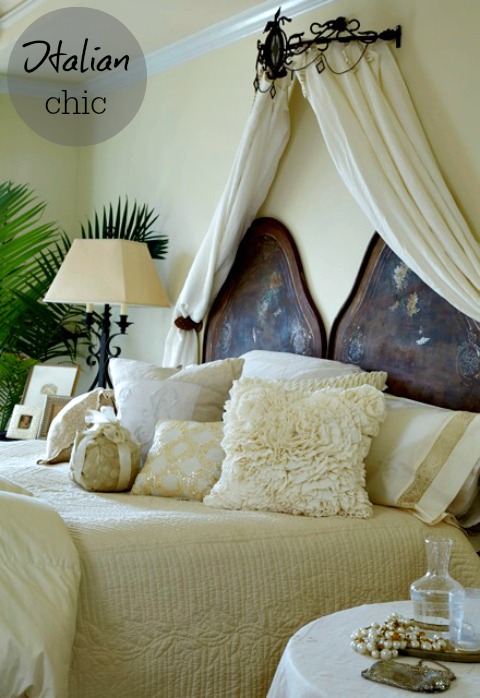 Design- Lisa Gabrielson-Russo
I love the old-world headboard against the contrast of pillow styles and textures…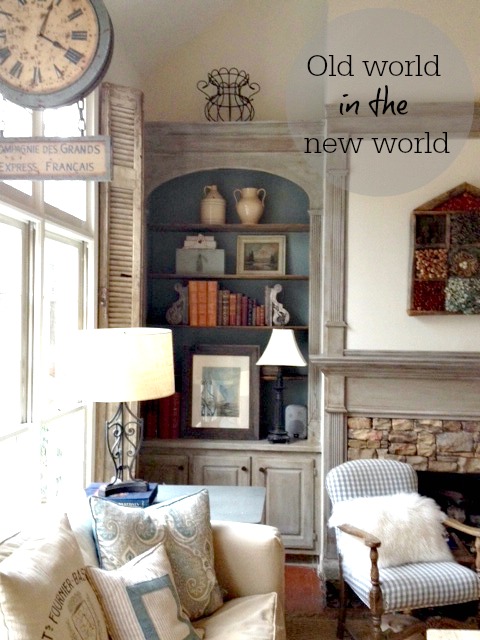 Design-Lisa Gabrielson-Russo
Lisa is not only an accomplished designer, but she is a master at transformation. The faux-finish on the bookcases is her own work of art.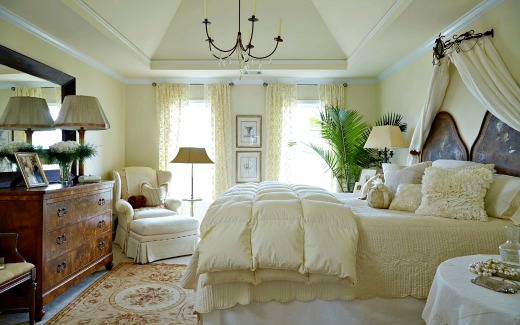 Design-Lisa Gabrielson-Russo/ Photo-Lauren Rubenstein
Doesn't this bedroom simply take your breath away? (Okay, don't forget to start breathing again).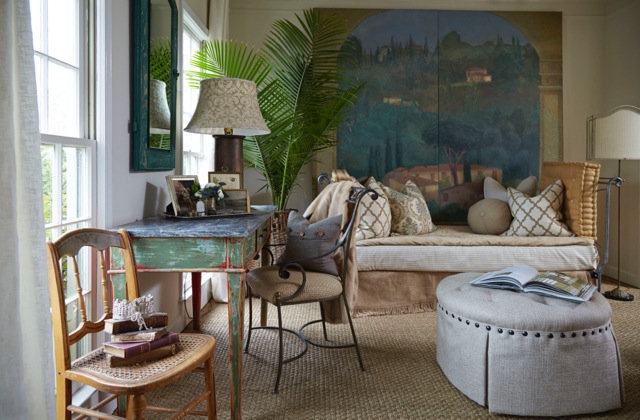 Design-Lisa Gabrielson-Russo
This is Lisa's favorite room in the house…(I'm glad I didn't have to pick just one).
Designer-Lisa Gabrielson Russo
A signature fabric mix "Lisa-style."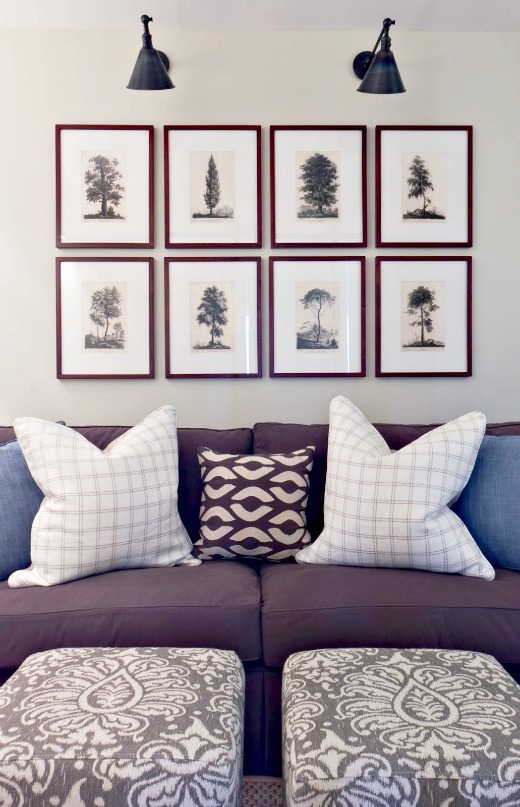 Designer-Lisa Gabrielson-Russo/ Photo-Jennifer Kessler
Another stunning example….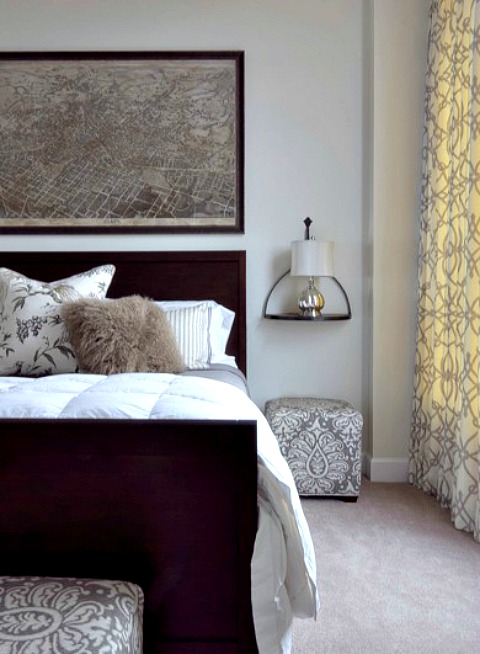 Designer-Lisa Gabrielson-Russo/ Photo-Jennifer Kessler
This room is not only beautiful, but the "side-tables" are genius…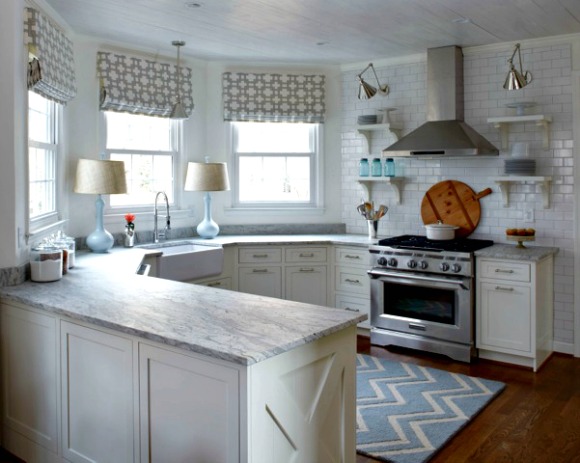 Designer-Lisa Gabrielson Russo/ Photo-Lauren Rubenstein
This is the kitchen of Lisa's sweet neighbor, and this room is one that you may have seen pinned on Pinterest or on the cover of Consumer Reports-Kitchens. Lisa had J. Schoenberger collaborate with her on this signature project.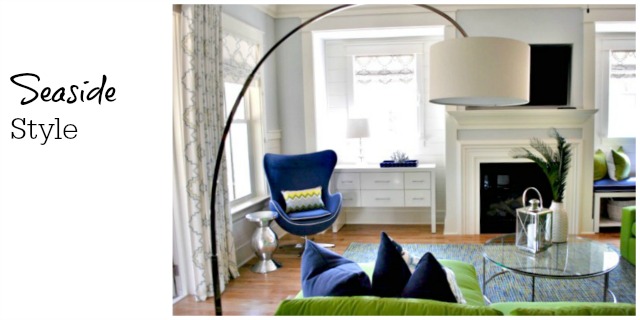 Designer-Lisa Gabrielson-Russo
One of Lisa's latest projects more than likely coming to a magazine near you. It's in Watersound (Florida), and is proof that this designer can truly transform any interior, any where and in any style…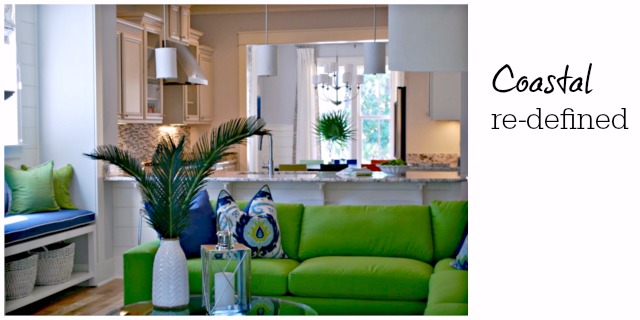 Designer-Lisa Gabrielson-Russo
The same room from another view….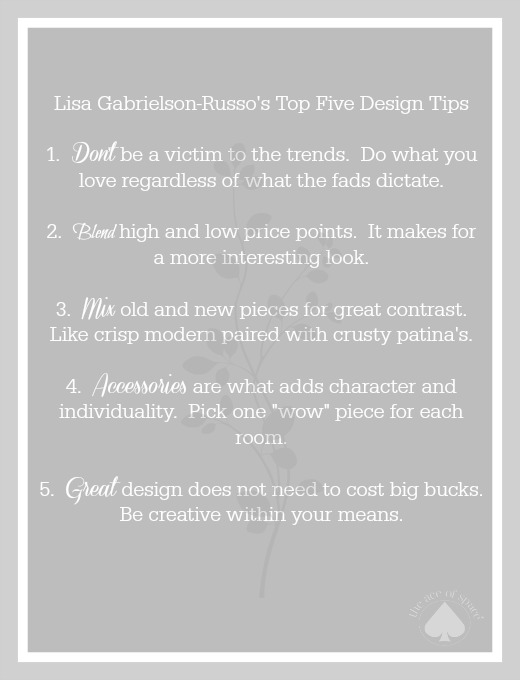 Lisa's tips on creating a fabulous interior…
I know you'll be full of ideas and inspiration, so don't forget to "Pin with Love," and credit the photos shared back to Lisa Gabrielson Design. As always, don't forget to follow us on social media- Pinterest, Facebook, Instagram & Twitter for more of the latest and greatest in the world of design. We'll see you on Tuesday…have a great holiday.
P.S. If you want to contact Lisa or view more of her portfolio visit www.lisagabrielson.com
As always,
Be Inspired. Be Amazing.