One of the worst things about having school start is that you get sick, first it starts with your child, then it moves like a slithering snake through everyone that resides in your house minus the dog. Who by the way, decides that because I am bedridden she has to go out to relieve herself every 10 minutes, and whines non-stop. This is currently the state of my life. The Fashionista brought home the "GERM" that took down the house known as Casa B. and everyone that lives in it. Which means no blog posts, designing, or online shopping. Yes, I was that sick. Then while recuperating on our Frette linens (a generous gift from a vendor), I accidently erased the account on my Ipad which allows me to get WIFI upstairs at Casa B. My world just about came to screeching halt because I couldn't access Pinterest…I was in bed sick and I couldn't PIN, and I couldn't BLOG. For those of you who have a serious addiction to Pinterest, I know you'll be feeling serious sympathy pains for me at this very moment.
Why am I so anxious to get better? ( Seriously, I'm practically inhaling vitamin C.) Because I am scheduled fly to the West Coast next week, and I will be on that plane even if they have to wheel, carry or drag me on. I'm scheduled to attend closing day at the Del Mar Race Track (horses, horses and more horses) and the Beatles Photo Exhibit opening at the Leica, it's going to be a week full of fun, fashion, filly's and frolic all while spending time with my very best friend.
So while I am recuperating, I wanted to share one of the amazingly wonderful perks of being a Design Blogger, the incredible honour of attending opening parties for some of the most breathtaking and "drop dead on the spot" fabulous show houses. As someone whose world revolves around design, it's simply a "died and gone to heaven" moment. So if you didn't have a chance to go to the Hamptons this summer these are some of "The Ace Picks"  for "The Best of the Best" from the Hamptons Showhouse 2013.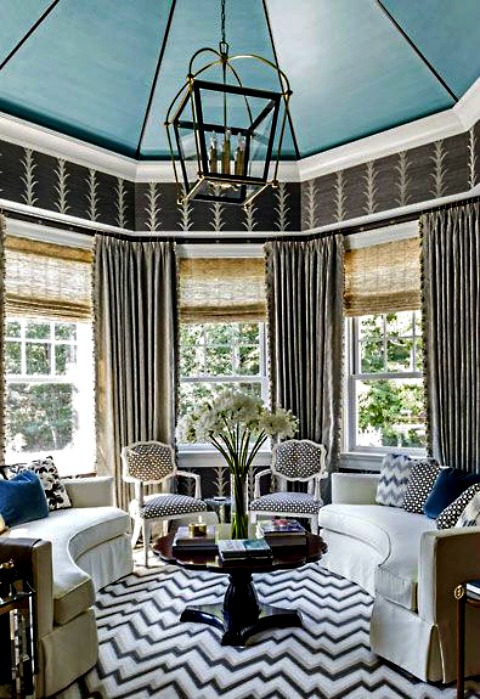 via traditionalhome.com
Who doesn't absolutely love an interior masterminded by "Design Icon"-Celerie Kemble? This space is enveloped in depth, richness and pattern, from the stylized zig-zag rug, wall paper, and pillows in a dazzling array of texture and colour. Of course, the ceiling is simply…breathtaking.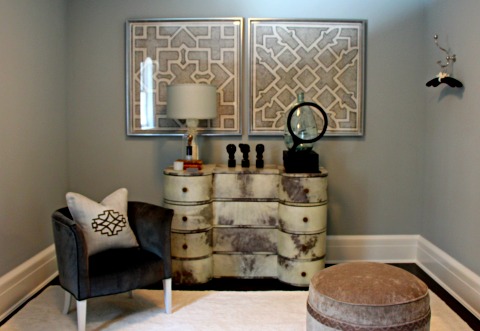 via theaceofspaceblog.com
This Master Dressing Room was designed by Varner Interior Design, I loved this alcove with the velvet chair and the absolutely swoon worthy chest of drawers…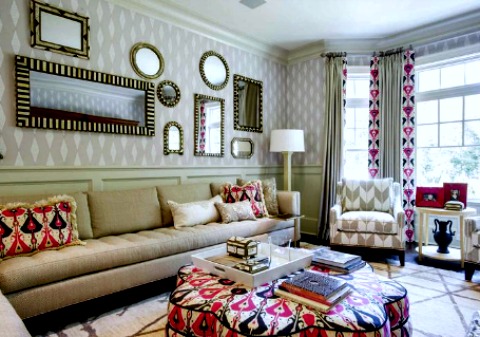 via traditionalhome.com
This room by Sherrill Canet had so much visual punch, and the tone-on-tone neutrals were taken to a whole new level of style and sophistication with the bold introduction of pattern. The random grouping of mirrors was just spot on.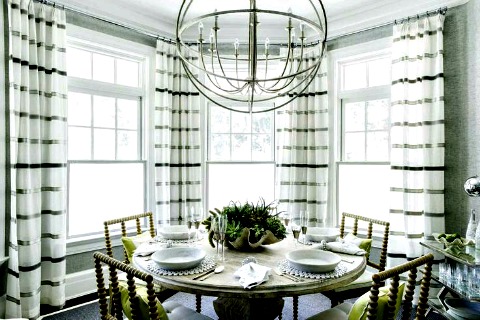 via theaceofspaceblog.com
This breakfast space by Patricia Fisher was simple and elegant, I adored the fact that the sheers were be-ribboned, providing subtle pattern while still allowing the sun light to stream through.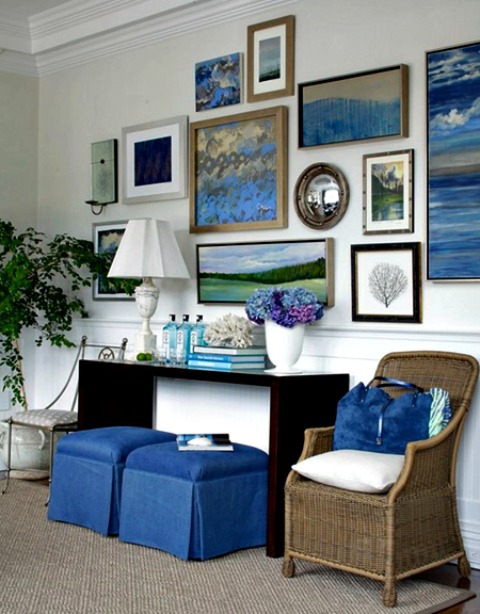 via traditionalhome.com
The entry foyer is just what you would expect from a sleepy (but oh so chic) community by the sea. This carefully curated collection of sea inspired artwork was stunning, and rather than compete against the other they all just blended seamlessly as part of this large art grouping.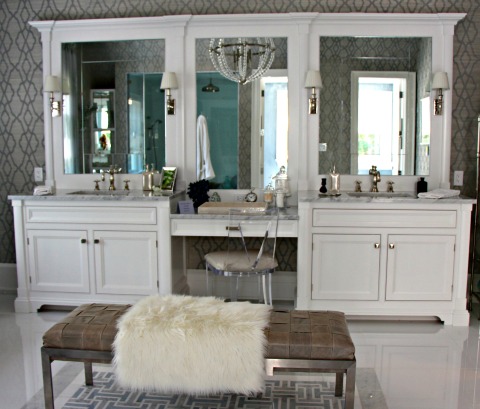 theaceofspaceblog.com
My dream bath, designed by Michael Marriotti from the grass cloth wall paper to the tile under the bench. The room packs a graphic punch while maintaining a quiet sophistication. Just stunning…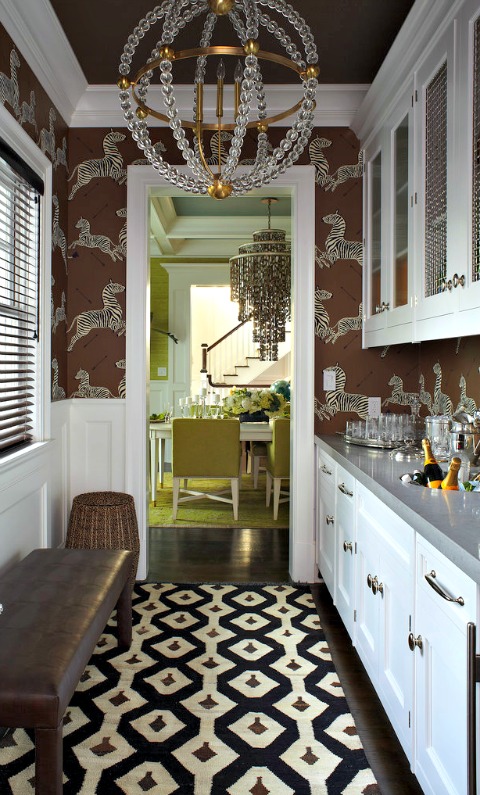 theaceofspaceblog.com
A design from Old Town Crossing, the Zebra motif on the Scalamandre wallpaper was a stand-out in this galley. It was daring and divine, just the way a room in a Showhouse should be. The rug was a perfect companion with it's tribal inspired print.
As with any Showhome, we all dream of living inside it's perfectly decorated walls, and this showpiece benefitting the Southhampton Hospital was no exception. It inspired me, let me dream a little, and at times left me breathless. Just the way I like it.
Cheerio!
As always don't forget to visit (and "Follow") my Pinboards on Pinterest for more design inspiration…and check out my latest board about exotic pattern found in some fabulous interior spaces just click here http://pinterest.com/bolickinteriors/leopard-hear-me-roar/ Animal print is always prowling around in the world of design adding an exotic punch even if it's a single pillow…