I am seriously close to finishing the "Mega-Project." I ran around all day on Wednesday, getting last minute accessories to finish it all off, and pick up some very expensive pillows from the Work Room (made from the most luscious Shantung silk). I'll have to admit that the fabric was the most costly that I've ever worked with at a whooping $395.00 per yard.  Now a confession…I didn't sleep at all that night because I kept having this overwhelming feeling that we would have a water leak from the floor above, right onto the pillows lying in my office wrapped in what I hoped was "natural disaster proof" plastic. I absolutely couldn't wait to take them to my client, and watch her face just transform into pure unadulterated joy…(it did). I even let Mr. B have a look, and he wasn't as impressed as I thought he should be, so I gave him some serious cold shoulder for about 2 hours. Maybe next time he'll feign a little excitement.
I also have the photographer lined up, the amazing Christina Wedge www.christinawedge.com , she isn't available for 2 weeks…sniff, (but good things come to those who wait).  I'm so excited that I really wish time could fly, because as challenging as it was working with custom pieces and a really, really tight deadline, this was the project of a lifetime. As one of my friends/fellow designers said today, "Where do you go from here"? It's certainly crossed my mind, and I have to say I was spoiled working with a very large budget, and a great deal of creative control. So back to the real world I go next week, a much more seasoned, albeit pampered designer. Here is a very small sneak peek…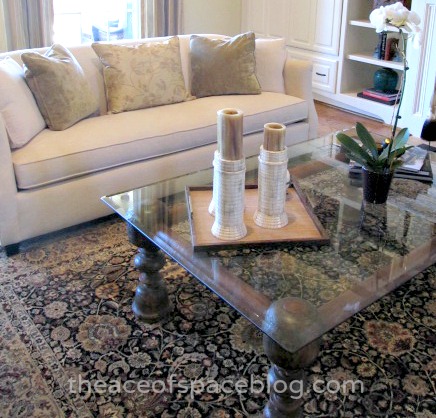 This picture doesn't even begin to do justice to the custom designed sofa. My 6 year old daughter changed all the settings on my camera, and I had to spend an hour with Photoshop so that it looked partially presentable…
What really has my mind churning is something I saw this week, it was the most fabulous chair at the furniture makers, and I wish I could have taken a photo, but I have to respect the designer who came up with the chair design. She used 2 different utterly fabulous fabrics. I love the idea of mixing patterns and textures on an upholstered piece of furniture, and here are some of my absolute fav's from "The Ace of Space Style Files".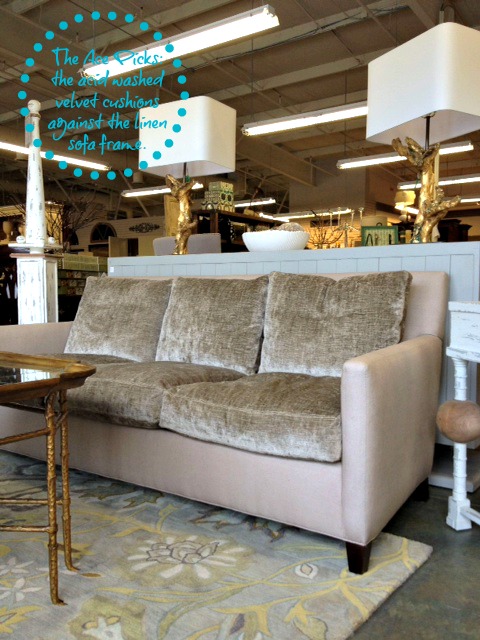 via Vicki Bolick/theaceofspaceblog.com
 I took this picture at Outrageous Interiors,  I stopped in to see my friend Tom, (who is one of the funniest people I know, love him) and of course fell "head over heels" for this sofa that sits right by the front door, the cushions are the most scrumptious burnt velvet, and the frame is linen. The perfect mix. An honourable mention goes out to the gorgeous gold branch lamps which I dragged into the picture from another part of the store…(thanks Tom for letting me do a little re-arranging).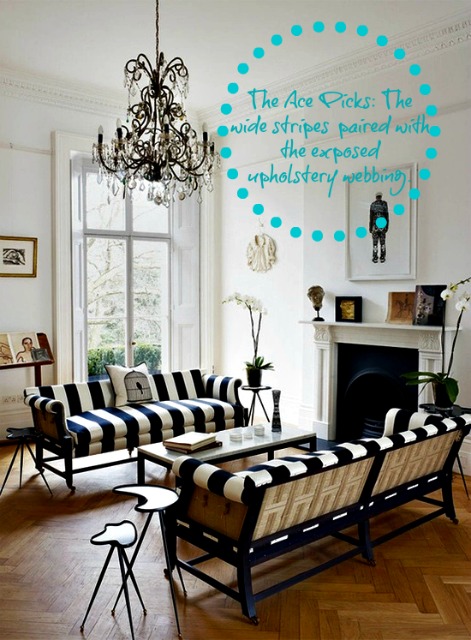 via expimage.com
These sofas are just "drop dead"…
 via countryliving.com
I may not be a fan of "country," but I love the concept of the Ikat paired with a simple cream linen and contrasting piping.
via meredithherondesign.com
I don't think my baby blues have seen anything that Meredith has designed that wasn't exquisite. This banquette with the mix of leather and a floral pattern is just perfection.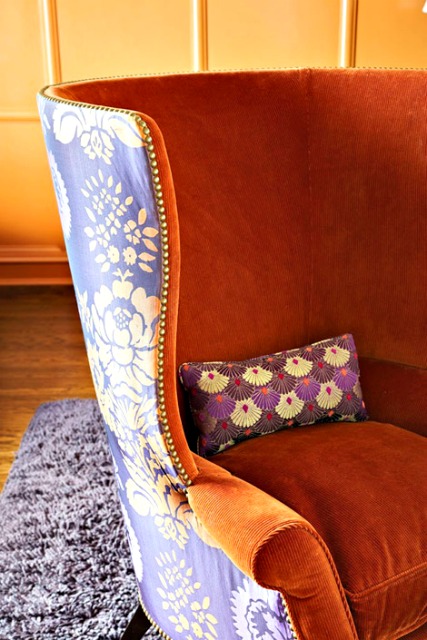 via traditionalhome.com
Here we go, another stunner….
 via garycohn.com
This is just brilliant! The mix of pattern on the backs of the seats, and leather on the interior. A loud round of applause goes to the designer.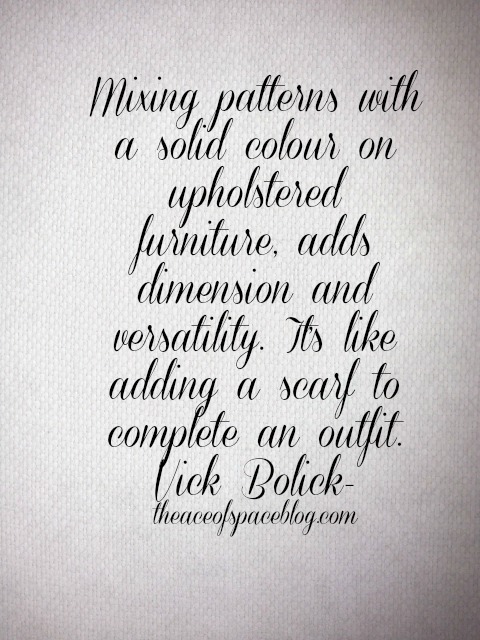 Just a bit of design "food for thought…"
Cheerio!
Thanks for stopping by!