Ah…thank goodness it's Friday, because I am tired and ready to vacay, which we are later today. Off to Charlotte, NC with Mr. B. and our little six year old turbo charged tyke. Believe me I am not complaining because for most of my adult life I have dreamed about having children, and 3 months ago, my one dream came true. So to hear "Are we there yet?" is music to this "made to be a mama's" ears.
It's a family trip this time…(maybe with a few stop's at a few of my fav stores), but we shall see…I promised Mr. B. no computer, no cell phone, no stops at showrooms (ouch). Speaking of which, I spent the better part of my day Wednesday, shopping for fabrics for 3 projects…and of course found some amazing pieces at a store that I shall not name. If I did you would be as shocked as this fabric snob…but I did want to share some of my fav's. It was a totally "on a whim" stop, and quite frankly I was glad that I did, because I found 3 to-die-for fabrics for a price that is sure to make me look as good (in the eyes of my clients) as I felt when I walked out those double doors. Yours truly is all about saving money without sacrificing quality. P.S. Of course being overwhelmed with work, and life (and trust me I am not complaining what-so-ever) I never posted this before I left, and we are already back from a fun filled weekend.
So here are some of my fabric fav's, my inspiration are the colour's of fall, from rich warm tones to the lighter tones of the sun streaming through the leaves all in one variegated palette….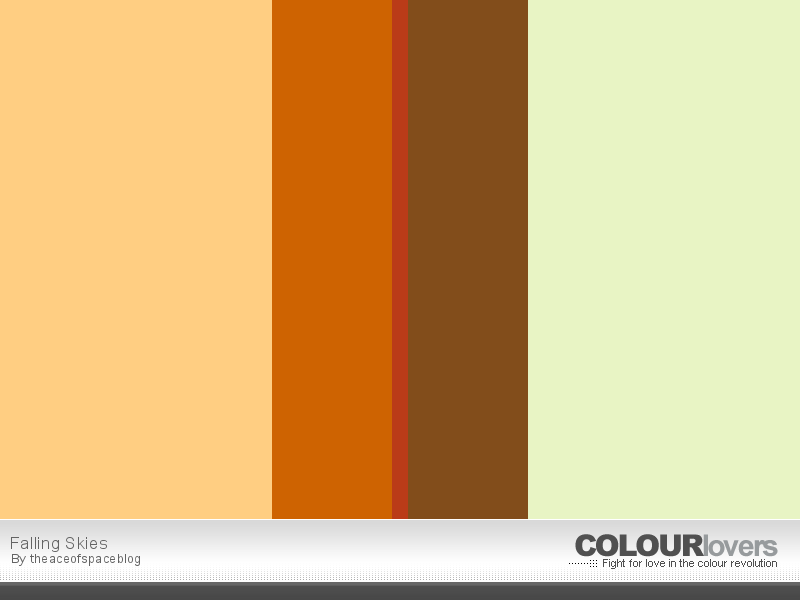 A custom designed palette by moi´ all inspired by the colours of fall…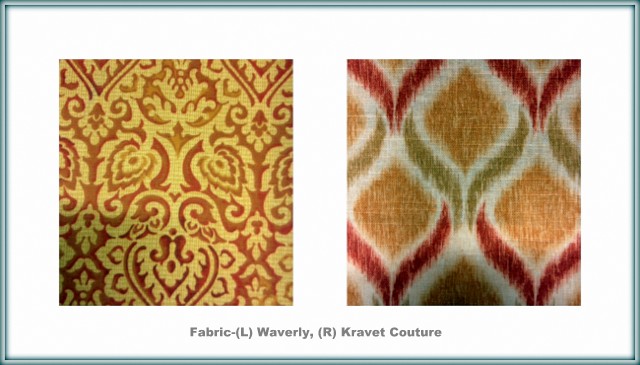 Any of these fabrics would add a little of my fav season to an interior, of course it helps that you can mix high end, and lower price point fabrics, this palette works because they are all from the same colour families with similar stylized patterns…all hand-picked during a day long "fabric field trip"…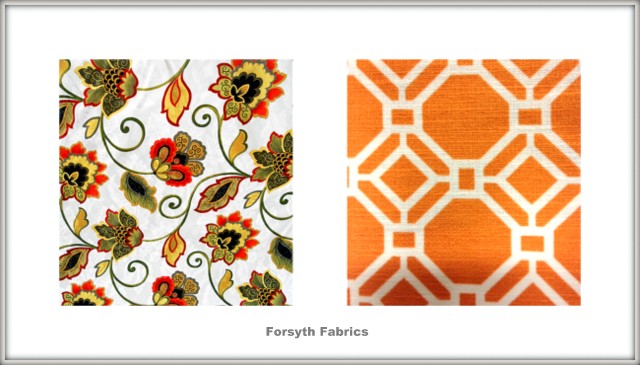 Happiness is…a graphic pattern, on the wall, drapery, windows or on the ceiling…can you imagine the pattern on the right stenciled on the ceiling? Yum.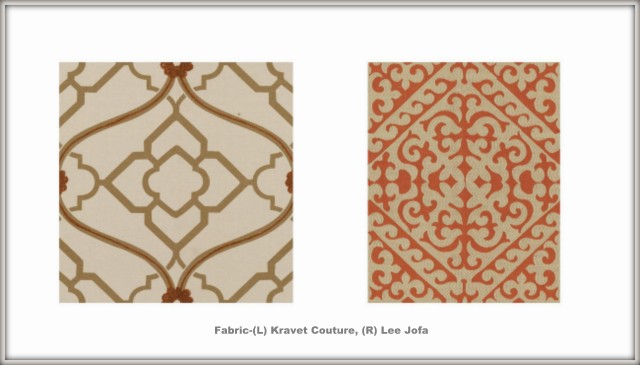 I LOVED these fabrics, and they just might show up in a client project someday. Did I mention that I was given some very generous fabric samples? Some really large pieces of scrumptious fabrics where you can actually see the entire pattern. So many thanks to one of my fav showrooms, who also gave me a box of Amedei Chocolates, ending my day with the worse case of "chocolate face" that I have ever had (think 90+ degree weather, in a overheated car, without a napkin in sight), and moi´ wanting it gone…gone…gone… before it fell into the hands of Mr. B and a six year old who thinks sugar is in one of the five major food groups.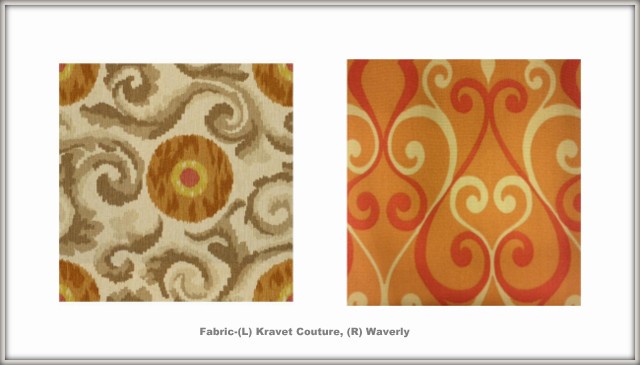 I love the fabulousness that is Kravet Couture. The contemporary fabric on the right in drapery, with some pillows from the rich looking medallion print on the left, creating a really dynamic visual punch. Mixing up styles is a must when considering a "room-lift." I like to think of it as adding just a little "seasoning"  to a space.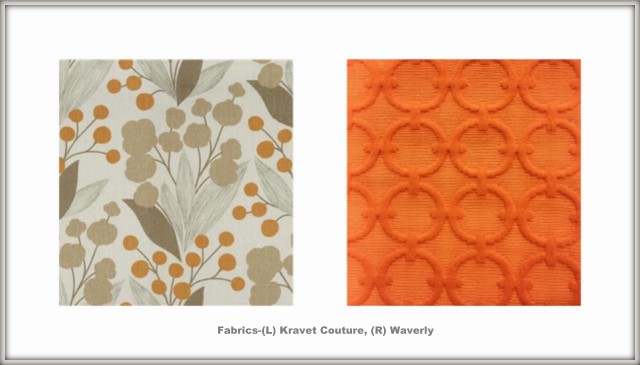 These would be perfect in a bedroom with a soft gray coverlet, whimsical combined with a more refined graphic pattern. Perfection…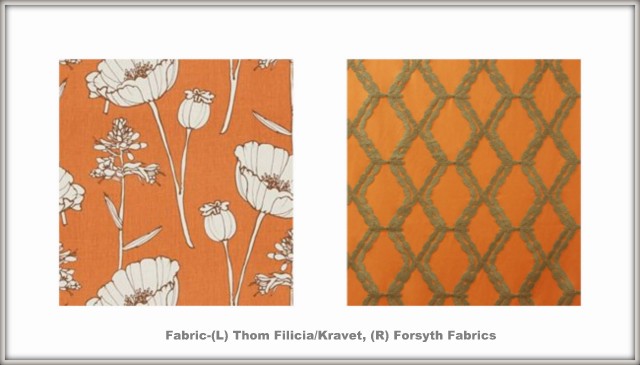 Who doesn't absolutely adore anything Thom Filicia? The floral paired with the trellis pattern (my pick yet again…sigh) lends a more modern twist, and a tongue in cheek nod to all things garden inspired.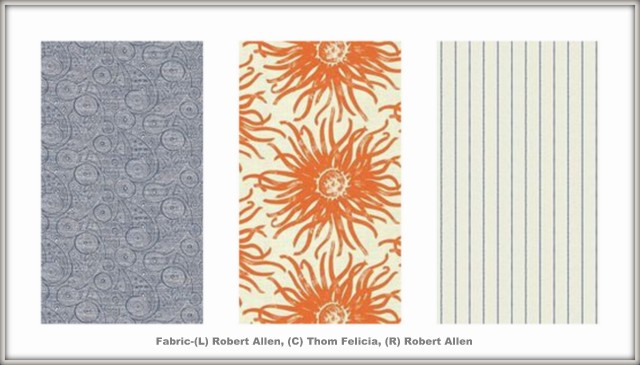 I couldn't possibly do a post about fabric schemes without a little homage to the coast, with just a touch of pumpkin orange..I hope this inspires you to bring in the colours of fall into your interior…if you're interested in finding out the specifics on any of my fabric pairings please feel free to e-mail me…
Thanks for stopping by!