Well, if you read my last post then you know that we were having a design battle with Polka Dots, and after living with them (THE DOTS) on my daughter's bed for two days, she decided they had to go. Well…they now reside in a closet, and neither Mr. B. or myself have shed a tear. In fact, it took all my self-control not to do "the happy dance" on the street in front of our house. So now that we have solved another design dilemma, we are on to the next. Because as most battles go there is always going to be another, and our house is no exception. Yes, we took it to a tile and stone showroom. Why? Because we are totally gutting our master-bath in the next month. So when Mr. B. came home early one day (this never happens) and surprised me with "Hey, you want to go and pick out tile?" I knew that another battle Royale on the design horizon. I'll save that entire story for next week including the ending because it deserves its own post. Plus, I have been dying to showcase all the gorgeous products that Kohler gave us including a custom designed dual vanity (that is simply jaw-droppingly gorgeous).
The design saga continues next week. So what is the subject of this weeks "Comeback Kid?" It's a color, or two. Yes, a resurgence of the 60's inspired color scheme, "olive green & orange." A totally hip throwback to an era where we saw the world of June Cleaver morph into the Brady Bunch complete with short skirts and go-go boots. Where the Beatle's were the shaggy-haired cause of teenage angst, proportions the world had not yet seen…Yes, it was an era of free love, box-shaped box-shaped PVC dresses and an emergence of unexpected color pairings. One of which is olive green and orange. It's cool or hip, classic, or mid-century modern, and I think we are going to see more of this "Comeback" trend in 2015. Of course, one of my favorites is from my go-to paint company. I think I'd like this palette with Martini Olive "shaken and not stirred."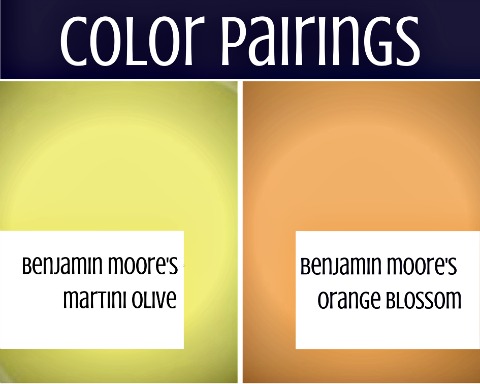 via theaceofspaceblog.com
One of my favorite color pairings is from Benjamin Moore, as accent walls or pillows…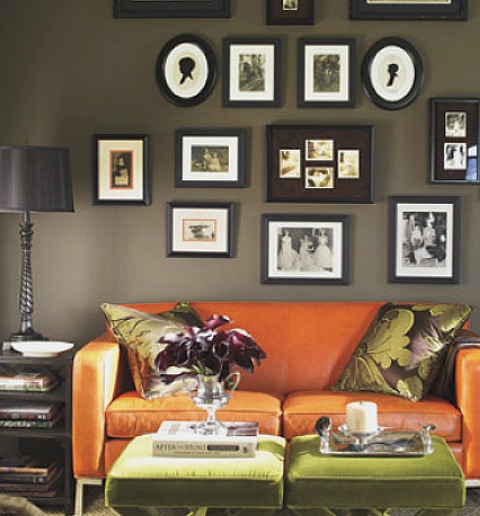 via retco renovation
Orange leather, and green velvet…a brilliant combo. With the charcoal walls it all works so well together. What makes it successful besides the designer behind it? It's the fact that they found a fabric that ties it all in together…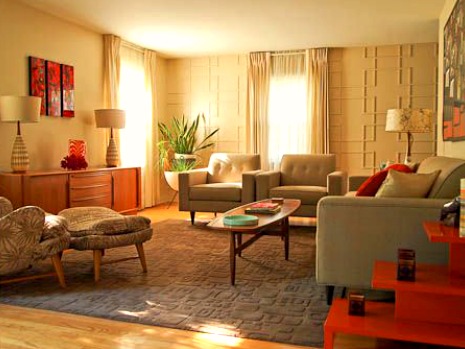 If anyone knows the photo credit to this room or the designer please let me know. I rarely include photos without either, but it truly defines 60's design with a more current twist. Complete with a green and orange color scheme.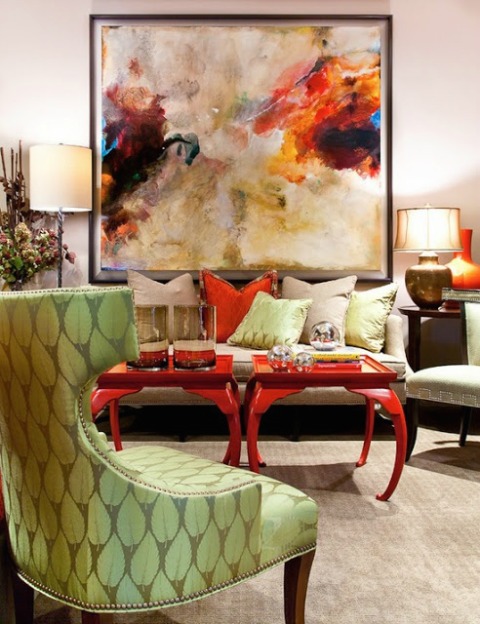 via splendidsass.blogspot.com
This first thing I noticed were the twin chinoserie tables, of course the second was the green chairs. This room design gives new meaning to "traditional with a twist."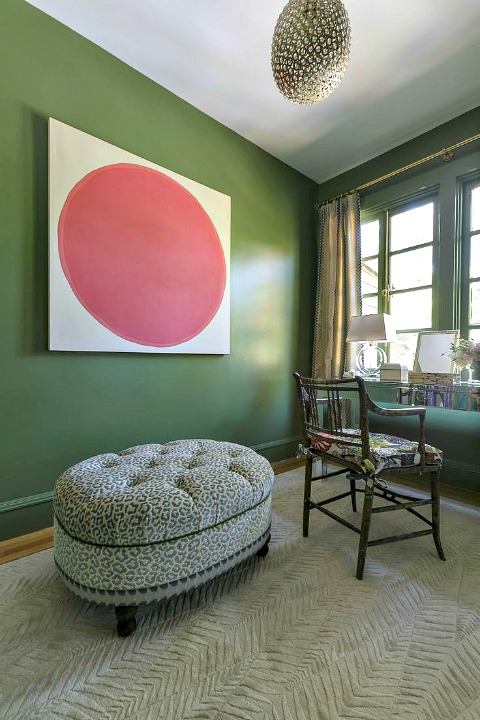 Designer/ Ann Lowengart
Now this makes me fall in love with green & orange. This designer added just the right amount of contrast with orange artwork…and who doesn't love a little leopard? As my readers are my witness, this talent is going to be the subject of  "The Ace Around Town." I just haven't asked yet…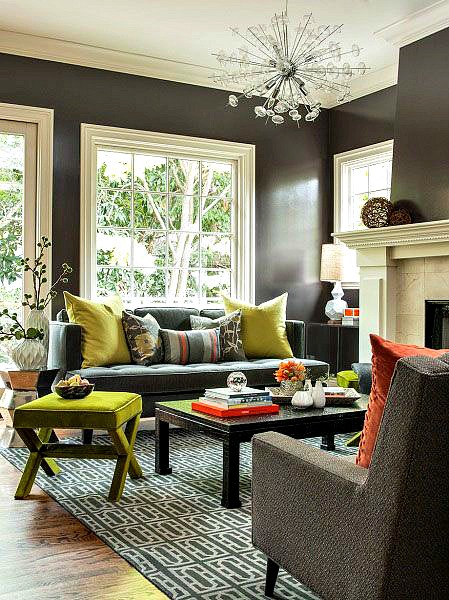 Designer/ Ann Lowengart
Pattern in scrumptious layer upon layer. Then throw in a little green and orange and POP!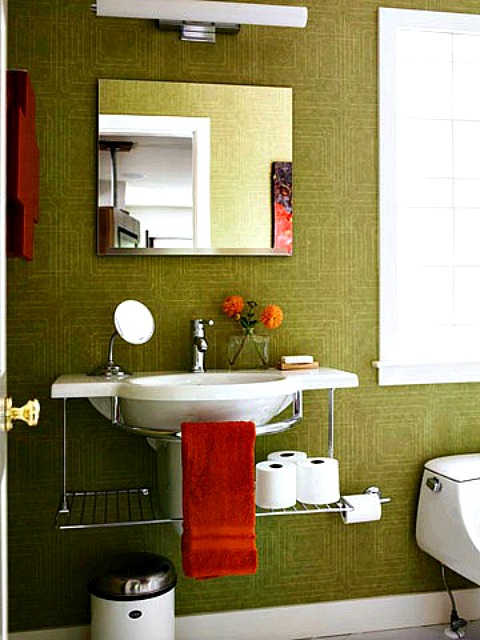 via BH&G
This vibrant green wallpaper makes a large impact in a small space…add a little orange punch and you have a successful pairing.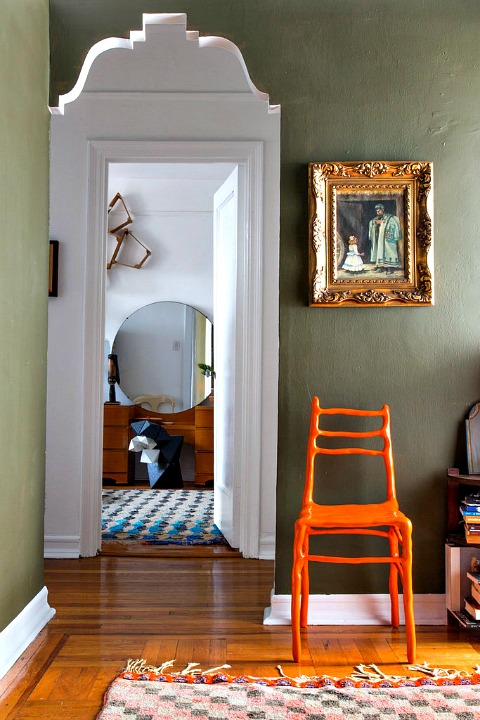 via houseandhome.com
This looks like a study in art instead of an actual home. It takes olive green and orange to another sophisticated level. I love the curated feel of these spaces (they actually looked lived in).
I hope you are inspired to get out of neutral and fast forward to color. Starting today we are now posting five days a week, and we'll be back this week with the wildly successful series "The Ace Around Town-Southern Tastemakers." Next up is Julie Couch, and you won't want to miss it.
The Ace of Space is expanding and we are looking for contributing writers. If you are interested in being a part of an award winning design blog please convo me at Vicki@theaceofspaceblog.com. DO you have a topic that you are interested in finding out more about? Let us know and it could be the subject of a post. We always love to hear from our readers! 
 Until tomorrow (I can finally say that)…
Thanks for stopping by!