Who doesn't like a great wall-scape, and having one is as hot as a pair of leather Culottes in the world of fashion. In fact, some of the big box retailers sell perfect groupings of collected wall art leaving you to figure out the hard part, how to get them to look exactly the same on your wall. Because if you're like me, you'll eye-ball everything and hammer away putting more holes in the wall than a piece of moon rock. If you look behind any picture in our house, you'll see evidence of my wavering eye. I don't feel the least bit shy about revealing this because Mr. B. rarely reads my blog. So when I was in California recently, I took a side trip to the Viceroy Hotel and if you love Kelly Werstler (like I do) then it's a must if you are ever in Santa Monica. I'll do a whole post about it one day; it's that good. The one thing that caught my eye, (and I had to see in person) was the plate wall, Kelly had created the mother of all plate displays. It made me want to cover every wall in my home with a grouping of plates to rival her stunning presentation of the porcelain kind. So I did a little research for my readers and found some incredibly inspired combinations. If I had more of my grandmothers flow blue china, you can bet they would be gracing the walls of Casa B. right now, mixed in with a little Hermes,' hand-thrown and otherwise eclectic group of serving-ware. In fact, look at the work of the most notable designers of our time and you may find that they have done at least one (which is reassuring). I would do anything in the name of design if it looked great and I could incorporate some personal items and a plate wall would give me the perfect opportunity to do so. It's that over-powering nesting instinct that takes over as you get older-the desire to bring in more of your life and less of the meaningless.
I am always on the hunt for the inspired, and whether you're a designer or someone in search of the unique and different this idea is for you. As always, my mission is to help others create a stylish, lived-in space with a mix of high and low end. Although, I'm not a DIY'er, I think that there are opportunities to use your creativity, by even incorporating some plates painted with your children's artwork. The Fashionista painted some canvas's over the summer that seriously rival some of the artwork I've seen offered by artists. At least to this momma's eye. So here are some plate combinations that I think are truly wall worthy…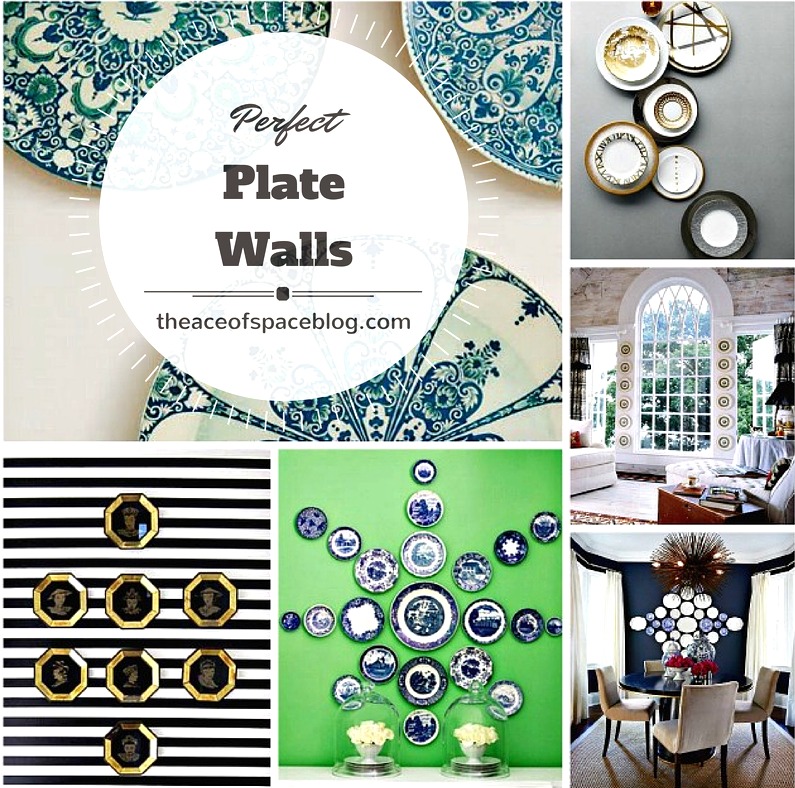 Clockwise (L) to (R) Main Image-via jennywolf.com, kellywerstler, bhg.com, marcusdesigngroup.com, designfiles.com, cococozy.com. All proving that an upscale and curated look can be achieved by using plate groupings…and here are a few more that I absolutely thought you should see…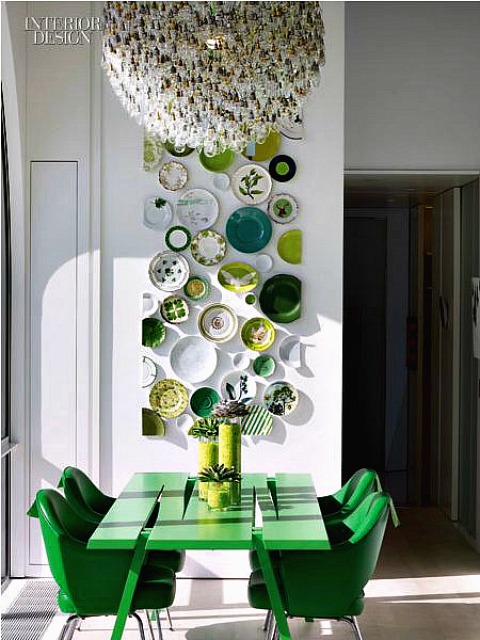 via interiordesign.com
This vertical display visually extends the height of the room, and truly acts as an art display…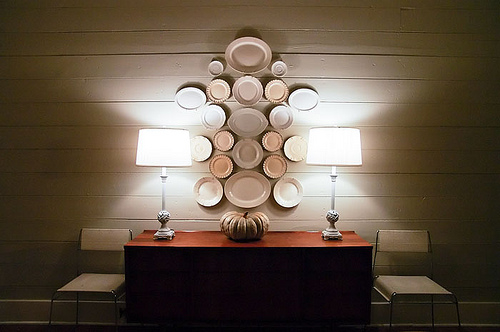 via shemovesthefurniture.com
I call this the "turtle configuration" and is perfectly symmetrical unified by the similar tones of the plates.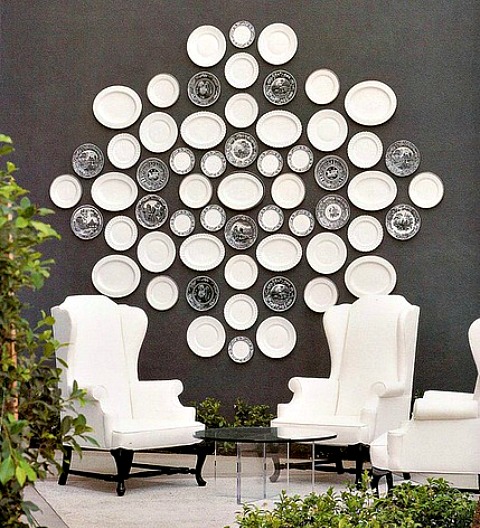 Image/ Viceroy Hotel
The plate presentation by Kelly Werstler that began my obsession…(www.viceroyhotelsandresorts.com)
I hope you are inspired to try something different when wall-scaping!
Do you want to have "The Ace of Space" delivered directly to your mailbox? Subscribe today.  Also, for even more design inspiration follow us on Pinterest, Facebook, Instagram & Twitter. Just click on the Social Media Icons at the top of the page or on the sidebar.
Interested in advertising with "The Ace?" convo us at Vick@theaceofspaceblog.com
Thanks for stopping by!