What an incredibly sad week, with the tragedy in Newtown, Connecticut, it's been hard to focus on work. Instead, I've spent time doing the things that really matter, and during this holiday season, I have so many incredible things to be thankful for (such as one amazing six year old). It's a time for all of us to count our blessings, and to never forget those whose lives mattered, their tragic passing will forever remind us that every day with our loved ones is truly a gift.
So, I thought I would keep things light on the blog today, in fact I started this post about a week and a half ago. With a tongue and cheek nod to my lack of "hostessing skills," I came up with an imaginary world where I am the perfect "Holiday Hostess," a close cousin of a "Stepford Wife," (which I am not because I hate cooking, cleaning and getting up early). In reality a day with my family is a cross between National Lampoons "Christmas Vacation" and "A Very Brady Christmas". So how would a perfect holiday, in my perfect home look?
P.S. After I finished this post, I walked downstairs only to find my daughter applying my Laura Mercier foundation to our Beagle, who in turn had shredded House and Home Magazine (before I even had a chance to read it) all while Mr. B. was blissfully sitting in a chair playing "Words with Friends" while watching ESPN (yes his favorite yuletide station) after I had just told him to put on "Miracle on 34th St" an hour prior. To make matters worse when I asked my daughter why she put make-up on the dog, she replied "To hide her age spots like you do." Ouch…and yes it's just another day at Casa B.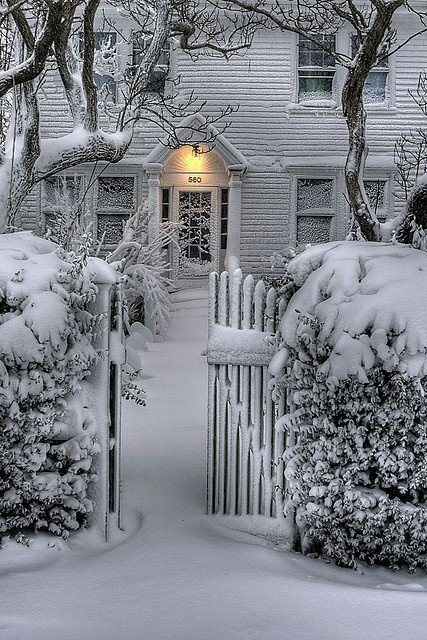 via tumblr.com
My house would look like this, complete with fake snow. (I know this is real snow, but let's just go with fake, after all it's a "Holiday Hostess's" job to think of every creature comfort, and why would I want my guests to come in with frozen feet and wet designer shoes?). My guests would meander up the walkway full of holiday cheer and bearing the most exquisite hostess gifts…
In case my guests need some suggestions as to what the perfect hostess gift would be, perhaps some Mirasol linen cocktail napkins from montauk.com would be a wise purchase. I do love the Moroccan inspired pattern…
via traditionalhome.com
Please leave your coat with the butler, yes as you enter into the hallway, let my trusty Majordomo (with the most cultured British accent) take your coats and unload your gifts. Actually, now that I have given it some thought, let's invite Martha Stewart over to "deck the halls." Seriously, no one decorates a holiday home quite like Martha. As my daughter would say "Why not?"
via ralphlauren.com
Oops…did I forget to mention that I would also be greeting you at the door in Ralph Lauren Couture?
via homedit.com
After a little holiday small talk, you would be ushered into my living room, for some Eggnog and "Figgy Pudding."  Hmm…or decades old fruit cake perhaps?  (Yes, I decided to keep it traditional).
via theenchantedhouse.com
Now it's time to dine, instead of names written on the place-cards in the most exquisite penmanship everyone gets a number…just in case you had a falling out with your dining companion/relative the week before, it would be easy for us to make the switch…(Yes, as a "Holiday Hostess" I thought of everything).
via stylemepretty.com
 Whose takes the number one seat? Hmm…need you ask?
via warrengrove.com
After dinner, lets move on to the library shall we? Time for the annual holiday gift exchange. Okay, so I am the "Queen of Re-gifting," after some strained smiles and insincere "thank-yous" (What, you didn't like the leopard print "Slanket" that you gave me last year?)," we open up some decades old port and reminisce about the "good ole days", and the holiday faux-pas of past house guests (indulging in a little harmless gossip perhaps)?  Looking around the room, the "Holiday Hostess" looks upon a sea of sleepy faces, it's off to bed you go. P.S. don't forget to take a book with you in case you want to read one of my treasured tomes before "sleepy-time"….
via indulgy.com
"And to all a good night…"
 via contentinacottage.com
In the morning a grand send off as you pull away in "a one horse open sleigh." I hope you enjoyed your brief stay with the "Holiday Hostess."
In all honesty, I am going to have the most perfect Christmas, and the reason is pictured in the holiday card above. From my family to yours, we wish you a very happy holiday filled with love, faith, family and good friends.  "May all your days be merry and bright."
Thanks for stopping by!