Last week I was asked by one of my client's to help her with indoor plants, I really didn't mind in the least (I may have dropped a few strong hints because I really felt like the space needed some live greenery). In fact, I love to garden whether it's indoors or out. So am I going to do the job? Absolutely. I have a list of "go to's" that are virtually indestructible, unless you drop them off a ten story balcony, or forget to water them for days (guilty).
Okay, now it's time to overshare, when we lived Intown in the ATL, we had half an acre of overgrown, virtually impenetrable green space…it took me two years of just trying to make sense of a garden that we inherited from the previous owners, who had planted something that looked like the film set from the show "Lost." I hacked away, dug up, re-planted, and prayed, until I ended up by hiring a company with a back-hoe to come in a completely level the back yard with the exception of some 100+ year old Maples.
The garden left behind…
 The result in the end garnered us a spot on the Decatur Garden Tour. A lot of blood (literally), tears and a few years of planting (by my own hands) almost every flower, tree, shrub until slowly over time my vision came to life. In fact our neighbors literally thought that I was just the full time gardener. We have since moved into a community based on "New Urban-ism" with zero lot lines, which has unfortunately forced me to move my "mad" gardening skills indoors.
Here are some of my favorite picks and some great examples of indoor gardening, and some plants that when paired with Ivy, Creeping Fig, Pathos or Moss can become a miniature oasis that brings the outdoors "in" without a lot of care…and who wouldn't love that?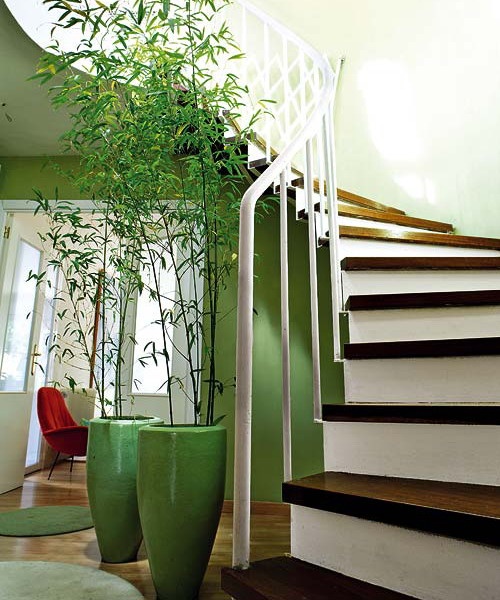 marthastewart.com
Bamboo, I love the airy loose feel of this plant, I even love Black Bamboo more…it can be a tad tricky to care for, and can dry out easily so definitely not for the faint of heart, but the look is worth it. Of course, as this picture shows there is safety in numbers…
 Cast Iron Plant/ Picture courtesy of marthastewart.com
Now this plant is appropiately named (the tall plant in the middle). It's lives up to it's reputation, because I think that you would have to have use something made out of  iron to kill it. I love it alone, with just mounded moss at the base.
House Beautiful
I love the exotic feel and the fact that the Fig leaves are concentrated at the top, in a cloud of greenery. Perfect for high ceilings or rooms that need a focal point of sky high proportions.
houseandhome.com
I like Palms. Alot. But, my hands-down favorite is the Lady Palm. I love the way the fibers in the leaves split, it gives it a really unique look, and of course high ceilings are required.
marthastewart.com
The old proverbial "Dish Garden" can be a thing of beauty as long as you use unusual pairings…My favorite trio would be the Zeezee Plant, Arrowhead and the Creeping Fig, layered, and then finished off with a layer of variegated moss (maybe a few shells too).
via Southern Living
Now this is what I call a collection, but what prevents it from being static are the Cast Iron Plant (L) and the Japanese Fatsia (R) another one my "go to's".
(If you recognize this picture, and know whose work it is please convo me so I can give "credit where credit is due."
I love mosses (Reindeer, Sheet or Irish and the list goes on), I use them often, mounded, or as an organic soil covering. (Shh…hhh..) I'll let you in on a secret… when Sheet Moss losses it's colour fill a spray bottle with water and green food colouring (spray it on), and voila' it's fresh and new. I learned this secret when I took a floral design class in college…
via marthastewart.com
Ah..the Ming Aralia…its just so feathery and delicate that I love it as a stand alone…it's what I like to think of as a quiet botanical beauty that adds a little texture without overwhelming a space…
 via apartmenttheraphy.com
If I had to pick one favorite, it would be succulents. I absolutely love them, and they are in pots all over my house, and outside. They are sculptural, unique, and when grouped together, the shades and tones rival any sunset. They don't require much water… and for that I am eternally grateful.
bolickinteriors.com
This is a loft I finished at the beginning of the year, my client lacked a green thumb, and I really felt that a little live greenery would be just the ticket to finish off the space. So we settled on Chinese Evergreens in metallic pots, and last I checked they are still thriving.
P.S. This space is going to be featured on hgtv.com soon in a series called HomePros,  I was thrilled and incredibly honored to be asked. As soon as it's up on the website, I'll post the link.
Until then…
Thanks for stopping by!