It's been awhile since I posted last (many fun filled days), and I can now say that I'm truly back to work…First, I want to thank all those who have sent such kind and heartwarming messages to me about the recent addition to our family. Quite frankly, words do not even begin to express our gratitude to those who have reached out and made one lucky girl feel so special (and to my friends who have lavished her with such unconditional love, play-dates, and have had the patience to endure more pretend tea parties then they ever dreamed of). Also, it would be remiss of me, if I didn't send a special shout out to my friends at Milk and Honey Home, Julie and Anisa, who made her bedroom and playroom so incredibly special, and went above and beyond with their time and heart. Julie Holloway, you will always be a hero to one very special little girl, who goes to bed every night with stars in her eyes.. You can see the amazing transformation here (http://milkandhoneyhome.com/peek/), the rooms are truly the design equivalant of a big warm hug. See a peak of the space room below…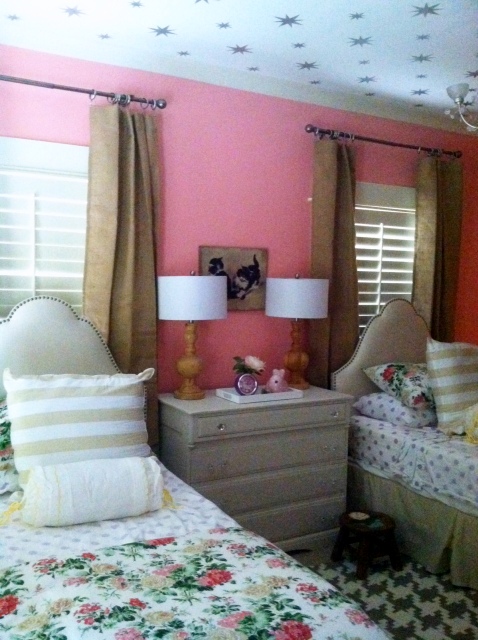 Design by Milk and Honey Home
See what I mean? Warmth + style = Milk and Honey Home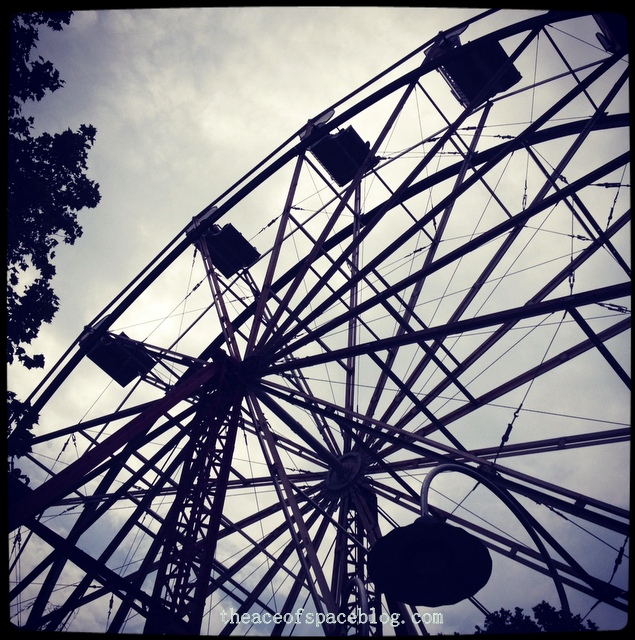 Somewhere up there is my daughter and Mr. B on the Ferris Wheel of fun (at yes of all places- Dollywood). This picture pretty much sums up our summer…an incredible ride. 
So in between all the exciting things happening in our lives, I still found time to design, I have some really amazing projects that we are working on, and I am so excited to be sharing them in future posts. In all honesty, I am definitely feeling sad that summer is almost over, and of course I wish that I had just a few weeks to just languish on a beach. Instead, I'm just going to have to live the coastal life vicariously through one of my projects, and sadly that will have to be enough….(Sigh)…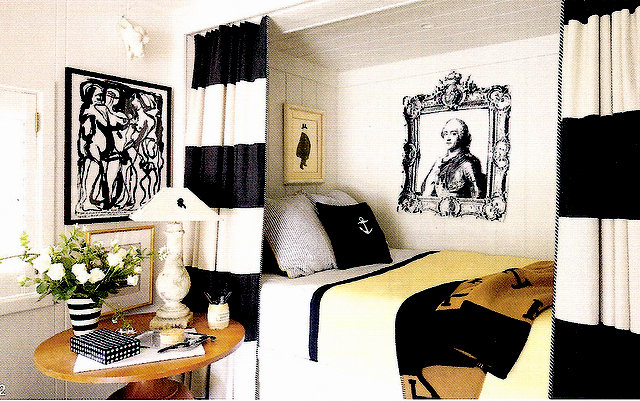 Designer/Stephen Schuler
My client gave me this pic at the beginning of the project as inspiration, she loved the classic feel with a touch of whimsy, but wanted a much brighter colour palette, and yes that Hermes blanket at the foot of the bed is just calling my name…(I swear I would blog about Hermes everyday for a month if I thought they would send me one as a gift).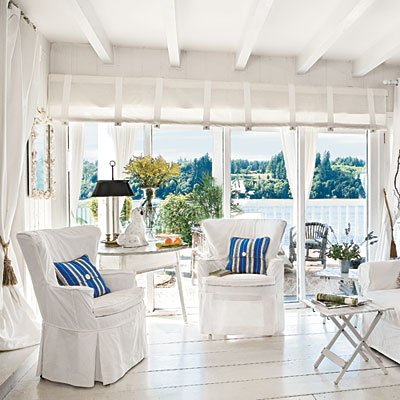 and this was another pic she sent to me as inspiration…light, airy with a pop of colour (her favourites are red, blue and yellow). So with these in hand we went to work, below are some of the elements which will be incorporated into the final design…Eventually, I'll have the finished project to show, until then consider these some teasers…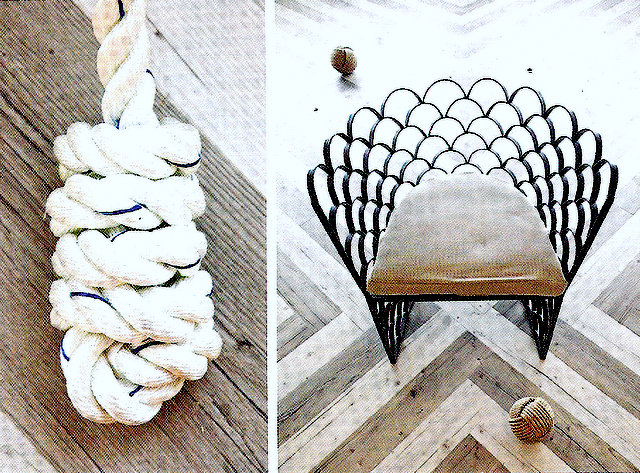 Some more inspiration…we are doing the Chevron flooring in her bedroom alternating between dark and light reclaimed wood that is remaining au naturale with a light coat of beeswax.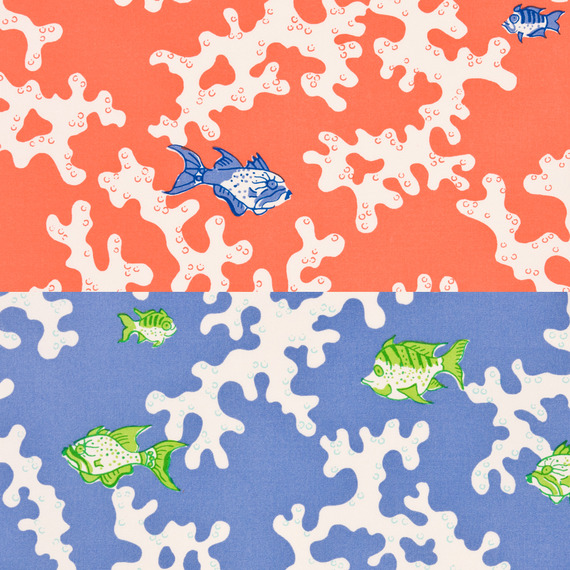 The fabric being used for pillows in the bedroom chairs adds the whimsy in the room. From the Fish & Sea Antilles Designs Collection from deringhall.com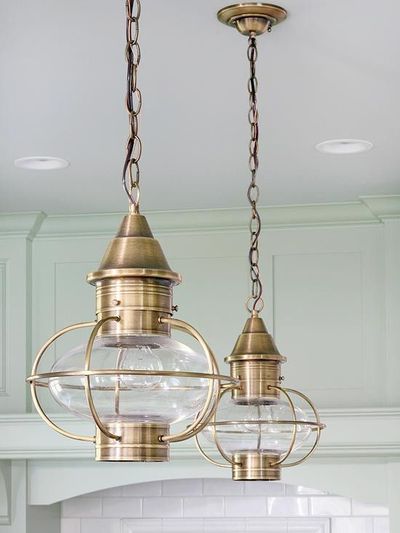 The nautical lights that will be suspended over the sinks in the master-bath…from circalighting.com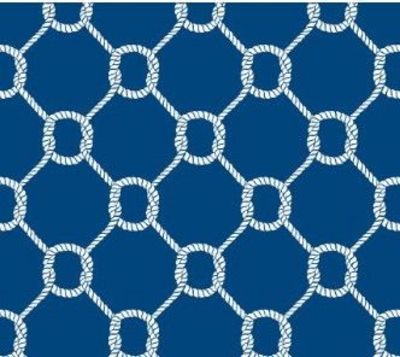 The powder-room gets wrapped in this fun wall covering from the Jonathan Adler collection…along with some DIY shelving that Stewart, my very patient carpenter extraordinaire, is making from the leftover flooring and some nautical rope. (See below).
Southern Living Magazine
This is the shelving that will hold bath products, soaps and rolled guest towels, as well as some of my client's seashell collection. This is going to be a unique piece for a small amount of work and money (which my client loves).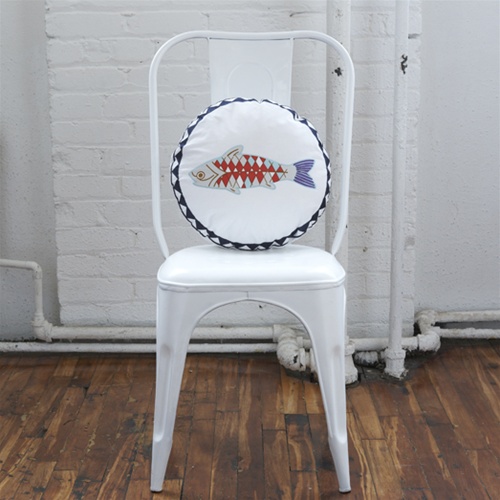 The nautical pillows from allemstudio.com are so fab and fun, and give the right amount of coastal punch without being "themey." We are going to be grouping a bunch on the duel facing couches, slipcovered in sailcloth for the living room.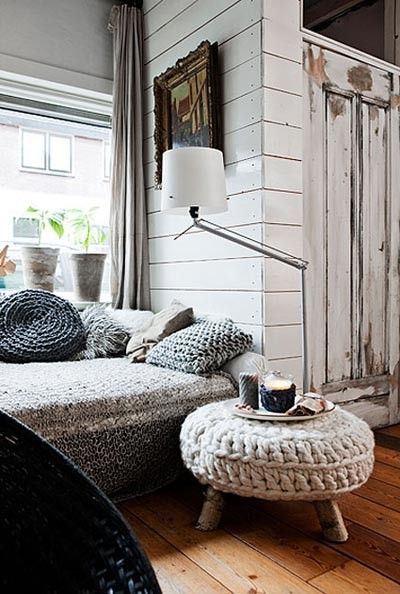 Yes, I am actually having someone custom make these stools from jute ropes that my client bought at an antique store in Ipswich, MA. I am just dying to see the finished product. The end result will be two over-sized stools in the living room…
So that is just a sneak peek into a project for a truly special client who is so willing to let me push the design envelope and create a space that is unique, meaningful and comfortable. It was so much fun to have the opportunity (and honour) of re-purposing and reusing some amazing finds gathered from afar. At the end of the day, that is really what motivates me as a designer, to create unique spaces that reflect the personalities and lifestyles of my clients. Someday, I hope to be able to do the same thing for that beach side cottage that Mr. B. promises me I will have someday (yes, that is a shameless plug). So until then, I can only dream…
Thanks for stopping by!