There are two things in my home that you will see a lot of, candles and mirrors. The latter has absolutely nothing to do with vanity, in fact on any given day I'm lucky if I have a chance to get out of my P.J.'s before 5PM. Because if I'm not out sourcing for clients I am at home on the phone "taking care of business". Bottom line it's the way most designers roll. When I used to work for a well known purveyor of all things beautiful in the ATL years ago, a uber talented and well known designer came in with her entourage, in her P.J.'s and long sweater jacket. At that moment, I knew that I could definitely work that look, and I have, to the mailbox, down the street, to the drive thru and once right into my fav boutique. I just haven't gone out in public with Mr. B. in my "P.J. Chic"…yet.
So, mirrors are definitely not for vanity at our house, but used to reflect light, add some sparkle, architectural interest, or to create impact. Here are some of my favorite mirrors, inside some of the most amazing spaces, and if I can figure out my new camera I might even share some pics from inside Casa B.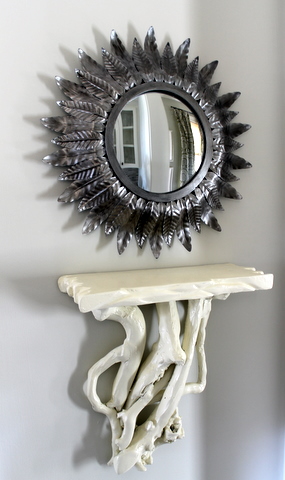 © Bolick Interiors, LLC
This is my very first photo from Casa B. with the new camera (Yes, I just took a huge bow). I have a pair of these flanking the pantry doors, and it not only adds some much needed light, but it also provides some interest. The mirror has always reminded me of the face of a flower, originally it was gold, and I fauxed it silver, and sprayed the bracket cream.
Also, welcome to my new series The Ace of Space's "The Look", I am taking some of my favorite interiors, picking out one statement piece, and then translating it for you into something that you can easily purchase (I know how nice is that?)…this is featured  on Mondays. So hopefully you'll be inspired to get "The Look."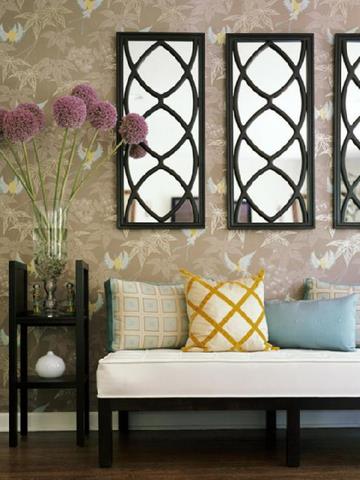 Photo/ Via Pinterest
This trio adds the right amount of architectural interest to the wall…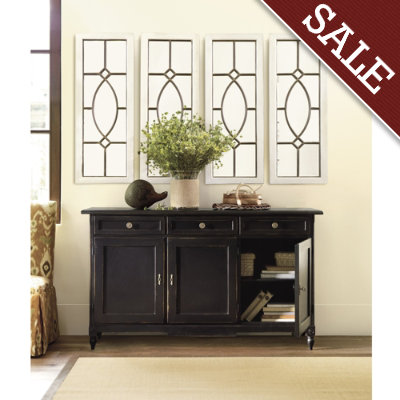 Get a similar look by ordering the "Garden District Mirrors" from Ballard Designs (www.ballarddesigns.com) unfortunately, they only come in sets of 2 for $229.00, but maybe you could split the 2nd set with a friend. P.S. They only come in white…but if you're handy they would be fun lacquered in a really fun spring color.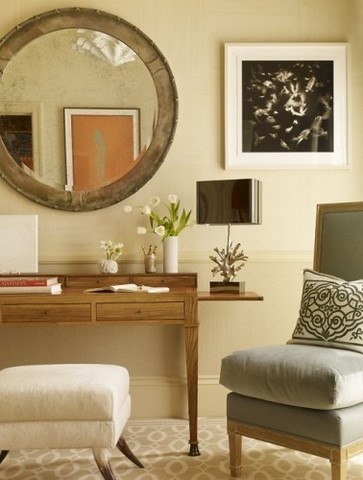 Designer Wende Cragg/ SF Decorators Showhouse
I love this interior, a little rustic and a lot modern. Plus the tiny little stool with the steer horn legs is totally fab.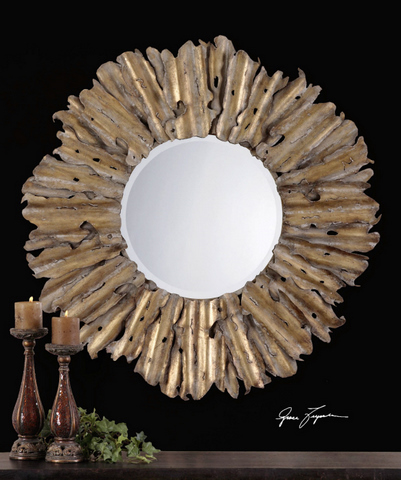 This rustic standout would work just as well, from uttermost.com but you might be able to order one from lampsplus.com.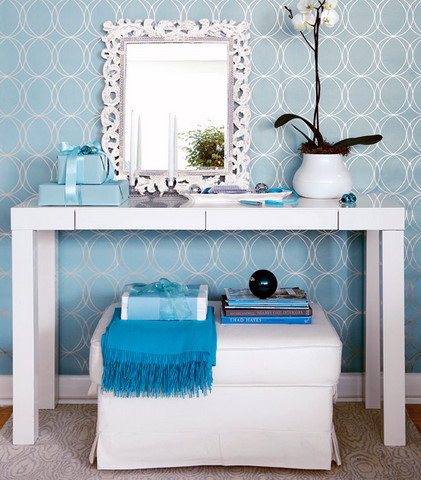 Photo by Michael Graydon
Ah…"Rhapsody in Blue" I know blue is my fav colour but even if it wasn't, I would still love this room. The "Faux Bois"  rug together with the links wallpaper are the perfect marriage.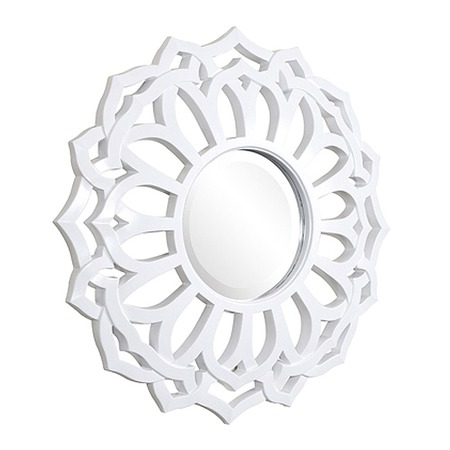 The detail on this "Coopers Classic Mirror" is simply amazing..only $259.91 (seriously who comes up with the pricing there?) at lamplus.com.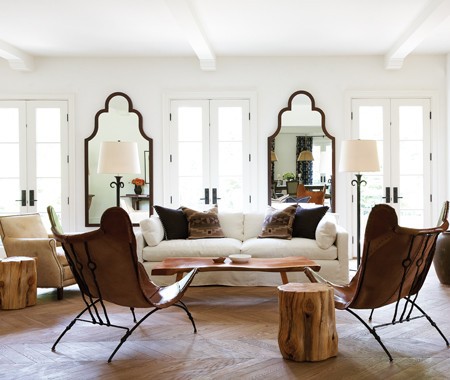 Photo by Michael Graydon
This room with Spanish flair gets its impact from the arched mirrors.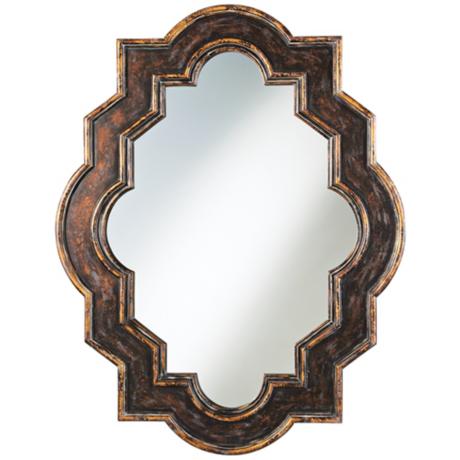 This stunner is practically the twin of the one above in the interior by Mr. Graydon. This "Casbah Weathered Mirror" is from lampsplus.com and retails for $183.95.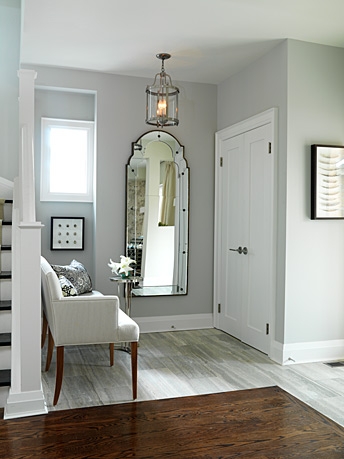 This room is by my fav Canadian export who is rumored to soon be back on U.S. television, none other than Sarah Richardson, who created this elegant hallway and made it seem even more spacious by adding a leaning mirror.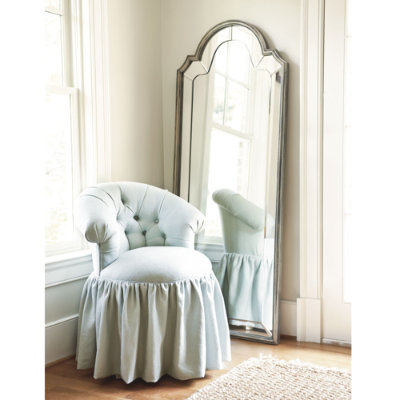 You can get the same impact with this statement piece from Ballard Designs www.ballarddesigns.com, the "Bella Mirror" retails for $369.00.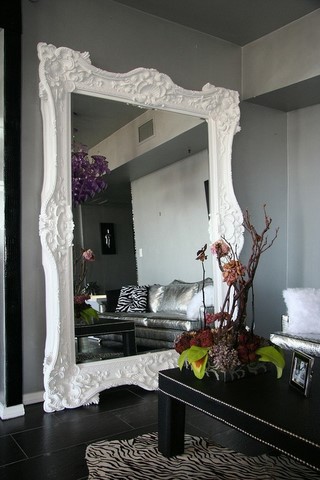 I am so infatuated with this room, and it was on the "Hall of Fame" wall in my office. Which pretty much says it all…and the mirror…well….if only I had a wall big enough.
This "Antique White Mirror" is from Horchow and is a steal at $549.00. In fact, horchow.com has some of the best selection of mirrors outside of the designer sources that only we have access to (a little shameless plug on the benefits of hiring a designer).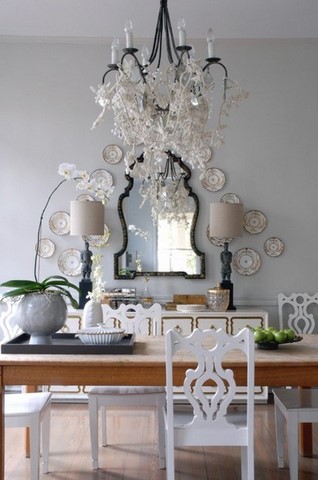 Designer/Bryan Batt-Photgrapher/Kerri McCafferty
This room is big on style from the chandelier to the mirror anchoring the  grouping of plates.
This "Silver Rapture Mirror" is from horchow.com and would create a similar feel at $625.00.
It was pretty difficult to edit this post because of my mirror infatuation, so I hope you enjoyed the first of many in "The Look" series, only on Mondays.
There are two ways to spread happiness; either be the light who shines it, or be the mirror who reflects it.-Edith Wharton
Be amazing…
Vicki "The Ace of Space"
Bolick Interiors, LLC