Ah…another Friday night and all's quiet at Casa B. Except for the sound of "man's best friend" aka Maggie, our beagle extraordinaire, snoring away while contentedly curled up on her new luxury sleeping pillow. Because, I believe even our pets should lounge away the evenings in style.
Yes, this is actually a dog bed replete with a handle…from cassiescloset.com. Definitely the cutest dog den I think I have ever seen, and it even satifies my purse obsession.
She is also enjoying the new cowhide rug that I purchased this week, in all honesty, I have been waiting forever to find the one, and by chance the rug of my dreams was in a showroom that I popped into on a whim (it was pure destiny). That perfect shade of blond cowhide was draped luxuriously over a table top as part of a store vignette. So I made my design buddy Tom take everything off from the rug (thanks Tom you're the best and I really mean it!), wrap up it up, and after some very careful editing with some very sharp scissors  I now have the perfect floor covering layered over a sisal in our living room…and yes I am a firm believer that good things come to those who wait. (P.S. I do want to mention that all the hides I use are from beef cows whose meat is sold in supermarkets, and only then are the hides repurposed…)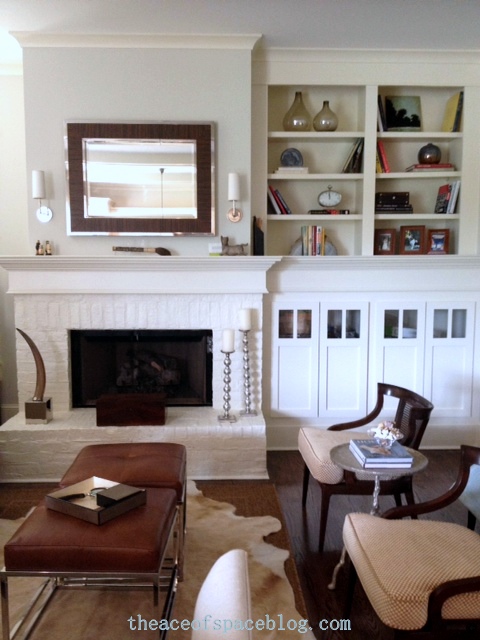 My latest purchase layered on the floor of my living room, the rug is simply stunning.
My latest design obsession (and yes I admittedly have many) is discovering unique ways of incorporating quotes and words into one of my design projects, without being overly kitschy. Providing some much needed daily inspiration in the lives of my clients (and quite frankly we could all use some occasionally).
Next to my daughter's bed I have even placed a piece of handmade art (lovingly made by yours truly) which simply says "Begin every day with a smile" made from vintage school flash cards. Hopefully, it will become something that she lives by..
Love this rustic room and the meaningful life lesson etched in the walls…
or the chalkboard wall with a life lesson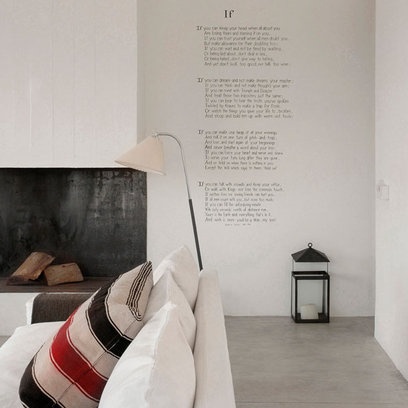 A page from a favorite novel enlarged and affixed to the wall…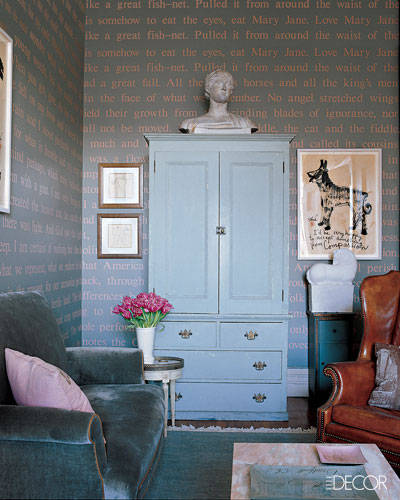 Quotes from Dr. Seuss and Jane Eyre stenciled on the wall, wrapping the room in prose.
I adore the non-traditional placement of letters running vertically along the wall for visual impact.
Of course, the homey touch of the chalkboard wall is the perfect contrast to the lush materials in this hallway, and the chandelier looks suspiciously like a Fortuny (utterly fabulous either way).
A clever way to get out the word, with brass nail-heads. Let's face it this could be time consuming, but the end result would be totally fabulous.
Scrub-a-dub-dub, clean your ears in the tub…Expressing yourself with mosaic tiles.
Someday, I'll wrap a room in our house with quotes from some of my favorite icons, whether from fashion, design, or people who have selflessly paved the way for the rest of us…until then I am writing down the words that have inspired me in a well worn leather journal, waiting for the day that I can transfer them from paper to a place of honour on my wall to be shared with family and friends.
P.S. Unfortunately, some of the pics do not have the appropiate credits (long story), so if you know who the amazing designers are please feel free to contact me so I can credit the pictures.
Thanks for stopping by!