Sadly, I didn't make it the the Design Bloggers Conference 2013 this year, my bags were packed with some killer shoes, some designer duds, and a schedule cleared to allow me to enjoy some fun in the LA sun…but then.
1) My daughter got sick (family first, always).
2) I have something major happening on March 11, which I found out about last Friday. So I have a lot of preparation to do before then. Needless to say, I will not be sleeping a wink until then because I'm so excited, relieved and grateful. I'll be sharing the news on Tuesday, March 12th in a special post. But, until then I have to keep it close to my heart.
3) I have jaw surgery scheduled for Thursday, (the lingering effects of a skiing accident which happened at 16).  I would love to say that it happened on the slopes of Gstaad, Switzerland, but it actually happened on a small "Bunny Hill" in Upstate N.Y. To be honest I am hoping that I can convince the surgeon pre-op that he needs to focus on the outside of my face instead of the inside, otherwise I'm going to have to live with sagging jowls for another year.
So there you have it, life in the fast lane. The trade off is that I'm going to Blogfest 2103 in NYC, and I'll just have to try to live with that. Since I was stuck in the ATL missing all the fun in LA, I had a chance to check out some tubs for the Master-bath Reno, and I found some that were absolutely spectacular. Will they make it into Casa B? Maybe. After potentially having to take out a window, and hiring a crane to put it in place (what's life without challenges?). Any inconvenience I may have to incur (for the sake of comfort) will all be worth it when I'm soaking away the hours with bubbles and some bubbly. The options were endless, but these are some of my absolute favorites that I will be presenting to the world's most discriminating client-Mr.B.
via signaturetub.com
Stand alone tubs are making a comeback, or did they actually even go away? I love the unique shape and it will soften the hard-lines of the tile that I picked out.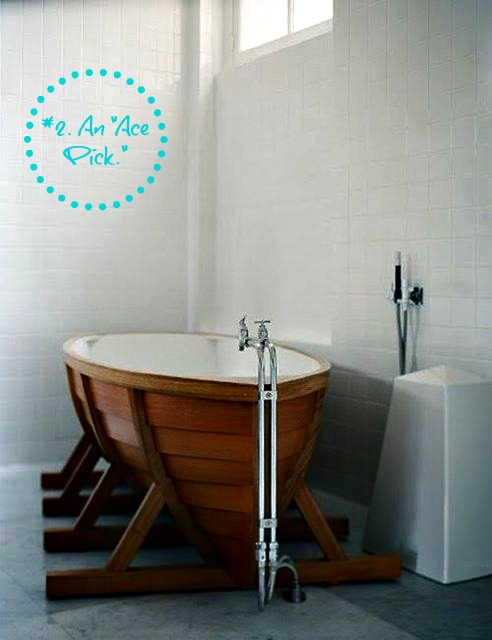 Bathboat via weikisomers.com
This boat was designed with a Viking ship in mind…and although it's roots are based on a centuries old boat design, I love the teak cradle with an updated modern flair. This is my absolute favorite. My argument to the head of our house, "If you get me the tub I'll never ask for a boat again."
via feldmanarchitecture.com
This is another consideration, designing the tub surround with reclaimed wood instead of tile. The wood provides the right amount of rough hewn texture to the bright white bath.
via loriglider.com
The marble tub is designed to be the focal point of the bath, and is treated as a work of art atop a marble pedestal. Gorgeous.
via plavidesign.com
Wood is what's trending in bath design. What I love about the use of wood is that it is pure sustainable/green design.  I could see this as a timeless piece that would be just as relevant years from now. Am I considering this as a choice? Absolutely.
via netradesign.it
Let's face it the view is spectacular. But, the stand-out piece is the tub which is fabricated using wood and porcelain, the best of both worlds. It is my #2 choice, although a little more pricey, but can we really put a price tag on "functional luxury?"
via houseandhome.com
If I go with a stand-alone porcelain/or fiberglass tub, it absolutely needs this floor mount tub spout, in fact if you go with a simple design it should be a requirement that you use a more substantial spout.
So there you have it, I have narrowed my tub selection down to seven, from a total of 105. It wasn't easy…but it was great fun! Which one is your "pick?"
Cheerio!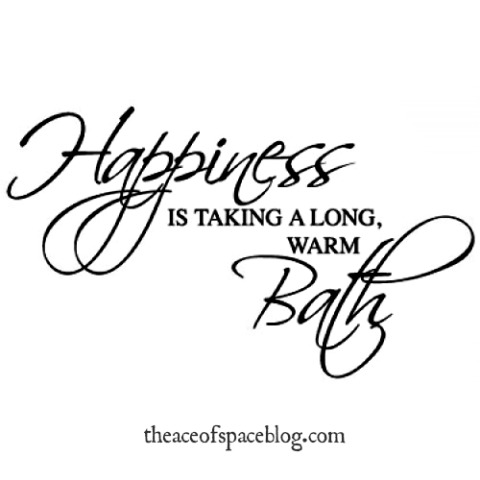 So until next time…P.S. As always don't forget to check out our Pinboards on Pinterest for more design inspiration.
Thanks for stopping by!