My current status=peeved, yup…just a little, okay maybe more than that. In fact, I could scream right now…but, I won't because we have new neighbors. My peeve is this, three times this month I have gone to order fabric that was in stock, I checked inventory before even thinking about presenting them to clients, my intern checked…and then mysteriously when we went to place the order, the fabrics were discontinued. So my sage advice is unless there are at least 200+ yards in stock don't even think or dream about the fabric, (not even a little). Because, it's just like that special pair of shoes that you covet, you try them on, you sashay across the carpet in the shoe department, pivot, turn, primp in the mirror, think some more, go home, decide that you really need them, go back the next day and they are gone. Yup, pretty much the same feeling I have when my fabric has been discontinued. Except, maybe a little worse because there is always some serious re-thinking to do, which always results in a whole new fabric scheme…and a lot of explaining to do…
Now that I had my moment…on to Polka-dots. Not the juvenile dots that you see in a child's room, but the more sophisticated circles that can really make a statement…so here are some of my favorites from "The Ace of Space Style Files"…
via Vogue Italia
This room is entirely encased in Polka-dotted plastic, and I love the illusion it creates. Imagine some creamy leather sofas, chrome, some Louis XVI "Ghost" Chairs, a pop of pink in pillows with a fluffy sheepskin rug, dreamy…
via Maison & Demeure
Now this is thinking outside the design box, Carrera Marble flooring in a Polka-dot pattern=sophisticated whimsy.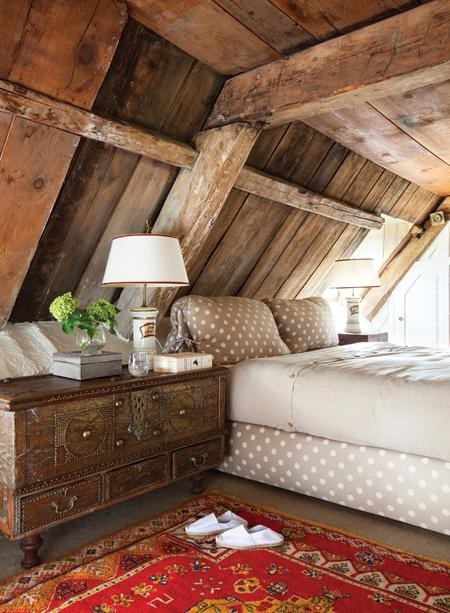 via Maison & Demeure/Photo Louise Bilodeau
I love barns, in fact I have more pics of barns then I do space. I saved this pic long ago because of the lighter more playful look of the Polka-dots contrasted against the rusticality of the wood…
Photo (L) Marc Jacobs, Photo (R) Angus Fergusson
I adore Polka-dots in fashion, and in the home. Use a little or a lot…
via Trustile Doors
You may have seen this pic floating around on my blog before, but it never gets old. This is definitely in my "Dream and Design" file. I'll keep "dreaming" about the doors until they become a "design" (in mi´ casa of course).
via Elle Decor, Art work-Damien Hirst
This room is just scrumptious from the velvet tufted sofa (if only I had a room large enough to put this in) to the weathered paneling. Plus, I love the mirrored screen in the corner reflecting back all the layers of loveliness.
via designkula.com
This space is small, but has so many elements of style from the mix of Polka-dotted and stylized floral wall paper to the more industrial elements. Not to mention the razzle-dazzle of the yellow chair.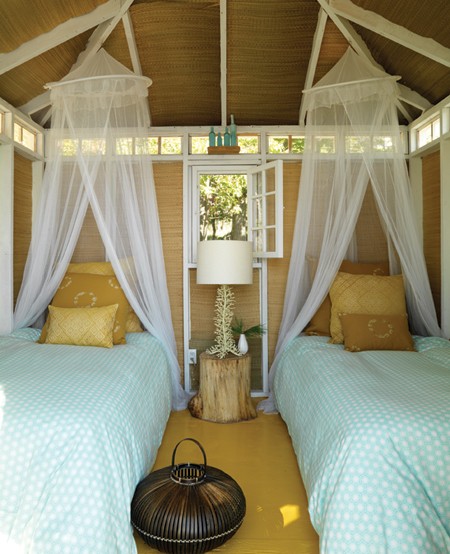 via House Beautiful/Photo Stacey Brandford
If I had to give this room a caption it would be "Twin Exotic with a Pop of Polka-dot."
Bolick Interiors, LLC
This space was designed for a young girl who wanted to have "a grown up" room, so this is my interpretation, a room with a Polka-dotted headboard, less frills and a  transitional feel that will take her well into her teens and beyond (with only a few minor changes along the way). The poufs were designed to give the illusion of Polka-dots, but with a little playful sophistication. It was a fun project for a really amazing child…
 I hope you are inspired to inject a touch of whimsy into your life…
"…Polka-dots become movement…Polka-dots are a way to infinity…"-Yayoi Kusama
Thanks for stopping by!